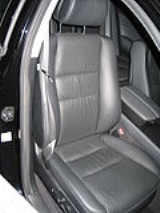 Upholstery
Upholstery
is the work of providing
furniture
Furniture
Furniture is the mass noun for the movable objects intended to support various human activities such as seating and sleeping in beds, to hold objects at a convenient height for work using horizontal surfaces above the ground, or to store things...
, especially
seat
Chair
A chair is a stable, raised surface used to sit on, commonly for use by one person. Chairs are most often supported by four legs and have a back; however, a chair can have three legs or could have a different shape depending on the criteria of the chair specifications. A chair without a back or...
s, with
padding
Padding
Padding is thin cushioned material sometimes added to clothes. It is often done in an attempt to soften impacts on certain zones of the body or enhance appearance by 'improving' a physical feature, often a sexually significant one...
,
spring
Spring (device)
A spring is an elastic object used to store mechanical energy. Springs are usually made out of spring steel. Small springs can be wound from pre-hardened stock, while larger ones are made from annealed steel and hardened after fabrication...
s,
webbing
Webbing
Webbing is a strong fabric woven as a flat strip or tube of varying width and fibres often used in place of rope. The name webbing comes from the meshed material frequently used in its construction, which resembles a web...
, and
fabric
Textile
A textile or cloth is a flexible woven material consisting of a network of natural or artificial fibres often referred to as thread or yarn. Yarn is produced by spinning raw fibres of wool, flax, cotton, or other material to produce long strands...
or
leather
Leather
Leather is a durable and flexible material created via the tanning of putrescible animal rawhide and skin, primarily cattlehide. It can be produced through different manufacturing processes, ranging from cottage industry to heavy industry.-Forms:...
covers. The word
upholstery
comes from the
Middle English
Middle English
Middle English is the stage in the history of the English language during the High and Late Middle Ages, or roughly during the four centuries between the late 11th and the late 15th century....
word
upholder
, which referred to a tradesman who held up his goods. The term is equally applicable to domestic, [automobile]], airplane and
boat
Boat
A boat is a watercraft of any size designed to float or plane, to provide passage across water. Usually this water will be inland or in protected coastal areas. However, boats such as the whaleboat were designed to be operated from a ship in an offshore environment. In naval terms, a boat is a...
furniture. A person who works with upholstery is called an upholsterer; an apprentice upholsterer is sometimes called an outsider or trimmer. Traditional upholstery uses materials like coil springs (post-1850), animal hair (horse, hog & cow),
coir
Coir
Coir is a natural fibre extracted from the husk of coconut and used in products such as floor mats, doormats, brushes, mattresses etc. Technically coir is the fibrous material found between the hard, internal shell and the outer coat of a coconut. Other uses of brown coir are in upholstery...
, straw and hay, hessians, linen scrims, wadding, etc., and is done by hand, building each layer up. In contrast, modern upholsterers employ synthetic materials like dacron and vinyl, serpentine springs, and so on.
Upholstery of domestic furniture
There are essentially four elements common to most upholstered items. These are 1) the
frame
; 2) the support system; 3) the cushioning; and 4) the covering, which are discussed in turn below.
Frames
Most upholstered furniture is constructed out of wood. The best furniture is constructed from hardwood like oak or alder. These woods are stronger than softwood in general, and allow for joints that are less likely to loosen over time. Nails, screws, tacks and staples, all of which may be a part of the upholstering process, hold better in hardwood than in softwood. Hardwood laminates or even plywood are used in bracing and blocking joints, since laminates are stronger than their solid-wood counterparts.
Though much of the frame is often hidden in the final product, some wood--called "show-wood" can remain visible on the end product.
Joints can be reinforced using any number of woodworking techniques. Aside from straightforward methods like screwing and/or gluing joints together, the common techniques for reinforcing joints include doweling (drilling matched holes in adjacent joining surfaces and inserting dowels into the holes to join them) or
blocking
(adding blocks of wood at the intersection to provide additional support). Poorly constructed joints will loosen, squeak, crack, or fail over time.
Modern upholstered furniture may include frame elements that are made of metal, plastic, or other similar materials.
Support Systems
There are three varieties of support systems that might be found in upholstered items: solid support systems, tension support systems, and
spring
Spring (device)
A spring is an elastic object used to store mechanical energy. Springs are usually made out of spring steel. Small springs can be wound from pre-hardened stock, while larger ones are made from annealed steel and hardened after fabrication...
support systems.
A solid support system is typical in something like an upholstered dining room chair. The seating and back rest area solid wood, with cushioning and fabric over top.
A tension support system is lighter and has more give than a solid support system. The most common type of tension support is a system of webbing, interwoven to create a relatively solid surface, which is subsequently padded and covered. Though cheaper and lighter than a solid support system, a tension support system may be less rugged and more prone to deterioration or loosening over time.
A spring support system is most common on a
couch
, and
easy chair
, or similar comfortable furniture. Furniture manufacturers employ two main types of spring support systems:
standard springs
, zig zag Springs and
eight-way hand tied springs
, coil springs. When the spring system is finished with a top layer of padding, it is commonly called the "seat deck".
Standard springs provide good support at a lower price than the alternative. Most manufacturers offer either
sinuous springs
or
drop-in-springs
as their standard, depending on how they make their furniture. Both types affix to the frame to support the seat deck. Standard springs have a formal, very firm "sit" and only move in the up/down direction. In contrast, eight-way hand-tied springs can move in many more directions.
Sinuous springs are heavy-gauge
steel
Steel
Steel is an alloy that consists mostly of iron and has a carbon content between 0.2% and 2.1% by weight, depending on the grade. Carbon is the most common alloying material for iron, but various other alloying elements are used, such as manganese, chromium, vanadium, and tungsten...
springs that have been heat-formed into continuous "S" shapes. They are cut into lengths and affixed to the frame. Drop-in springs are mass-manufactured, welded units that are more cheaply manufactured and considered to be of lower quality than sinuous springs.
Eight-way hand-tied springs have a wide range of movement providing a very even and individual "sit", because they move up and down and from side to side. In the construction of these systems, the craftsman individually ties heavy-gauge coils from front to back, side to side and diagonally (eight ways) to provide the highest level of quality, comfort and durability. This process costs more because it is time consuming and can only be done by hand.
Cushions, pillows, padding and fills
Once a piece of upholstered furniture has its frame and springs, the next components to be added are the cushions and padding. Seat cushions sit on top of the spring system and seat deck. Back pillows, if present, rest against the back and arms of the piece.
Most cushions are made of a high-density foam core that is then wrapped with either soft
polyester
Polyester
Polyester is a category of polymers which contain the ester functional group in their main chain. Although there are many polyesters, the term "polyester" as a specific material most commonly refers to polyethylene terephthalate...
,
feather
Feather
Feathers are one of the epidermal growths that form the distinctive outer covering, or plumage, on birds and some non-avian theropod dinosaurs. They are considered the most complex integumentary structures found in vertebrates, and indeed a premier example of a complex evolutionary novelty. They...
and
down
Down feathers
The down of birds is a layer of fine feathers found under the tougher exterior feathers. Very young birds are clad only in down. Powder down is a specialized type of down found only in a few groups of birds. Down is a fine thermal insulator and padding, used in goods such as jackets, bedding,...
, or a
hypoallergenic
Hypoallergenic
Hypoallergenic, meaning "below normal" or "slightly" allergenic, was a term first used in a cosmetics campaign in 1953. It is used to describe items that cause or are claimed to cause fewer allergic reactions...
down substitute. Dacron (a synthetic) adds resilience so that pillows and seats keep their shape, while the wraps form a soft envelope. Cushions and pillows are usually sewn into
cotton
Cotton
Cotton is a soft, fluffy staple fiber that grows in a boll, or protective capsule, around the seeds of cotton plants of the genus Gossypium. The fiber is almost pure cellulose. The botanical purpose of cotton fiber is to aid in seed dispersal....
cases to ensure smooth upholstering.
Feather and down offer the maximum comfort and softness in cushions and pillows that most people desire and designers prefer. Feather and down back pillows and wrapped seat cushions can always be "fluffed-up" to maintain an attractive look. Feather and down fills and wraps require a little more maintenance than polyester and high density-
foam
Foam
-Definition:A foam is a substance that is formed by trapping gas in a liquid or solid in a divided form, i.e. by forming gas regions inside liquid regions, leading to different kinds of dispersed media...
but they have greater comfort, durability and resilience.
Buckwheat
Buckwheat
Buckwheat refers to a variety of plants in the dicot family Polygonaceae: the Eurasian genus Fagopyrum, the North American genus Eriogonum, and the Northern Hemisphere genus Fallopia. Either of the latter two may be referred to as "wild buckwheat"...
hulls are also used as filling for a variety of upholstered goods, including pillows and
zafu
Zafu
A zafu is a round cushion. Although also a utilitarian accessory, it is most well known for its use in zazen Zen meditation.-Name:...
. The hulls are durable and do not conduct or reflect heat as much as synthetic fills. They are sometimes marketed as an alternative natural fill to feathers for those with allergies.
Horsehair
Horsehair
Horsehair is the long, coarse hair growing on the manes and tails of horses. It is used for various purposes, including upholstery, brushes, the bows of musical instruments, a hard-wearing fabric called haircloth, and for horsehair plaster, a wallcovering material formerly used in the construction...
and
hay
Hay
Hay is grass, legumes or other herbaceous plants that have been cut, dried, and stored for use as animal fodder, particularly for grazing livestock such as cattle, horses, goats, and sheep. Hay is also fed to pets such as rabbits and guinea pigs...
have also been used in upholstery as cushioning/padding, but today they are less commonly used than foam.
Fabrics and leathers
Textile
Textile
A textile or cloth is a flexible woven material consisting of a network of natural or artificial fibres often referred to as thread or yarn. Yarn is produced by spinning raw fibres of wool, flax, cotton, or other material to produce long strands...
s, a term used in the furniture industry, encompass both fabrics and
leather
Leather
Leather is a durable and flexible material created via the tanning of putrescible animal rawhide and skin, primarily cattlehide. It can be produced through different manufacturing processes, ranging from cottage industry to heavy industry.-Forms:...
s and the choice of textiles can account for up to 80% of furniture price.
Tightly woven fabrics and blends tend to wear longer than light or loose-weave
natural fiber
Natural fiber
Fibers or fibres are a class of hair-like materials that are continuous filaments or are in discrete elongated pieces, similar to pieces of thread. They can be spun into filaments, thread, or rope. They can be used as a component of composite materials. They can also be matted into sheets to...
s.
Leather is a durable and easy-care natural material that softens and improves with time. To create quality leather, top-grain
hides
Hides
A hide is an animal skin treated for human use. Hides include leather from cattle and other livestock animals, alligator skins, snake skins for shoes and fashion accessories and furs from wild cats, mink and bears. In some areas, leather is produced on a domestic or small industrial scale, but most...
are
tanned
Tanning
Tanning is the making of leather from the skins of animals which does not easily decompose. Traditionally, tanning used tannin, an acidic chemical compound from which the tanning process draws its name . Coloring may occur during tanning...
, processed and
dye
Dye
A dye is a colored substance that has an affinity to the substrate to which it is being applied. The dye is generally applied in an aqueous solution, and requires a mordant to improve the fastness of the dye on the fiber....
d to give a certain color or look. Tanning refers to the process in which salts are used to cure the hide and to stabilize its shape. Dyeing refers to infusing the hide with different color dyes.
Aniline
Aniline
Aniline, phenylamine or aminobenzene is an organic compound with the formula C6H5NH2. Consisting of a phenyl group attached to an amino group, aniline is the prototypical aromatic amine. Being a precursor to many industrial chemicals, its main use is in the manufacture of precursors to polyurethane...
dyeing is a high quality process that imparts color but does not disguise the natural character of the hide. Some leathers are further treated with a pattern, texture, or polish.
Automobile upholstery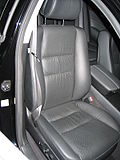 An automotive upholsterer, also known as a trimmer, coachtrimmer or motor trimmer, shares many of the skills required in upholstery, in addition to being able to work with carpet.
The term coachtrimmer derives from the days when car bodies were produced by manufacturers and delivered to
coachbuilder
Coachbuilder
A coachbuilder is a manufacturer of bodies for carriages or automobiles.The trade dates back several centuries. Rippon was active in the time of Queen Elizabeth I, Barker founded in 1710 by an officer in Queen Anne's Guards, Brewster a relative newcomer , formed in 1810. Others in Britain included...
s to add a car body and interior trimmings. Trimmers would produce soft furnishings, carpets, soft tops and roof linings often to order to customer specifications. Later, trim shops were often an in-house part of the production line as the production process was broken down into smaller parts manageable by semi-skilled labor.
Many automotive trimmers now work either in automotive design or with aftermarket trim shops carrying out repairs, restorations or conversions for customers directly. A few high-quality motor car manufacturers still employ trimmers, for example,
Aston Martin
Aston Martin
Aston Martin Lagonda Limited is a British manufacturer of luxury sports cars, based in Gaydon, Warwickshire. The company name is derived from the name of one of the company's founders, Lionel Martin, and from the Aston Hill speed hillclimb near Aston Clinton in Buckinghamshire...
.
Commercial upholstery
This is the type of upholstery work offered to businesses. Examples would be restaurant seating consisting of booth seats, dining room chairs, bar stools, etc. Also churches, including but not limited to pews and chairs for the congregation, hospitals and clinics consisting of medical tables, chiropractic tables, dental chairs, etc. Also common to this type of upholstery would be lobby and waiting-area seating. Upholstered walls are found in some retail premises.
Marine upholstery
Marine upholstery differs in that one has to consider dampness, sunlight and hard usage.
A
vinyl
Vinyl
A vinyl compound is any organic compound that contains a vinyl group ,which are derivatives of ethene, CH2=CH2, with one hydrogen atom replaced with some other group...
or material that is
UV
Ultraviolet
Ultraviolet light is electromagnetic radiation with a wavelength shorter than that of visible light, but longer than X-rays, in the range 10 nm to 400 nm, and energies from 3 eV to 124 eV...
and cold-cracking resistant is the choice.
Stainless-steel hardware such as staples, screws must be used for a quality job that will last. Any wood used must be of marine quality.
Usually a high-resiliency, high-density plastic foam with a thin film of plastic over it is used to keep out water that might get by the seams. Closed-cell foam is used on smaller cushions which can double as flotation devices.
Dacron
Polyethylene terephthalate
Polyethylene terephthalate , commonly abbreviated PET, PETE, or the obsolete PETP or PET-P, is a thermoplastic polymer resin of the polyester family and is used in synthetic fibers; beverage, food and other liquid containers; thermoforming applications; and engineering resins often in combination...
thread must be used in any sewing work. Zippers should be of nylon.
History
Upholder
is an archaic term used for upholsterer in the past, although it appears to have a connotation of
repairing
furniture rather than creating new upholstered pieces from scratch (c.f.
cobbler
Cobbler
Cobbler may refer to:* A shoemaker who repairs shoes, rather than manufacturing them .** Cobbler apron, a type of apron that covers both the front and back of the body...
vs.
cordwainer
Cordwainer
A cordwainer is a shoemaker/cobbler who makes fine soft leather shoes and other luxury footwear articles. The word is derived from "cordwain", or "cordovan", the leather produced in Córdoba, Spain. The term cordwainer was used as early as 1100 in England...
).
In 18th-century London, upholders frequently served as interior decorators responsible for all aspects of a room's decor. These individuals were members of the
Worshipful Company of Upholders
Worshipful Company of Upholders
The Worshipful Company of Upholders is one of the Livery Companies of the City of London. "Upholder" is an archaic word for "Upholsterer". In past times upholders carried out not just the manufacture and sale of upholstered goods but were cabinet makers, undertakers, soft furnishers, auctioneers...
, whose traditional role, prior to the 18th century, was to provide upholstery and textiles and the fittings for funerals. In the great London furniture-making partnerships of the 18th century, a cabinet-maker usually paired with an upholder: Vile and Cobb,
Ince and Mayhew
Ince and Mayhew
Ince and Mayhew were a partnership of furniture designers, upholsterers and cabinetmakers, founded and run by William Ince and John Mayhew in London, England, from 1759 to 1803; Mayhew continued alone in business until 1809. Their premises were listed in London directories in Broad Street, Soho,...
,
Chippendale
Chippendale
Chippendale may refer to:*Thomas Chippendale, or his furniture*Thomas Chippendale, the younger, son of Thomas Chippendale*Chairface Chippendale, a supervillain*Chippendales, a chain of clubs and troupe of performers*Chippendale, New South Wales...
and Rannie or
Haig
Haig
-Places:* Haig Avenue, football stadium in Southport, England* Haig, British Columbia, settlement in British Columbia, Canada* Haig Point Club, private community on Daufuskie Island, South Carolina...
.
In the U.S.A.,
Grand Rapids, Michigan
Grand Rapids, Michigan
Grand Rapids is a city in the U.S. state of Michigan. The city is located on the Grand River about 40 miles east of Lake Michigan. As of the 2010 census, the city population was 188,040. In 2010, the Grand Rapids metropolitan area had a population of 774,160 and a combined statistical area, Grand...
is a centre for furniture manufacture, and many of the best upholsterers can still be found there. These craftsmen continue to create or recreate many antique and modern pieces of furniture.
Upholstery-related tools
Chalk

Chalk

Chalk is a soft, white, porous sedimentary rock, a form of limestone composed of the mineral calcite. Calcite is calcium carbonate or CaCO3. It forms under reasonably deep marine conditions from the gradual accumulation of minute calcite plates shed from micro-organisms called coccolithophores....


(upholsterer's chalk or tailor's chalk)
Goggles

Goggles

Goggles or safety glasses are forms of protective eyewear that usually enclose or protect the area surrounding the eye in order to prevent particulates, water or chemicals from striking the eyes. They are used in chemistry laboratories and in woodworking. They are often used in snow sports as well,...



Needle guards
Rubber mallet
Scissors

Scissors

Scissors are hand-operated cutting instruments. They consist of a pair of metal blades pivoted so that the sharpened edges slide against each other when the handles opposite to the pivot are closed. Scissors are used for cutting various thin materials, such as paper, cardboard, metal foil, thin...



Sewing machine

Sewing machine

A sewing machine is a textile machine used to stitch fabric, cards and other material together with thread. Sewing machines were invented during the first Industrial Revolution to decrease the amount of manual sewing work performed in clothing companies...



Staple gun

Staple gun

A staple gun or powered stapler is a hand-held machine used to drive heavy metal staples into wood, plastic, or masonry. Staple guns are used for many different applications and to affix a variety of materials, including insulation, house wrap, roofing, wiring, carpeting, upholstery, and hobby and...



Staple knocker

Staple knocker

A staple knocker is a tool resembling a screwdriver, used for removing staples and shredded material. It is called a knocker because a hammer can be used to hit the end of it and remove long lines of shorter staples....


(staple puller)
Upholstery hammer

Upholstery hammer

An upholstery hammer is a lightweight hammer used for securing upholstery fabric to furniture frames using tacks or small nails....



Upholstery needles (round point curved needles and button needles)
Upholstery regulator

Upholstery regulator

An upholstery regulator is an upholstery tool which smooths irregularities in the stuffing beneath the coverings.Whilst it looks similar to a needle it is heavier; like needles the regulator comes in various gauges and lengths...



Webbing stretcher

Webbing stretcher

A webbing stretcher is an upholstery tool used to stretch upholstery fabrics for a snug fit. It is used primarily for the stretching of webbing used in 8-way hand tying. It consists of metal spikes that grab the webbing and is used to pull the webbing tight...



Upholstery materials
Button

Button

In modern clothing and fashion design, a button is a small fastener, most commonly made of plastic, but also frequently of seashell, which secures two pieces of fabric together. In archaeology, a button can be a significant artifact. In the applied arts and in craft, a button can be an example of...


s
Staple

Staple (fastener)

A staple is a type of two-pronged fastener, usually metal, used for joining or binding materials together. Large staples might be used with a hammer or staple gun for masonry, roofing, corrugated boxes and other heavy-duty uses...


s
Tacks (upholstery tacks, various sizes)
Zipper

Zipper

A zipper is a commonly used device for temporarily joining two edges of fabric...


s