 List of towns in the Republic of Ireland by population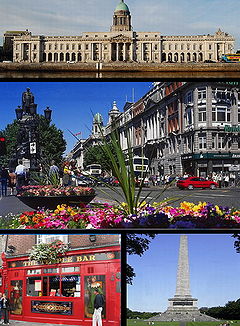 This is a
list of towns in the Republic of Ireland

Republic of Ireland

Ireland , described as the Republic of Ireland , is a sovereign state in Europe occupying approximately five-sixths of the island of the same name. Its capital is Dublin. Ireland, which had a population of 4.58 million in 2011, is a constitutional republic governed as a parliamentary democracy,...


by population
. The one hundred largest towns are listed. Populations are from Table 7, Volume 1 of the 2006
census
Census
A census is the procedure of systematically acquiring and recording information about the members of a given population. It is a regularly occurring and official count of a particular population. The term is used mostly in connection with national population and housing censuses; other common...
and represent the entire urban area (including
suburb
Suburb
The word suburb mostly refers to a residential area, either existing as part of a city or as a separate residential community within commuting distance of a city . Some suburbs have a degree of administrative autonomy, and most have lower population density than inner city neighborhoods...
s and environs). For convenience, administrative cities are included and are shown in
bold
.
Rank 2006
Change since 2002
rban Area!!style="width:200px;align:right;"|County!!style="width:80px;align:right;"|Population 2006!!style="width:50px;align:left;"|Increase since 2002
1
0
Dublin
County Dublin

County Dublin

County Dublin is a county in Ireland. It is part of the Dublin Region and is also located in the province of Leinster. It is named after the city of Dublin which is the capital of Ireland. County Dublin was one of the first of the parts of Ireland to be shired by King John of England following the...



1,045,769
4.1%
2
0
Cork

Cork (city)

Cork is the second largest city in the Republic of Ireland and the island of Ireland's third most populous city. It is the principal city and administrative centre of County Cork and the largest city in the province of Munster. Cork has a population of 119,418, while the addition of the suburban...



County Cork

County Cork

County Cork is a county in Ireland. It is located in the South-West Region and is also part of the province of Munster. It is named after the city of Cork . Cork County Council is the local authority for the county...



190,384
2.2%
3
0
Limerick

Limerick

Limerick is the third largest city in the Republic of Ireland, and the principal city of County Limerick and Ireland's Mid-West Region. It is the fifth most populous city in all of Ireland. When taking the extra-municipal suburbs into account, Limerick is the third largest conurbation in the...



County Limerick

County Limerick

It is thought that humans had established themselves in the Lough Gur area of the county as early as 3000 BC, while megalithic remains found at Duntryleague date back further to 3500 BC...


& County Clare

County Clare

-History:There was a Neolithic civilisation in the Clare area — the name of the peoples is unknown, but the Prehistoric peoples left evidence behind in the form of ancient dolmen; single-chamber megalithic tombs, usually consisting of three or more upright stones...



90,757
4.3%
4
0
Galway

Galway

Galway or City of Galway is a city in County Galway, Republic of Ireland. It is the sixth largest and the fastest-growing city in Ireland. It is also the third largest city within the Republic and the only city in the Province of Connacht. Located on the west coast of Ireland, it sits on the...



County Galway

County Galway

County Galway is a county in Ireland. It is located in the West Region and is also part of the province of Connacht. It is named after the city of Galway. Galway County Council is the local authority for the county. There are several strongly Irish-speaking areas in the west of the county...



72,729
9.9%
5
0
Waterford

Waterford

Waterford is a city in the South-East Region of Ireland. It is the oldest city in the country and fifth largest by population. Waterford City Council is the local government authority for the city and its immediate hinterland...



County Waterford

County Waterford

*Abbeyside, Affane, Aglish, Annestown, An Rinn, Ardmore*Ballinacourty, Ballinameela, Ballinamult, Ballinroad, Ballybeg, Ballybricken, Ballyduff Lower, Ballyduff Upper, Ballydurn, Ballygunner, Ballylaneen, Ballymacarbry, Ballymacart, Ballynaneashagh, Ballysaggart, Ballytruckle, Bilberry, Bunmahon,...


& County Kilkenny

County Kilkenny

County Kilkenny is a county in Ireland. It is part of the South-East Region and is also located in the province of Leinster. It is named after the city of Kilkenny. The territory of the county was the core part of the ancient Irish Kingdom of Osraige which in turn was the core of the Diocese of...



49,213
5.3%
6
1
Drogheda

Drogheda

Drogheda is an industrial and port town in County Louth on the east coast of Ireland, 56 km north of Dublin. It is the last bridging point on the River Boyne before it enters the Irish Sea....



County Louth

County Louth

County Louth is a county of Ireland. It is part of the Border Region and is also located in the province of Leinster. It is named after the town of Louth. Louth County Council is the local authority for the county...


& County Meath

County Meath

County Meath is a county in Ireland. It is part of the Mid-East Region and is also located in the province of Leinster. It is named after the ancient Kingdom of Mide . Meath County Council is the local authority for the county...



35,090
13.1%
7
1
Dundalk

Dundalk

Dundalk is the county town of County Louth in Ireland. It is situated where the Castletown River flows into Dundalk Bay. The town is close to the border with Northern Ireland and equi-distant from Dublin and Belfast. The town's name, which was historically written as Dundalgan, has associations...



County Louth

County Louth

County Louth is a county of Ireland. It is part of the Border Region and is also located in the province of Leinster. It is named after the town of Louth. Louth County Council is the local authority for the county...



35,085
7.9%
8
1
Swords

Swords, Dublin

Swords is the county town of Fingal in Ireland. It is about 13 km north of Dublin city centre and is part of its commuter belt.- History :...



County Fingal
33,998
25.1%
9
1
Bray

Bray

Bray is a town in north County Wicklow, Ireland. It is a busy urban centre and seaside resort, with a population of 31,901 making it the fourth largest in Ireland as of the 2006 census...



County Wicklow

County Wicklow

County Wicklow is a county in Ireland. It is part of the Mid-East Region and is also located in the province of Leinster. It is named after the town of Wicklow, which derives from the Old Norse name Víkingalág or Wykynlo. Wicklow County Council is the local authority for the county...


& County Dublin

County Dublin

County Dublin is a county in Ireland. It is part of the Dublin Region and is also located in the province of Leinster. It is named after the city of Dublin which is the capital of Ireland. County Dublin was one of the first of the parts of Ireland to be shired by King John of England following the...



31,901
3.1%
10
4
Navan

Navan

-People:Navan was the childhood home of Pierce Brosnan, who appeared in the television series Remington Steele and was the fifth film actor to play James Bond. TV personality Hector Ó hEochagáin, and comedians Dylan Moran and Tommy Tiernan also hail from Navan....



County Meath

County Meath

County Meath is a county in Ireland. It is part of the Mid-East Region and is also located in the province of Leinster. It is named after the ancient Kingdom of Mide . Meath County Council is the local authority for the county...



24,851
28.0%
11
1
Ennis

Ennis

Ennis is the county town of Clare in Ireland. Situated on the River Fergus, it lies north of Limerick and south of Galway. Its name is a shortening of the original ....



County Clare

County Clare

-History:There was a Neolithic civilisation in the Clare area — the name of the peoples is unknown, but the Prehistoric peoples left evidence behind in the form of ancient dolmen; single-chamber megalithic tombs, usually consisting of three or more upright stones...



24,253
10.0%
12
1
Tralee
County Kerry

County Kerry

Kerry means the "people of Ciar" which was the name of the pre-Gaelic tribe who lived in part of the present county. The legendary founder of the tribe was Ciar, son of Fergus mac Róich. In Old Irish "Ciar" meant black or dark brown, and the word continues in use in modern Irish as an adjective...



22,744
3.4%
13
1
Kilkenny

Kilkenny

Kilkenny is a city and is the county town of the eponymous County Kilkenny in Ireland. It is situated on both banks of the River Nore in the province of Leinster, in the south-east of Ireland...



County Kilkenny

County Kilkenny

County Kilkenny is a county in Ireland. It is part of the South-East Region and is also located in the province of Leinster. It is named after the city of Kilkenny. The territory of the county was the core part of the ancient Irish Kingdom of Osraige which in turn was the core of the Diocese of...



22,179
7.0%
14
1
Carlow

Carlow

Carlow is the county town of County Carlow in Ireland. It is situated in the south-east of Ireland, 84 km from Dublin. County Carlow is the second smallest county in Ireland by area, however Carlow Town is the 14th largest urban area in Ireland by population according to the 2006 census. The...



County Carlow

County Carlow

County Carlow is a county in Ireland. It is part of the South-East Region and is also located in the province of Leinster. It is named after the town of Carlow, which lies on the River Barrow. Carlow County Council is the local authority for the county...


& County Laois

County Laois

County Laois is a county in Ireland. It is part of the Midlands Region and is also located in the province of Leinster. It was formerly known as Queen's County until the establishment of the Irish Free State in 1922. The county's name was formerly spelt as Laoighis and Leix. Laois County Council...



20,724
12.1%
15
1
Naas

Naas

Naas is the county town of County Kildare in Ireland. With a population of just over twenty thousand, it is also the largest town in the county. Naas is a major commuter suburb, with many people residing there and working in Dublin...



County Kildare

County Kildare

County Kildare is a county in Ireland. It is part of the Mid-East Region and is also located in the province of Leinster. It is named after the town of Kildare. Kildare County Council is the local authority for the county...



20,044
9.6%
16
3
Sligo

Sligo

Sligo is the county town of County Sligo in Ireland. The town is a borough and has a charter and a town mayor. It is sometimes referred to as a city, and sometimes as a town, and is the second largest urban area in Connacht...



County Sligo
19,402
-1.7%
17
2
Newbridge

Newbridge, County Kildare

The earliest known mention of Newbridge was by traveller and bookseller John Dunton in 1698, though he does not refer to any settlement other than at Ballymany....



County Kildare

County Kildare

County Kildare is a county in Ireland. It is part of the Mid-East Region and is also located in the province of Leinster. It is named after the town of Kildare. Kildare County Council is the local authority for the county...



18,520
10.6%
18
4
Mullingar

Mullingar

Mullingar is the county town of County Westmeath in Ireland. The Counties of Meath and Westmeath Act of 1542, proclaimed Westmeath a county, separating it from Meath. Mullingar became the administrative centre for County Westmeath...



County Westmeath

County Westmeath

-Economy:Westmeath has a strong agricultural economy. Initially, development occurred around the major market centres of Mullingar, Moate, and Kinnegad. Athlone developed due to its military significance, and its strategic location on the main Dublin–Galway route across the River Shannon. Mullingar...



18,416
17.9%
19
2
Wexford

Wexford

Wexford is the county town of County Wexford, Ireland. It is situated near the southeastern corner of Ireland, close to Rosslare Europort. The town is connected to Dublin via the M11/N11 National Primary Route, and the national rail network...



County Wexford

County Wexford

County Wexford is a county in Ireland. It is part of the South-East Region and is also located in the province of Leinster. It is named after the town of Wexford. In pre-Norman times it was part of the Kingdom of Uí Cheinnselaig, whose capital was at Ferns. Wexford County Council is the local...



18,163
5.4%
20
3
Letterkenny

Letterkenny

Letterkenny , with a population of 17,568, is the largest town in County Donegal, part of the Province of Ulster in Ireland. The town is located on the River Swilly...



County Donegal

County Donegal

County Donegal is a county in Ireland. It is part of the Border Region and is also located in the province of Ulster. It is named after the town of Donegal. Donegal County Council is the local authority for the county...



17,586
15.5%
21
0
Athlone
County Westmeath

County Westmeath

-Economy:Westmeath has a strong agricultural economy. Initially, development occurred around the major market centres of Mullingar, Moate, and Kinnegad. Athlone developed due to its military significance, and its strategic location on the main Dublin–Galway route across the River Shannon. Mullingar...


& County Roscommon

County Roscommon

County Roscommon is a county in Ireland. It is located in the West Region and is also part of the province of Connacht. It is named after the town of Roscommon. Roscommon County Council is the local authority for the county...



17,544
10.1%
22
2
Celbridge

Celbridge

Celbridge is a town and townland on the River Liffey in County Kildare, Ireland. It is west of Dublin. As a town within the Dublin Metropolitan Area and the Greater Dublin Area, it is located at the intersection of the R403 and R405 regional roads....



County Kildare

County Kildare

County Kildare is a county in Ireland. It is part of the Mid-East Region and is also located in the province of Leinster. It is named after the town of Kildare. Kildare County Council is the local authority for the county...



17,262
7.8%
23
5
Clonmel

Clonmel

Clonmel is the county town of South Tipperary in Ireland. It is the largest town in the county. While the borough had a population of 15,482 in 2006, another 17,008 people were in the rural hinterland. The town is noted in Irish history for its resistance to the Cromwellian army which sacked both...



County Tipperary

County Tipperary

County Tipperary is a county of Ireland. It is located in the province of Munster and is named after the town of Tipperary. The area of the county does not have a single local authority; local government is split between two authorities. In North Tipperary, part of the Mid-West Region, local...


& County Waterford

County Waterford

*Abbeyside, Affane, Aglish, Annestown, An Rinn, Ardmore*Ballinacourty, Ballinameela, Ballinamult, Ballinroad, Ballybeg, Ballybricken, Ballyduff Lower, Ballyduff Upper, Ballydurn, Ballygunner, Ballylaneen, Ballymacarbry, Ballymacart, Ballynaneashagh, Ballysaggart, Ballytruckle, Bilberry, Bunmahon,...



17,008
0.6%
24
9
Balbriggan

Balbriggan

Balbriggan is a town in the northern part of the administrative county of Fingal, within County Dublin, Ireland. The 2006 census population was 15,559 for Balbriggan and its environs.- Name :...



County Dublin

County Dublin

County Dublin is a county in Ireland. It is part of the Dublin Region and is also located in the province of Leinster. It is named after the city of Dublin which is the capital of Ireland. County Dublin was one of the first of the parts of Ireland to be shired by King John of England following the...



15,559
51.1%
25
0
Malahide

Malahide

Malahide is a coastal suburban town, near Dublin city, located in the administrative county of Fingal, within the traditional County Dublin, Ireland. It has a village-like centre and extensive residential areas to the south, west and northwest.-Name:...



County Dublin

County Dublin

County Dublin is a county in Ireland. It is part of the Dublin Region and is also located in the province of Leinster. It is named after the city of Dublin which is the capital of Ireland. County Dublin was one of the first of the parts of Ireland to be shired by King John of England following the...



14,937
8.0%
26
2
Leixlip

Leixlip

-Politics:Since 1988 Leixlip has had a nine member Town Council , headed by a Cathaoirleach , which has control over many local matters, although it is limited in that it is not also a planning authority...



County Kildare

County Kildare

County Kildare is a county in Ireland. It is part of the Mid-East Region and is also located in the province of Leinster. It is named after the town of Kildare. Kildare County Council is the local authority for the county...



14,676
-2.3%
27
0
Portlaoise
County Laois

County Laois

County Laois is a county in Ireland. It is part of the Midlands Region and is also located in the province of Leinster. It was formerly known as Queen's County until the establishment of the Irish Free State in 1922. The county's name was formerly spelt as Laoighis and Leix. Laois County Council...



14,613
20.5%
28
2
Killarney

Killarney

Killarney is a town in County Kerry, southwestern Ireland. The town is located north of the MacGillicuddy Reeks, on the northeastern shore of the Lough Lein/Leane which are part of Killarney National Park. The town and its surrounding region are home to St...



County Kerry

County Kerry

Kerry means the "people of Ciar" which was the name of the pre-Gaelic tribe who lived in part of the present county. The legendary founder of the tribe was Ciar, son of Fergus mac Róich. In Old Irish "Ciar" meant black or dark brown, and the word continues in use in modern Irish as an adjective...



14,603
11.2%
29
1
Greystones

Greystones

Greystones is a coastal town and small seaside resort in County Wicklow, Ireland. It is located on Ireland's east coast, south of Bray and south of Dublin , with a population in the region of 15,000....



County Wicklow

County Wicklow

County Wicklow is a county in Ireland. It is part of the Mid-East Region and is also located in the province of Leinster. It is named after the town of Wicklow, which derives from the Old Norse name Víkingalág or Wykynlo. Wicklow County Council is the local authority for the county...



14,569
22.3%
30
1
Tullamore

Tullamore

Tullamore is a town in County Offaly, in the midlands of Ireland. It is Offaly's county town and the centre of the district.Tullamore is an important commercial and industrial centre in the region. Major international employers in the town include 'Tyco Healthcare' and 'Boston Scientific'. In...



County Offaly

County Offaly

County Offaly is a county in Ireland. It is part of the Midlands Region and is also located in the province of Leinster. It is named after the ancient Kingdom of Uí Failghe and was formerly known as King's County until the establishment of the Irish Free State in 1922. Offaly County Council is...



12,927
16.5%
31
1
Carrigaline

Carrigaline

Carrigaline is a single-street town in County Cork, Ireland. It is about 12 km from Cork City which can be reached by car in 25 minutes...



County Cork

County Cork

County Cork is a county in Ireland. It is located in the South-West Region and is also part of the province of Munster. It is named after the city of Cork . Cork County Council is the local authority for the county...



12,835
14.7%
32
3
Castlebar

Castlebar

Castlebar is the county town of, and at the centre of, County Mayo in Ireland. It is Mayo's largest town by population. The town's population exploded in the late 1990s, increasing by one-third in just six years, though this massive growth has slowed down greatly in recent years...



County Mayo

County Mayo

County Mayo is a county in Ireland. It is located in the West Region and is also part of the province of Connacht. It is named after the village of Mayo, which is now generally known as Mayo Abbey. Mayo County Council is the local authority for the county. The population of the county is 130,552...



11,891
4.6%
33
2
Arklow

Arklow

Arklow , also known as Inbhear Dé from the Avonmore river's older name Abhainn Dé, is a historic town located in County Wicklow on the east coast of Ireland. Founded by the Vikings in the ninth century, Arklow was the site of one of the bloodiest battles of the 1798 rebellion...



County Wicklow

County Wicklow

County Wicklow is a county in Ireland. It is part of the Mid-East Region and is also located in the province of Leinster. It is named after the town of Wicklow, which derives from the Old Norse name Víkingalág or Wykynlo. Wicklow County Council is the local authority for the county...



11,759
17.7%
34
2
Cobh

Cobh

Cobh is a seaport town on the south coast of County Cork, Ireland. Cobh is on the south side of Great Island in Cork Harbour. Facing the town are Spike Island and Haulbowline Island...



County Cork

County Cork

County Cork is a county in Ireland. It is located in the South-West Region and is also part of the province of Munster. It is named after the city of Cork . Cork County Council is the local authority for the county...



11,303
15.2%
35
1
Maynooth

Maynooth

Maynooth is a town in north County Kildare, Ireland. It is home to a branch of the National University of Ireland, a Papal University and Ireland's main Roman Catholic seminary, St. Patrick's College...



County Kildare

County Kildare

County Kildare is a county in Ireland. It is part of the Mid-East Region and is also located in the province of Leinster. It is named after the town of Kildare. Kildare County Council is the local authority for the county...



10,715
5.6%
36
4
Ballina

Ballina, County Mayo

Ballina is a large town in north County Mayo in Ireland. It lies at the mouth of the River Moy near Killala Bay, in the Moy valley and Parish of Kilmoremoy, with the Ox Mountain range to the east and the Nephin Beg mountains to the west...



County Mayo

County Mayo

County Mayo is a county in Ireland. It is located in the West Region and is also part of the province of Connacht. It is named after the village of Mayo, which is now generally known as Mayo Abbey. Mayo County Council is the local authority for the county. The population of the county is 130,552...



10,409
7.9%
37
3
Mallow

Mallow, County Cork

Mallow is the "Crossroads of Munster" and the administrative capital of north County Cork, in Ireland. The Northern Divisional Offices of Cork County Council are located in the town....



County Cork

County Cork

County Cork is a county in Ireland. It is located in the South-West Region and is also part of the province of Munster. It is named after the city of Cork . Cork County Council is the local authority for the county...



10,241
14.6%
38
1
Wicklow

Wicklow

Wicklow) is the county town of County Wicklow in Ireland. Located south of Dublin on the east coast of the island, it has a population of 10,070 according to the 2006 census. The town is situated to the east of the N11 route between Dublin and Wexford. Wicklow is also connected to the rail...



County Wicklow

County Wicklow

County Wicklow is a county in Ireland. It is part of the Mid-East Region and is also located in the province of Leinster. It is named after the town of Wicklow, which derives from the Old Norse name Víkingalág or Wykynlo. Wicklow County Council is the local authority for the county...



10,070
7.6%
39
6
Midleton

Midleton

Midleton, historically Middleton , is a town in south-eastern County Cork, Ireland. It lies some 22 km east of Cork City on the Owenacurra River and the N25 road, which connects Cork to the port of Rosslare...



County Cork

County Cork

County Cork is a county in Ireland. It is located in the South-West Region and is also part of the province of Munster. It is named after the city of Cork . Cork County Council is the local authority for the county...



10,048
26.3%
40
4
Tramore
County Waterford

County Waterford

*Abbeyside, Affane, Aglish, Annestown, An Rinn, Ardmore*Ballinacourty, Ballinameela, Ballinamult, Ballinroad, Ballybeg, Ballybricken, Ballyduff Lower, Ballyduff Upper, Ballydurn, Ballygunner, Ballylaneen, Ballymacarbry, Ballymacart, Ballynaneashagh, Ballysaggart, Ballytruckle, Bilberry, Bunmahon,...



9,634
16.0%
41
2
Enniscorthy

Enniscorthy

Enniscorthy is the second largest town in County Wexford, Ireland. The population of the town and environs is 9538. The Placenames Database of Ireland sheds no light on the origins of the town's name. It may refer either to the "Island of Corthaidh" or the "Island of Rocks". With a history going...



County Wexford

County Wexford

County Wexford is a county in Ireland. It is part of the South-East Region and is also located in the province of Leinster. It is named after the town of Wexford. In pre-Norman times it was part of the Kingdom of Uí Cheinnselaig, whose capital was at Ferns. Wexford County Council is the local...



9,538
6.4%
42
4
Skerries

Skerries, Dublin

-The 20th century and today:Historically, Skerries has been a thriving fishing port and a major center of hand embroidery. In the late 20th century, it became a resort town , and another suburb for commuters to the city of Dublin....



County Dublin

County Dublin

County Dublin is a county in Ireland. It is part of the Dublin Region and is also located in the province of Leinster. It is named after the city of Dublin which is the capital of Ireland. County Dublin was one of the first of the parts of Ireland to be shired by King John of England following the...



9,535
4.2%
43
2
Shannon
County Clare

County Clare

-History:There was a Neolithic civilisation in the Clare area — the name of the peoples is unknown, but the Prehistoric peoples left evidence behind in the form of ancient dolmen; single-chamber megalithic tombs, usually consisting of three or more upright stones...



9,222
7.7%
44
1
Portmarnock

Portmarnock

Portmarnock is a small suburban village to the north of Dublin, Ireland. It is in the administrative county of Fingal.-Location:Portmarnock lies on the coast and, owing to its proximity to Dublin city, is a form of dormitory village north-northeast of the city centre...



County Dublin

County Dublin

County Dublin is a county in Ireland. It is part of the Dublin Region and is also located in the province of Leinster. It is named after the city of Dublin which is the capital of Ireland. County Dublin was one of the first of the parts of Ireland to be shired by King John of England following the...



8,979
7.2%
45
16
Laytown-Bettystown-Mornington

Laytown-Bettystown-Mornington

Laytown-Bettystown-Mornington is a census town in County Meath, Ireland, comprising the adjoining villages of Laytown, Bettystown and Mornington. It had a population of 5597 at the 2002 census. The coastline stretches from the River Boyne, which borders County Louth to the River Delvin, which...



County Meath

County Meath

County Meath is a county in Ireland. It is part of the Mid-East Region and is also located in the province of Leinster. It is named after the ancient Kingdom of Mide . Meath County Council is the local authority for the county...



8,978
60.4%
46
0
Longford

Longford

Longford is the county town of County Longford in Ireland. It has a population of 7,622 according to the 2006 census. Approximately one third of the county's population resides in the town. Longford town is also the biggest town in the county...



County Longford

County Longford

County Longford is a county in Ireland. It is part of the Midlands Region and is also located in the province of Leinster. It is named after the town of Longford.Longford County Council is the local authority for the county...



8,836
16.9%
47
5
Ashbourne

Ashbourne, County Meath

Ashbourne, historically called Killeglan or Kildeglan , is a town in County Meath, Ireland. It is about 20 km north of Dublin city centre and is bypassed by the M2 motorway.-History:...



County Meath

County Meath

County Meath is a county in Ireland. It is part of the Mid-East Region and is also located in the province of Leinster. It is named after the ancient Kingdom of Mide . Meath County Council is the local authority for the county...



8,528
34.0%
48
1
Dungarvan

Dungarvan

Dungarvan is a town and harbour on the south coast of Ireland in the province of Munster. Dungarvan is the county town and administrative centre of County Waterford. The town's Irish name means "Garbhan's fort", referring to Saint Garbhan who founded a church there in the seventh century...



County Waterford

County Waterford

*Abbeyside, Affane, Aglish, Annestown, An Rinn, Ardmore*Ballinacourty, Ballinameela, Ballinamult, Ballinroad, Ballybeg, Ballybricken, Ballyduff Lower, Ballyduff Upper, Ballydurn, Ballygunner, Ballylaneen, Ballymacarbry, Ballymacart, Ballynaneashagh, Ballysaggart, Ballytruckle, Bilberry, Bunmahon,...



8,362
12.2%
49
0
Rush

Rush, Dublin

Rush is a small seaside town, with a population of 8,280, situated between the communities of Skerries and Lusk in Fingal, Ireland. There has been a large population increase since the previous census in 2002, comprising mostly people from north Dublin....



County Dublin

County Dublin

County Dublin is a county in Ireland. It is part of the Dublin Region and is also located in the province of Leinster. It is named after the city of Dublin which is the capital of Ireland. County Dublin was one of the first of the parts of Ireland to be shired by King John of England following the...



8,286
22.4%
50
5
Athy

Athy

The town developed from a 12th century Anglo-Norman settlement to an important British military outpost on the border of the Pale.The first town charter dates from the 16th century and the town hall was constructed in the early 18th century...



County Kildare

County Kildare

County Kildare is a county in Ireland. It is part of the Mid-East Region and is also located in the province of Leinster. It is named after the town of Kildare. Kildare County Council is the local authority for the county...



8,218
35.9%
51
3
Cavan

Cavan

Cavan is the county town of County Cavan in the Republic of Ireland. The town lies in the north central part of Ireland, near the border with Northern Ireland...



County Cavan

County Cavan

County Cavan is a county in Ireland. It is part of the Border Region and is also located in the province of Ulster. It is named after the town of Cavan. Cavan County Council is the local authority for the county...



7,883
29.3%
52
0
Nenagh

Nenagh

Nenagh is the county town of North Tipperary in Ireland. It is the administrative centre of North Tipperary and in 2011 it had a recorded population of 7,995. It is a civil parish in the historical barony of Ormond Lower...



County Tipperary

County Tipperary

County Tipperary is a county of Ireland. It is located in the province of Munster and is named after the town of Tipperary. The area of the county does not have a single local authority; local government is split between two authorities. In North Tipperary, part of the Mid-West Region, local...



7,751
20.1%
53
2
New Ross

New Ross

New Ross is a town located in southwest County Wexford, in the southeast of Ireland. In 2006 it had a population of 7,709 people, making it the third largest town in the county after Wexford and Enniscorthy.-History:...



County Wexford

County Wexford

County Wexford is a county in Ireland. It is part of the South-East Region and is also located in the province of Leinster. It is named after the town of Wexford. In pre-Norman times it was part of the Kingdom of Uí Cheinnselaig, whose capital was at Ferns. Wexford County Council is the local...



7,709
17.9%
54
6
Thurles

Thurles

Thurles is a town situated in North Tipperary, Ireland. It is a civil parish in the historical barony of Eliogarty and is also an ecclesiastical parish in the Roman Catholic Archdiocese of Cashel and Emly...



County Tipperary

County Tipperary

County Tipperary is a county of Ireland. It is located in the province of Munster and is named after the town of Tipperary. The area of the county does not have a single local authority; local government is split between two authorities. In North Tipperary, part of the Mid-West Region, local...



7,682
3.5%
55
4
Kildare

Kildare

-External links:*******...



County Kildare

County Kildare

County Kildare is a county in Ireland. It is part of the Mid-East Region and is also located in the province of Leinster. It is named after the town of Kildare. Kildare County Council is the local authority for the county...



7,538
32.4%
56
27
Ratoath

Ratoath

Ratoath is a town in the barony of the same name, County Meath in Ireland. The town is centered on the point where the R125 and R155 regional roads meet. In the 1996 census, the population was recorded as 1,061. In the 2006 census, it was 7,249...



County Meath

County Meath

County Meath is a county in Ireland. It is part of the Mid-East Region and is also located in the province of Leinster. It is named after the ancient Kingdom of Mide . Meath County Council is the local authority for the county...



7,249
91.1%
57
7
Gorey

Gorey

Gorey , is a market town in north County Wexford, Ireland, situated beside the main M11 Dublin to Wexford road. The town is also connected to the railway network along the same route. Local newspapers include the Gorey Guardian and Gorey Echo....



County Wexford

County Wexford

County Wexford is a county in Ireland. It is part of the South-East Region and is also located in the province of Leinster. It is named after the town of Wexford. In pre-Norman times it was part of the Kingdom of Uí Cheinnselaig, whose capital was at Ferns. Wexford County Council is the local...



7,193
36.2%
58
2
Tuam

Tuam

Tuam is a town in County Galway, Ireland. The name is pronounced choo-um . It is situated west of the midlands of Ireland, and north of Galway city.-History:...



County Galway

County Galway

County Galway is a county in Ireland. It is located in the West Region and is also part of the province of Connacht. It is named after the city of Galway. Galway County Council is the local authority for the county. There are several strongly Irish-speaking areas in the west of the county...



6,885
15.8%
59
1
Trim

Trim, County Meath

Trim is the traditional county town of County Meath in Ireland, although the county town is now Navan. The town was recorded in the 2006 census to have a population of 6,870....



County Meath

County Meath

County Meath is a county in Ireland. It is part of the Mid-East Region and is also located in the province of Leinster. It is named after the ancient Kingdom of Mide . Meath County Council is the local authority for the county...



6,870
16.6%
60
10
Youghal

Youghal

Youghal is a town in County Cork, Ireland. Sitting on the estuary of the River Blackwater, in the past it was militarily and economically important. Being built on the edge of a steep riverbank, the town has a distinctive long and narrow layout...



County Cork

County Cork

County Cork is a county in Ireland. It is located in the South-West Region and is also part of the province of Munster. It is named after the city of Cork . Cork County Council is the local authority for the county...



6,785
2.8%
61
4
Monaghan

Monaghan

Monaghan is the county town of County Monaghan in Ireland. Its population at the 2006 census stood at 7,811 . The town is located on the main road, the N2 road, from Dublin north to both Derry and Letterkenny.-Toponym:...



County Monaghan

County Monaghan

County Monaghan is a county in Ireland. It is part of the Border Region and is also located in the province of Ulster. It is named after the town of Monaghan. Monaghan County Council is the local authority for the county...



6,710
13.0%
62
9
Ballinasloe
County Galway

County Galway

County Galway is a county in Ireland. It is located in the West Region and is also part of the province of Connacht. It is named after the city of Galway. Galway County Council is the local authority for the county. There are several strongly Irish-speaking areas in the west of the county...


& County Roscommon

County Roscommon

County Roscommon is a county in Ireland. It is located in the West Region and is also part of the province of Connacht. It is named after the town of Roscommon. Roscommon County Council is the local authority for the county...



6,303
1.4%
63
15
Portarlington
County Laois

County Laois

County Laois is a county in Ireland. It is part of the Midlands Region and is also located in the province of Leinster. It was formerly known as Queen's County until the establishment of the Irish Free State in 1922. The county's name was formerly spelt as Laoighis and Leix. Laois County Council...


& County Offaly

County Offaly

County Offaly is a county in Ireland. It is part of the Midlands Region and is also located in the province of Leinster. It is named after the ancient Kingdom of Uí Failghe and was formerly known as King's County until the establishment of the Irish Free State in 1922. Offaly County Council is...



6,004
50.1%
64
1
Buncrana
County Donegal

County Donegal

County Donegal is a county in Ireland. It is part of the Border Region and is also located in the province of Ulster. It is named after the town of Donegal. Donegal County Council is the local authority for the county...



5,911
12.1%
65
3
Carrick-on-Suir

Carrick-on-Suir

Carrick-on-Suir is a town in South Tipperary in Ireland. As the name – meaning "the rock of the Suir" – suggests, the town is situated on the River Suir. The of the town gives the population as 5,906 and shows that it has grown by 5.7% since 2002...



County Tipperary

County Tipperary

County Tipperary is a county of Ireland. It is located in the province of Munster and is named after the town of Tipperary. The area of the county does not have a single local authority; local government is split between two authorities. In North Tipperary, part of the Mid-West Region, local...


& County Waterford

County Waterford

*Abbeyside, Affane, Aglish, Annestown, An Rinn, Ardmore*Ballinacourty, Ballinameela, Ballinamult, Ballinroad, Ballybeg, Ballybricken, Ballyduff Lower, Ballyduff Upper, Ballydurn, Ballygunner, Ballylaneen, Ballymacarbry, Ballymacart, Ballynaneashagh, Ballysaggart, Ballytruckle, Bilberry, Bunmahon,...



5,906
5.7%
66
5
Edenderry

Edenderry, County Offaly

Edenderry is a town in the north of County Offaly, Ireland. It is near the borders with Counties Kildare, Meath and Westmeath. The Grand Canal passes immediately south of the town through the Bog of Allen and there is a short spur to the town centre....



County Offaly

County Offaly

County Offaly is a county in Ireland. It is part of the Midlands Region and is also located in the province of Leinster. It is named after the ancient Kingdom of Uí Failghe and was formerly known as King's County until the establishment of the Irish Free State in 1922. Offaly County Council is...



5,888
29.2%
67
1
Fermoy

Fermoy

Fermoy is a town in County Cork, Ireland. It is situated on the River Blackwater in the south of Ireland. Its population is some 5,800 inhabitants, environs included ....



County Cork

County Cork

County Cork is a county in Ireland. It is located in the South-West Region and is also part of the province of Munster. It is named after the city of Cork . Cork County Council is the local authority for the county...



5,873
22.3%
68
2
Bandon

Bandon, County Cork

Bandon is a town in County Cork, Ireland. With a population of 5,822 as of census 2006, Bandon lies on the River Bandon between two hills. The name in Irish means "Bridge of the Bandon", a reference to the origin of the town as a crossing-point on the river. In 2004 Bandon celebrated its...



County Cork

County Cork

County Cork is a county in Ireland. It is located in the South-West Region and is also part of the province of Munster. It is named after the city of Cork . Cork County Council is the local authority for the county...



5,822
12.8%
69
6
Dunboyne

Dunboyne

Dunboyne is a town in County Meath in Ireland. For the most part, it is a dormitory town for the city of Dublin.-Location:Dunboyne is centred on the crossroads formed by the R156 regional road and the old Maynooth Road ....



County Meath

County Meath

County Meath is a county in Ireland. It is part of the Mid-East Region and is also located in the province of Leinster. It is named after the ancient Kingdom of Mide . Meath County Council is the local authority for the county...



5,713
6.5%
70
11
Donabate

Donabate

Donabate is a small suburban coastal town in Ireland, some 20 km north-northeast of Dublin City. The town is situated on a peninsula which it shares with the town of Portrane. This peninsula lies on Ireland's east coast, between the Rogerstown Estuary to the north and Broadmeadow Estuary to...



County Dublin

County Dublin

County Dublin is a county in Ireland. It is part of the Dublin Region and is also located in the province of Leinster. It is named after the city of Dublin which is the capital of Ireland. County Dublin was one of the first of the parts of Ireland to be shired by King John of England following the...



5,499
42.7%
71
11
Westport

Westport, County Mayo

Westport is a town in County Mayo, Ireland. It is situated on the west coast at the south-east corner of Clew Bay, an inlet of the Atlantic Ocean....



County Mayo

County Mayo

County Mayo is a county in Ireland. It is located in the West Region and is also part of the province of Connacht. It is named after the village of Mayo, which is now generally known as Mayo Abbey. Mayo County Council is the local authority for the county. The population of the county is 130,552...



5,475
-2.8%
72
2
Kells

Kells, County Meath

Kells is a town in County Meath, Ireland. The town lies off the M3 motorway, from Navan and from Dublin. In recent years Kells has grown greatly with many Dublin commuters moving to the town....



County Meath

County Meath

County Meath is a county in Ireland. It is part of the Mid-East Region and is also located in the province of Leinster. It is named after the ancient Kingdom of Mide . Meath County Council is the local authority for the county...



5,248
18.7%
73
new
Lusk

Lusk, County Dublin

Lusk is a village in Ireland located north of Dublin city centre. The name "Lusk" is said to date back to St. MacCullin, who founded a church there c.450. Oral tradition suggests MacCullin may have either lived in or been buried in a cave and that the name "Lusk" derives from an old Gaelic word...



County Dublin

County Dublin

County Dublin is a county in Ireland. It is part of the Dublin Region and is also located in the province of Leinster. It is named after the city of Dublin which is the capital of Ireland. County Dublin was one of the first of the parts of Ireland to be shired by King John of England following the...



5,236
113.2%
74
5
Passage West

Passage West

Passage West is a port town in County Cork, Ireland, situated on the west bank of Cork Harbour. It is some 10 km from Cork city, separated by the green belt from the urban sprawl of Douglas and Rochestown. The town has many services, amenities and social outlets...



County Cork

County Cork

County Cork is a county in Ireland. It is located in the South-West Region and is also part of the province of Munster. It is named after the city of Cork . Cork County Council is the local authority for the county...



5,203
13.2%
75
1
Newcastle West

Newcastle West

Newcastle West is a town in west County Limerick, Ireland. The town is the largest town in the county, excluding Limerick city, and is sited on the River Arra which flows into the River Deel...



County Limerick

County Limerick

It is thought that humans had established themselves in the Lough Gur area of the county as early as 3000 BC, while megalithic remains found at Duntryleague date back further to 3500 BC...



5,098
26.9%
76
3
Birr

Birr

Birr is a town in County Offaly, Ireland. Once called Parsonstown, after the Parsons family who were local landowners and hereditary Earls of Rosse. It is also a parish in the Roman Catholic Diocese of Killaloe....



County Offaly

County Offaly

County Offaly is a county in Ireland. It is part of the Midlands Region and is also located in the province of Leinster. It is named after the ancient Kingdom of Uí Failghe and was formerly known as King's County until the establishment of the Irish Free State in 1922. Offaly County Council is...


& County Tipperary

County Tipperary

County Tipperary is a county of Ireland. It is located in the province of Munster and is named after the town of Tipperary. The area of the county does not have a single local authority; local government is split between two authorities. In North Tipperary, part of the Mid-West Region, local...



5,081
14.5%
77
10
Tipperary

Tipperary

Tipperary is a town and a civil parish in South Tipperary in Ireland. Its population was 4,415 at the 2006 census. It is also an ecclesiastical parish in the Roman Catholic Archdiocese of Cashel and Emly, and is in the historical barony of Clanwilliam....



County Tipperary

County Tipperary

County Tipperary is a county of Ireland. It is located in the province of Munster and is named after the town of Tipperary. The area of the county does not have a single local authority; local government is split between two authorities. In North Tipperary, part of the Mid-West Region, local...



5,065
2.0%
78
6
Roscommon

Roscommon

Roscommon is the county town of County Roscommon in Ireland. Its population at the 2006 census stood at 5,017 . The town is located near the junctions of the N60, N61 and N63 roads.-History:...



County Roscommon

County Roscommon

County Roscommon is a county in Ireland. It is located in the West Region and is also part of the province of Connacht. It is named after the town of Roscommon. Roscommon County Council is the local authority for the county...



5,017
11.8%
79
4
Clane

Clane

Clane is a town on the River Liffey and in the barony of Clane in County Kildare, Ireland, from Dublin.Its population of 4,968 makes it the eighth largest town in Kildare and the 78th largest in the Republic of Ireland....



County Kildare

County Kildare

County Kildare is a county in Ireland. It is part of the Mid-East Region and is also located in the province of Leinster. It is named after the town of Kildare. Kildare County Council is the local authority for the county...



4,968
12.5%
80
10
Roscrea

Roscrea

Roscrea is a small heritage town in North Tipperary, Ireland. The town has a population of 4,910. Its main industries include meat processing and pharmaceuticals. It is a civil parish in the historical barony of Ikerrin...



County Tipperary

County Tipperary

County Tipperary is a county of Ireland. It is located in the province of Munster and is named after the town of Tipperary. The area of the county does not have a single local authority; local government is split between two authorities. In North Tipperary, part of the Mid-West Region, local...



4,910
7.3%
81
1
Ardee

Ardee

Ardee is a town and townland in County Louth, Ireland. It is located at the intersection of the N2, N52, and N33 roads. Ardee is on the banks of the River Dee and is approximately 20 km from Dundalk, Drogheda, Slane and Carrickmacross...



County Louth

County Louth

County Louth is a county of Ireland. It is part of the Border Region and is also located in the province of Leinster. It is named after the town of Louth. Louth County Council is the local authority for the county...



4,694
18.9%
82
5
Loughrea

Loughrea

Loughrea is a town in County Galway, Ireland. The town lies north of a range of wooded hills, the Slieve Aughty Mountains.The town expanded in recent years as it increasingly becomes a commuter town for the city of Galway.- Name :...



County Galway

County Galway

County Galway is a county in Ireland. It is located in the West Region and is also part of the province of Connacht. It is named after the city of Galway. Galway County Council is the local authority for the county. There are several strongly Irish-speaking areas in the west of the county...



4,532
13.2%
83
1
Carrickmacross

Carrickmacross

Carrickmacross or Carrickmacros is a town in County Monaghan, Ireland. The town and environs had a population of 4,387 according to the 2006 census, making it the second largest town in the county. The town won the prestigious European Entente Florale Silver Medal Award. It is a market town which...



County Monaghan

County Monaghan

County Monaghan is a county in Ireland. It is part of the Border Region and is also located in the province of Ulster. It is named after the town of Monaghan. Monaghan County Council is the local authority for the county...



4,387
14.5%
84
5
Listowel
County Kerry

County Kerry

Kerry means the "people of Ciar" which was the name of the pre-Gaelic tribe who lived in part of the present county. The legendary founder of the tribe was Ciar, son of Fergus mac Róich. In Old Irish "Ciar" meant black or dark brown, and the word continues in use in modern Irish as an adjective...



4,338
8.5%
85
0
Ballybofey

Ballybofey

Ballybofey is a town located on the south bank of the River Finn, County Donegal, Ireland. Along with the smaller town of Stranorlar on the north side of the River Finn, Ballybofey makes up the Twin Towns....


-Stranorlar

Stranorlar

Stranorlar is a small town in the Finn Valley of County Donegal, in Ireland. Stranorlar and Ballybofey form the Twin Towns.-Transport:...



County Donegal

County Donegal

County Donegal is a county in Ireland. It is part of the Border Region and is also located in the province of Ulster. It is named after the town of Donegal. Donegal County Council is the local authority for the county...



4,176
15.9%
86
2
Clonakilty

Clonakilty

Clonakilty , often referred to by locals simply as Clon, is a small town on the N71 national secondary road in West County Cork, Ireland, approximately 45 minutes away by road to the west of Cork City. The town is on the southern coast of the island, and is surrounded by hilly country devoted...



County Cork

County Cork

County Cork is a county in Ireland. It is located in the South-West Region and is also part of the province of Munster. It is named after the city of Cork . Cork County Council is the local authority for the county...



4,154
12.3%
87
9
Kilcock

Kilcock

Kilcock or Killcock is a town and townland in the north of County Kildare, Ireland, on the border with County Meath. Kilcock is a dormitory town for many of those who work in Dublin...



County Kildare

County Kildare

County Kildare is a county in Ireland. It is part of the Mid-East Region and is also located in the province of Leinster. It is named after the town of Kildare. Kildare County Council is the local authority for the county...



4,100
49.6%
88
2
Kinsale

Kinsale

Kinsale is a town in County Cork, Ireland. Located some 25 km south of Cork City on the coast near the Old Head of Kinsale, it sits at the mouth of the River Bandon and has a population of 2,257 which increases substantially during the summer months when the tourist season is at its peak and...



County Cork

County Cork

County Cork is a county in Ireland. It is located in the South-West Region and is also part of the province of Munster. It is named after the city of Cork . Cork County Council is the local authority for the county...



4,099
15.3%
89
2
Mountmellick

Mountmellick

Other than that its a 15th-century settlement on the narrow Owenass river with an encampment on its banks at Irishtown. Overlooking this valley with its trees and wildlife was a small church called Kilmongan which was closed by the Penal Laws in 1640...



County Laois

County Laois

County Laois is a county in Ireland. It is part of the Midlands Region and is also located in the province of Leinster. It was formerly known as Queen's County until the establishment of the Irish Free State in 1922. The county's name was formerly spelt as Laoighis and Leix. Laois County Council...



4,069
20.1%
90
new
Blessington

Blessington

Blessington, historically known as Ballycomeen , is a town in County Wicklow, Ireland. It is located on the N81 road, which connects Dublin to Tullow.- History :...



County Wicklow

County Wicklow

County Wicklow is a county in Ireland. It is part of the Mid-East Region and is also located in the province of Leinster. It is named after the town of Wicklow, which derives from the Old Norse name Víkingalág or Wykynlo. Wicklow County Council is the local authority for the county...



4,018
60.1%
91
2
Sallins

Sallins

Sallins is a suburban town in County Kildare, Ireland, situated 3.5 km north of the town centre of Naas, from which it is separated by the M7 motorway. Sallins is the anglicised name of Na Solláin which means "The Willows"....



County Kildare

County Kildare

County Kildare is a county in Ireland. It is part of the Mid-East Region and is also located in the province of Leinster. It is named after the town of Kildare. Kildare County Council is the local authority for the county...



3,806
30.3%
92
new
Kinsealy

Kinsealy

Kinsealy is an outer suburb of Dublin, Ireland, about 7km from the city centre, in the administration of Fingal County Council, within County Dublin....


-Drinan
County Dublin

County Dublin

County Dublin is a county in Ireland. It is part of the Dublin Region and is also located in the province of Leinster. It is named after the city of Dublin which is the capital of Ireland. County Dublin was one of the first of the parts of Ireland to be shired by King John of England following the...



3,651
73.0%
93
1
Macroom

Macroom

Macroom is a market town in Ireland located in a valley on the River Sullane, a tributary of the River Lee, between Cork and Killarney. It is one of the key gateways to the tourist region of West Cork. The town recorded a population on 3,553 in the 2006 national census...



County Cork

County Cork

County Cork is a county in Ireland. It is located in the South-West Region and is also part of the province of Munster. It is named after the city of Cork . Cork County Council is the local authority for the county...



3,553
19.0%
94
new
Oranmore

Oranmore

Oranmore is a village in County Galway on the outskirts of Galway city in Ireland. With its major housing developments, Oranmore is rapidly becoming a part of Galway's commuter or suburban belt...



County Galway

County Galway

County Galway is a county in Ireland. It is located in the West Region and is also part of the province of Connacht. It is named after the city of Galway. Galway County Council is the local authority for the county. There are several strongly Irish-speaking areas in the west of the county...



3,513
107.6%
95
5
Dunshaughlin

Dunshaughlin

-History:It is named after Saint Seachnall, who established a church there in the 5th century.Máel Seachlainn was ancestor to the principal family of Brega, Ó Maoilsheachlainn, is descended...



County Meath

County Meath

County Meath is a county in Ireland. It is part of the Mid-East Region and is also located in the province of Leinster. It is named after the ancient Kingdom of Mide . Meath County Council is the local authority for the county...



3,384
10.5%
96
1
Cahir

Cahir

Cahir is a town in South Tipperary in Ireland. The town is best known for its castle and the Swiss Cottage. It is in the barony of Iffa and Offa West.-Location and access:...



County Tipperary

County Tipperary

County Tipperary is a county of Ireland. It is located in the province of Munster and is named after the town of Tipperary. The area of the county does not have a single local authority; local government is split between two authorities. In North Tipperary, part of the Mid-West Region, local...



3,381
20.0%
97
9
Mitchelstown

Mitchelstown

Mitchelstown is a town in County Cork, Ireland with a population of approximately 3300. Mitchelstown is situated in the valley to the south of the Galtee Mountains close to the Mitchelstown Caves and is 28 km from Cahir, 50 km from Cork and 59 km from Limerick...



County Cork

County Cork

County Cork is a county in Ireland. It is located in the South-West Region and is also part of the province of Munster. It is named after the city of Cork . Cork County Council is the local authority for the county...



3,365
2.0%
98
9
Bantry

Bantry

Bantry is a town on the coast of County Cork, Ireland. It lies on the N71 national secondary road at the head of Bantry Bay, a deep-water gulf extending for 30 km to the west...



County Cork

County Cork

County Cork is a county in Ireland. It is located in the South-West Region and is also part of the province of Munster. It is named after the city of Cork . Cork County Council is the local authority for the county...



3,309
5.0%
99
5
Kilcoole

Kilcoole

Kilcoole is a village in County Wicklow, Ireland. It is three kilometres south of Greystones, 14 kilometres north of Wicklow, and about 25 kilometres south of Dublin. It was used as the set for the Irish television series Glenroe, which ran through the 1980s and 1990s...



County Wicklow

County Wicklow

County Wicklow is a county in Ireland. It is part of the Mid-East Region and is also located in the province of Leinster. It is named after the town of Wicklow, which derives from the Old Norse name Víkingalág or Wykynlo. Wicklow County Council is the local authority for the county...



3,252
15.1%
100
new
Duleek

Duleek

Duleek is a town in County Meath, Ireland, close to the Louth border.Duleek takes is name from the Irish word daimh liag, meaning house of stones and referring to an early stone-built church, St Cianan's Church, the ruins of which are still visible in Duleek today...



County Meath

County Meath

County Meath is a county in Ireland. It is part of the Mid-East Region and is also located in the province of Leinster. It is named after the ancient Kingdom of Mide . Meath County Council is the local authority for the county...



3,236
48.9%
See also
List of settlements in Northern Ireland by population