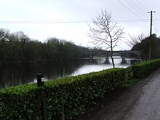 Listowel
Listowel
is a market town in
County Kerry
County Kerry
Kerry means the "people of Ciar" which was the name of the pre-Gaelic tribe who lived in part of the present county. The legendary founder of the tribe was Ciar, son of Fergus mac Róich. In Old Irish "Ciar" meant black or dark brown, and the word continues in use in modern Irish as an adjective...
,
Ireland
Ireland
Ireland is an island to the northwest of continental Europe. It is the third-largest island in Europe and the twentieth-largest island on Earth...
, and is situated on the
River Feale
River Feale
The River Feale rises near Rockchapel in the Mullaghareirk Mountains of County Cork in the southwest of Ireland and flows northwestwards through Abbeyfeale and Listowel in County Kerry before finally emptying into the Mouth of the Shannon by Ballyduff.-External links:*...
, 28 km (17.4 mi) from the county town,
Tralee
. The combined population of Listowel Urban and Rural Districts is 22,668; the town itself has a population of 4,338 (CSO census 2006).
The town is sometimes described as the "Literary Capital of Ireland", and a number of internationally known playwrights and authors have lived there, including
Bryan MacMahon
Bryan MacMahon (writer)
Bryan MacMahon was an Irish playwright, novelist and short story writer from Listowel, County Kerry. A schoolteacher by training, his works include The Lion Tamer and The Red Petticoat...
and
John B. Keane
John B. Keane
John Brendan Keane was an Irish playwright, novelist and essayist from Listowel, County Kerry.-Life and career:...
. Of Listowel, the latter wrote:
"Beautiful Listowel, serenaded night and day by the gentle waters of the River Feale.
Listowel where it is easier to write than not to write,
Where first love never dies, and the tall streets hide the loveliness,
The heartbreak and the moods, great and small,
Of all the gentle souls of a great and good community.
Sweet, incomparable hometown that shaped and made me."
Location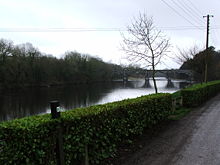 Listowel is on the
N69
N69 road (Ireland)
The N69 road is a national secondary road in Ireland. It runs from Limerick to Tralee and passes though Mungret, Clarina, Kildimo, Askeaton , Foynes, Loughill, Glin, Tarbert and Listowel.-References:* – Department of Transport...
Limerick
Limerick
Limerick is the third largest city in the Republic of Ireland, and the principal city of County Limerick and Ireland's Mid-West Region. It is the fifth most populous city in all of Ireland. When taking the extra-municipal suburbs into account, Limerick is the third largest conurbation in the...
-
Foynes
Foynes
Foynes is a village and major port in County Limerick in the midwest of Ireland, located at the edge of hilly land on the southern bank of the Shannon Estuary. The population of the town was 606 as of the 2006 census.-Foynes's role in aviation:...
- Tralee
road
Roads in Ireland
The island of Ireland, comprising Northern Ireland and the Republic of Ireland, has an extensive network of tens of thousands of kilometres of public roads, usually surfaced. These roads have been developed and modernised over centuries, from trackways suitable only for walkers and horses, to...
.
Bus Éireann
Bus Éireann
Bus Éireann provides bus services in Ireland with the exception of those operated entirely within the Dublin Region, which are provided by Dublin Bus. Bus Éireann, established as a separate company in 1987, is a subsidiary of Córas Iompair Éireann. The logo of Bus Éireann incorporates a red Irish...
provides daily services to Tralee,
Cork
Cork (city)
Cork is the second largest city in the Republic of Ireland and the island of Ireland's third most populous city. It is the principal city and administrative centre of County Cork and the largest city in the province of Munster. Cork has a population of 119,418, while the addition of the suburban...
, and Limerick. The nearest railway station is Tralee. Listowel used to have its own railway station on a
broad gauge
Broad gauge
Broad-gauge railways use a track gauge greater than the standard gauge of .- List :For list see: List of broad gauges, by gauge and country- History :...
line between Tralee and Limerick city, however this was closed to passengers in 1963, freight in 1978 and finally abandoned and lifted in 1988. The station building has been preserved as a private residence.
Listowel is located at the head of the North Kerry limestone plain. Positioned in the very heart of North Kerry, on the River Feale, its hinterland is an area of mainly dairy agricultural use. The barony of Iraghticonnor is to the north, with the
barony of Clanmaurice
Barony of Clanmaurice
Clanmaurice is a barony in County Kerry, Ireland. It contains 16 Parishes and it is roughly 485 km2.-Parishes:*Ardfert*Ballyheigue*Duagh*Dysert *Finuge*Kilcarragh*Kilfeighny*Kilflyn*Killahan*Killury...
to the south. Surrounding villages include Asdee,
Ballybunion
Ballybunion
Ballybunion or Ballybunnion is a coastal town and seaside resort in County Kerry, Ireland, from the town of Listowel. There are castle ruins near the town, although all that remains is a single wall, and two golf courses in the area including the famous Ballybunion Golf Club, a top class Links...
,
Ballyduff
Ballyduff
Four villages in the Republic of Ireland, and a housing estate in Northern Ireland, are named Ballyduff.*Ballyduff, County Kerry*Ballyduff, County Waterford near Lismore, County Waterford...
,
Ballylongford
Ballylongford
Ballylongford is a village near Listowel in north County Kerry, Ireland.-Geography:The village is situated at the top of a creek of Ballylongford Bay on the tidal estuary of the River Shannon, close to Carrigafoyle Island and on the coast road between Tarbert and the seaside town of...
, Causeway,
Duagh
Duagh
Duagh is a small village in County Kerry, Ireland, located approximately 9 km southeast of Listowel and 7 km northwest of Abbeyfeale on the R555 regional road....
,
Lisselton
Lisselton
Lisselton is a village in County Kerry, Ireland. It is located 8 km northwest of Listowel on the R553 road to Ballybunion. The village is part of the Parish of Ballydonoghue, which is located in the centre of North Kerry....
,
Lixnaw
Lixnaw
Lixnaw is a village in North County Kerry, Ireland. It is located near the River Brick SW of Listowel and NE of Tralee.- History :Lixnaw was once the seat of the Earls of Kerry. In 1320 Nicolas, the third baron of Lixnaw, erected the Castle of Lixnaw, built the old bridge, and improved the...
,
Moyvane
Moyvane
Moyvane is a small village in County Kerry in the south west of Ireland. It is situated off the N69 road between Listowel to the South-West and Tarbert to the North...
,
Finuge
Finuge
Finuge is a village near Listowel in County Kerry, Ireland. Finuge is a traditional Irish crossroads village with a shop, a pub, Teach Siamsa and a G.A.A. pitch. Sheehan's Thatched House located at Finuge Cross is regarded as one of the oldest surviving authentic thatched houses in Ireland...
and Tarbert.
History
In July 2000, Listowel was officially designated as one of Ireland's 26 "Heritage Towns" - in part because of modern environmental and renewal works, but also because of its architectural heritage and "historic importance".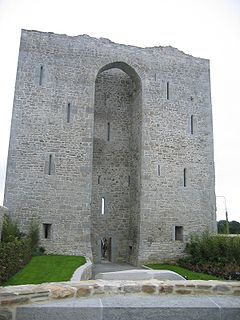 Listowel Castle
Listowel's long history dates back to 1303 where it first appears in the Plea Roll. Fortress to the Fitzmaurice family, the town developed around
Listowel Castle
and its significant Square. The last bastion against Queen Elizabeth I in the Desmond campaign, Listowel Castle was built in the 15th century and was the last fortress of the Geraldines to be subdued. It fell after 28 days siege to Sir Charles Wilmot on 5 November 1600, who had the castle's garrison executed in the following days.
The castle became the property of the Hare family, the holders of the title of
Earl of Listowel
Earl of Listowel
Earl of Listowel is a title in the Peerage of Ireland. It was created in 1822 for William Hare, 1st Viscount Ennismore and Listowel, who had earlier represented Cork City and Athy in the Irish House of Commons. He had already been created Baron Ennismore, in the County of Kerry, in 1800, and...
, after reverting away from the Fitzmaurices,
Knights of Kerry
Knight of Kerry
Knight of Kerry, also called the Green Knight, is one of three Anglo-Irish hereditary knighthoods, all of which existed in Ireland since feudal times. The others are the White Knight and the Knight of Glin...
. It is now a
national monument
National Monument (Ireland)
The Irish state has officially approved the following List of National Monuments of Ireland. In the Republic of Ireland, a structure or site may be deemed to be a "National Monument", and therefore worthy of state protection, if it is of national importance...
.
Today, the remnants of the castle include two of its four towers, which are joined by a heavy curtain wall, and the unusual feature of an arch below the battlements. Archaeological excavations and records of the castle reveal that it was originally of similar form to
Bunratty Castle
Bunratty Castle
Bunratty Castle is a large tower house in County Clare, Ireland. It lies in the centre of Bunratty village , by the N18 road between Limerick and Ennis, near Shannon Town and its airport. The name Bunratty, Bun Raite in Irish, means the 'bottom' or end of the 'Ratty' river. This river, alongside...
, Co. Clare. In 2005, restoration works were commenced by the Board of Public Works. The stonework has been cleaned by a team of craftsmen, while the upper section, which had become particularly distressed with the passing of time, has been restored and rendered waterproof. An external staircase, in keeping with the architecture of the structure has been erected to enable the public to access the upper stories.
One of the best examples of Anglo-Norman architecture in Kerry, the castle has now been restored by the Office of Public Works to some of its former glory. The castle is open to the public for tours on a daily basis.
The Seanchaí Literary Centre, which is adjacently located in a Georgian town house, is intended to help visitors learn more about the castle's history.
Another smaller castle at Woodford, Listowel, was built in the post-1600 period by the Knight of Kerry.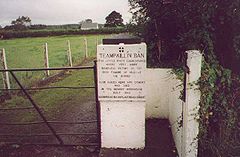 Lartigue Monorailway
A unique part played by Listowel in
Irish railway history
History of rail transport in Ireland
The history of rail transport in Ireland began only a decade later than that of Great Britain. By its peak in 1920, Ireland counted 5,500 route kilometers...
is that of having hosted the world's first
monorail
Monorail
A monorail is a rail-based transportation system based on a single rail, which acts as its sole support and its guideway. The term is also used variously to describe the beam of the system, or the vehicles traveling on such a beam or track...
operation. The Listowel and Ballybunion Railway was built to the
Lartigue
Lartigue Monorail
The Lartigue Monorail system was developed by the French engineer Charles Lartigue . He developed a horse drawn monorail system invented by Henry Robinson Palmer in 1821 further....
system, with a double-engined steam locomotive straddling an elevated rail. It connected the town with
Ballybunion
Ballybunion
Ballybunion or Ballybunnion is a coastal town and seaside resort in County Kerry, Ireland, from the town of Listowel. There are castle ruins near the town, although all that remains is a single wall, and two golf courses in the area including the famous Ballybunion Golf Club, a top class Links...
. Coaches, with a compartment on either side of the rail, had to be kept balanced. If a cow was being brought to market, two calves would be sent also, to balance it on the other side. The calves would then be returned, one on either side of the rail. In 2003, a 1000m long replica of the original monorailway was opened.
Listowel Mutiny
Listowel was the site of a famous
mutiny
which occurred during the
Irish War of Independence
Irish War of Independence
The Irish War of Independence , Anglo-Irish War, Black and Tan War, or Tan War was a guerrilla war mounted by the Irish Republican Army against the British government and its forces in Ireland. It began in January 1919, following the Irish Republic's declaration of independence. Both sides agreed...
. On 17 June 1920, member of the
Royal Irish Constabulary
Royal Irish Constabulary
The armed Royal Irish Constabulary was Ireland's major police force for most of the nineteenth and the early twentieth centuries. A separate civic police force, the unarmed Dublin Metropolitan Police controlled the capital, and the cities of Derry and Belfast, originally with their own police...
at Listowel police station refused to obey the commanding officer's orders that they be relocated to Garda outposts outside of the town. The
Black and Tans
Black and Tans
The Black and Tans was one of two newly recruited bodies, composed largely of British World War I veterans, employed by the Royal Irish Constabulary as Temporary Constables from 1920 to 1921 to suppress revolution in Ireland...
had occupied the town barracks, forcing the redeployment, something which was both dangerous and hopeless in the face of huge local hostility to the men in question. Police commissioner Colonel Smythe wished that the RIC constables would operate with the army in countering the IRA's fight for freedom in the more rural areas. He suggested while negotiating with the constables that they would be given the power to shoot any suspect on sight. Led by Constable Jeremiah Mee, they refused, both from a point of personal safety and possibly also from a sense of sympathy with their country men struggling against the British forces. The officers were discharged after the mutiny. The episode has come down to be known as the
Listowel mutiny
.
Earl of Listowel
The title of
Earl of Listowel
Earl of Listowel
Earl of Listowel is a title in the Peerage of Ireland. It was created in 1822 for William Hare, 1st Viscount Ennismore and Listowel, who had earlier represented Cork City and Athy in the Irish House of Commons. He had already been created Baron Ennismore, in the County of Kerry, in 1800, and...
is associated with the Hare family. The current incumbent Lord Listowel is
Francis Michael Hare
Francis Hare, 6th Earl of Listowel
Francis Michael Hare, 6th Earl of Listowel , is a British peer. He is one of the ninety hereditary peers elected to remain in the House of Lords after the passing of the House of Lords Act 1999...
, one of the 92 hereditary peers elected to the British
House of Lords
House of Lords
The House of Lords is the upper house of the Parliament of the United Kingdom. Like the House of Commons, it meets in the Palace of Westminster....
.
Holders of the title have included the
fifth Earl
William Hare, 5th Earl of Listowel
William Francis Hare, 5th Earl of Listowel GCMG, PC , styled Viscount Ennismore between 1924 and 1931, was a British peer and Labour politician...
, who was a Labour politician and notably served as the last Secretary of State for India and Burma. Another member of the family was the
Conservative
Conservative Party (UK)
The Conservative Party, formally the Conservative and Unionist Party, is a centre-right political party in the United Kingdom that adheres to the philosophies of conservatism and British unionism. It is the largest political party in the UK, and is currently the largest single party in the House...
politician John Hare, 1st Viscount Blakenham. He was the third son of the fourth Earl.
Kerry Co-Op
In 1973 Ireland joined the European Economic Community (EEC) and this accelerated the merger of many small dairies in Ireland so as to be able to compete with the larger milk companies in the existing EEC. Kerry followed suit and with an injection of capital from milk suppliers in the County it acquired the State owned milk processing company and its creameries, together with its 42.5% stake in the private NKMP company for a consideration of €1.5 million. Furthermore, six of the eight independent Co-ops, which held the other 42.5%, were acquired and accordingly the private company became a subsidiary of the newly formed Kerry Co-operative Creameries Ltd (Kerry Co-op) which began trading in January 1974. Thus Kerry started out as the smallest of Ireland's six major agricultural Co-operatives in 1974, with sales in that year of €29 million.
In the period 1974 - 1979 Kerry expanded its milk business in a similar fashion to other dairy Co-ops but did so on a consistently profitable basis, which of course was not always typical of the traditional dairy Co-op sector. EEC entry had brought better milk prices, increased milk volumes and improved farm incomes in Ireland. Kerry Co-op grew organically simply by taking the milk that came its way, processing it and meeting all other farmer requirements in terms of inputs and on-farm services. Its milk supply increased from 67 million gallons in 1974 to 87 million gallons in 1978. The new Co-op acquired the independent Killarney, Limerick, Mariewasere and Ballinahina Dairies (Cork) which later became part of Kerry's Dawn Dairies structure with the addition of Galway and Moate Dairies.
However in 1979 everything changed for Kerry Co-op when the county was chosen as a pilot area for a bovine disease eradication scheme. Allied to this, milk production was further depressed due to wet summer weather in 1979 and in 1980, which meant that Kerry lost almost 20% of its milk supply. This was highly significant in that it happened at a time when the Co-op was in the course of completing a €18 million capital expenditure programme at the NKMP plant in Listowel.
Kerry Group
Kerry Group today is a leader in global food ingredients and flavours markets, and a leading branded consumer foods processing and marketing organisation in selected EU markets.
The Group has grown organically and through a series of strategic acquisitions in its relatively short history, from the commissioning of its first dairy and ingredients plant in Listowel, Ireland in 1972, and has achieved sustained profitable growth with current annualised sales in excess of €4.5 billion.
Headquartered in Tralee, Ireland, the Group employs approximately 22,000 people throughout its manufacturing, sales and technical centres across Europe, North America, South America, Australia, New Zealand and Asian Markets.
Kerry supplies over 10,000 food, food ingredients and flavour products to customers in more than 140 countries worldwide. The Group has manufacturing facilities in 19 different countries and international sales offices in 20 other countries across the globe.
Launched as a public company in 1986, Kerry Group plc is listed on the Dublin and London Stock Markets and has a current market capitalisation of approximately €3.5 billion.
Education
Listowel is serviced by many primary, post-primary and post-leaving certificate education facilities. Children between five and twelve are facilitated by Presentation Primary School for girls, Scoil Realta na Maidne, for boys, and Gaelscoil Lios Tuathail, which is a mixed school. The town has two Catholic, secondary schools, Presentation Secondary School, and
St. Michael's College
St. Michael's College Listowel
St Michael's College Listowel, is an all-boys secondary school serving the town of Listowel, and the greater North Kerry catchment area. The school is situated on the banks of the River Feale, and can be found on the Cahirdown Road.-History:...
. The town is also served by Listowel Community College, a mixed post-primary and post-leaving certificate school. The town hosts Learning Initiative of North Kerry.
Listowel Races
The origin of Listowel races can be traced back to an annual gathering at Ballyeigh, Ballybunion, about nine miles from Listowel. This event, which dates to the early nineteenth century, consisted of a variety of games, horse-racing and a pre-arranged faction fight which concluded the event. Due in no small part to the disturbances surrounding these faction fights, the meeting at Ballyeigh was suspended and racing transferred to Listowel, where the first meeting took place in 1858. The racecourse is located beside the River Feale-for one of the three entrances to the course you must walk across a bridge across the river. The racecourse is called "the island" by the locals due to this fact.
It is now the joint longest racing festival in Ireland, at 7 days in duration the same as the Galway races and second in attendances only to that great event. It is the last major racing festival of the Summer and the last one before Christmas so the crowds make the most of the festivities. Traditionally it was a meeting where farmers Ireland came to spend/gamble the money they made from the harvest but it has since grown into something much larger and more wideranging than that and everybody and anybody now attends with a warm Kerry welcome guaranteed to all.
The Listowel track consists of a 1-mile, 2 furlong mile oval left-handed track with National Hunt fences and hurdles. The hurdle course is adjustable after each day's racing to give new ground. The track has been extended over the last number of years to allow extra race permutations and to enable the Festival Meeting in September to extend to seven days. The Listowel Racecourse is located adjacent to the town and is within easy walking distance of the town centre.
Listowel Writers' Week
Celebrating 40 years in 2011 Listowel Writers' Week will take place from the 1st to 5 June 2011.
Listowel is also the home of Ireland's biggest literary festival. Since its inception in 1970 Listowel Writers' Week has been recognised as the primary event in Ireland's literary calendar. North Kerry is the birthplace of many of Ireland's most prominent writers past and present including Dr. John B Keane, Dr Bryan Mac Mahon, Professor Brendan Kennelly, Seamus Wilmot, Gabriel Fitzmaurice, George Fitzmaurice, Maurice Walsh and Robert Leslie Boland. The Writers' Week Festival was established to celebrate those writers and to provide an opportunity for Irish Writers in general to develop their talents and meet new audiences.
The concept of the Literary Workshop was first introduced at Writers' Week in 1971 by Bryan MacMahon. Since then our Literary Workshops continue to be the most popular in the country. Prominent Irish writers have shared their skills in poetry, fiction, theatre, screen, crime and more recently workshops in song writing, comic writing and storytelling have been added.
Competitions were introduced, together with a series of literary awards, which have given valuable recognition to new writers over the last number of years. In that time many eminent Irish and international literary figures have gathered in Listowel at the annual festival to celebrate the work of new and established writers.
The event takes place in a unique atmosphere of learning and celebration which gives new and established writers an opportunity to discuss their work before a national and international audience.
Under the leadership of it's President Colm Tóibín, together with literary advisors Professor Brendan Kennelly, Seamus Hosey, Lawrence Block, and Michael Collins, Writers' Week provides a wide ranging programme of literary events including lectures, readings, workshops, book launches, seminars, theatre, literary and historical tours, art exhibitions, music and dance.
Participants have included: Nobel Laureate and Booker Prize-winner J.M. Cóetzee, Nobel Laureate Seamus Heaney, Booker Prize winners Kazuo Ishiguro, John Banville, James Kelman and Anne Enright. Poet Laureates Ted Hughes, Carol Ann Duffy and Andrew Motion. Award winning playwrights Tom Murphy, Brian Friel, Roddy Doyle, Frank McGuinness and Hugh Leonard. Celebrated poets Michael Hartnett, Leland Bardwell, Richard Murphy, John Montague, Yevgeny Yevtushenko, Nuala Ní Dhomhnaill, Roger McGough, Rita Ann Higgins and
Kate Cruise O' Brien. Acclaimed novelists Blake Morrison, Chris Whyte, Lionel Shriver, Colm Tóibín, Jennifer Johnston, John McGahern, Joseph O'Neill, Sebastian Barry, Joseph O' Connor, Hugo Hamilton, Edna O'Brien, Douglas Kennedy, Patrick McGrath, William Trevor, Colum McCann, Gerard Donovan, Frank McCourt, Joris Duytschaever, Irvine Welsh, Dr. Robyn Rowland, Andrew Lindsay, Michael Cunningham, Jane Urquhart, Anatoly Kudryavitsky, Cees Nooteboom, Michael Dibdin, Clyde Rose, Abdel Bari Atwan, Clive James, Melvyn Bragg, Alain De Botton, Lloyd Jones, Eric P Kaufman, Robert Fisk, Jung Chang, Terry Jones, Gabriel Byrne and many more. Website: www.writersweek.ie
Listowel Emmets
Listowel Emmets
is the local
Gaelic Athletic Association
Gaelic Athletic Association
The Gaelic Athletic Association is an amateur Irish and international cultural and sporting organisation focused primarily on promoting Gaelic games, which include the traditional Irish sports of hurling, camogie, Gaelic football, handball and rounders...
club. The club has a very long tradition of GAA involvement and achievement since June 1885 when Listowel GAA (The Feale Amateurs) was established as a GAA branch. In 1956 Emmets GAA Club was formed and in the following year the senior, intermediate and minor North Kerry League titles were won. In 1979 the Listowel Emmets GAA pitch next to St.Michaels College was closed for redevelopment and re-opened again in 1981 and was renamed in honour of Mr. Frank J Sheehy who was appointed as Chairman to the County Board in 1953.
Architecture
Listowel displays a broad range of architectural features, including the notable five arch bridge traversing the River Feale at the entrance to the Town, which dates back to 1829. According to local tradition, the bridge (referred to locally as the "Big Bridge") replaced a smaller wooden structure, which had been destroyed in floods.
Works of Pat McAuliffe
Local plasterer and builder Pat McAuliffe (1846–1921) used stucco or external plaster to decorate the façades of townhouses and shops in the town and surrounding area. A native of Listowel, McAuliffe created a number of unique plasterwork works, including the noted "
The Maid of Erin
", which depicts a Romantic image of Mother Ireland surrounded by a harp, a wolfhound and other symbols of Ireland. The Maid was at the centre of a controversy in 1999 when a new owner decided to "cover her dignity" and painted a dress on her famous bosom. A debate ensued and he was persuaded to return her to her original semi-nude state.
Published Writers with Listowel Connection
The books Listowel And Its Vicinity (1973) and Listowel And Its Vicinity Since 1973 (2004), both by Father J. Anthony Gaughan, list a large number of published writers and journalists from Listowel and the surrounding area.
George Fitzmaurice, (1877–1963)
Maurice Walsh, (1879–1964)
Thomas MacGreevy, (1893–1967)
Bryan MacMahon (1909–1998)
John B. Keane, (1928–2002)
Brendan Kennelly, (1936 - )
Gabriel Fitzmaurice, (1952 - )
John O'Flaherty, (1937 - ) Listowel Races
John McAuliffe, ( 1973 - ), poet, RTÉ poet of the Future 2000, "A Better Life", "Next Door"
Daniel Boland MBE (1891–1973), born near Lisselton, Legal Texts, ABC Guide to the Practice of the Supreme Court
Billy Keane , writer and publican, The Last of the Heroes
Padraig A. de Brún (1940 - )
Timothy Enright - Tadhg Mac Ionnrachtaigh (1926–1993)
John Moriarty (writer) (1938–2007) Dreamtime(1994), Turtle was Gone a Long Time I: Cross the Kedron and more
An tAthair Míchaél Ó Ciosáin (1920–1991) Cnoc an Fhomhair (1989)
Seán O'Quigley (1914–1994) Health and Travel (1979)
Cecile O'Rahilly (1894–1980) Ireland and Wales: their Literary Relations (1924)
Eamon Kelly (1914–2001) Novelist, The Apprentice (1995)
Seán McCarthy (1923–1990) Journalist and poet. Book of Ballads (1966)
Patrick O'Connor (1919–1996) Journalist, Sunday Tribune, RTÉ Guide, The Standard
Father Cornelius O'Keeffe (1929 - ) The Later Days are Cold (1960)
Christian O'Reilly (1968 - ) Scriptwriter, playwright. It Just Came Out (2000), The Good Father (2002)
Séamus Wilmot (1902–1977) The Splendid Pretence (1947)
Vincent Carmody (1944 - ) North Kerry Camera: Listowel and its Surroundings (1860–1960) (1989)
John Dennehy (1946 - ) Arts and Crafts in the Primary School (1969)
Michael Guerin (1946 - ) The Lartigue: Listowel and Ballybunion Railway (1988)
Timothy Leahy (1927 - ) Memoirs of a Garda Superintendent (1996)
Patrick Lysaght (1917 - ) The River Feale (1987)
Michael McCarthy (1918–2004) Early Days (1990)
John Molyneaux (1930 - ) Editor Clár Cuimhne 1898-1960, Páirc na h-Imearha, Lios Tuathail (1960)
Nora Relihan (1929 - ) Signposts to Kerry (2001)
Mairéad Carey (1969 - ) Journalist. Evening Herald, Magill
Willian Galvin (1970 - ) Journalist. Irish Press, Sunday Independent
Katie Hannon (1968 - ) Journalist RTÉ Primetime, The Naked Politician (2004)
Conor Keane (1960 - ) Journalist Limerick Leader, Kerryman, Irish Examiner. Irish Awards: Business Journalist of the Year 2004, Regional Property Journalist of the Year 1996.
John (Seán) Keane (1961 - ) Journalist The Kingdom, Kilkenny People
Father Patrick (Pat) Moore (1957 - ) Journalist, Alive-O'
Shane Phelan (1978 - ) Journalist, Irish Independent, Young Journalist of the Year 2003
Joseph Stack (1968 - ) Journalist, Radio Kerry, RTÉ
Noel Twomey (1970 - ) Journalist, Irish Independent, Kerryman
Deirdre Walsh (1968 - ) Journalist, Kerryman, Radio Kerry
Jimmy Woulfe (1952 - ) Journalist, Irish Examiner, Voices of Kerry (1994).
Elaine Kinsella (1978 - ) Broadcaster, Radio Playwright, From Heartache to Hope: The Story of the Jeanie Johnston (2007), 1923 (2009)
Diarmaid Walshe (1968- ) Archaeologist: Roman settlement patterns in the Daranth Valley (2008)
Florence Michael O'Driscoll (1966 - ) Researcher (e.g. http://www.ncbi.nlm.nih.gov/pubmed/21474620) and several other papers in health / education journals
Other notable people from Listowel
Jimmy Deenihan

Jimmy Deenihan

-Club:Deenihan had much success at club and divisional level with his local teams. At under-age level he won an under-14 North Kerry Championship with Finuge in 1963. Five years later in 1968 he won an under-16 North Kerry Championship with the famous Listowel Emmet's club...


, Gaelic football

Gaelic football

Gaelic football , commonly referred to as "football" or "Gaelic", or "Gah" is a form of football played mainly in Ireland...


er and TD

Teachta Dála

A Teachta Dála , usually abbreviated as TD in English, is a member of Dáil Éireann, the lower house of the Oireachtas . It is the equivalent of terms such as "Member of Parliament" or "deputy" used in other states. The official translation of the term is "Deputy to the Dáil", though a more literal...



Eamon Keane

Eamon Keane

Eamonn Keane was an Irish actor.Keane was born in Listowel, Co. Kerry and was a brother of the playwright, John B. Keane. He was a member of the Radio Éireann Players and appeared in many of the station's drama productions on both radio and television...


(1925–1990), actor
Tadhg Kennelly

Tadhg Kennelly

Tadhg Kennelly is an Irish sportsperson known for his top level careers in both Gaelic football and Australian rules football....


, footballer
Tim Kennelly

Tim Kennelly

Tim 'the Horse' Kennelly was an Irish sportsperson. He played Gaelic football with his local club Listowel Emmets and was a member of the Kerry senior inter-county team from 1975 until 1984. Kennelly captained Kerry to the All-Ireland title in 1979.-Biography:Tim Kennelly was born in Listowel,...


, footballer
Garry McMahon

Garry McMahon

Garry McMahon was an Irish sportsperson. He played Gaelic football with his local club Listowel Emmets and was a member of the Kerry senior inter-county team from the 1958 until 1962. McMahon holds the record for scoring the fastest goal ever in an All-Ireland final.-Playing career:McMahon...


(1937-2008), footballer, singer-songwriter, poet, writer, music composer, solicitor
James A. O'Flaherty

James A. O'Flaherty

James A. O'Flaherty was an Irish folk musician who lived in the Dallas, Texas area. He was born in Listowel, County Kerry, Ireland, moving to Texas at 29...


(1942–2001), uilleann piper
T. F. O'Rahilly

T. F. O'Rahilly

Thomas Francis O'Rahilly was an Irish scholar of the Celtic languages, particularly in the fields of Historical linguistics and Irish dialects. He was a member of the Royal Irish Academy.-Biography:He was born in Listowel, County Kerry, Ireland...


language scholar
Michael J. Stack

Michael J. Stack

Michael Joseph Stack was a U.S. Representative from Pennsylvania from 1935 to 1939.-Biography:...


, Member of the United States House of Representatives

United States House of Representatives

The United States House of Representatives is one of the two Houses of the United States Congress, the bicameral legislature which also includes the Senate.The composition and powers of the House are established in Article One of the Constitution...



John Moriarty

John Moriarty

John Moriarty may refer to:*John Moriarty , American conductor and stage director*John Moriarty , Irish writer and philosopher*John Kundereri Moriarty , Australian football player and artist...


writer
Gerard Lynch

Gerard Lynch (Irish politician)

Gerard M. Lynch is a former Irish Fine Gael politician. A baker and farmer by profession, he was first elected to Dáil Éireann as a Fine Gael Teachta Dála for the Kerry North constituency at the 1969 general election. He was re-elected at the 1973 general election but lost his Dáil seat at the...


, Former TD and Senator
Mary-Anne Stack 1936-2010 (Singer) of Irremore and London
Common surnames of Listowel
According Irish Census of 1901 & 1911. Included rural area.
O'Connor, Carey, Stack, Murphy, Enright, Connor, Dillon, O'Sullivan, Kennelly, Keane, Buckley, McElligot, Fitzgerald, Sullivan, Carmody, Cronin, Griffin, O'Connell, Walsh, McCarthy, Lyons, Sheehy, Nolan, Barry, Collins, Fitzmaurice, Doyle, Moloney, Healy, Kelly, Galvin, Lynch, Scanlon, McMahon, Moore, Mulvihill, Browne, Daly, Harnett, Hayes, Moran, Joy, O'Brien, Jones, Leahy, Barrett, Carroll, Faley, Flaherty, Foley, Granville, Kirby, Moriarty, Scanlan
Related communities
Listowel, Ontario, Canada

Canada

Canada is a North American country consisting of ten provinces and three territories. Located in the northern part of the continent, it extends from the Atlantic Ocean in the east to the Pacific Ocean in the west, and northward into the Arctic Ocean...


, named after the Irish town

Los Gatos, California

Los Gatos, California

The Town of Los Gatos is an incorporated town in Santa Clara County, California, United States. The population was 29,413 at the 2010 census. It is located in the San Francisco Bay Area at the southwest corner of San Jose in the foothills of the Santa Cruz Mountains...


, United States

United States

The United States of America is a federal constitutional republic comprising fifty states and a federal district...


, sister city

Shawnee, Kansas

Shawnee, Kansas

Shawnee is a city located in northwest Johnson County, Kansas, United States and is a western suburb of Kansas City, Missouri. As of the 2010 census, the city population was 62,209. Shawnee's fur trading and pioneering heritage blends histories of these Kansas Territory townships: Monticello and...


, United States

United States

The United States of America is a federal constitutional republic comprising fifty states and a federal district...


, sister city since 1985
See also
List of towns and villages in Ireland
External links