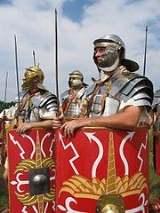 Legionary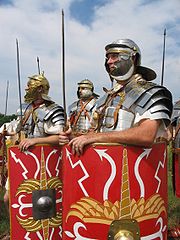 The
Roman
Ancient Rome
Ancient Rome was a thriving civilization that grew on the Italian Peninsula as early as the 8th century BC. Located along the Mediterranean Sea and centered on the city of Rome, it expanded to one of the largest empires in the ancient world....
legionary
was a professional soldier of the
Roman army
Roman army
The Roman army is the generic term for the terrestrial armed forces deployed by the kingdom of Rome , the Roman Republic , the Roman Empire and its successor, the Byzantine empire...
after the
Marian reforms
Marian reforms
The Marian reforms of 107 BC were a group of military reforms initiated by Gaius Marius, a statesman and general of the Roman republic.- Roman army before the Marian reforms :...
of
107 BC
107 BC
Year 107 BC was a year of the pre-Julian Roman calendar. At the time it was known as the Year of the Consulship of Ravilla and Marius...
. Legionaries had to be
Roman citizens
Roman citizenship
Citizenship in ancient Rome was a privileged political and legal status afforded to certain free-born individuals with respect to laws, property, and governance....
under the age of 45. They enlisted in a
legion
Roman legion
A Roman legion normally indicates the basic ancient Roman army unit recruited specifically from Roman citizens. The organization of legions varied greatly over time but they were typically composed of perhaps 5,000 soldiers, divided into maniples and later into "cohorts"...
for twenty-five years of service, a change from the early practice of enlisting only for a
campaign
Military campaign
In the military sciences, the term military campaign applies to large scale, long duration, significant military strategy plan incorporating a series of inter-related military operations or battles forming a distinct part of a larger conflict often called a war...
. The last five years were on
veteran
Veteran
A veteran is a person who has had long service or experience in a particular occupation or field; " A veteran of ..."...
lighter duties.
On the march in unfriendly terrain, the legionary would be loaded down with
armour
Armour
Armour or armor is protective covering used to prevent damage from being inflicted to an object, individual or a vehicle through use of direct contact weapons or projectiles, usually during combat, or from damage caused by a potentially dangerous environment or action...
commonly (
lorica hamata
Lorica hamata
The lorica hamata is a type of mail armour used by the Roman Republic and the Roman Empire. During the 1st century it was starting to be supplemented by lorica segmentata, but had been reintroduced as sole standard-issue armor by the 4th century. It was issued for both primary Legionary and...
), (
lorica squamata
Lorica squamata
The Lorica squamata is a type of scale armour used by the ancient Roman military during the Roman Republic and at later periods. It was made from small metal scales sewn to a fabric backing. It is typically seen on depictions of standard bearers, musicians, centurions, cavalry troops, and even...
), and 1st-3rd century (
lorica segmentata
Lorica segmentata
The lōrīca segmentāta was a type of segmented armour almost exclusively used in the Roman Empire, but the Latin name was first used in the 16th century...
),
shield
Shield
A shield is a type of personal armor, meant to intercept attacks, either by stopping projectiles such as arrows or redirecting a hit from a sword, mace or battle axe to the side of the shield-bearer....
(
scutum
Scutum (shield)
Scutum is the Latin word for "shield", although it has in modern times come to be specifically associated with the rectangular, semi-cylindrical body shield carried by Roman legionaries.-History:...
),
helmet
Helmet
A helmet is a form of protective gear worn on the head to protect it from injuries.Ceremonial or symbolic helmets without protective function are sometimes used. The oldest known use of helmets was by Assyrian soldiers in 900BC, who wore thick leather or bronze helmets to protect the head from...
(
galea
), two javelins (one heavy
pilum
Pilum
The pilum was a javelin commonly used by the Roman army in ancient times. It was generally about two metres long overall, consisting of an iron shank about 7 mm in diameter and 60 cm long with pyramidal head...
and one light
verutum
Verutum
The verutum, or plural veruta was a short javelin used in the Roman army. This javelin was used by the velites for skirmishing unlike the heavier pilum used by the hastati and principes for softening the enemy before advancing into close combat. The verutum's shaft was about 1.1 meters long, much...
), a short sword (
gladius
Gladius
Gladius was the Latin word for sword, and is used to represent the primary sword of Ancient Roman soldiers. Early ancient Roman swords were similar to those used by the Greeks. From the 3rd century BC, the Romans adopted swords similar to those used by the Celtiberians and others during the early...
), a
dagger
Dagger
A dagger is a fighting knife with a sharp point designed or capable of being used as a thrusting or stabbing weapon. The design dates to human prehistory, and daggers have been used throughout human experience to the modern day in close combat confrontations...
(
pugio
Pugio
The pugio was a dagger used by Roman soldiers as a sidearm. It seems likely that the pugio was intended as an auxiliary weapon, but its exact purpose to the soldier remains unknown for sure...
), a pair of heavy
sandal
Sandal (footwear)
Sandals are an open type of outdoor footwear, consisting of a sole held to the wearer's foot by straps passing over the instep and, sometimes, around the ankle...
s (
caligae
Caligae
Caligae are heavy-soled hob-nailed military boots worn by Roman legionary soldiers and auxiliaries throughout the Roman Republic and Empire. Worn by all ranks up to and including centurions, no other shoes in history stand as much symbol for the expansion of an empire than the famed caligae...
), a
sarcina (marching pack)
Sarcina (marching pack)
Sarcina is a Latin word meaning a marching pack as carried by Roman Legionaries, the heavy infantry of the Roman legions.Most of a legionary's equipment other than his arms and armour would, in early times, have been consigned to a baggage train and borne by mules and carts...
, about fourteen days worth of food, a
waterskin
Waterskin
A waterskin is a receptacle used to hold water. Normally made of a sheep or cow bladder, it retains water naturally and therefore was very useful in desert crossings up until the invention of the canteen. It is still used in some developing nations...
(bladder for water), cooking equipment, two
stakes
Sudis (stake)
The sudis is a Latin word meaning stake. It was the name given to stakes carried by Roman legionaries for employment as a field fortification, sometimes also called valus...
(
sudes murale
) for the construction of
palisade
Palisade
A palisade is a steel or wooden fence or wall of variable height, usually used as a defensive structure.- Typical construction :Typical construction consisted of small or mid sized tree trunks aligned vertically, with no spacing in between. The trunks were sharpened or pointed at the top, and were...
s, and a
shovel
Shovel
A shovel is a tool for digging, lifting, and moving bulk materials, such as soil, coal, gravel, snow, sand, or ore. Shovels are extremely common tools that are used extensively in agriculture, construction, and gardening....
or
wicker
Wicker
Wicker is hard woven fiber formed into a rigid material, usually used for baskets or furniture. Wicker is often made of material of plant origin, but plastic fibers are also used....
basket
Basket
A basket is a container which is traditionally constructed from stiff fibres, which can be made from a range of materials, including wood splints, runners, and cane. While most baskets are made from plant materials, other materials such as horsehair, baleen, or metal wire can be used. Baskets are...
.
The Roman soldier underwent especially rigorous training;
discipline
Discipline
In its original sense, discipline is referred to systematic instruction given to disciples to train them as students in a craft or trade, or to follow a particular code of conduct or "order". Often, the phrase "to discipline" carries a negative connotation. This is because enforcement of order –...
was the base of the army's success, and the soldiers were relentlessly and constantly trained with weapons and especially with
drill
Parade (military)
A military parade is a formation of soldiers whose movement is restricted by close-order manouevering known as drilling or marching. The American usage is "formation or military review". The military parade is now mostly ceremonial, though soldiers from time immemorial up until the late 19th...
— forced marches with full load and in tight formation were frequent. Discipline was important and infractions were heavily punished by the
centurion
Centurion
A centurion was a professional officer of the Roman army .Centurion may also refer to:-Military:* Centurion tank, British battle tank* HMS Centurion, name of several ships and a shore base of the British Royal Navy...
s. However, honours, rewards and promotions were frequently awarded to legionaries who distinguished themselves in
battle
Battle
Generally, a battle is a conceptual component in the hierarchy of combat in warfare between two or more armed forces, or combatants. In a battle, each combatant will seek to defeat the others, with defeat determined by the conditions of a military campaign...
or through exemplary service.
Immunes
Regular trained legionaries were known as
milites
Milites
Milites were the trained private footsoldiers of Rome. These men were the non-specialist regular soldiers that made up the bulk of a Legion's numbers. Alongside soldiering, they also performed guard duties, labour work, building and other non-combat roles...
and were the equivalent in rank of the modern private soldier. Included in the ranks, aside from the
milites
, were the
immunes
Immunes
Ancient Rome's military was highly advanced for its time, divided into multiple units to maximize efficiency and power. One such unit was the immune class. By definition, the immunes were legionary soldiers who possessed specialized skills, qualifying them to perform duties atypical of a Roman...
, specialist soldiers with secondary roles such as
engineer
Engineer
An engineer is a professional practitioner of engineering, concerned with applying scientific knowledge, mathematics and ingenuity to develop solutions for technical problems. Engineers design materials, structures, machines and systems while considering the limitations imposed by practicality,...
, artilleryman, drill and weapons instructor,
carpenter
Carpenter
A carpenter is a skilled craftsperson who works with timber to construct, install and maintain buildings, furniture, and other objects. The work, known as carpentry, may involve manual labor and work outdoors....
and
medic
Medic
Medic is a general term for a person involved in medicine, especially emergency or first-response medicine, such as an emergency medical technician, paramedic, or a military member trained in battlefield medicine. Also the term is used toward a Nurse in pre-hospital care and/or emergency...
. These men were still fully trained legionaries, however, and would fight in the ranks if called upon. They were excused from some of the more arduous tasks such as drill and fatigues and received better pay than their comrades in arms.
Other legionaries
Legionary
is also a term used for members of other legions, like
French Foreign Legion
French Foreign Legion
The French Foreign Legion is a unique military service wing of the French Army established in 1831. The foreign legion was exclusively created for foreign nationals willing to serve in the French Armed Forces...
, Spanish Foreign Legion or Polish Legions. Members of these modern legions are often called
légionnaires
, the French term for legionary. The term was also used by the
Romania
Romania
Romania is a country located at the crossroads of Central and Southeastern Europe, on the Lower Danube, within and outside the Carpathian arch, bordering on the Black Sea...
n
far right
Far right
Far-right, extreme right, hard right, radical right, and ultra-right are terms used to discuss the qualitative or quantitative position a group or person occupies within right-wing politics. Far-right politics may involve anti-immigration and anti-integration stances towards groups that are...
paramilitary
Paramilitary
A paramilitary is a force whose function and organization are similar to those of a professional military, but which is not considered part of a state's formal armed forces....
group known in English as the
Iron Guard
Iron Guard
The Iron Guard is the name most commonly given to a far-right movement and political party in Romania in the period from 1927 into the early part of World War II. The Iron Guard was ultra-nationalist, fascist, anti-communist, and promoted the Orthodox Christian faith...
.
See also
Military history of ancient Rome

Military history of ancient Rome

From its origin as a city-state in Italy in the 8th century BC, to its rise as an empire covering much of Southern Europe, Western Europe, Near East and North Africa and fall in the 5th century AD, the political history of Ancient Rome was typically closely entwined with its military history...



Foreign Legion

Foreign legion

Foreign legion or Foreign Legion is a title which has been used by a small number of military units composed of foreign volunteers.It usually refers to the French Foreign Legion, part of the French Army established in 1831.It can also refer to:...



Roman camp
Roman Republic

Roman Republic

The Roman Republic was the period of the ancient Roman civilization where the government operated as a republic. It began with the overthrow of the Roman monarchy, traditionally dated around 508 BC, and its replacement by a government headed by two consuls, elected annually by the citizens and...



Roman Empire

Roman Empire

The Roman Empire was the post-Republican period of the ancient Roman civilization, characterised by an autocratic form of government and large territorial holdings in Europe and around the Mediterranean....



Punic wars

Punic Wars

The Punic Wars were a series of three wars fought between Rome and Carthage from 264 B.C.E. to 146 B.C.E. At the time, they were probably the largest wars that had ever taken place...



General books
Sumner, G. and Raffaele D'Amato. Arms and Armour of the Imperial Roman Soldier. Frontline Books, 2009.
Watson, G.R. The Roman Soldier. Cornell University Press, 1993.
Children's books
Matyszak, Philip. Legionary: the Roman soldier's (unofficial) manual. Thames & Hudson, 2009.
Cowan, Ross, and Angus McBride. Roman Legionary: 58 BC - AD 69. Osprey Publishing, 2003.
External links
The Roman Recruit looks at the life, duties and equipment of a Roman legionary (c. 200AD)