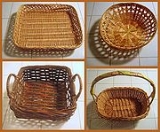 Basket
A
basket
is a container which is traditionally constructed from stiff fibres, which can be made from a range of materials, including wood splints, runners, and cane. While most baskets are made from plant materials, other materials such as horsehair,
baleen
Baleen
Baleen or whalebone is a filter-feeder system inside the mouths of baleen whales. The baleen system works when a whale opens its mouth underwater and then water pours into the whale's mouth. The whale then pushes the water out, and animals such as krill are filtered by the baleen and remain as food...
, or metal wire can be used. Baskets are generally woven by hand. Some baskets are fitted with a lid, others are left open.
The plant life available in a region affects the choice of material, which in turn influences the weaving technique.
Rattan
Rattan
Rattan is the name for the roughly 600 species of palms in the tribe Calameae, native to tropical regions of Africa, Asia and Australasia.- Structure :...
and other members of the
Arecaceae
Arecaceae
Arecaceae or Palmae , are a family of flowering plants, the only family in the monocot order Arecales. There are roughly 202 currently known genera with around 2600 species, most of which are restricted to tropical, subtropical, and warm temperate climates...
or palm tree family, the thin grasses of temperate regions, and broad-leaved tropical bromeliads each require a different method of twisting and braiding to be made into a basket. The practice of basket making has evolved into an
art
Art
Art is the product or process of deliberately arranging items in a way that influences and affects one or more of the senses, emotions, and intellect....
. Artistic freedom allows basket makers a wide choice of colors,
material
Material
Material is anything made of matter, constituted of one or more substances. Wood, cement, hydrogen, air and water are all examples of materials. Sometimes the term "material" is used more narrowly to refer to substances or components with certain physical properties that are used as inputs to...
s, sizes, patterns, and details.
Uses
Baskets serve utilitarian as well as aesthetic purposes. Some baskets are ceremonial, that is religious, in nature. While baskets are typically used for storage and transport, specialized baskets are as sieves, for cooking, for processing seeds or grains, for tossing gambling pieces, rattles, fans, fish traps, and other uses.
History
Archaeological sites in the
Middle East
Middle East
The Middle East is a region that encompasses Western Asia and Northern Africa. It is often used as a synonym for Near East, in opposition to Far East...
show that weaving techniques were used to make mats and possibly also baskets, circa
8000 BCE
9th millennium BC
The 9th millennium BC marks the beginning of the Neolithic period.Agriculture spread throughout the Fertile Crescent and use of pottery became more widespread. Larger settlements like Jericho arose along salt and flint trade routes. Northern Eurasia was resettled as the glaciers of the last glacial...
. Twined baskets date back to 7000 BCE in
Oasisamerica
Oasisamerica
Oasisamerica was a broad cultural area in pre-Columbian southwestern North America. It extended from modern-day Utah down to southern Chihuahua, and from the coast on the Gulf of California eastward to the Río Bravo river valley...
. Baskets made with interwoven techniques were common at
3000 BCE
4th millennium BC
The 4th millennium BC saw major changes in human culture. It marked the beginning of the Bronze Age and of writing.The city states of Sumer and the kingdom of Egypt were established and grew to prominence. Agriculture spread widely across Eurasia...
.
The carrying of a basket on the head, particularly by rural women, has long been practised. Representations of this in Ancient Greek art are called Canephorae.
Figurative and literary usage
The phrase "
to hell in a handbasket
To hell in a handbasket
"Going to hell in a handbasket", "going to hell in a handcart", "going to hell in a handbag" and "sending something to hell in a handbasket" are variations on an American alliterative locution of unclear origin, which describes a situation headed for disaster without effort or in great haste.Its...
" means
to rapidly deteriorate
. The origin of this use is unclear.
"Basket" is sometimes used as an adjective towards a person who is born out of wedlock . This occurs more commonly in British English.
See also
Basket weaving

Basket weaving

Basket weaving is the process of weaving unspun vegetable fibres into a basket or other similar form. People and artists who weave baskets are called basketmakers and basket weavers.Basketry is made from a variety of fibrous or pliable materials•anything that will bend and form a shape...



Canephorae
Weaving

Weaving

Weaving is a method of fabric production in which two distinct sets of yarns or threads are interlaced at right angles to form a fabric or cloth. The other methods are knitting, lace making and felting. The longitudinal threads are called the warp and the lateral threads are the weft or filling...



Native American basketry
Native American basket weavers
Sources
Zepeda, Ofelia

Ofelia Zepeda

Ofelia Zepeda is a Tohono O'odham poet and intellectual. Zepeda is a professor of linguistics at the University of Arizona and is well known for her efforts in the preservation of her native language and promotion literacy in it. She is also known for her work as a consultant and advocate on...


(1995). Ocean Power: Poems from the Desert. ISBN 0816515417.
External links
Baskets, The Women's Committee of the Philadelphia Museum of Art