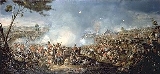 Battle
Generally, a
battle
is a conceptual component in the hierarchy of
combat
Combat
Combat, or fighting, is a purposeful violent conflict meant to establish dominance over the opposition, or to terminate the opposition forever, or drive the opposition away from a location where it is not wanted or needed....
in
war
War
War is a state of organized, armed, and often prolonged conflict carried on between states, nations, or other parties typified by extreme aggression, social disruption, and usually high mortality. War should be understood as an actual, intentional and widespread armed conflict between political...
fare between two or more
armed force
Military
A military is an organization authorized by its greater society to use lethal force, usually including use of weapons, in defending its country by combating actual or perceived threats. The military may have additional functions of use to its greater society, such as advancing a political agenda e.g...
s, or combatants. In a battle, each combatant will seek to defeat the others, with defeat determined by the conditions of a
military campaign
Military campaign
In the military sciences, the term military campaign applies to large scale, long duration, significant military strategy plan incorporating a series of inter-related military operations or battles forming a distinct part of a larger conflict often called a war...
. Battles generally are well defined in duration, area and force commitment.
Wars and military campaigns are guided by
strategy
Military strategy
Military strategy is a set of ideas implemented by military organizations to pursue desired strategic goals. Derived from the Greek strategos, strategy when it appeared in use during the 18th century, was seen in its narrow sense as the "art of the general", 'the art of arrangement' of troops...
, whereas battles take place on a level of planning and execution known as operational mobility.