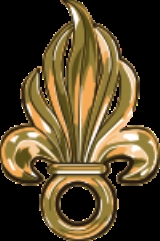 French Foreign Legion
The French Foreign Legion is a unique military service wing of the
French Army
French Army
The French Army, officially the Armée de Terre , is the land-based and largest component of the French Armed Forces.As of 2010, the army employs 123,100 regulars, 18,350 part-time reservists and 7,700 Legionnaires. All soldiers are professionals, following the suspension of conscription, voted in...
established in 1831. The foreign legion was exclusively created for foreign nationals willing to serve in the French Armed Forces. Commanded by French officers, it is also open to French citizens, who amounted to 24% of the recruits as of 2007.
The foreign legion is today known as an elite military unit whose training focuses not only on traditional military skills but also on its strong
esprit de corps
Morale
Morale, also known as esprit de corps when discussing the morale of a group, is an intangible term used to describe the capacity of people to maintain belief in an institution or a goal, or even in oneself and others...
.