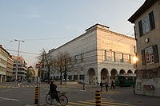 Kunstmuseum Basel
The
Kunstmuseum Basel
houses the largest and most significant public art collection in
Switzerland
Switzerland
Switzerland name of one of the Swiss cantons. ; ; ; or ), in its full name the Swiss Confederation , is a federal republic consisting of 26 cantons, with Bern as the seat of the federal authorities. The country is situated in Western Europe,Or Central Europe depending on the definition....
, and is listed as a
heritage site of national significance
Swiss Inventory of Cultural Property of National and Regional Significance
The Swiss Inventory of Cultural Property of National and Regional Significance is a register of some 8,300 items of cultural property in Switzerland...
. Its lineage extends back to the Amerbach Cabinet purchased by the city of
Basel
Basel
Basel or Basle In the national languages of Switzerland the city is also known as Bâle , Basilea and Basilea is Switzerland's third most populous city with about 166,000 inhabitants. Located where the Swiss, French and German borders meet, Basel also has suburbs in France and Germany...
in 1661, which made it the first municipally owned
museum
Museum
A museum is an institution that cares for a collection of artifacts and other objects of scientific, artistic, cultural, or historical importance and makes them available for public viewing through exhibits that may be permanent or temporary. Most large museums are located in major cities...
. Its collection is distinguished by an impressively wide historic span, from the early 15th century up to the immediate present. Its various areas of emphasis give it international standing as one of the most significant museums of its kind. These encompass:
painting
Painting
Painting is the practice of applying paint, pigment, color or other medium to a surface . The application of the medium is commonly applied to the base with a brush but other objects can be used. In art, the term painting describes both the act and the result of the action. However, painting is...
s and
drawing
Drawing
Drawing is a form of visual art that makes use of any number of drawing instruments to mark a two-dimensional medium. Common instruments include graphite pencils, pen and ink, inked brushes, wax color pencils, crayons, charcoal, chalk, pastels, markers, styluses, and various metals .An artist who...
s by artists active in the
Upper Rhine
Upper Rhine
The Upper Rhine is the section of the Rhine in the Upper Rhine Plain between Basel, Switzerland and Bingen, Germany. The river is marked by Rhine-kilometers 170 to 529 ....
region between 1400 and 1600 and on the art of the 19th to 21st centuries.
The Kunstmuseum possesses the largest collection of works by the Holbein family. Further examples of
Renaissance
Renaissance
The Renaissance was a cultural movement that spanned roughly the 14th to the 17th century, beginning in Italy in the Late Middle Ages and later spreading to the rest of Europe. The term is also used more loosely to refer to the historical era, but since the changes of the Renaissance were not...
art include important pieces by such masters as
Konrad Witz
Konrad Witz
Konrad Witz - c. Winter 1445/Spring 1446 in Basel, Switzerland) was a German painter, active mainly in Basel, Switzerland.Witz is most famous for painting three altarpieces, all of which survive only partially...
,
Hans Baldung
Hans Baldung
Hans Baldung, known as Hans Baldung Grien/Grün was a German Renaissance artist in painting and printmaking in woodcut. He was considered the most gifted student of Albrecht Dürer.-Life:...
(called Grien),
Martin Schongauer
Martin Schongauer
Martin Schongauer was a German engraver and painter. He was the most important German printmaker before Albrecht Dürer....
,
Lucas Cranach the Elder
Lucas Cranach the Elder
Lucas Cranach the Elder , was a German Renaissance painter and printmaker in woodcut and engraving...
and Mathias Grünewald. The main features of the 17th and 18th centuries are the Flemish and Dutch schools (e.g.
Peter Paul Rubens
,
Rembrandt
,
Jan Brueghel the Elder
Jan Brueghel the Elder
Jan Brueghel the Elder was a Flemish painter, son of Pieter Bruegel the Elder and father of Jan Brueghel the Younger. Nicknamed "Velvet" Brueghel, "Flower" Brueghel, and "Paradise" Brueghel, of which the latter two were derived from his floral still lifes which were his favored subjects, while the...
), German and Dutch still life painting. Key works from the 19th century include the Impressionists represented by
Édouard Manet
Édouard Manet
Édouard Manet was a French painter. One of the first 19th-century artists to approach modern-life subjects, he was a pivotal figure in the transition from Realism to Impressionism....
,
Claude Monet
Claude Monet
Claude Monet was a founder of French impressionist painting, and the most consistent and prolific practitioner of the movement's philosophy of expressing one's perceptions before nature, especially as applied to plein-air landscape painting. . Retrieved 6 January 2007...
,
Paul Gauguin
Paul Gauguin
Eugène Henri Paul Gauguin was a leading French Post-Impressionist artist. He was an important figure in the Symbolist movement as a painter, sculptor, print-maker, ceramist, and writer...
,
Paul Cézanne
Paul Cézanne
Paul Cézanne was a French artist and Post-Impressionist painter whose work laid the foundations of the transition from the 19th century conception of artistic endeavour to a new and radically different world of art in the 20th century. Cézanne can be said to form the bridge between late 19th...
as well as the paintings by
Vincent van Gogh
Vincent van Gogh
Vincent Willem van Gogh , and used Brabant dialect in his writing; it is therefore likely that he himself pronounced his name with a Brabant accent: , with a voiced V and palatalized G and gh. In France, where much of his work was produced, it is...
and Switzerland's
Arnold Böcklin
Arnold Böcklin
Arnold Böcklin was a Swiss symbolist painter.-Life and art:He was born at Basel. His father, Christian Frederick Böcklin , was descended from an old family of Schaffhausen, and engaged in the silk trade. His mother, Ursula Lippe, was a native of the same city...
and
Ferdinand Hodler
Ferdinand Hodler
Ferdinand Hodler was one of the best-known Swiss painters of the 19th century.-Life:Hodler was born in Berne, the eldest of six children. His father, Jean Hodler, made a meager living as a carpenter; his mother, Marguerite , was from a peasant family...
. In the 20th century, the focus is on works of
Cubism
Cubism
Cubism was a 20th century avant-garde art movement, pioneered by Pablo Picasso and Georges Braque, that revolutionized European painting and sculpture, and inspired related movements in music, literature and architecture...
with Picasso, Braque and
Juan Gris
Juan Gris
José Victoriano González-Pérez , better known as Juan Gris, was a Spanish painter and sculptor who lived and worked in France most of his life...
.
Expressionism
Expressionism
Expressionism was a modernist movement, initially in poetry and painting, originating in Germany at the beginning of the 20th century. Its typical trait is to present the world solely from a subjective perspective, distorting it radically for emotional effect in order to evoke moods or ideas...
is represented by such figures as
Edvard Munch
Edvard Munch
Edvard Munch was a Norwegian Symbolist painter, printmaker and an important forerunner of expressionist art. His best-known composition, The Scream, is part of a series The Frieze of Life, in which Munch explored the themes of love, fear, death, melancholia, and anxiety.- Childhood :Edvard Munch...
,
Franz Marc
Franz Marc
Franz Marc was a German painter and printmaker, one of the key figures of the German Expressionist movement...
,
Oskar Kokoschka
Oskar Kokoschka
Oskar Kokoschka was an Austrian artist, poet and playwright best known for his intense expressionistic portraits and landscapes.-Biography:...
and
Emil Nolde
Emil Nolde
Emil Nolde was a German painter and printmaker. He was one of the first Expressionists, a member of Die Brücke, and is considered to be one of the great oil painting and watercolour painters of the 20th century. He is known for his vigorous brushwork and expressive choice of colors...
. The collection also includes works of art from the periods of
Constructivism
Constructivism (art)
Constructivism was an artistic and architectural philosophy that originated in Russia beginning in 1919, which was a rejection of the idea of autonomous art. The movement was in favour of art as a practice for social purposes. Constructivism had a great effect on modern art movements of the 20th...
, Dadaism and
Surrealism
Surrealism
Surrealism is a cultural movement that began in the early 1920s, and is best known for the visual artworks and writings of the group members....
and
American art
American Art
American Art is the debut album of the band Weatherbox. It was released on May 8, 2007 on Doghouse Records. The album received critical acclaim from several sources including underground music distribution company Smartpunk, who lauded the band's style:...
since 1950. Further highlights are the unique compilations of works from
Pablo Picasso
Pablo Picasso
Pablo Diego José Francisco de Paula Juan Nepomuceno María de los Remedios Cipriano de la Santísima Trinidad Ruiz y Picasso known as Pablo Ruiz Picasso was a Spanish expatriate painter, sculptor, printmaker, ceramicist, and stage designer, one of the greatest and most influential artists of the...
,
Fernand Léger
Fernand Léger
Joseph Fernand Henri Léger was a French painter, sculptor, and filmmaker. In his early works he created a personal form of Cubism which he gradually modified into a more figurative, populist style...
,
Paul Klee
Paul Klee
Paul Klee was born in Münchenbuchsee, Switzerland, and is considered both a German and a Swiss painter. His highly individual style was influenced by movements in art that included expressionism, cubism, and surrealism. He was, as well, a student of orientalism...
,
Alberto Giacometti
Alberto Giacometti
Alberto Giacometti was a Swiss sculptor, painter, draughtsman, and printmaker.Alberto Giacometti was born in the canton Graubünden's southerly alpine valley Val Bregaglia and came from an artistic background; his father, Giovanni, was a well-known post-Impressionist painter...
and
Marc Chagall
Marc Chagall
Marc Chagall Art critic Robert Hughes referred to Chagall as "the quintessential Jewish artist of the twentieth century."According to art historian Michael J...
.
In the realm of more recent and contemporary art, the collection maintains substantial complexes of works by Swiss, German, Italian, and American artists, including
Joseph Beuys
Joseph Beuys
Joseph Beuys was a German performance artist, sculptor, installation artist, graphic artist, art theorist and pedagogue of art.His extensive work is grounded in concepts of humanism, social philosophy and anthroposophy; it culminates in his "extended definition of art" and the idea of social...
,
Andy Warhol
Andy Warhol
Andrew Warhola , known as Andy Warhol, was an American painter, printmaker, and filmmaker who was a leading figure in the visual art movement known as pop art...
,
Jasper Johns
Jasper Johns
Jasper Johns, Jr. is an American contemporary artist who works primarily in painting and printmaking.-Life:Born in Augusta, Georgia, Jasper Johns spent his early life in Allendale, South Carolina with his paternal grandparents after his parents' marriage failed...
,
Georg Baselitz
Georg Baselitz
Georg Baselitz is a German painter who studied in the former East Germany, before moving to what was then the country of West Germany...
, A.R. Penck,
Brice Marden
Brice Marden
Brice Marden , is an American artist, generally described as Minimalist, although his work defies specific categorization. He lives in New York and Eagles Mere.Marden is represented by the Matthew Marks Gallery.-Life:...
,
Bruce Nauman
Bruce Nauman
Bruce Nauman is a contemporary American artist. His practice spans a broad range of media including sculpture, photography, neon, video, drawing, printmaking, and performance. Nauman lives in Galisteo, New Mexico....
,
Jonathan Borofsky
Jonathan Borofsky
Jonathan Borofsky is an American sculptor and printmaker who lives and works in Maine.Borofsky was born in Boston, Massachusetts. He received his Bachelor of Fine Arts at Carnegie Mellon University in 1964, after which he continued his studies at France's Ecole de Fontainebleau and received his...
,
Roni Horn
Roni Horn
Roni Horn is an American visual artist and writer. Horn's oeuvre, which spans almost four decades, encompasses sculpture, drawing, photography, language, and site-specific installation. The granddaughter of Eastern European Jewish immigrants, she was born in New York and lives and works in New York...
,
Francesco Clemente
Francesco Clemente
Francesco Clemente is an Italian and American contemporary artist. Influenced by thinkers as diverse as Gregory Bateson, William Blake, Allen Ginsberg, and J Krishnamurti, the art of Francesco Clemente is inclusive and nomadic, crossing many borders, intellectual and geographical.Dividing his time...
,
Mimmo Paladino
Mimmo Paladino
Mimmo Paladino is an Italian sculptor, painter and printmaker.-Paintings and drawing:Mimmo Paladino was born Domenico Paladino in Paduli, Campania, southern Italy...
,
Enzo Cucchi
Enzo Cucchi
Enzo Cucchi is an Italian painter. A native of Morro d'Alba, province of Ancona, he was a key member of the Italian Transavanguardia movement, along with fellow countrymen Francesco Clemente, Mimmo Paladino, Nicola De Maria, and Sandro Chia...
, Walter Dahn,
Martin Disler
Martin Disler
Martin Disler was a Swiss painter, drawer and writer. He is associated with the Neue Wilde painting style....
, Siegfried Anzinger,
Leiko Ikemura
Leiko Ikemura
is a Japanese-Swiss painter and sculptor.-Biography:Leiko Ikemura left her country to study in Spain from 1973 to 1978 at the Academia de Bellas Artes in Granada and Seville. In 1979, Ikemura moved to Zurich to live and worked there for 4 years. The first of her mature paintings developed around 1980...
, Markus Raetz, Robert Therrien,
Rosemarie Trockel
Rosemarie Trockel
Rosemarie Trockel is a German Artist, and an important figure in the international contemporary art movement.- Life :...
and
Robert Gober
Robert Gober
Robert Gober is an American sculptor. His work is often related to domestic and familiar objects such as sinks, doors, and legs.-Life and work:...
.
External links