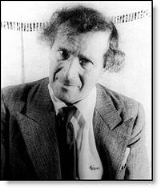 Marc Chagall
Marc Chagall
. He was Chancellor of Germany from 1933 to 1945, and head of state from 1934 to 1945...
gained power in Germany. Anti-Semitic laws were being introduced and the first concentration camp at
Dachau
Dachau
Dachau is a town in Upper Bavaria, in the southern part of Germany. It is a major district town—a Große Kreisstadt—of the administrative region of Upper Bavaria, about 20 km north-west of Munich. It is now a popular residential area for people working in Munich with roughly 40,000 inhabitants...
had been established. Wullschlager describes the early effects on art:
Beginning during 1937 about twenty thousand works from German museums were confiscated as "degenerate" by a committee directed by
Joseph Goebbels
Joseph Goebbels
Paul Joseph Goebbels was a German politician and Reich Minister of Propaganda in Nazi Germany from 1933 to 1945. As one of Adolf Hitler's closest associates and most devout followers, he was known for his zealous oratory and anti-Semitism...
." Although the German press had once "swooned over him", the new German authorities now made a mockery of Chagall's art, describing them as "green, purple, and red Jews shooting out of the earth, fiddling on violins, flying through the air ...
In response I am sending you some pictures which I painted in Paris out of homesickness for Russia. They are not very typical of me; I have selected the most modest ones for the Russian exhibition.

a letter to Mstislav V. Dobushinsky, A. N. Benois, 1912; as quoted in 'arc Chagall - the Russian years 1906 – 1922, editor Christoph Vitali, exhibition catalogue, Schirn Kunsthalle Frankfurt, 1991, p. 147