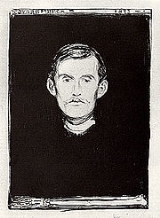 Edvard Munch
Edvard Munch
(ˈɛdʋɑʈ ˈmʊŋk, 12 December 1863 – 23 January 1944) was a
Norwegian
Norway
Norway , officially the Kingdom of Norway, is a Nordic unitary constitutional monarchy whose territory comprises the western portion of the Scandinavian Peninsula, Jan Mayen, and the Arctic archipelago of Svalbard and Bouvet Island. Norway has a total area of and a population of about 4.9 million...
Symbolist
Symbolism (arts)
Symbolism was a late nineteenth-century art movement of French, Russian and Belgian origin in poetry and other arts. In literature, the style had its beginnings with the publication Les Fleurs du mal by Charles Baudelaire...
painter, printmaker and an important forerunner of
expressionist art
Expressionism
Expressionism was a modernist movement, initially in poetry and painting, originating in Germany at the beginning of the 20th century. Its typical trait is to present the world solely from a subjective perspective, distorting it radically for emotional effect in order to evoke moods or ideas...
. His best-known composition,
The Scream
The Scream
Scream is the title of Expressionist paintings and prints in a series by Norwegian artist Edvard Munch, showing an agonized figure against a blood red sky...
, is part of a series
The Frieze of Life
, in which Munch explored the themes of love, fear, death, melancholia, and anxiety.
Edvard Munch was born in a rustic farmhouse in the village of
Ådalsbruk
Ådalsbruk
Ådalsbruk is a village in the municipality of Løten, Norway. Its population is 595.It was an old industrial site, the name taken from the iron works Aadals Brug Jernstøberi og Mek. Værksted, which existed from 1828 to 1928...
in
Løten
Løten
Løten is a municipality in Hedmark county, Norway. It is part of the traditional region of Hedmarken. The administrative centre of the municipality is the village of Løten. The parish of Løiten was established as a municipality on 1 January 1838 .-Name:The municipality is named after an old farm...
, Norway to Christian Munch, the son of a priest.
No longer shall I paint interiors with men reading and women knitting. I will paint living people who breathe and feel and suffer and love.

"Impressions from a ballroom, New Year's Eve in St. Cloud" also known as "The St. Cloud Manifesto" (1889)
When seen as a whole, art derives from a person's desire to communicate himself to another. I do not believe in an art which is not forced into existence by a human being's desire to open his heart. All art, literature, and music must be born in your heart's blood. Art is your heart's blood.

Manuscript (1891), quoted in Edvard Munch and the Physiology of Symbolism (2002) by Shelley Wood Cordulack
Could only have been painted by a madman.

His inscription, written in pencil, between the red clouds on at least one of his paintings of The Scream (c. 1893 - 1910), as quoted in Edvard Munch : The Man and His Art (1977) by Ragna Thiis Stang, p. 106
My art is rooted in a single reflection: why am I not as others are? ... my art gives meaning to my life.

Quoted in Edvard Munch : Psyche, Symbol and Expression (2001) by Jeffery Howe
From my rotting body, flowers shall grow and I am in them and that is eternity.

Quoted in Sustainable Landscape Construction : A Guide to Green Building Outdoors (2007) by William Thompson and Kim Sorvig, p. 30