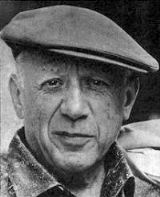 Pablo Picasso
Pablo Diego José Francisco de Paula Juan Nepomuceno María de los Remedios Cipriano de la Santísima Trinidad Ruiz y Picasso
known as
Pablo Ruiz Picasso
(ˈpaβlo ˈrwiθ piˈkaso; 25 October 1881 – 8 April 1973) was a Spanish expatriate
painter
Painting
Painting is the practice of applying paint, pigment, color or other medium to a surface . The application of the medium is commonly applied to the base with a brush but other objects can be used. In art, the term painting describes both the act and the result of the action. However, painting is...
, sculptor, printmaker, ceramicist, and stage designer, one of the greatest and most influential artists of the 20th century. He is widely known for co-founding the Cubist movement and for the wide variety of styles that he helped develop and explore.
I would like to manage to prevent people from ever seeing how a picture of mine has been done. What can it possibly matter? What I want is that the only thing emanating from my pictures should be emotion.

Boisgeloup, winter 1934, quoted in Letters of the great artists – from Blake to Pollock -, Richard Friedenthal, Thames and Hudson, London, 1963, p. 256 (translation Daphne Woodward)
When we did Cubist paintings, our intention was not to produce Cubist paintings but to express what was within us. No one laid down a course of action for us, and our friends the poets followed our endeavour attentively but they never dictated it to us.

Boisgeloup, winter 1934, quoted in Letters of the great artists – from Blake to Pollock -, Richard Friedenthal, Thames and Hudson, London, 1963, p. 258 (translation Daphne Woodward)