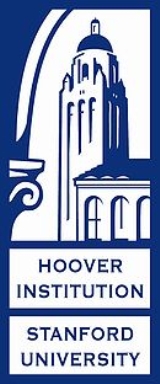 Hoover Institution
The
Hoover Institution on War, Revolution and Peace
is a public policy
think tank
Think tank
A think tank is an organization that conducts research and engages in advocacy in areas such as social policy, political strategy, economics, military, and technology issues. Most think tanks are non-profit organizations, which some countries such as the United States and Canada provide with tax...
and library founded in 1919 by then future U.S. president,
Herbert Hoover
Herbert Hoover
Herbert Clark Hoover was the 31st President of the United States . Hoover was originally a professional mining engineer and author. As the United States Secretary of Commerce in the 1920s under Presidents Warren Harding and Calvin Coolidge, he promoted partnerships between government and business...
, an early alumnus of Stanford.
The Hoover Institution is a unit of
Stanford University
Stanford University
The Leland Stanford Junior University, commonly referred to as Stanford University or Stanford, is a private research university on an campus located near Palo Alto, California. It is situated in the northwestern Santa Clara Valley on the San Francisco Peninsula, approximately northwest of San...
, and is located on the campus. The Institution houses a large archive related to President Hoover,
World War I
World War I
World War I , which was predominantly called the World War or the Great War from its occurrence until 1939, and the First World War or World War I thereafter, was a major war centred in Europe that began on 28 July 1914 and lasted until 11 November 1918...
, and
World War II
World War II
World War II, or the Second World War , was a global conflict lasting from 1939 to 1945, involving most of the world's nations—including all of the great powers—eventually forming two opposing military alliances: the Allies and the Axis...
. Its mission statement outlines its basic tenets: representative government, private enterprise, peace, personal freedom, and the safeguards of the American system.
The Hoover Institution is influential in the American
conservative
Conservatism
Conservatism is a political and social philosophy that promotes the maintenance of traditional institutions and supports, at the most, minimal and gradual change in society. Some conservatives seek to preserve things as they are, emphasizing stability and continuity, while others oppose modernism...
and
libertarian
Libertarianism
Libertarianism, in the strictest sense, is the political philosophy that holds individual liberty as the basic moral principle of society. In the broadest sense, it is any political philosophy which approximates this view...
movements. The Institution has long been a place of scholarship for high-profile conservatives with government experience. A number of Hoover Institution fellows had connections to or held positions in the
Bush administration
George W. Bush administration
The presidency of George W. Bush began on January 20, 2001, when he was inaugurated as the 43rd President of the United States of America. The oldest son of former president George H. W. Bush, George W...
and other
Republican
Republican Party (United States)
The Republican Party is one of the two major contemporary political parties in the United States, along with the Democratic Party. Founded by anti-slavery expansion activists in 1854, it is often called the GOP . The party's platform generally reflects American conservatism in the U.S...
administrations. High-profile conservatives
Edwin Meese
Edwin Meese
Edwin "Ed" Meese, III is an attorney, law professor, and author who served in official capacities within the Ronald Reagan Gubernatorial Administration , the Reagan Presidential Transition Team , and the Reagan White House , eventually rising to hold the position of the 75th Attorney General of...
,
Condoleezza Rice
Condoleezza Rice
Condoleezza Rice is an American political scientist and diplomat. She served as the 66th United States Secretary of State, and was the second person to hold that office in the administration of President George W. Bush...
, George Shultz,
Thomas Sowell
Thomas Sowell
Thomas Sowell is an American economist, social theorist, political philosopher, and author. A National Humanities Medal winner, he advocates laissez-faire economics and writes from a libertarian perspective...
,
Shelby Steele
Shelby Steele
-Awards:*National Book Critics Circle Award in the general non-fiction category for the book The Content of Our Character.*Emmy and Writers Guild Awards for his 1991 Frontline documentary film Seven Days in Bensonhurst.-External links:**...
, and
Amy Zegart
Amy Zegart
Amy B. Zegart is a tenured Professor of Public Policy at the UCLA School of Public Affairs, where she is a leading national expert on the United States Intelligence Community and national security policy...
are all Hoover Institution fellows. Retired U.S. Army
General John P. Abizaid
John Abizaid
John Philip Abizaid, AO is a retired General in the United States Army and former Commander of the United States Central Command , overseeing American military operations in a 27-country region, from the Horn of Africa, the Arabian Peninsula, to South and Central Asia, covering much of the Middle...
, former commander of the U.S. Central Command, was recently named the Institution's first Annenberg Distinguished Visiting Fellow.
Mission statement
Herbert Hoover's 1959 statement to the Board of Trustees of Stanford University on the purpose of the Hoover Institution continues to guide its ideology and define its activities:
This Institution supports the Constitution of the United States, its Bill of Rights and its method of representative government. Both our social and economic systems are based on private enterprise from which springs initiative and ingenuity ... Ours is a system where the Federal Government should undertake no governmental, social or economic action, except where local government, or the people, cannot undertake it for themselves ... The overall mission of this Institution is, from its records, to recall the voice of experience against the making of war, and by the study of these records and their publication, to recall man's endeavors to make and preserve peace, and to sustain for America the safeguards of the American way of life. This Institution is not, and must not be, a mere library. But with these purposes as its goal, the Institution itself must constantly and dynamically point the road to peace, to personal freedom, and to the safeguards of the American system.
According to the Hoover Institution's website: "By collecting knowledge, generating ideas, and disseminating both, the Institution seeks to secure and safeguard peace, improve the human condition, and limit government intrusion into the lives of individuals."
History
The Institution was set up by
Herbert Hoover
Herbert Hoover
Herbert Clark Hoover was the 31st President of the United States . Hoover was originally a professional mining engineer and author. As the United States Secretary of Commerce in the 1920s under Presidents Warren Harding and Calvin Coolidge, he promoted partnerships between government and business...
, one of Stanford's first graduates, who would later become the 31st President of the United States. He had been in charge of American relief efforts in Europe after World War I. Hoover's express purpose was to collect the records of contemporary history as it was happening. Hoover's helpers frequently risked their lives to rescue documentary and rare printed material, especially from countries under Nazi or Communist rule. Their many successes included the papers of Rosa Luxembourg, the
Goebbels Diaries
Goebbels Diaries
Joseph Goebbels, a leading member of the German National Socialist Party and Propaganda Minister in Adolf Hitler's government from 1933 to 1945, kept a diary from 1923, when he was an unemployed ex-student with no interest in politics, until shortly before his death by suicide in Berlin on 1 May 1945...
, and the records of the Russian secret police in Paris. Research institutes were also set up under Hoover's influence, though inevitably there were to be clashes between the moving force, Hoover, and the host university.
In 1919, Hoover donated $50,000 to Stanford University to support the collection of primary materials related to World War I, a project that became known as the Hoover War Collection. Supported primarily by gifts from private donors, the Hoover War Collection flourished in its early years. In 1922, the Collection became known as the Hoover War Library. The Hoover War Library was housed in the Stanford Library, separate from the general stacks. By 1926, the Hoover War Library was known as the largest library in the world devoted to the Great War. By 1929, it contained 1.4 million items and was becoming too large to house in the Stanford Library. In 1938, the War Library revealed building plans for
Hoover Tower
Hoover Tower
Hoover Tower is a structure on the campus of Stanford University in Stanford, California. The tower is part of the Hoover Institution, a research center founded by then-future U.S. president Herbert Hoover. Hoover Tower, inspired by the cathedral tower at Salamanca, was finished in 1941, the year...
, which was to be its permanent home independent of the Stanford Library system. The tower was completed in 1941, Stanford University's fiftieth anniversary.
By 1946, the agenda of the Hoover War Library had expanded to include research activities; thus the organization was renamed the Hoover Institute and Library on War, Revolution and Peace. At this time, Herbert Hoover was living in New York City but remained integrally involved in the Hoover Institute and Library as a benefactor, fundraiser, and consultant.
In 1956 former President Hoover, under the auspices of the Institute and Library, launched a major fundraising campaign that allowed the Institute to realize its current form as a think tank and archive. In 1957, the Hoover Institute and Library was renamed the Hoover Institution on War, Revolution and Peace—the name it holds today.
In 1960, W. Glenn Campbell was appointed director and substantial budget increases soon led to corresponding increases in acquisitions and related research projects. Despite student unrest in the 1960s, the institution continued to thrive and develop closer relations with Stanford. In particular, the Chinese and Russian collections grew considerably. The Institute increasingly became a conservative think tank, with ties to Washington, especially since 1980. The Institute remains a component of Stanford University.
Members
Below is a list of Hoover Institution directors and prominent fellows, former and current.
Directors
Ephraim D. Adams, 1920–1925
Ralph H. Lutz, 1925–1944
Harold H. Fisher, 1944–1952
C. Easton Rothwell, 1952–1959
W. Glenn Campbell, 1960–1989
John Raisian, 1989–present
Distinguished Fellows
George P. Shultz

George P. Shultz

George Pratt Shultz is an American economist, statesman, and businessman. He served as the United States Secretary of Labor from 1969 to 1970, as the U.S. Secretary of the Treasury from 1972 to 1974, and as the U.S. Secretary of State from 1982 to 1989...


, former U.S. Secretary of State

United States Secretary of State

The United States Secretary of State is the head of the United States Department of State, concerned with foreign affairs. The Secretary is a member of the Cabinet and the highest-ranking cabinet secretary both in line of succession and order of precedence...



Senior Fellows
Research Fellows
Distinguished Visiting Fellows
Media Fellows
Publications
The Hoover Institution's in-house publisher,
Hoover Institution Press
, produces multiple publications on public policy topics, including the quarterly periodicals
Hoover Digest
,
Education Next
,
China Leadership Monitor
, and
Defining Ideas
. The Hoover Institution Press also publishes the bimonthly periodical
Policy Review
Policy Review
Policy Review is one of America's leading conservative journals. It was founded by the Heritage Foundation and was for many years the foundation's flagship publication. In 2001, the publication was acquired by the Stanford University-based Hoover Institution, though it maintains its office on...
, which it acquired from the
Heritage Foundation
Heritage Foundation
The Heritage Foundation is a conservative American think tank based in Washington, D.C. Heritage's stated mission is to "formulate and promote conservative public policies based on the principles of free enterprise, limited government, individual freedom, traditional American values, and a strong...
in 2001.
In addition to these periodicals, the Hoover Institution Press publishes books and essays by Hoover Institution fellows and other Hoover-affiliated scholars.
Task forces
The following Hoover Institution task forces are made up of both Hoover Institution fellows and scholars from other academic institutions. Hoover task forces encourage collaborative work in specific areas of public policy:
K–12 Education
National Security and Law
Property Rights, Freedom, and Prosperity
Virtues of a Free Society
Economic Development
Federal Tax and Budget Policy
Health Care Reform
Ideology and Terror
Energy Policy
Procedural Reform of Government
Funding
The Hoover Institution is funded by multiple sources. It receives nearly half of its funding from private gifts, including corporate
charitable foundations
Foundation (charity)
A foundation is a legal categorization of nonprofit organizations that will typically either donate funds and support to other organizations, or provide the source of funding for its own charitable purposes....
, and the other half from its endowment.
Past corporate donors have included:
Archer Daniels Midland

Archer Daniels Midland

The Archer Daniels Midland Company is a conglomerate headquartered in Decatur, Illinois. ADM operates more than 270 plants worldwide, where cereal grains and oilseeds are processed into products used in food, beverage, nutraceutical, industrial and animal feed markets worldwide.ADM was named the...


Foundation
ARCO

ARCO

Atlantic Richfield Company is an oil company with operations in the United States as well as in Indonesia, the North Sea, and the South China Sea. It has more than 1,300 gas stations in the western part of the United States. ARCO was originally formed by the merger of East Coast-based Atlantic...


Foundation
Boeing

Boeing

The Boeing Company is an American multinational aerospace and defense corporation, founded in 1916 by William E. Boeing in Seattle, Washington. Boeing has expanded over the years, merging with McDonnell Douglas in 1997. Boeing Corporate headquarters has been in Chicago, Illinois since 2001...


-McDonnell Foundation
Chrysler Corporation Fund
Dean Witter

Dean Witter Reynolds

Dean Witter Reynolds was an American stock brokerage and securities firm catering to retail clients. Prior to its acquisition, it was among the largest retail firms in the securities industry with over 9,000 account executives and was among the largest members of the New York Stock Exchange...


Foundation
Exxon

Exxon

Exxon is a chain of gas stations as well as a brand of motor fuel and related products by ExxonMobil. From 1972 to 1999, Exxon was the corporate name of the company previously known as Standard Oil Company of New Jersey or Jersey Standard....


Educational Foundation
Ford Motor Company

Ford Motor Company

Ford Motor Company is an American multinational automaker based in Dearborn, Michigan, a suburb of Detroit. The automaker was founded by Henry Ford and incorporated on June 16, 1903. In addition to the Ford and Lincoln brands, Ford also owns a small stake in Mazda in Japan and Aston Martin in the UK...


Fund
General Motors Foundation
J.P. Morgan Charitable Trust
Merrill Lynch & Company

Merrill Lynch

Merrill Lynch is the wealth management division of Bank of America. With over 15,000 financial advisors and $2.2 trillion in client assets it is the world's largest brokerage. Formerly known as Merrill Lynch & Co., Inc., prior to 2009 the firm was publicly owned and traded on the New York...


Foundation
Procter & Gamble

Procter & Gamble

Procter & Gamble is a Fortune 500 American multinational corporation headquartered in downtown Cincinnati, Ohio and manufactures a wide range of consumer goods....


Fund
Rockwell International

Rockwell International

Rockwell International was a major American manufacturing conglomerate in the latter half of the 20th century, involved in aircraft, the space industry, both defense-oriented and commercial electronics, automotive and truck components, printing presses, valves and meters, and industrial automation....


Corporation Trust
Further reading
Paul, Gary Norman. "The Development of the Hoover Institution on War, Revolution, and Peace Library, 1919–1944". PhD dissertation U. of California, Berkeley. Dissertation Abstracts International 1974 35(3): 1682-1683-A, 274p.
External links