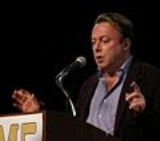 Christopher Hitchens
Christopher Eric Hitchens
(born 13 April 1949) is an Anglo-American author and journalist whose books, essays, and journalistic career span more than four decades. He has been a columnist and literary critic at
The Atlantic
,
Vanity Fair
,
Slate
Slate (magazine)
Slate is a US-based English language online current affairs and culture magazine created in 1996 by former New Republic editor Michael Kinsley, initially under the ownership of Microsoft as part of MSN. On 21 December 2004 it was purchased by the Washington Post Company...
,
World Affairs
World Affairs (journal)
World Affairs is a bimonthly magazine covering international relations. It is the official journal of the American Peace Society. The magazine has been published since 1837 and was re-launched in January 2008 as a new publication. Each issue contains articles offering diverse perspectives on global...
,
The Nation
The Nation
The Nation is the oldest continuously published weekly magazine in the United States. The periodical, devoted to politics and culture, is self-described as "the flagship of the left." Founded on July 6, 1865, It is published by The Nation Company, L.P., at 33 Irving Place, New York City.The Nation...
,
Free Inquiry
Free Inquiry
Free Inquiry is a bi-monthly journal of secular humanist opinion and commentary published by the Council for Secular Humanism, which is part of the Center for Inquiry. Philosopher Paul Kurtz is the editor-in-chief and Thomas W. Flynn the editor. Feature articles cover a wide range of topics from a...
, and became a media fellow at the
Hoover Institution
Hoover Institution
The Hoover Institution on War, Revolution and Peace is a public policy think tank and library founded in 1919 by then future U.S. president, Herbert Hoover, an early alumnus of Stanford....
in September 2008. He is a staple of talk shows and lecture circuits and in 2005 was voted the world's fifth top public intellectual in a
Prospect
/
Foreign Policy
poll.
Hitchens is known for his admiration of
George Orwell
George Orwell
Eric Arthur Blair , better known by his pen name George Orwell, was an English author and journalist...
,
Thomas Paine
Thomas Paine
Thomas "Tom" Paine was an English author, pamphleteer, radical, inventor, intellectual, revolutionary, and one of the Founding Fathers of the United States...
, and
Thomas Jefferson
Thomas Jefferson
Thomas Jefferson was the principal author of the United States Declaration of Independence and the Statute of Virginia for Religious Freedom , the third President of the United States and founder of the University of Virginia...
and for his excoriating critiques of, among others,
Mother Teresa
Mother Teresa
Mother Teresa , born Agnes Gonxha Bojaxhiu , was a Roman Catholic nun of Albanian ethnicity and Indian citizenship, who founded the Missionaries of Charity in Calcutta, India, in 1950...
,
Bill
Bill Clinton
William Jefferson "Bill" Clinton is an American politician who served as the 42nd President of the United States from 1993 to 2001. Inaugurated at age 46, he was the third-youngest president. He took office at the end of the Cold War, and was the first president of the baby boomer generation...
and Hillary Clinton, and
Henry Kissinger
Henry Kissinger
Heinz Alfred "Henry" Kissinger is a German-born American academic, political scientist, diplomat, and businessman. He is a recipient of the Nobel Peace Prize. He served as National Security Advisor and later concurrently as Secretary of State in the administrations of Presidents Richard Nixon and...
.
A good liar must have a good memory. Henry Kissinger|Kissinger is a stupendous liar with a remarkable memory.

The Trial of Henry Kissinger (2002)
Now just wait a minute, a second ago you mentioned character assassination. Be careful that your character doesn't commit suicide in front of everyone in this room!

Debate with Rabbi Schmuley Boteach, 92nd Street Y (2008)