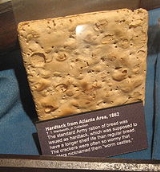 Hardtack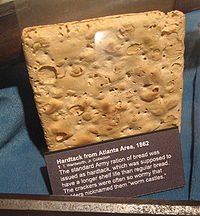 Hardtack
is a simple type of
cracker
Cracker (food)
A cracker is a baked good commonly made from grain flour dough and typically made in quantity in various hand-sized or smaller shapes. Flavorings or seasonings, such as salt, herbs, seeds, and/or cheese, may be added to the dough or sprinkled on top before baking...
or
biscuit
Biscuit
A biscuit is a baked, edible, and commonly flour-based product. The term is used to apply to two distinctly different products in North America and the Commonwealth Nations....
, made from
flour
Flour
Flour is a powder which is made by grinding cereal grains, other seeds or roots . It is the main ingredient of bread, which is a staple food for many cultures, making the availability of adequate supplies of flour a major economic and political issue at various times throughout history...
, water, and sometimes
salt
Salt
In chemistry, salts are ionic compounds that result from the neutralization reaction of an acid and a base. They are composed of cations and anions so that the product is electrically neutral...
. Inexpensive and long-lasting, it was and is used for sustenance in the absence of perishable foods, commonly during long sea voyages and military campaigns. The name derives from the
British sailor
Royal Navy
The Royal Navy is the naval warfare service branch of the British Armed Forces. Founded in the 16th century, it is the oldest service branch and is known as the Senior Service...
slang for food, "tack". It is known by other names such as
pilot bread
(as rations for
ship's pilots
Maritime pilot
A pilot is a mariner who guides ships through dangerous or congested waters, such as harbours or river mouths. With the exception of the Panama Canal, the pilot is only an advisor, as the captain remains in legal, overriding command of the vessel....
),
ship's biscuit
,
shipbiscuit
,
sea biscuit
,
sea bread
(as rations for
sailors
Sailors
Sailors is the plural form of Sailor, or mariner.Sailors may also refer to:*Sailors , a 1964 Swedish film*Ken Sailors , American basketball playerSports teams*Erie Sailors, baseball teams in Pennsylvania, USA...
) or pejoratively "dog biscuits," "tooth dullers," "sheet iron," "worm castles" or "
molar
Molar (tooth)
Molars are the rearmost and most complicated kind of tooth in most mammals. In many mammals they grind food; hence the Latin name mola, "millstone"....
breakers". Australian military personnel know them as
ANZAC

Australian and New Zealand Army Corps

The Australian and New Zealand Army Corps was a First World War army corps of the Mediterranean Expeditionary Force that was formed in Egypt in 1915 and operated during the Battle of Gallipoli. General William Birdwood commanded the corps, which comprised troops from the First Australian Imperial...


wafers
.
History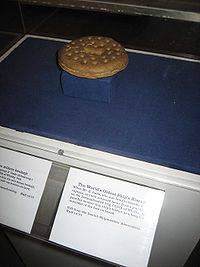 The introduction of the baking of processed cereals including the creation of
flour
Flour
Flour is a powder which is made by grinding cereal grains, other seeds or roots . It is the main ingredient of bread, which is a staple food for many cultures, making the availability of adequate supplies of flour a major economic and political issue at various times throughout history...
provided a more reliable source of food.
Egypt
Egypt
Egypt , officially the Arab Republic of Egypt, Arabic: , is a country mainly in North Africa, with the Sinai Peninsula forming a land bridge in Southwest Asia. Egypt is thus a transcontinental country, and a major power in Africa, the Mediterranean Basin, the Middle East and the Muslim world...
ian sailors carried a flat brittle loaf of
millet
Millet
The millets are a group of small-seeded species of cereal crops or grains, widely grown around the world for food and fodder. They do not form a taxonomic group, but rather a functional or agronomic one. Their essential similarities are that they are small-seeded grasses grown in difficult...
bread called dhourra cake, while the
Romans
Ancient Rome
Ancient Rome was a thriving civilization that grew on the Italian Peninsula as early as the 8th century BC. Located along the Mediterranean Sea and centered on the city of Rome, it expanded to one of the largest empires in the ancient world....
had a
biscuit
Biscuit
A biscuit is a baked, edible, and commonly flour-based product. The term is used to apply to two distinctly different products in North America and the Commonwealth Nations....
called buccellum. King Richard I of England, (aka Richard the Lionheart) left for the
Third Crusade
Third Crusade
The Third Crusade , also known as the Kings' Crusade, was an attempt by European leaders to reconquer the Holy Land from Saladin...
(1189-92) with "biskit of muslin," which was a mixed grain compound of barley, rye and bean flour.
Many early physicians believed that most medical problems were associated with digestion. Hence, for sustenance and health, eating a biscuit daily was considered good for one's health. The bakers of the time made biscuits as hard as possible, as the biscuits would soften with time. Because it is so hard and dry, hardtack (when properly stored and transported) will survive rough handling and temperature extremes. The more refined Captain's biscuit was made with finer flour.
To soften it, it was often dunked in
brine
Brine
Brine is water, saturated or nearly saturated with salt .Brine is used to preserve vegetables, fruit, fish, and meat, in a process known as brining . Brine is also commonly used to age Halloumi and Feta cheeses, or for pickling foodstuffs, as a means of preserving them...
,
coffee
Coffee
Coffee is a brewed beverage with a dark,init brooo acidic flavor prepared from the roasted seeds of the coffee plant, colloquially called coffee beans. The beans are found in coffee cherries, which grow on trees cultivated in over 70 countries, primarily in equatorial Latin America, Southeast Asia,...
, or some other liquid or
cooked
Cooking
Cooking is the process of preparing food by use of heat. Cooking techniques and ingredients vary widely across the world, reflecting unique environmental, economic, and cultural traditions. Cooks themselves also vary widely in skill and training...
into a skillet meal.
Bake
Baking
Baking is the technique of prolonged cooking of food by dry heat acting by convection, and not by radiation, normally in an oven, but also in hot ashes, or on hot stones. It is primarily used for the preparation of bread, cakes, pastries and pies, tarts, quiches, cookies and crackers. Such items...
d hard, it would stay intact for years if it was kept dry. For long voyages, hardtack was baked four times, rather than the more common two, and prepared six months before sailing.
At the time of the
Spanish Armada
Spanish Armada
This article refers to the Battle of Gravelines, for the modern navy of Spain, see Spanish NavyThe Spanish Armada was the Spanish fleet that sailed against England under the command of the Duke of Medina Sidonia in 1588, with the intention of overthrowing Elizabeth I of England to stop English...
in 1588, the daily allowance on board a Royal Navy ship was 1lb of biscuit plus 1 gallon of
beer
Beer
Beer is the world's most widely consumed andprobably oldest alcoholic beverage; it is the third most popular drink overall, after water and tea. It is produced by the brewing and fermentation of sugars, mainly derived from malted cereal grains, most commonly malted barley and malted wheat...
. Later,
Samuel Pepys
Samuel Pepys
Samuel Pepys FRS, MP, JP, was an English naval administrator and Member of Parliament who is now most famous for the diary he kept for a decade while still a relatively young man...
in 1667 first regularized naval victualing with varied and nutritious rations. Royal Navy hardtack during Queen Victoria's reign were made by machine at the Royal Clarence Victualing Yard at
Gosport
Gosport
Gosport is a town, district and borough situated on the south coast of England, within the county of Hampshire. It has approximately 80,000 permanent residents with a further 5,000-10,000 during the summer months...
,
Hampshire
Hampshire
Hampshire is a county on the southern coast of England in the United Kingdom. The county town of Hampshire is Winchester, a historic cathedral city that was once the capital of England. Hampshire is notable for housing the original birthplaces of the Royal Navy, British Army, and Royal Air Force...
, stamped with the Queen's mark and the number of the oven in which they were baked. Biscuits remained an important part of the Royal Navy sailor's diet until the introduction of canned foods; canned meat was first marketed in 1814, and preserved beef in tins was officially introduced to the Royal Navy rations in 1847.
In 1801, Josiah Bent began a baking operation in
Milton, Massachusetts
Milton, Massachusetts
Milton is a town in Norfolk County, Massachusetts, United States and part of the Greater Boston area. The population was 27,003 at the 2010 census. Milton is the birthplace of former U.S. President George H. W. Bush and architect Buckminster Fuller. Milton also has the highest percentage of...
, selling "water crackers" or biscuits made of flour and water that would not deteriorate during long sea voyages from the port of
Boston
Boston
Boston is the capital of and largest city in Massachusetts, and is one of the oldest cities in the United States. The largest city in New England, Boston is regarded as the unofficial "Capital of New England" for its economic and cultural impact on the entire New England region. The city proper had...
, which was also used extensively as a source of food by the
gold prospectors
Gold prospecting
Gold prospecting is the act of searching for new gold deposits. Methods used vary with the type of deposit sought and the resources of the prospector...
who emigrated to the gold mines of
California in 1849
California Gold Rush
The California Gold Rush began on January 24, 1848, when gold was found by James W. Marshall at Sutter's Mill in Coloma, California. The first to hear confirmed information of the gold rush were the people in Oregon, the Sandwich Islands , and Latin America, who were the first to start flocking to...
. Since the journey took months, pilot bread was stored in the
wagon train
Wagon train
A wagon train is a group of wagons traveling together. In the American West, individuals traveling across the plains in covered wagons banded together for mutual assistance, as is reflected in numerous films and television programs about the region, such as Audie Murphy's Tumbleweed and Ward Bond...
s, since it could be kept a long time. His company later sold the original hardtack crackers used by troops during the
American Civil War
American Civil War
The American Civil War was a civil war fought in the United States of America. In response to the election of Abraham Lincoln as President of the United States, 11 southern slave states declared their secession from the United States and formed the Confederate States of America ; the other 25...
. The
G. H. Bent Company
G. H. Bent Company
The G.H. Bent Company, better known as Bent's Cookie Factory, is a business specializing in cookies that has been operating in Milton, Massachusetts, since 1801....
remains in Milton, and continues to sell these items to Civil War re-enactors and others.
During the American Civil War, 3-inch by 3-inch hardtack was shipped from Union and Confederate storehouses. Some of this hardtack had been stored from the 1846–8 Mexican-American War. With
insect
Insect
Insects are a class of living creatures within the arthropods that have a chitinous exoskeleton, a three-part body , three pairs of jointed legs, compound eyes, and two antennae...
infestation common in
improperly stored
Food storage
Food storage is both a traditional domestic skill and is important industrially. Food is stored by almost every human society and by many animals...
provisions, soldiers would break up the hardtack and drop it into their morning coffee. This would not only soften the hardtack but the insects, mostly
weevil
Weevil
A weevil is any beetle from the Curculionoidea superfamily. They are usually small, less than , and herbivorous. There are over 60,000 species in several families, mostly in the family Curculionidae...
larva
Larva
A larva is a distinct juvenile form many animals undergo before metamorphosis into adults. Animals with indirect development such as insects, amphibians, or cnidarians typically have a larval phase of their life cycle...
e, would float to the top and the soldiers could skim off the insects and resume consumption. Another way of removing weevils was to heat it at a fire, which would drive them out. Impatient troops would eat it in the dark to avoid seeing what they were consuming.
During the Spanish-American War some military hardtack was stamped with the phrase REMEMBER THE MAINE.
Modern use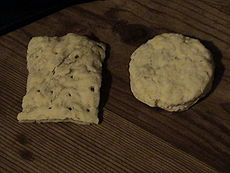 Hardtack is a common pantry item in Hawaii, and The Diamond Bakery "Saloon Pilot" cracker is available in all grocery and sundry stores. The round hardtack crackers are available in large- and small-diameter sizes.
Alaska
Alaska
Alaska is the largest state in the United States by area. It is situated in the northwest extremity of the North American continent, with Canada to the east, the Arctic Ocean to the north, and the Pacific Ocean to the west and south, with Russia further west across the Bering Strait...
ns are among the last to eat hardtack (
Iñupiaq
Inupiaq language
The Inupiat language, also known as Inupiatun, Inupiaq, Iñupiaq, Inyupiaq, Inyupiat, Inyupeat, Inyupik, and Inupik, is a group of dialects of the Inuit language, spoken in northern and northwestern Alaska. The Iñupiaq language is a member of the Eskimo languages group. There are roughly 2,100...
: qaqqulaq,
Central Alaskan Yup'ik
Central Alaskan Yup'ik language
Central Alaskan Yup'ik or just Yup'ik is a Yupik language of the Eskimo language family, in turn a member of the Eskimo–Aleut language group, spoken in western and southwestern Alaska. Both in ethnic population and in number of speakers, Central Alaskan Yup'ik is the largest of the languages...
: sugg'aliq) as a significant part of their normal diet. Interbake Foods of
Richmond, Virginia
Richmond, Virginia
Richmond is the capital of the Commonwealth of Virginia, in the United States. It is an independent city and not part of any county. Richmond is the center of the Richmond Metropolitan Statistical Area and the Greater Richmond area...
, produces most, if not all, of the commercially available hardtack under the "Sailor Boy" label—98 percent of its production goes to Alaskans. Originally imported as a food product that could endure the rigors of transportation throughout Alaska, pilot bread has become a favored food even as other, less robust foods have become available. Alaskan law requires all
light aircraft
Light aircraft
A light aircraft is an aircraft that has a maximum gross take-off weight of or less.Many aircraft used commercially for freight, sightseeing, photography and scheduled flights are light aircraft.Examples of light aircraft include:...
to carry "survival gear", including food. The blue-and-white Sailor Boy Pilot Bread boxes are ubiquitous at Alaskan airstrips, in cabins, and virtually every village.
Commercially available pilot bread is a significant source of
food energy
Food energy
Food energy is the amount of energy obtained from food that is available through cellular respiration.Food energy is expressed in food calories or kilojoules...
in a small, durable package. A store-bought 24-
gram
Gram
The gram is a metric system unit of mass....
cracker can contain 100
calorie
Calorie
The calorie is a pre-SI metric unit of energy. It was first defined by Nicolas Clément in 1824 as a unit of heat, entering French and English dictionaries between 1841 and 1867. In most fields its use is archaic, having been replaced by the SI unit of energy, the joule...
s (20 percent from fat), 2 grams of
protein
Protein in nutrition
Proteins are polymer chains made of amino acids linked together by peptide bonds. Proteins and carbohydrates contain 4 kcal per gram as opposed to lipids which contain 9 kcal per gram....
and practically no
fiber
Dietary fiber
Dietary fiber, dietary fibre, or sometimes roughage is the indigestible portion of plant foods having two main components:* soluble fiber that is readily fermented in the colon into gases and physiologically active byproducts, and* insoluble fiber that is metabolically inert, absorbing water as it...
.
In the fall of 2007, rumors spread throughout Alaska that Interbake Foods might stop producing pilot bread. An
Anchorage Daily News
Anchorage Daily News
The Anchorage Daily News is a daily newspaper based in Anchorage, Alaska, in the United States. It is often referred to colloquially as either "the Daily News" or "the ADN"...
article published November 6, 2007, reported the rumor was false. Alaskans enjoy warmed pilot bread with melted
butter
Butter
Butter is a dairy product made by churning fresh or fermented cream or milk. It is generally used as a spread and a condiment, as well as in cooking applications, such as baking, sauce making, and pan frying...
or with
soup
Soup
Soup is a generally warm food that is made by combining ingredients such as meat and vegetables with stock, juice, water, or another liquid. Hot soups are additionally characterized by boiling solid ingredients in liquids in a pot until the flavors are extracted, forming a broth.Traditionally,...
or moose stew. Pilot bread with
peanut butter
Peanut butter
Peanut butter is a food paste made primarily from ground dry roasted peanuts, popular in North America, Netherlands, United Kingdom, and parts of Asia, particularly the Philippines and Indonesia. It is mainly used as a sandwich spread, sometimes in combination as in the peanut butter and jelly...
,
honey
Honey
Honey is a sweet food made by bees using nectar from flowers. The variety produced by honey bees is the one most commonly referred to and is the type of honey collected by beekeepers and consumed by humans...
, or apple sauce is often enjoyed by children.
Those who buy commercially baked pilot bread in the continental US are often those who stock up on long-lived foods for disaster survival rations. Hardtack can comprise the bulk of dry food storage for some
camper
Camping
Camping is an outdoor recreational activity. The participants leave urban areas, their home region, or civilization and enjoy nature while spending one or several nights outdoors, usually at a campsite. Camping may involve the use of a tent, caravan, motorhome, cabin, a primitive structure, or no...
s. Pilot bread, sometimes referred to as pilot crackers in advertising, is often sold in conjunction with freeze-dried foods as part of package deals by some survival food companies.
Hardtack was a staple of military servicemen in Japan and
South Korea
South Korea
The Republic of Korea , , is a sovereign state in East Asia, located on the southern portion of the Korean Peninsula. It is neighbored by the People's Republic of China to the west, Japan to the east, North Korea to the north, and the East China Sea and Republic of China to the south...
well into late 20th century. It is known as
Kanpan
(乾パン) in Japan and
geonbbang
(건빵) in South Korea, meaning 'dry bread', and is still sold as a fairly popular snack food in South Korea as well as in Japan. A harder hardtack than Kanpan called
Katapan
(堅パン) is historically popular in Kitakyushu City, Fukuoka, Japan as one of its regional speciality foods.
Many people who currently buy or bake hardtack in the US are Civil War re-enactors. One of the units that continually bakes hardtack for
living history
Living history
Living history is an activity that incorporates historical tools, activities and dress into an interactive presentation that seeks to give observers and participants a sense of stepping back in time. Although it does not necessarily seek to reenact a specific event in history, living history is...
is the USS Tahoma Marine Guard Infantry of the Washington State Civil War Association. British and French re-enactors buy or bake hardtack as well.
Hardtack is also a mainstay in parts of Canada. Located in
St John's, Newfoundland
St. John's, Newfoundland and Labrador
St. John's is the capital and largest city in Newfoundland and Labrador, and is the oldest English-founded city in North America. It is located on the eastern tip of the Avalon Peninsula on the island of Newfoundland. With a population of 192,326 as of July 1, 2010, the St...
,
Purity Factories
Purity Factories
Purity Factories Limited is a food processing company based in St. John's, Newfoundland. Founded in 1924 by C. C. Pratt, A. E. Hickman, and W. R. Goobie, Purity is known for its cream crackers, Peppermint Nobs, candy kisses, and flavoured syrups...
currently bakes three varieties. The first variety, a cracker similar to a cross between an unsalted saltine and hardtack, is the "
Crown Pilot Cracker
Crown Pilot Crackers
Crown Pilot was a brand of cracker popular in much of New England. It was manufactured by Nabisco until it was discontinued in the first quarter of 2008. The cracker was unsalted, and closely related to the food "hardtack"...
". It was a popular item in much of New England and was manufactured by
Nabisco
Nabisco
Nabisco is an American brand of cookies and snacks. Headquartered in East Hanover, New Jersey, the company is a subsidiary of Illinois-based Kraft Foods. Nabisco's plant in Chicago, a production facility at 7300 S...
until it was discontinued in the first quarter of 2008. It was discontinued once before, in 1996, but a small uprising by its supporters brought it back in 1997. This variety comes in two subvarieties, Flaky and Barge biscuits. The second is traditional hardtack and is the principal ingredient in
fish and brewis
Fish and Brewis
Fish and brewis is a traditional Newfoundland meal consisting of codfish and hard bread or hard tack. With the abundance of cod around the coasts of Newfoundland and Labrador it became synonymous with many Newfoundland households as a delicacy to be served as a main meal.The recipe may vary from...
, a traditional Newfoundland and Labrador meal. The third variety is Sweet Bread, which is slightly softer than regular hardtack due to a higher sugar and shortening content, and is eaten as a snack food. Canawa is another Canadian maker of traditional hardtack. They specialize in a high density, high caloric product that is well suited for use by expeditions.
Hardtack is also referred to as a staple food of Chinese hard-labor workers in Inner Mongolia during the
Cultural Revolution
Cultural Revolution
The Great Proletarian Cultural Revolution, commonly known as the Cultural Revolution , was a socio-political movement that took place in the People's Republic of China from 1966 through 1976...
by Ma Bo in his
memoir.
Hardtack, baked with or without addition of fat, was and still is a staple in Russian military rations, especially in the Navy, as infantry traditionally preferred simple dried bread when long life was needed. Called галета (
galeta
) in Russian, it is usually somewhat softer and crumblier than traditional hardtack, as most varieties made in Russia include at least some fat or shortening, making them closer to saltine crackers. One such variety, "Хлебцы армейские"
("Khlyebtsy armyeyskiye")
, or "Army crackers", is currently included into modern Russian military rations, and other brands enjoy significant popularity among civilian population as well, both among the campers and the general populace.
In
Genoa
Genoa
Genoa |Ligurian]] Zena ; Latin and, archaically, English Genua) is a city and an important seaport in northern Italy, the capital of the Province of Genoa and of the region of Liguria....
it was and still is a traditional addition to a fish and vegetable salad called
Cappon magro
Cappon magro
Cappon magro or capòn magro is an elaborate and rich Genoese salad of seafood and vegetables over hard tack arranged into a decorative pyramid and dressed with a rich sauce....
.
The
Bundeswehr
Bundeswehr
The Bundeswehr consists of the unified armed forces of Germany and their civil administration and procurement authorities...
field manual mentions shoe cream covered "Hartkeks" as improvised firelighter in bad weather survival situations.
See also
Crisp bread

Crisp bread

Crisp bread or hard bread is a flat and dry type of bread or cracker, containing mostly rye flour...



Flatbread

Flatbread

A flatbread is a simple bread made with flour, water, and salt and then thoroughly rolled into flattened dough. Many flatbreads are unleavened: made without yeast or sourdough culture: although some flatbread is made with yeast, such as pita bread....



Matzoh
Rusk

Rusk

A rusk is a hard, dry biscuit or a twice-baked bread. It is sometimes used as a baby teething food. In the United Kingdom, the name also refers to a wheat-based food additive.- Germany :The zwieback A rusk is a hard, dry biscuit or a twice-baked bread. It is sometimes used as a baby teething food....



Saltine cracker

Saltine cracker

A saltine or soda cracker is a thin, usually square cracker made from white flour, shortening, yeast, and baking soda, with most varieties lightly sprinkled with coarse salt. It has perforations throughout its surface, to allow steam to escape for uniform rising, and along the edges, as individual...



Water biscuit

Water biscuit

A water biscuit is a type of biscuit or cracker. Water biscuits are baked using only flour and water, without shortening or other fats usually used in biscuit production. They are thin, hard and brittle, and usually served with cheese or wine...


(table water cracker)
Bent's Cookie Factory

G. H. Bent Company

The G.H. Bent Company, better known as Bent's Cookie Factory, is a business specializing in cookies that has been operating in Milton, Massachusetts, since 1801....


, purveyors of "water crackers" and hardtack during the American Civil War
Cram in J. R. R. Tolkien

J. R. R. Tolkien

John Ronald Reuel Tolkien, CBE was an English writer, poet, philologist, and university professor, best known as the author of the classic high fantasy works The Hobbit, The Lord of the Rings, and The Silmarillion.Tolkien was Rawlinson and Bosworth Professor of Anglo-Saxon at Pembroke College,...


's Middle-earth

Middle-earth

Middle-earth is the fictional setting of the majority of author J. R. R. Tolkien's fantasy writings. The Hobbit and The Lord of the Rings take place entirely in Middle-earth, as does much of The Silmarillion and Unfinished Tales....


books, modeled after Hardtack
External links
A basic recipe

Recipe

A recipe is a set of instructions that describe how to prepare or make something, especially a culinary dish.-Components:Modern culinary recipes normally consist of several components*The name of the dish...


for Hardtack can be found in the Wikimedia Cookbook.