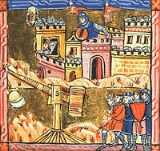 Third Crusade
The
Third Crusade
also known as the
Kings' Crusade
, was an attempt by European leaders to reconquer the
Holy Land
Holy Land
The Holy Land is a term which in Judaism refers to the Kingdom of Israel as defined in the Tanakh. For Jews, the Land's identifiction of being Holy is defined in Judaism by its differentiation from other lands by virtue of the practice of Judaism often possible only in the Land of Israel...
from
Saladin
Saladin
Ṣalāḥ ad-Dīn Yūsuf ibn Ayyūb , better known in the Western world as Saladin, was an Arabized Kurdish Muslim, who became the first Sultan of Egypt and Syria, and founded the Ayyubid dynasty. He led Muslim and Arab opposition to the Franks and other European Crusaders in the Levant...
(Salāh ad-Dīn Yūsuf ibn Ayyūb). It was largely successful, but fell short of its ultimate goal—the reconquest of Jerusalem.
After the failure of the
Second Crusade
Second Crusade
The Second Crusade was the second major crusade launched from Europe. The Second Crusade was started in response to the fall of the County of Edessa the previous year to the forces of Zengi. The county had been founded during the First Crusade by Baldwin of Boulogne in 1098...
, the
Zengid dynasty
Zengid dynasty
The Zengid dynasty was a Muslim dynasty of Turkic origin, which ruled parts of Syria and northern Iraq on behalf of the Seljuk Empire.-History:...
controlled a unified
Syria
Syria
Syria , officially the Syrian Arab Republic , is a country in Western Asia, bordering Lebanon and the Mediterranean Sea to the West, Turkey to the north, Iraq to the east, Jordan to the south, and Israel to the southwest....
and engaged in a conflict with the Fatimid rulers of
Egypt
Egypt
Egypt , officially the Arab Republic of Egypt, Arabic: , is a country mainly in North Africa, with the Sinai Peninsula forming a land bridge in Southwest Asia. Egypt is thus a transcontinental country, and a major power in Africa, the Mediterranean Basin, the Middle East and the Muslim world...
, which ultimately resulted in the unification of Egyptian and Syrian forces under the command of Saladin, who employed them to reduce the Christian states and to recapture Jerusalem in 1187.