 Golden Globe Award for Best Original Score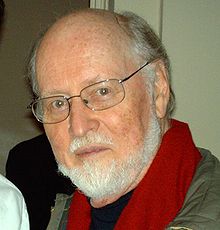 The
Golden Globe Award
Golden Globe Award
The Golden Globe Award is an accolade bestowed by the 93 members of the Hollywood Foreign Press Association recognizing excellence in film and television, both domestic and foreign...
for Best Original Score is one of several categories presented by the
Hollywood Foreign Press Association
Hollywood Foreign Press Association
The Hollywood Foreign Press Association is an organization composed of working journalists who cover the United States film industry for a variety of outlets, including newspapers and magazines in Europe, Asia, Australia and Latin America. Today, the 90 members of the HFPA represent at least 55...
(HFPA), an organization of journalists who cover the
United States
United States
The United States of America is a federal constitutional republic comprising fifty states and a federal district...
film industry
Film industry
The film industry consists of the technological and commercial institutions of filmmaking: i.e. film production companies, film studios, cinematography, film production, screenwriting, pre-production, post production, film festivals, distribution; and actors, film directors and other film crew...
, but are affiliated with publications outside North America, since its institution in 1947. Since the
5th Golden Globe Awards
5th Golden Globe Awards
The 5th Golden Globe Awards, honoring the best achievements in 1947 filmmaking, were held on 10 March 1948 at the Hollywood Roosevelt Hotel in Los Angeles, California.-Winners:*Best Picture: Gentleman's Agreement...
(1947), the award is presented annually, except from 1953 to 1958. The nominations from 1947 and 1948 are not available. The first
Golden Globe Award for Best Original Score
went to
Max Steiner
Max Steiner
Max Steiner was an Austrian composer of music for theatre productions and films. He later became a naturalized citizen of the United States. Trained by the great classical music composers Brahms and Mahler, he was one of the first composers who primarily wrote music for motion pictures, and as...
for his compositional work on
Life with Father
Life with Father (film)
Life with Father is a 1947 American comedy film. It tells the true story of Clarence Day, a stockbroker who wants to be master of his house, but finds his wife and his children ignoring him, until they start making demands for him to change his own life. In keeping with the autobiography, all the...
.
John Williams
John Williams
John Towner Williams is an American composer, conductor, and pianist. In a career spanning almost six decades, he has composed some of the most recognizable film scores in the history of motion pictures, including the Star Wars saga, Jaws, Superman, the Indiana Jones films, E.T...
is the artist with the most nominations (19); those resulted in 4 wins.
Dimitri Tiomkin
Dimitri Tiomkin
Dimitri Zinovievich Tiomkin was a Russian-born Hollywood film score composer and conductor. He is considered "one of the giants of Hollywood movie music." Musically trained in Russia, he is best known for his westerns, "where his expansive, muscular style had its greatest impact." Tiomkin...
had the same number of wins, but out of only 5 nominations. Other notable achievers include
Maurice Jarre
Maurice Jarre
Maurice-Alexis Jarre was a French composer and conductor.Although he composed several concert works, he is best known for his film scores, and is particularly known for his collaborations with film director David Lean. Jarre composed the scores to all of Lean's films since Lawrence of Arabia...
(10 nominations, 3 wins) and
Alan Menken
Alan Menken
Alan Menken is an American musical theatre and film composer and pianist.Menken is best known for his numerous scores for films produced by Walt Disney Animation Studios. His scores for The Little Mermaid, Beauty and the Beast, Aladdin, and Pocahontas have each won him two Academy Awards...
(5 nominations, 3 wins). Artists like
Jerry Goldsmith
Jerry Goldsmith
Jerrald King Goldsmith was an American composer and conductor most known for his work in film and television scoring....
(9 nominations) and
Michel Legrand
Michel Legrand
Michel Jean Legrand is a French musical composer, arranger, conductor, and pianist...
(7 nominations) were nominated several times, but never received the award. Additionally, Dimitri Tiomkin received
Special Achievement Awards
for his services to film music in 1955 and 1957, as did
Hugo Friedhofer
Hugo Friedhofer
Hugo Wilhelm Friedhofer was an American film music composer born in San Francisco. His father was a cellist trained in Dresden, Germany; his mother, Eva König, was born in Germany.Friedhofer began playing cello at the age of 13...
in 1958. The most recent recipients of this award were
Trent Reznor
Trent Reznor
Michael Trent Reznor is an American multi-instrumentalist, composer, record producer, and leader of industrial rock band Nine Inch Nails. Reznor is also a member of How to Destroy Angels alongside his wife, Mariqueen Maandig, and Atticus Ross. He was previously associated with bands Option 30,...
, founder of
Nine Inch Nails
Nine Inch Nails
Nine Inch Nails is an American industrial rock project, founded in 1988 by Trent Reznor in Cleveland, Ohio. As its main producer, singer, songwriter, and instrumentalist, Reznor is the only official member of Nine Inch Nails and remains solely responsible for its direction...
, and composer
Atticus Ross
Atticus Ross
Atticus Ross is an English musician, composer and producer. Ross, along with Trent Reznor, won the Academy Award for Best Original Score for The Social Network in 2011.-Early career:...
for the film
The Social Network
The Social Network
The Social Network is a 2010 American drama film directed by David Fincher and written by Aaron Sorkin. Adapted from Ben Mezrich's 2009 book The Accidental Billionaires, the film portrays the founding of social networking website Facebook and the resulting lawsuits...
, their first Golden Globe.
Key
Sign
Meaning
*
Indicates the winner
Winner and nominess
Year
Film
Composers
Ref.
1947

5th Golden Globe Awards

The 5th Golden Globe Awards, honoring the best achievements in 1947 filmmaking, were held on 10 March 1948 at the Hollywood Roosevelt Hotel in Los Angeles, California.-Winners:*Best Picture: Gentleman's Agreement...



Life with Father

Life with Father (film)

Life with Father is a 1947 American comedy film. It tells the true story of Clarence Day, a stockbroker who wants to be master of his house, but finds his wife and his children ignoring him, until they start making demands for him to change his own life. In keeping with the autobiography, all the...



*
1948

6th Golden Globe Awards

The 6th Golden Globe Awards, honoring the best in film for 1948 films, were held on March 16, 1949.-Winners:*Best Picture : Johnny Belinda*Best Picture : The Treasure of the Sierra Madre*Best Actor: Laurence Olivier, Hamlet...



The Red Shoes
*
1949

7th Golden Globe Awards

The 7th Golden Globe Awards, honoring the best in film for 1949 films, were held on February 23, 1950.-Best Actor: Broderick Crawford - All the King's Men*Richard Todd - The Hasty Heart-Best Actress: Olivia de Havilland - The Heiress...



The Inspector General

The Inspector General (film)

The Inspector General is a 1949 musical comedy film. It stars Danny Kaye and was directed by Henry Koster. The film also stars Walter Slezak, Gene Lockhart, Barbara Bates, Elsa Lanchester, Alan Hale Sr. and Rhys Williams. Original music by Sylvia Fine and Johnny Green.-Premise:The film is loosely...



*
1949

7th Golden Globe Awards

The 7th Golden Globe Awards, honoring the best in film for 1949 films, were held on February 23, 1950.-Best Actor: Broderick Crawford - All the King's Men*Richard Todd - The Hasty Heart-Best Actress: Olivia de Havilland - The Heiress...



All the King's Men

All the King's Men (1949 film)

All the King's Men is a 1949 drama film based on the Robert Penn Warren novel of the same name. It was directed by Robert Rossen and starred Broderick Crawford in the role of Willie Stark.-Plot:...



1950

8th Golden Globe Awards

The 8th Golden Globe Awards, honoring the best in film for 1950 films, were held on February 28, 1951.-Best Actor - Drama: José Ferrer – Cyrano de Bergerac*Louis Calhern – The Magnificent Yankee*James Stewart – Harvey...



Sunset Boulevard

Sunset Boulevard (film)

Sunset Boulevard is a 1950 American film noir directed and co-written by Billy Wilder, and produced and co-written by Charles Brackett...



*
1950

8th Golden Globe Awards

The 8th Golden Globe Awards, honoring the best in film for 1950 films, were held on February 28, 1951.-Best Actor - Drama: José Ferrer – Cyrano de Bergerac*Louis Calhern – The Magnificent Yankee*James Stewart – Harvey...



A Life of Her Own

A Life of Her Own

A Life of Her Own is a 1950 American melodrama film directed by George Cukor. The screenplay by Isobel Lennart focuses on an aspiring model who leaves her small town in the Midwest to seek fame and fortune in New York City.-Plot:...



1950

8th Golden Globe Awards

The 8th Golden Globe Awards, honoring the best in film for 1950 films, were held on February 28, 1951.-Best Actor - Drama: José Ferrer – Cyrano de Bergerac*Louis Calhern – The Magnificent Yankee*James Stewart – Harvey...



Destination Moon

Destination Moon (film)

Destination Moon is an American science fiction feature film produced by George Pal, who later produced When Worlds Collide, The War of the Worlds, and The Time Machine. Pal commissioned the script by James O'Hanlon and Rip Van Ronkel...



1951

9th Golden Globe Awards

The 9th Golden Globe Awards, honoring the best in film for 1951 films, were held on February 21, 1952.-BEST PERFORMANCE BY AN ACTOR IN A MOTION PICTURE- Drama: Fredric March - Death of a Salesman*Arthur Kennedy - Bright Victory...



September Affair

September Affair

September Affair is a 1950 film, directed by William Dieterle, starring Joan Fontaine, Joseph Cotten and Jessica Tandy. It was produced by Hal B. Wallis.-Plot:...



*
1951

9th Golden Globe Awards

The 9th Golden Globe Awards, honoring the best in film for 1951 films, were held on February 21, 1952.-BEST PERFORMANCE BY AN ACTOR IN A MOTION PICTURE- Drama: Fredric March - Death of a Salesman*Arthur Kennedy - Bright Victory...



The Day the Earth Stood Still
1951

9th Golden Globe Awards

The 9th Golden Globe Awards, honoring the best in film for 1951 films, were held on February 21, 1952.-BEST PERFORMANCE BY AN ACTOR IN A MOTION PICTURE- Drama: Fredric March - Death of a Salesman*Arthur Kennedy - Bright Victory...



The Well

The Well (1951 film)

The Well is a 1951 American film noir which tackled the issue of racial tensions and collective behavior. The film was nominated for two Academy Awards, including Best Original Screenplay and Best Film Editing.- Plot :...



1952

10th Golden Globe Awards

The 10th Golden Globe Awards, honoring the best in film for 1952 films, were held on February 26, 1953.-Best performance by an actor in a motion picture - Drama: Gary Cooper - High Noon*Charles Boyer - The Happy Time*Ray Milland - The Thief...



High Noon

High Noon

High Noon is a 1952 American Western film directed by Fred Zinnemann and starring Gary Cooper and Grace Kelly. The film tells in real time the story of a town marshal forced to face a gang of killers by himself...



*
1952

10th Golden Globe Awards

The 10th Golden Globe Awards, honoring the best in film for 1952 films, were held on February 26, 1953.-Best performance by an actor in a motion picture - Drama: Gary Cooper - High Noon*Charles Boyer - The Happy Time*Ray Milland - The Thief...



Ivanhoe

Ivanhoe (1952 film)

Ivanhoe is a 1952 historical film made by MGM. It was directed by Richard Thorpe and produced by Pandro S. Berman. The cast featured Robert Taylor, Elizabeth Taylor, Joan Fontaine, George Sanders, Emlyn Williams, Finlay Currie and Felix Aylmer...



1952

10th Golden Globe Awards

The 10th Golden Globe Awards, honoring the best in film for 1952 films, were held on February 26, 1953.-Best performance by an actor in a motion picture - Drama: Gary Cooper - High Noon*Charles Boyer - The Happy Time*Ray Milland - The Thief...



The Quiet Man

The Quiet Man

The Quiet Man is a 1952 American Technicolor romantic comedy-drama film. It was directed by John Ford and starring John Wayne, Maureen O'Hara, Victor McLaglen and Barry Fitzgerald. It was based on a 1933 Saturday Evening Post short story by Maurice Walsh...



1953

11th Golden Globe Awards

The 11th Golden Globe Awards, honoring the best in film for 1953 films, were held on February 22, 1954.-Winners:*Best Picture, Drama: The Robe*Best Picture, Comedy or Musical: No award*Best Actor, Drama: Spencer Tracy, The Actress...


–1958

16th Golden Globe Awards

The 16th Golden Globe Awards, honoring the best in film for 1958 films, were held on March 5, 1959.-Best Actor - Drama: David Niven – Separate Tables*Tony Curtis – The Defiant Ones...



No award given.
1959

17th Golden Globe Awards

The 17th Golden Globe Awards, honoring the best in film for 1959 films, were held on March 10, 1960.-Best Actor - Drama: Anthony Franciosa - Career*Richard Burton - Look Back In Anger*Charlton Heston - Ben-Hur...



On the Beach

On the Beach (1959 film)

On the Beach is a post-apocalyptic drama film based on Nevil Shute's 1957 novel of the same name. The film features Gregory Peck , Ava Gardner , Fred Astaire and Anthony Perkins...



*
1960

18th Golden Globe Awards

The 18th Golden Globe Awards, honoring the best in film for 1960 films, were held on March 16, 1961.-Best Actor - Drama: Burt Lancaster - Elmer Gantry*Trevor Howard - Sons and Lovers*Laurence Olivier - Spartacus...



The Alamo

The Alamo (1960 film)

The Alamo is a 1960 American historical epic released by United Artists. The film was directed by John Wayne, who also starred as Davy Crockett. The cast also includes Richard Widmark as Jim Bowie and Laurence Harvey as William B...



*
1960

18th Golden Globe Awards

The 18th Golden Globe Awards, honoring the best in film for 1960 films, were held on March 16, 1961.-Best Actor - Drama: Burt Lancaster - Elmer Gantry*Trevor Howard - Sons and Lovers*Laurence Olivier - Spartacus...



Exodus

Exodus (film)

Exodus is a 1960 epic war film made by Alpha and Carlyle Productions and distributed by United Artists. Produced and directed by Otto Preminger, the film was based on the 1958 novel Exodus, by Leon Uris. The screenplay was written by Dalton Trumbo, which represented the breaking of the Hollywood...



1960

18th Golden Globe Awards

The 18th Golden Globe Awards, honoring the best in film for 1960 films, were held on March 16, 1961.-Best Actor - Drama: Burt Lancaster - Elmer Gantry*Trevor Howard - Sons and Lovers*Laurence Olivier - Spartacus...



Pepe

Pepe (film)

Pepe is a 1960 film starring Mario "Cantinflas" Moreno in the title role, directed by George Sidney. A multitude of cameo appearances attempted to replicate the success of Mario Moreno's American debut, notably Around the World in Eighty Days, produced by Mike Todd in 1956.The film failed to...



1960

18th Golden Globe Awards

The 18th Golden Globe Awards, honoring the best in film for 1960 films, were held on March 16, 1961.-Best Actor - Drama: Burt Lancaster - Elmer Gantry*Trevor Howard - Sons and Lovers*Laurence Olivier - Spartacus...



Spartacus
1960

18th Golden Globe Awards

The 18th Golden Globe Awards, honoring the best in film for 1960 films, were held on March 16, 1961.-Best Actor - Drama: Burt Lancaster - Elmer Gantry*Trevor Howard - Sons and Lovers*Laurence Olivier - Spartacus...



The World of Suzie Wong

The World of Suzie Wong (film)

The World of Suzie Wong is a 1960 British-American romantic drama film directed by Richard Quine. The screenplay by John Patrick was adapted from the stage play by Paul Osborn, which was based on the novel of the same title by Richard Mason...



1961

19th Golden Globe Awards

----Film - Drama: The Guns of Navarone ----Film - Comedy: A Majority of One ----Film - Musical: West Side Story The 19th Golden Globe Awards, honoring the best in film for 1961 films, were held on March 5, 1962....



The Guns of Navarone

The Guns of Navarone (film)

The Guns of Navarone is a 1961 British-American Action/Adventure war film based on the 1957 novel of the same name about the Dodecanese Campaign of World War II by Scottish thriller writer Alistair MacLean. It stars Gregory Peck, David Niven and Anthony Quinn, along with Anthony Quayle and Stanley...



*
1961

19th Golden Globe Awards

----Film - Drama: The Guns of Navarone ----Film - Comedy: A Majority of One ----Film - Musical: West Side Story The 19th Golden Globe Awards, honoring the best in film for 1961 films, were held on March 5, 1962....



El Cid

El Cid (film)

El Cid is a historical epic film, a romanticized story of the life of the Christian Castilian knight Don Rodrigo Díaz de Vivar, called "El Cid" who in the 11th century fought the North African Almoravides and ultimately contributed to the unification of Spain.Made by Samuel Bronston Productions in...



1961

19th Golden Globe Awards

----Film - Drama: The Guns of Navarone ----Film - Comedy: A Majority of One ----Film - Musical: West Side Story The 19th Golden Globe Awards, honoring the best in film for 1961 films, were held on March 5, 1962....



Fanny
1961

19th Golden Globe Awards

----Film - Drama: The Guns of Navarone ----Film - Comedy: A Majority of One ----Film - Musical: West Side Story The 19th Golden Globe Awards, honoring the best in film for 1961 films, were held on March 5, 1962....



King of Kings
1961

19th Golden Globe Awards

----Film - Drama: The Guns of Navarone ----Film - Comedy: A Majority of One ----Film - Musical: West Side Story The 19th Golden Globe Awards, honoring the best in film for 1961 films, were held on March 5, 1962....



Summer and Smoke

Summer and Smoke (film)

Summer and Smoke is a 1961 film directed by Peter Glenville based on the Tennessee Williams play of the same name.The film starred Laurence Harvey and Geraldine Page with Rita Moreno, Una Merkel, John McIntire, Thomas Gomez, Pamela Tiffin, Malcolm Atterbury, Lee Patrick and Earl Holliman...



1962

20th Golden Globe Awards

The 20th Golden Globe Awards, honoring the best in film for 1962 films, were held on March 5, 1963.-Best Actor - Drama: Gregory Peck - To Kill a Mockingbird*Bobby Darin - Pressure Point...



To Kill a Mockingbird

To Kill a Mockingbird (film)

To Kill a Mockingbird is a 1962 American drama film adaptation of Harper Lee's novel of the same name directed by Robert Mulligan. It stars Mary Badham in the role of Scout and Gregory Peck in the role of Atticus Finch....



*
1962

20th Golden Globe Awards

The 20th Golden Globe Awards, honoring the best in film for 1962 films, were held on March 5, 1963.-Best Actor - Drama: Gregory Peck - To Kill a Mockingbird*Bobby Darin - Pressure Point...



Lawrence of Arabia

Lawrence of Arabia (film)

Lawrence of Arabia is a 1962 British film based on the life of T. E. Lawrence. It was directed by David Lean and produced by Sam Spiegel through his British company, Horizon Pictures, with the screenplay by Robert Bolt and Michael Wilson. The film stars Peter O'Toole in the title role. It is widely...



1962

20th Golden Globe Awards

The 20th Golden Globe Awards, honoring the best in film for 1962 films, were held on March 5, 1963.-Best Actor - Drama: Gregory Peck - To Kill a Mockingbird*Bobby Darin - Pressure Point...



Mutiny on the Bounty

Mutiny on the Bounty (1962 film)

Mutiny on the Bounty is a 1962 film starring Marlon Brando and Trevor Howard based on the novel Mutiny on the Bounty by Charles Nordhoff and James Norman Hall. The film retells the 1789 real-life mutiny aboard HMAV Bounty led by Fletcher Christian against the ship's captain, William Bligh...



1962

20th Golden Globe Awards

The 20th Golden Globe Awards, honoring the best in film for 1962 films, were held on March 5, 1963.-Best Actor - Drama: Gregory Peck - To Kill a Mockingbird*Bobby Darin - Pressure Point...



Taras Bulba
1962

20th Golden Globe Awards

The 20th Golden Globe Awards, honoring the best in film for 1962 films, were held on March 5, 1963.-Best Actor - Drama: Gregory Peck - To Kill a Mockingbird*Bobby Darin - Pressure Point...



The Music Man

The Music Man (1962 film)

The Music Man is a 1962 musical film starring Robert Preston as Harold Hill and Shirley Jones as Marian Paroo. The film is based on the 1957 Broadway musical of the same name by Meredith Willson...



1964

22nd Golden Globe Awards

----Best Film - Drama: Becket ----Best Film - Musical or Comedy: My Fair Lady The 22nd Golden Globe Awards, honoring the best in film for 1964 films, were held on February 8, 1965.-Best Actor - Drama: Peter O'Toole – Becket...



The Fall of the Roman Empire

The Fall of the Roman Empire (film)

The Fall of the Roman Empire is a 1964 English-language epic film produced by Samuel Bronston Productions and the Rank Organisation, and released by Paramount Pictures. It was directed by Anthony Mann and produced by Samuel Bronston with Jaime Prades and Michal Waszynski as associate producers. The...



*
1964

22nd Golden Globe Awards

----Best Film - Drama: Becket ----Best Film - Musical or Comedy: My Fair Lady The 22nd Golden Globe Awards, honoring the best in film for 1964 films, were held on February 8, 1965.-Best Actor - Drama: Peter O'Toole – Becket...



Becket
1964

22nd Golden Globe Awards

----Best Film - Drama: Becket ----Best Film - Musical or Comedy: My Fair Lady The 22nd Golden Globe Awards, honoring the best in film for 1964 films, were held on February 8, 1965.-Best Actor - Drama: Peter O'Toole – Becket...



Mary Poppins

Mary Poppins (film)

Mary Poppins is a 1964 musical film starring Julie Andrews and Dick Van Dyke, produced by Walt Disney, and based on the Mary Poppins books series by P. L. Travers with illustrations by Mary Shepard. The film was directed by Robert Stevenson and written by Bill Walsh and Don DaGradi, with songs by...



,
1964

22nd Golden Globe Awards

----Best Film - Drama: Becket ----Best Film - Musical or Comedy: My Fair Lady The 22nd Golden Globe Awards, honoring the best in film for 1964 films, were held on February 8, 1965.-Best Actor - Drama: Peter O'Toole – Becket...



Seven Days in May

Seven Days in May

Seven Days in May is an American political thriller novel written by Fletcher Knebel and Charles W. Bailey II and published in 1962. It was made into a motion picture and released in February 1964, with a screenplay by Rod Serling, directed by John Frankenheimer, and starring Burt Lancaster, Kirk...



1964

22nd Golden Globe Awards

----Best Film - Drama: Becket ----Best Film - Musical or Comedy: My Fair Lady The 22nd Golden Globe Awards, honoring the best in film for 1964 films, were held on February 8, 1965.-Best Actor - Drama: Peter O'Toole – Becket...



Zorba the Greek (Alexis Zorbas)
1965

23rd Golden Globe Awards

The 23rd Golden Globe Awards, honouring the best in film for 1965 films, were held on 28 February 1966.-Best Actor - Drama: Omar Sharif - Doctor Zhivago*Rex Harrison - The Agony and the Ecstasy*Sidney Poitier - A Patch of Blue...



Doctor Zhivago
*
1965

23rd Golden Globe Awards

The 23rd Golden Globe Awards, honouring the best in film for 1965 films, were held on 28 February 1966.-Best Actor - Drama: Omar Sharif - Doctor Zhivago*Rex Harrison - The Agony and the Ecstasy*Sidney Poitier - A Patch of Blue...



Battle of the Bulge

Battle of the Bulge (film)

Battle of the Bulge is a widescreen war film produced in Spain that was released in 1965. It was directed by Ken Annakin. It starred Henry Fonda, Robert Shaw, Telly Savalas, Robert Ryan, Dana Andrews and Charles Bronson...



1965

23rd Golden Globe Awards

The 23rd Golden Globe Awards, honouring the best in film for 1965 films, were held on 28 February 1966.-Best Actor - Drama: Omar Sharif - Doctor Zhivago*Rex Harrison - The Agony and the Ecstasy*Sidney Poitier - A Patch of Blue...



The Great Race

The Great Race

The Great Race is a 1965 slapstick comedy film starring Jack Lemmon, Tony Curtis, and Natalie Wood, directed by Blake Edwards, written by Blake Edwards and Arthur A. Ross, and with music by Henry Mancini and cinematography by Russell Harlan. The supporting cast includes Peter Falk, Keenan Wynn,...



1965

23rd Golden Globe Awards

The 23rd Golden Globe Awards, honouring the best in film for 1965 films, were held on 28 February 1966.-Best Actor - Drama: Omar Sharif - Doctor Zhivago*Rex Harrison - The Agony and the Ecstasy*Sidney Poitier - A Patch of Blue...



The Sandpiper

The Sandpiper

The Sandpiper is a 1965 film starring Richard Burton and Elizabeth Taylor, directed by Vincente Minnelli.-Plot:Laura Reynolds is a free-spirited, unwed single mother living with her young son Danny in an isolated California beach house...



1965

23rd Golden Globe Awards

The 23rd Golden Globe Awards, honouring the best in film for 1965 films, were held on 28 February 1966.-Best Actor - Drama: Omar Sharif - Doctor Zhivago*Rex Harrison - The Agony and the Ecstasy*Sidney Poitier - A Patch of Blue...



The Yellow Rolls-Royce

The Yellow Rolls-Royce

-External links:, a promotional short subject for the film...



1966

24th Golden Globe Awards

The 24th Golden Globe Awards, honoring the best in film for 1966 films, were held on February 15, 1967.-Best Actor - Drama: Paul Scofield – A Man for All Seasons*Richard Burton – Who's Afraid of Virginia Woolf?...



Hawaii

Hawaii (film)

Hawaii is a 1966 American film directed by George Roy Hill and based on the novel of the same name by James A. Michener. It tells the story of an 1820s Yale University divinity student who, along with his new bride , becomes a Calvinist missionary in the Hawaiian Islands...



*
1966

24th Golden Globe Awards

The 24th Golden Globe Awards, honoring the best in film for 1966 films, were held on February 15, 1967.-Best Actor - Drama: Paul Scofield – A Man for All Seasons*Richard Burton – Who's Afraid of Virginia Woolf?...



A Man and a Woman

A Man and a Woman

A Man and a Woman is a 1966 French film, written by Claude Lelouch and Pierre Uytterhoeven, and directed by Lelouch. It is notable for its lush photography , which features frequent segues between full color, black-and-white, and sepia-toned shots, and for its memorable musical score by Francis Lai...



1966

24th Golden Globe Awards

The 24th Golden Globe Awards, honoring the best in film for 1966 films, were held on February 15, 1967.-Best Actor - Drama: Paul Scofield – A Man for All Seasons*Richard Burton – Who's Afraid of Virginia Woolf?...



Is Paris Burning? (Paris brûle-t-il?)

Is Paris Burning?

Is Paris Burning? is a 1966 film dealing with the 1944 liberation of Paris by rival branches of the French Resistance and the Free French Forces.-Plot:...



1966

24th Golden Globe Awards

The 24th Golden Globe Awards, honoring the best in film for 1966 films, were held on February 15, 1967.-Best Actor - Drama: Paul Scofield – A Man for All Seasons*Richard Burton – Who's Afraid of Virginia Woolf?...



The Bible: In the Beginning
1966

24th Golden Globe Awards

The 24th Golden Globe Awards, honoring the best in film for 1966 films, were held on February 15, 1967.-Best Actor - Drama: Paul Scofield – A Man for All Seasons*Richard Burton – Who's Afraid of Virginia Woolf?...



The Sand Pebbles

The Sand Pebbles (film)

The Sand Pebbles is a 1966 American period war film directed by Robert Wise. It tells the story of an independent, rebellious U.S. Navy Machinist's Mate aboard the fictional gunboat USS San Pablo in 1920s China....



1967

25th Golden Globe Awards

The 25th Golden Globe Awards, honoring the best achievements in 1967, were held on 12 February 1968.-Best Actor - Drama: Rod Steiger - In the Heat of the Night*Alan Bates - Far from the Madding Crowd*Warren Beatty - Bonnie and Clyde...



Camelot

Camelot (film)

Camelot is a 1967 film adaptation of the musical of the same name. Richard Harris stars as Arthur, Vanessa Redgrave as Guinevere, and Franco Nero as Lancelot. The film was directed by Joshua Logan.-Plot:...



*
1967

25th Golden Globe Awards

The 25th Golden Globe Awards, honoring the best achievements in 1967, were held on 12 February 1968.-Best Actor - Drama: Rod Steiger - In the Heat of the Night*Alan Bates - Far from the Madding Crowd*Warren Beatty - Bonnie and Clyde...



Doctor Dolittle

Doctor Dolittle (film)

Doctor Dolittle is a 1967 American musical film directed by Richard Fleischer and starring Rex Harrison, Samantha Eggar, Anthony Newley and Richard Attenborough. It's adapted by Leslie Bricusse from the novel series by Hugh Lofting, primarily The Voyages of Doctor Dolittle, The Story of Doctor...



1967

25th Golden Globe Awards

The 25th Golden Globe Awards, honoring the best achievements in 1967, were held on 12 February 1968.-Best Actor - Drama: Rod Steiger - In the Heat of the Night*Alan Bates - Far from the Madding Crowd*Warren Beatty - Bonnie and Clyde...



Live for Life (Vivre Pour Vivre)

Live for Life

Live for Life is a 1967 French film directed by Claude Lelouch and starred by Yves Montand, Candice Bergen and Annie Girardot. The film won the Golden Globe for Best Foreign Language Film and was nominated for the Academy Award for Best Foreign Language Film...



1967

25th Golden Globe Awards

The 25th Golden Globe Awards, honoring the best achievements in 1967, were held on 12 February 1968.-Best Actor - Drama: Rod Steiger - In the Heat of the Night*Alan Bates - Far from the Madding Crowd*Warren Beatty - Bonnie and Clyde...



Thoroughly Modern Millie

Thoroughly Modern Millie

Thoroughly Modern Millie is a 1967 American musical film directed by George Roy Hill and starring Julie Andrews. The screenplay by Richard Morris focuses on a naive young woman who finds herself in the midst of a series of madcap adventures when she sets her sights on marrying her wealthy boss.The...



1967

25th Golden Globe Awards

The 25th Golden Globe Awards, honoring the best achievements in 1967, were held on 12 February 1968.-Best Actor - Drama: Rod Steiger - In the Heat of the Night*Alan Bates - Far from the Madding Crowd*Warren Beatty - Bonnie and Clyde...



Two for the Road
1968

26th Golden Globe Awards

The 26th Golden Globe Awards, honoring the best in film and television for 1968 films, were held on February 24, 1969.-Best Actor - Drama: Peter O'Toole - The Lion in Winter*Alan Arkin - The Heart Is a Lonely Hunter*Alan Bates - The Fixer...



The Shoes of the Fisherman

The Shoes of the Fisherman

The Shoes of the Fisherman is a 1963 novel by the Australian author Morris West, as well as a 1968 film based on the novel.The book reached #1 on the New York Times bestseller list for adult fiction on 30 June 1963, and became the #1 bestselling novel in the United States for that year, according...



*
1968

26th Golden Globe Awards

The 26th Golden Globe Awards, honoring the best in film and television for 1968 films, were held on February 24, 1969.-Best Actor - Drama: Peter O'Toole - The Lion in Winter*Alan Arkin - The Heart Is a Lonely Hunter*Alan Bates - The Fixer...



Chitty Chitty Bang Bang

Chitty Chitty Bang Bang (film)

Chitty Chitty Bang Bang is a 1968 musical film with a script by Roald Dahl and Ken Hughes, and songs by the Sherman Brothers, loosely based on Ian Fleming's novel Chitty Chitty Bang Bang: The Magical Car. It starred Dick Van Dyke as Caractacus Potts and Sally Ann Howes as Truly Scrumptious. The...



,
1968

26th Golden Globe Awards

The 26th Golden Globe Awards, honoring the best in film and television for 1968 films, were held on February 24, 1969.-Best Actor - Drama: Peter O'Toole - The Lion in Winter*Alan Arkin - The Heart Is a Lonely Hunter*Alan Bates - The Fixer...



Romeo and Juliet

Romeo and Juliet (1968 film)

Romeo and Juliet is a 1968 British-Italian cinematic adaptation of the William Shakespeare play of the same name.The film was directed and co-written by Franco Zeffirelli, and stars Leonard Whiting and Olivia Hussey. It won Academy Awards for Best Cinematography and Best Costume Design; it was also...



1968

26th Golden Globe Awards

The 26th Golden Globe Awards, honoring the best in film and television for 1968 films, were held on February 24, 1969.-Best Actor - Drama: Peter O'Toole - The Lion in Winter*Alan Arkin - The Heart Is a Lonely Hunter*Alan Bates - The Fixer...



Rosemary's Baby

Rosemary's Baby (film)

Rosemary's Baby is a 1968 American horror film written and directed by Roman Polanski, based on the bestselling 1967 novel Rosemary's Baby by Ira Levin...



1968

26th Golden Globe Awards

The 26th Golden Globe Awards, honoring the best in film and television for 1968 films, were held on February 24, 1969.-Best Actor - Drama: Peter O'Toole - The Lion in Winter*Alan Arkin - The Heart Is a Lonely Hunter*Alan Bates - The Fixer...



The Lion in Winter

The Lion in Winter (1968 film)

The Lion in Winter is a 1968 historical drama made by Avco Embassy Pictures, based on the Broadway play by James Goldman. It was directed by Anthony Harvey and produced by Joseph E...



1968

26th Golden Globe Awards

The 26th Golden Globe Awards, honoring the best in film and television for 1968 films, were held on February 24, 1969.-Best Actor - Drama: Peter O'Toole - The Lion in Winter*Alan Arkin - The Heart Is a Lonely Hunter*Alan Bates - The Fixer...



The Thomas Crown Affair

The Thomas Crown Affair (1968 film)

The Thomas Crown Affair is a 1968 film by Norman Jewison starring Steve McQueen and Faye Dunaway. It was nominated for two Academy Awards and won the Award for Best Song with Michel Legrand's "Windmills of Your Mind"...



1969

27th Golden Globe Awards

The 27th Golden Globe Awards, honoring the best in film and television for 1969 films, were held on February 2, 1970.-Best Actor - Drama: John Wayne - True Grit*Alan Arkin - Popi*Richard Burton - Anne of the Thousand Days...



Butch Cassidy and the Sundance Kid

Butch Cassidy and the Sundance Kid

Butch Cassidy and the Sundance Kid is a 1969 American Western film directed by George Roy Hill and written by William Goldman...



*
1969

27th Golden Globe Awards

The 27th Golden Globe Awards, honoring the best in film and television for 1969 films, were held on February 2, 1970.-Best Actor - Drama: John Wayne - True Grit*Alan Arkin - Popi*Richard Burton - Anne of the Thousand Days...



Anne of the Thousand Days

Anne of the Thousand Days

Anne of the Thousand Days is a 1969 costume drama made by Hal Wallis Productions and distributed by Universal Pictures. It was directed by Charles Jarrott and produced by Hal B. Wallis. The film tells the story of Anne Boleyn...



1969

27th Golden Globe Awards

The 27th Golden Globe Awards, honoring the best in film and television for 1969 films, were held on February 2, 1970.-Best Actor - Drama: John Wayne - True Grit*Alan Arkin - Popi*Richard Burton - Anne of the Thousand Days...



Goodbye, Mr. Chips

Goodbye, Mr. Chips (1969 film)

Goodbye, Mr. Chips is a 1969 American musical film directed by Herbert Ross. The screenplay by Terence Rattigan is based on James Hilton's 1934 novella of the same name, which originally was adapted for the screen in 1939.-Plot:...



1969

27th Golden Globe Awards

The 27th Golden Globe Awards, honoring the best in film and television for 1969 films, were held on February 2, 1970.-Best Actor - Drama: John Wayne - True Grit*Alan Arkin - Popi*Richard Burton - Anne of the Thousand Days...



The Happy Ending

The Happy Ending

The Happy Ending is a 1969 film written and directed by Richard Brooks, which tells the story of a repressed housewife who longs for liberation from her marriage...



1969

27th Golden Globe Awards

The 27th Golden Globe Awards, honoring the best in film and television for 1969 films, were held on February 2, 1970.-Best Actor - Drama: John Wayne - True Grit*Alan Arkin - Popi*Richard Burton - Anne of the Thousand Days...



The Secret of Santa Vittoria

The Secret of Santa Vittoria

The Secret of Santa Vittoria is a 1969 film made by Stanley Kramer Productions and distributed by United Artists. It was produced and directed by Stanley Kramer and co-produced by George Glass from a screenplay by Ben Maddow and William Rose. It was based on the novel by Robert Crichton...



1970

28th Golden Globe Awards

The 28th Golden Globe Awards, honoring the best in film and television for 1970 films, were held on February 5, 1971.-Best Actor - Drama: George C...



Love Story

Love Story (1970 film)

Love Story is a 1970 romantic drama film written by Erich Segal and based on his novel Love Story. It was directed by Arthur Hiller. The film, well known as a tragedy, is considered one of the most romantic of all time by the American Film Institute , and was followed by a sequel, Oliver's Story...



*
1970

28th Golden Globe Awards

The 28th Golden Globe Awards, honoring the best in film and television for 1970 films, were held on February 5, 1971.-Best Actor - Drama: George C...



Airport
1970

28th Golden Globe Awards

The 28th Golden Globe Awards, honoring the best in film and television for 1970 films, were held on February 5, 1971.-Best Actor - Drama: George C...



Cromwell

Cromwell (film)

Cromwell is a 1970 film, based on the life of Oliver Cromwell who led the Parliamentary forces during the English Civil War and, as Lord Protector, ruled Great Britain and Ireland in the 1650s. It features an all-star cast led by Richard Harris as Cromwell and Alec Guinness as King Charles I...



1970

28th Golden Globe Awards

The 28th Golden Globe Awards, honoring the best in film and television for 1970 films, were held on February 5, 1971.-Best Actor - Drama: George C...



Scrooge
1970

28th Golden Globe Awards

The 28th Golden Globe Awards, honoring the best in film and television for 1970 films, were held on February 5, 1971.-Best Actor - Drama: George C...



Wuthering Heights

Wuthering Heights (1970 film)

Wuthering Heights is a 1970 film directed by Robert Fuest. It is based on the classic Emily Bronte novel of the same name. Like the 1939 version, this film depicts only the first sixteen chapters concluding with Catherine Earnshaw Linton's death and omits the trials of her daughter, Hindley's son,...



1971

29th Golden Globe Awards

The 29th Golden Globe Awards, honoring the best in film and television for 1971 films, were held on February 6, 1972.-Best Actor - Drama: Gene Hackman – The French Connection*Peter Finch – Sunday Bloody Sunday...



Shaft

Shaft (1971 film)

Shaft is a 1971 American blaxploitation film directed by Gordon Parks, released by Metro-Goldwyn-Mayer. An action film with elements of film noir, Shaft tells the story of a black private detective, John Shaft, who travels through Harlem and to the Italian mob neighborhoods in order to find the...



*
1971

29th Golden Globe Awards

The 29th Golden Globe Awards, honoring the best in film and television for 1971 films, were held on February 6, 1972.-Best Actor - Drama: Gene Hackman – The French Connection*Peter Finch – Sunday Bloody Sunday...



Le Mans

Le Mans (film)

Le Mans is a 1971 action film directed by Lee H. Katzin. Starring Steve McQueen, it features footage from the actual 1970 24 Hours of Le Mans auto race....



1971

29th Golden Globe Awards

The 29th Golden Globe Awards, honoring the best in film and television for 1971 films, were held on February 6, 1972.-Best Actor - Drama: Gene Hackman – The French Connection*Peter Finch – Sunday Bloody Sunday...



Mary, Queen of Scots

Mary, Queen of Scots (film)

Mary, Queen of Scots is a 1971 Universal Pictures biographical film based on the life of Mary, Queen of Scots. Leading an all-star cast are Vanessa Redgrave as the titular character and Glenda Jackson as Elizabeth I. In the same year, Jackson played the part of Elizabeth in the TV drama Elizabeth...



1971

29th Golden Globe Awards

The 29th Golden Globe Awards, honoring the best in film and television for 1971 films, were held on February 6, 1972.-Best Actor - Drama: Gene Hackman – The French Connection*Peter Finch – Sunday Bloody Sunday...



Summer of '42

Summer of '42

Summer of '42 is a 1971 American coming-of-age drama film based on the memoirs of screenwriter Herman Raucher. It tells the story of how Raucher, in his early teens on his 1942 summer vacation on Nantucket Island, off the coast of New England, embarked on a one-sided romance with a woman, Dorothy,...



1971

29th Golden Globe Awards

The 29th Golden Globe Awards, honoring the best in film and television for 1971 films, were held on February 6, 1972.-Best Actor - Drama: Gene Hackman – The French Connection*Peter Finch – Sunday Bloody Sunday...



The Andromeda Strain

The Andromeda Strain (film)

The Andromeda Strain is a 1971 American science-fiction film, based on the novel published in 1969 by Michael Crichton. The film is about a team of scientists who investigate a deadly organism of extraterrestrial origin that causes rapid, fatal blood clotting. Directed by Robert Wise, the film...



1972

30th Golden Globe Awards

The 30th Golden Globe Awards, honoring the best in film and television for 1972 films, were held on 28 January 1973.-Best Actor - Drama: Marlon Brando - The Godfather*Michael Caine - Sleuth*Laurence Olivier - Sleuth...



The Godfather

The Godfather

The Godfather is a 1972 American epic crime film directed by Francis Ford Coppola, based on the 1969 novel by Mario Puzo. With a screenplay by Puzo, Coppola and an uncredited Robert Towne, the film stars Marlon Brando, Al Pacino, James Caan, Robert Duvall, Sterling Hayden, John Marley, Richard...



*
1972

30th Golden Globe Awards

The 30th Golden Globe Awards, honoring the best in film and television for 1972 films, were held on 28 January 1973.-Best Actor - Drama: Marlon Brando - The Godfather*Michael Caine - Sleuth*Laurence Olivier - Sleuth...



Frenzy

Frenzy

Frenzy is a 1972 British thriller film produced and directed by Alfred Hitchcock, and is the penultimate feature film of his extensive career. The film is based upon the novel Goodbye Piccadilly, Farewell Leicester Square by Arthur La Bern, and was adapted for the screen by Anthony Shaffer. La Bern...



1972

30th Golden Globe Awards

The 30th Golden Globe Awards, honoring the best in film and television for 1972 films, were held on 28 January 1973.-Best Actor - Drama: Marlon Brando - The Godfather*Michael Caine - Sleuth*Laurence Olivier - Sleuth...



Lady Sings the Blues
1972

30th Golden Globe Awards

The 30th Golden Globe Awards, honoring the best in film and television for 1972 films, were held on 28 January 1973.-Best Actor - Drama: Marlon Brando - The Godfather*Michael Caine - Sleuth*Laurence Olivier - Sleuth...



The Getaway

The Getaway (1972 film)

The Getaway is a 1972 American action-crime film directed by Sam Peckinpah and starring Steve McQueen and Ali MacGraw.The film is based on a novel by Jim Thompson, with the screenplay written by Walter Hill...



1972

30th Golden Globe Awards

The 30th Golden Globe Awards, honoring the best in film and television for 1972 films, were held on 28 January 1973.-Best Actor - Drama: Marlon Brando - The Godfather*Michael Caine - Sleuth*Laurence Olivier - Sleuth...



The Poseidon Adventure
1973

31st Golden Globe Awards

The 31st Golden Globe Awards, honoring the best in film and television for 1973, were held on January 26, 1974.-Best Actor - Drama: Al Pacino - Serpico*Robert Blake - Electra Glide in Blue*Jack Lemmon - Save the Tiger...



Jonathan Livingston Seagull

Jonathan Livingston Seagull

Jonathan Livingston Seagull, written by Richard Bach, is a fable in novella form about a seagull learning about life and flight, and a homily about self-perfection...



*
1973

31st Golden Globe Awards

The 31st Golden Globe Awards, honoring the best in film and television for 1973, were held on January 26, 1974.-Best Actor - Drama: Al Pacino - Serpico*Robert Blake - Electra Glide in Blue*Jack Lemmon - Save the Tiger...



Breezy

Breezy

Breezy is a 1973 American romantic drama film, starring William Holden and Kay Lenz. It was written by Jo Heims, and was the third film directed by Clint Eastwood, who appears uncredited as a man in crowd on a pier.-Plot:...



1973

31st Golden Globe Awards

The 31st Golden Globe Awards, honoring the best in film and television for 1973, were held on January 26, 1974.-Best Actor - Drama: Al Pacino - Serpico*Robert Blake - Electra Glide in Blue*Jack Lemmon - Save the Tiger...



Cinderella Liberty

Cinderella Liberty

Cinderella Liberty is a 1973 film which tells the story of a sailor who falls in love with a prostitute and becomes a surrogate father for her 11-year-old mixed race son. It stars James Caan, Marsha Mason, Kirk Calloway, Eli Wallach, Burt Young, Allyn Ann McLerie, Dabney Coleman, Jon Korkes, and...



1973

31st Golden Globe Awards

The 31st Golden Globe Awards, honoring the best in film and television for 1973, were held on January 26, 1974.-Best Actor - Drama: Al Pacino - Serpico*Robert Blake - Electra Glide in Blue*Jack Lemmon - Save the Tiger...



O Lucky Man!

O Lucky Man!

O Lucky Man! is a 1973 British comedy-drama fantasy film, intended as an allegory on life in a capitalist society. Directed by Lindsay Anderson, it stars Malcolm McDowell as Mick Travis, whom McDowell had first played as a disaffected public schoolboy in his first film performance in Anderson's...



1973

31st Golden Globe Awards

The 31st Golden Globe Awards, honoring the best in film and television for 1973, were held on January 26, 1974.-Best Actor - Drama: Al Pacino - Serpico*Robert Blake - Electra Glide in Blue*Jack Lemmon - Save the Tiger...



The Day of the Dolphin

The Day of the Dolphin

The Day of the Dolphin is a 1973 American science-fiction thriller film directed by Mike Nichols and starring George C. Scott. Loosely based on the 1967 novel, Un animal doué de raison , by French writer Robert Merle, the screenplay was written by Buck Henry.-Plot:A brilliant and driven scientist,...



1973

31st Golden Globe Awards

The 31st Golden Globe Awards, honoring the best in film and television for 1973, were held on January 26, 1974.-Best Actor - Drama: Al Pacino - Serpico*Robert Blake - Electra Glide in Blue*Jack Lemmon - Save the Tiger...



Tom Sawyer
,
1974

32nd Golden Globe Awards

The 32nd Golden Globe Awards, honoring the best in film and television for 1974, were held on January 25, 1975.-Best Actor - Drama: Jack Nicholson – Chinatown*James Caan – The Gambler*Gene Hackman – The Conversation...



The Little Prince

The Little Prince (film)

The Little Prince is a 1974 American/British science fiction musical film with screenplay and lyrics by Alan Jay Lerner and music by Frederick Loewe...



, *
1974

32nd Golden Globe Awards

The 32nd Golden Globe Awards, honoring the best in film and television for 1974, were held on January 25, 1975.-Best Actor - Drama: Jack Nicholson – Chinatown*James Caan – The Gambler*Gene Hackman – The Conversation...



Chinatown
1974

32nd Golden Globe Awards

The 32nd Golden Globe Awards, honoring the best in film and television for 1974, were held on January 25, 1975.-Best Actor - Drama: Jack Nicholson – Chinatown*James Caan – The Gambler*Gene Hackman – The Conversation...



Earthquake

Earthquake (film)

Earthquake is a 1974 American disaster film that achieved huge box-office success, continuing the disaster film genre of the 1970s where recognizable all-star casts attempt to survive life or death situations...



1974

32nd Golden Globe Awards

The 32nd Golden Globe Awards, honoring the best in film and television for 1974, were held on January 25, 1975.-Best Actor - Drama: Jack Nicholson – Chinatown*James Caan – The Gambler*Gene Hackman – The Conversation...



Phantom of the Paradise

Phantom of the Paradise

Phantom of the Paradise is a 1974 musical film written and directed by Brian De Palma. The story is a loosely adapted mixture of The Phantom of the Opera, The Picture of Dorian Gray and Faust and also briefly references Frankenstein and The Cabinet of Dr. Caligari...



1974

32nd Golden Globe Awards

The 32nd Golden Globe Awards, honoring the best in film and television for 1974, were held on January 25, 1975.-Best Actor - Drama: Jack Nicholson – Chinatown*James Caan – The Gambler*Gene Hackman – The Conversation...



The Godfather Part II

The Godfather Part II

The Godfather Part II is a 1974 American gangster film directed by Francis Ford Coppola from a script co-written with Mario Puzo. The film is both a sequel and a prequel to The Godfather, chronicling the story of the Corleone family following the events of the first film while also depicting the...



,
1975

33rd Golden Globe Awards

The 33rd Golden Globe Awards, honoring the best in film and television for 1975, were held on January 24, 1976.-Best Actor - Drama: Jack Nicholson - One Flew Over the Cuckoo's Nest*Gene Hackman - French Connection II...



Jaws

Jaws (film)

Jaws is a 1975 American horror-thriller film directed by Steven Spielberg and based on Peter Benchley's novel of the same name. In the story, the police chief of Amity Island, a fictional summer resort town, tries to protect beachgoers from a giant man-eating great white shark by closing the beach,...



*
1975

33rd Golden Globe Awards

The 33rd Golden Globe Awards, honoring the best in film and television for 1975, were held on January 24, 1976.-Best Actor - Drama: Jack Nicholson - One Flew Over the Cuckoo's Nest*Gene Hackman - French Connection II...



Funny Lady

Funny Lady

Funny Lady is a 1975 film starring Barbra Streisand, James Caan, Omar Sharif, Roddy McDowall, and Ben Vereen.A sequel to the 1968 film Funny Girl, it is a highly fictionalized account of the later life and career of comedienne Fanny Brice and her marriage to songwriter and empresario Billy Rose...



,
1975

33rd Golden Globe Awards

The 33rd Golden Globe Awards, honoring the best in film and television for 1975, were held on January 24, 1976.-Best Actor - Drama: Jack Nicholson - One Flew Over the Cuckoo's Nest*Gene Hackman - French Connection II...



The Man Who Would Be King

The Man Who Would Be King (film)

The Man Who Would Be King is a 1975 film adapted from the Rudyard Kipling short story of the same title. It was adapted and directed by John Huston and starred Sean Connery, Michael Caine, Saeed Jaffrey, and Christopher Plummer as Kipling .The film follows two rogue ex-non-commissioned officers of...



1975

33rd Golden Globe Awards

The 33rd Golden Globe Awards, honoring the best in film and television for 1975, were held on January 24, 1976.-Best Actor - Drama: Jack Nicholson - One Flew Over the Cuckoo's Nest*Gene Hackman - French Connection II...



The Other Side of the Mountain

The Other Side of the Mountain

The Other Side of the Mountain is a 1975 American film based on a true story of ski racing champion Jill Kinmont.In early 1955, Kinmont was the national champion in slalom and was a top U.S. prospect for a medal in the 1956 Winter Olympics, a year away...



1975

33rd Golden Globe Awards

The 33rd Golden Globe Awards, honoring the best in film and television for 1975, were held on January 24, 1976.-Best Actor - Drama: Jack Nicholson - One Flew Over the Cuckoo's Nest*Gene Hackman - French Connection II...



The Return of the Pink Panther

The Return of the Pink Panther

The Return of the Pink Panther is the fourth film in the Pink Panther series, released in 1975. The film stars Peter Sellers in the role of Inspector Clouseau in his third Panther appearance, after the original The Pink Panther and A Shot in the Dark.Herbert Lom also reprises his role as Chief...



1976

34th Golden Globe Awards

The 34th Golden Globe Awards, honoring the best in film and television for 1976, were held on January 29, 1977.-Best Actor - Drama: Peter Finch - Network*David Carradine - Bound for Glory*Robert De Niro - Taxi Driver...



A Star is Born

A Star Is Born (1976 film)

A Star Is Born is a 1976 American rock music musical film telling the story of a young woman, played by Barbra Streisand who enters show business, and meets and falls in love with an established male star, played by Kris Kristofferson, only to find her career ascending while his goes into decline...



, *
1976

34th Golden Globe Awards

The 34th Golden Globe Awards, honoring the best in film and television for 1976, were held on January 29, 1977.-Best Actor - Drama: Peter Finch - Network*David Carradine - Bound for Glory*Robert De Niro - Taxi Driver...



Bugsy Malone

Bugsy Malone

Bugsy Malone is a 1976 musical film, very loosely based on events in New York City in the Prohibition era, specifically the exploits of gangsters like Al Capone and Bugs Moran, as dramatized in cinema...



1976

34th Golden Globe Awards

The 34th Golden Globe Awards, honoring the best in film and television for 1976, were held on January 29, 1977.-Best Actor - Drama: Peter Finch - Network*David Carradine - Bound for Glory*Robert De Niro - Taxi Driver...



Rocky

Rocky

Rocky is a 1976 American sports drama film directed by John G. Avildsen and both written by and starring Sylvester Stallone. It tells the rags to riches American Dream story of Rocky Balboa, an uneducated but kind-hearted debt collector for a loan shark in the city of Philadelphia, Pennsylvania...



1976

34th Golden Globe Awards

The 34th Golden Globe Awards, honoring the best in film and television for 1976, were held on January 29, 1977.-Best Actor - Drama: Peter Finch - Network*David Carradine - Bound for Glory*Robert De Niro - Taxi Driver...



The Slipper and the Rose

The Slipper and the Rose

The Slipper and the Rose is a 1976 British musical film retelling the classic fairy tale of Cinderella. This film was chosen as the Royal Command Performance motion picture selection for 1976....



,
1976

34th Golden Globe Awards

The 34th Golden Globe Awards, honoring the best in film and television for 1976, were held on January 29, 1977.-Best Actor - Drama: Peter Finch - Network*David Carradine - Bound for Glory*Robert De Niro - Taxi Driver...



Voyage of the Damned

Voyage of the Damned

Voyage of the Damned is the title of a 1974 book written by Gordon Thomas and Max Morgan-Witts, which was the basis of a 1976 drama film with the same title.The story was inspired by true events concerning the fate of the MS St...



1977

35th Golden Globe Awards

The 35th Golden Globe Awards, honoring the best in film and television for 1977, were held on January 28, 1978.-Best Actor - Drama: Richard Burton – Equus*Marcello Mastroianni – A Special Day ...



Star Wars Episode IV: A New Hope

Star Wars Episode IV: A New Hope

Star Wars Episode IV: A New Hope, originally released as Star Wars, is a 1977 American epic space opera film, written and directed by George Lucas. It is the first of six films released in the Star Wars saga: two subsequent films complete the original trilogy, while a prequel trilogy completes the...



*
1977

35th Golden Globe Awards

The 35th Golden Globe Awards, honoring the best in film and television for 1977, were held on January 28, 1978.-Best Actor - Drama: Richard Burton – Equus*Marcello Mastroianni – A Special Day ...



Close Encounters of the Third Kind

Close Encounters of the Third Kind

Close Encounters of the Third Kind is a 1977 science fiction film written and directed by Steven Spielberg. The film stars Richard Dreyfuss, François Truffaut, Melinda Dillon, Teri Garr, Bob Balaban, and Cary Guffey...



1977

35th Golden Globe Awards

The 35th Golden Globe Awards, honoring the best in film and television for 1977, were held on January 28, 1978.-Best Actor - Drama: Richard Burton – Equus*Marcello Mastroianni – A Special Day ...



Pete's Dragon

Pete's Dragon

Pete's Dragon is a 1977 live-action/animated musical film from Walt Disney Productions and the first Disney film to be recorded in the Dolby Stereo sound system...



,
1977

35th Golden Globe Awards

The 35th Golden Globe Awards, honoring the best in film and television for 1977, were held on January 28, 1978.-Best Actor - Drama: Richard Burton – Equus*Marcello Mastroianni – A Special Day ...



Saturday Night Fever

Saturday Night Fever

Saturday Night Fever is a 1977 drama film directed by John Badham and starring: John Travolta as Tony Manero, an immature young man whose weekends are spent visiting a local Brooklyn discothèque; Karen Lynn Gorney as his dance partner and eventual friend; and Donna Pescow as Tony's former dance...



, , ,
1977

35th Golden Globe Awards

The 35th Golden Globe Awards, honoring the best in film and television for 1977, were held on January 28, 1978.-Best Actor - Drama: Richard Burton – Equus*Marcello Mastroianni – A Special Day ...



The Spy Who Loved Me

The Spy Who Loved Me (film)

The Spy Who Loved Me is a spy film, the tenth film in the James Bond series, and the third to star Roger Moore as the fictional secret agent James Bond. It was directed by Lewis Gilbert and the screenplay was written by Christopher Wood and Richard Maibaum...



1978

36th Golden Globe Awards

The 36th Golden Globe Awards, honoring the best in film and television for 1978, were held on January 27, 1979.-Best Actor - Drama: Jon Voight - Coming Home*Brad Davis - Midnight Express*Robert De Niro - The Deer Hunter...



Midnight Express

Midnight Express (film)

Released on October 6, 1978, the soundtrack to Midnight Express was composed by Italian synth-pioneer Giorgio Moroder. The score won the Academy Award for Best Original Score of 1978.Side A:#Chase – Giorgio Moroder...



*
1978

36th Golden Globe Awards

The 36th Golden Globe Awards, honoring the best in film and television for 1978, were held on January 27, 1979.-Best Actor - Drama: Jon Voight - Coming Home*Brad Davis - Midnight Express*Robert De Niro - The Deer Hunter...



An Unmarried Woman

An Unmarried Woman

An Unmarried Woman is a 1978 American comedy-drama film that tells the story of the wealthy New York wife Erica Benton whose "perfect" life is shattered when her stockbroker husband Martin leaves her for a younger woman. The film documents Erica's attempts at being single again, where she suffers...



1978

36th Golden Globe Awards

The 36th Golden Globe Awards, honoring the best in film and television for 1978, were held on January 27, 1979.-Best Actor - Drama: Jon Voight - Coming Home*Brad Davis - Midnight Express*Robert De Niro - The Deer Hunter...



Superman
1978

36th Golden Globe Awards

The 36th Golden Globe Awards, honoring the best in film and television for 1978, were held on January 27, 1979.-Best Actor - Drama: Jon Voight - Coming Home*Brad Davis - Midnight Express*Robert De Niro - The Deer Hunter...



The Children of Sanchez

The Children of Sanchez

The Children of Sanchez is a 1961 book by American anthropologist Oscar Lewis about a Mexican family living in the Mexico City slum of Tepito, which he studied as part of his program to develop his concept of culture of poverty...



1978

36th Golden Globe Awards

The 36th Golden Globe Awards, honoring the best in film and television for 1978, were held on January 27, 1979.-Best Actor - Drama: Jon Voight - Coming Home*Brad Davis - Midnight Express*Robert De Niro - The Deer Hunter...



The Lord of the Rings

The Lord of the Rings (1978 film)

J.R.R. Tolkien's The Lord of the Rings is a 1978 American fantasy film directed by Ralph Bakshi. It contains both animation and live action footage which is rotoscoped to give it a more consistent look throughout the length of the movie. It is an adaptation of the first half of the high fantasy...



1979

37th Golden Globe Awards

The 37th Golden Globe Awards, honoring the best in film and television for 1979, were held on 26 January 1980.-Best Actor - Drama: Dustin Hoffman – Kramer vs...



Apocalypse Now

Apocalypse Now

Apocalypse Now is a 1979 American war film set during the Vietnam War, produced and directed by Francis Ford Coppola. The central character is US Army special operations officer Captain Benjamin L. Willard , of MACV-SOG, an assassin sent to kill the renegade and presumed insane Special Forces...



, *
1979

37th Golden Globe Awards

The 37th Golden Globe Awards, honoring the best in film and television for 1979, were held on 26 January 1980.-Best Actor - Drama: Dustin Hoffman – Kramer vs...



1010

10 (film)

10 is a 1979 romantic comedy film directed by Blake Edwards and starring Bo Derek, Dudley Moore, and Julie Andrews. Considered a trend-setting film at the time, and one of the year's biggest box office hits, the film made superstars of Derek and Moore....



1979

37th Golden Globe Awards

The 37th Golden Globe Awards, honoring the best in film and television for 1979, were held on 26 January 1980.-Best Actor - Drama: Dustin Hoffman – Kramer vs...



A Little Romance

A Little Romance

A Little Romance is a 1979 romantic comedy film, starring Laurence Olivier and Diane Lane in her film debut. It was directed by George Roy Hill. The screenplay is written by Allan Burns and George Roy Hill, based on a novel by Patrick Cauvin...



1979

37th Golden Globe Awards

The 37th Golden Globe Awards, honoring the best in film and television for 1979, were held on 26 January 1980.-Best Actor - Drama: Dustin Hoffman – Kramer vs...



Alien

Alien (film)

Alien is a 1979 science fiction horror film directed by Ridley Scott and starring Tom Skerritt, Sigourney Weaver, Veronica Cartwright, Harry Dean Stanton, John Hurt, Ian Holm and Yaphet Kotto. The film's title refers to its primary antagonist: a highly aggressive extraterrestrial creature which...



1979

37th Golden Globe Awards

The 37th Golden Globe Awards, honoring the best in film and television for 1979, were held on 26 January 1980.-Best Actor - Drama: Dustin Hoffman – Kramer vs...



The Black Stallion

The Black Stallion (film)

The Black Stallion is a 1979 American film based on the 1941 classic children's novel The Black Stallion by Walter Farley. It tells the story of Alec Ramsey, who is shipwrecked on a desert island, together with a wild Arabian stallion whom he befriends...



1979

37th Golden Globe Awards

The 37th Golden Globe Awards, honoring the best in film and television for 1979, were held on 26 January 1980.-Best Actor - Drama: Dustin Hoffman – Kramer vs...



Star Trek: The Motion Picture

Star Trek: The Motion Picture

Star Trek: The Motion Picture is a 1979 American science fiction film released by Paramount Pictures. It is the first film based on the Star Trek television series. The film is set in the twenty-third century, when a mysterious and immensely powerful alien cloud called V'Ger approaches the Earth,...



1979

37th Golden Globe Awards

The 37th Golden Globe Awards, honoring the best in film and television for 1979, were held on 26 January 1980.-Best Actor - Drama: Dustin Hoffman – Kramer vs...



The Amityville Horror

The Amityville Horror (1979 film)

The Amityville Horror is a 1979 American horror film based on the bestselling 1977 novel of the same name by Jay Anson. It is the first movie in the Amityville Horror franchise....



1980

38th Golden Globe Awards

The 38th Golden Globe Awards, honoring the best in film and television for 1980, were held on January 31, 1981.-Best Actor - Drama: Robert De Niro - Raging Bull*John Hurt - The Elephant Man*Jack Lemmon - Tribute...



The Stunt Man

The Stunt Man

The Stunt Man is a 1980 American film directed by Richard Rush, starring Peter O'Toole, Steve Railsback, and Barbara Hershey. The movie was adapted by Lawrence B. Marcus and Rush from the novel by Paul Brodeur...



*
1980

38th Golden Globe Awards

The 38th Golden Globe Awards, honoring the best in film and television for 1980, were held on January 31, 1981.-Best Actor - Drama: Robert De Niro - Raging Bull*John Hurt - The Elephant Man*Jack Lemmon - Tribute...



American Gigolo

American Gigolo

American Gigolo is a 1980 crime drama film, written and directed by Paul Schrader. It is informally considered the second installment in his "lonely man" trilogy, following the Martin Scorsese directed Taxi Driver and preceding Light Sleeper .-Plot:Julian Kaye is a male prostitute in Los Angeles...



1980

38th Golden Globe Awards

The 38th Golden Globe Awards, honoring the best in film and television for 1980, were held on January 31, 1981.-Best Actor - Drama: Robert De Niro - Raging Bull*John Hurt - The Elephant Man*Jack Lemmon - Tribute...



Fame
1980

38th Golden Globe Awards

The 38th Golden Globe Awards, honoring the best in film and television for 1980, were held on January 31, 1981.-Best Actor - Drama: Robert De Niro - Raging Bull*John Hurt - The Elephant Man*Jack Lemmon - Tribute...



Somewhere in Time

Somewhere in Time (film)

Somewhere in Time is a 1980 romantic science fiction film directed by Jeannot Szwarc. It is a film adaptation of the 1975 novel Bid Time Return by Richard Matheson, who also wrote the screenplay...



1980

38th Golden Globe Awards

The 38th Golden Globe Awards, honoring the best in film and television for 1980, were held on January 31, 1981.-Best Actor - Drama: Robert De Niro - Raging Bull*John Hurt - The Elephant Man*Jack Lemmon - Tribute...



Star Wars Episode V: The Empire Strikes Back

Star Wars Episode V: The Empire Strikes Back

Star Wars Episode V: The Empire Strikes Back is a 1980 American epic space opera film directed by Irvin Kershner. The screenplay, based on a story by George Lucas, was written by Leigh Brackett and Lawrence Kasdan...



1980

38th Golden Globe Awards

The 38th Golden Globe Awards, honoring the best in film and television for 1980, were held on January 31, 1981.-Best Actor - Drama: Robert De Niro - Raging Bull*John Hurt - The Elephant Man*Jack Lemmon - Tribute...



The Competition

The Competition (film)

The Competition is a 1980 American drama film starring Richard Dreyfuss and Amy Irving, directed by Joel Oliansky.-Plot:Paul Dietrich is an extremely gifted but disillusioned classical pianist, running out of time to prove himself...



1982

40th Golden Globe Awards

The 40th Golden Globe Awards, honoring the best in film and television for 1982, were given on 29 January 1983.-Best Actor - Drama: Ben Kingsley - Gandhi*Albert Finney - Shoot the Moon*Richard Gere - An Officer and a Gentleman...



E.T. the Extra-Terrestrial

E.T. the Extra-Terrestrial

E.T. the Extra-Terrestrial is a 1982 American science fiction film co-produced and directed by Steven Spielberg, written by Melissa Mathison and starring Henry Thomas, Dee Wallace, Robert MacNaughton, Drew Barrymore, and Peter Coyote...



*
1982

40th Golden Globe Awards

The 40th Golden Globe Awards, honoring the best in film and television for 1982, were given on 29 January 1983.-Best Actor - Drama: Ben Kingsley - Gandhi*Albert Finney - Shoot the Moon*Richard Gere - An Officer and a Gentleman...



Blade Runner

Blade Runner

Blade Runner is a 1982 American science fiction film directed by Ridley Scott and starring Harrison Ford, Rutger Hauer, and Sean Young. The screenplay, written by Hampton Fancher and David Peoples, is loosely based on the novel Do Androids Dream of Electric Sheep? by Philip K...



1982

40th Golden Globe Awards

The 40th Golden Globe Awards, honoring the best in film and television for 1982, were given on 29 January 1983.-Best Actor - Drama: Ben Kingsley - Gandhi*Albert Finney - Shoot the Moon*Richard Gere - An Officer and a Gentleman...



Cat People

Cat People (1982 film)

Cat People is a 1982 American erotic horror film directed by Paul Schrader and starring Nastassja Kinski, Malcolm McDowell and John Heard. The film co-stars Annette O'Toole, Ruby Dee, Ed Begley, Jr. and John Larroquette. Jerry Bruckheimer served as executive producer...



1982

40th Golden Globe Awards

The 40th Golden Globe Awards, honoring the best in film and television for 1982, were given on 29 January 1983.-Best Actor - Drama: Ben Kingsley - Gandhi*Albert Finney - Shoot the Moon*Richard Gere - An Officer and a Gentleman...



Six Weeks

Six Weeks

Six Weeks is a 1982 film drama, directed by Tony Bill and based on a novel by Fred Mustard Stewart. It stars Dudley Moore and Mary Tyler Moore....



1982

40th Golden Globe Awards

The 40th Golden Globe Awards, honoring the best in film and television for 1982, were given on 29 January 1983.-Best Actor - Drama: Ben Kingsley - Gandhi*Albert Finney - Shoot the Moon*Richard Gere - An Officer and a Gentleman...



Victor Victoria
1983

41st Golden Globe Awards

The 41st Golden Globe Awards, honoring the best in film and television for 1983, were held on January 28, 1984.-Best Actor - Drama: Tom Courtenay - The Dresser Robert Duvall - Tender Mercies*Tom Conti - Reuben, Reuben...



Flashdance

Flashdance

Another song used in the film, "Maniac", was also nominated for an Academy Award. It was written by Michael Sembello and Dennis Matkosky, and was inspired by the 1980 horror film Maniac. The lyrics about a killer on the loose were rewritten so that it could be used in Flashdance...



*
1983

41st Golden Globe Awards

The 41st Golden Globe Awards, honoring the best in film and television for 1983, were held on January 28, 1984.-Best Actor - Drama: Tom Courtenay - The Dresser Robert Duvall - Tender Mercies*Tom Conti - Reuben, Reuben...



Rumble Fish

Rumble Fish

Rumble Fish is a 1983 film directed by Francis Ford Coppola. It is based on the novel Rumble Fish by S.E. Hinton, who also co-wrote the screenplay....



1983

41st Golden Globe Awards

The 41st Golden Globe Awards, honoring the best in film and television for 1983, were held on January 28, 1984.-Best Actor - Drama: Tom Courtenay - The Dresser Robert Duvall - Tender Mercies*Tom Conti - Reuben, Reuben...



Scarface

Scarface (1983 film)

Scarface is a 1983 American epic crime drama movie directed by Brian De Palma, written by Oliver Stone, produced by Martin Bregman and starring Al Pacino as Tony Montana...



1983

41st Golden Globe Awards

The 41st Golden Globe Awards, honoring the best in film and television for 1983, were held on January 28, 1984.-Best Actor - Drama: Tom Courtenay - The Dresser Robert Duvall - Tender Mercies*Tom Conti - Reuben, Reuben...



Under Fire

Under Fire (film)

Under Fire is a 1983 political film set during the last days of the Somoza regime in 1979 Nicaragua. It stars Nick Nolte, Gene Hackman and Joanna Cassidy. The story is fictional, but was inspired by actual events, namely the murder of ABC reporter Bill Stewart by Somoza forces...



1983

41st Golden Globe Awards

The 41st Golden Globe Awards, honoring the best in film and television for 1983, were held on January 28, 1984.-Best Actor - Drama: Tom Courtenay - The Dresser Robert Duvall - Tender Mercies*Tom Conti - Reuben, Reuben...



Yentl

Yentl (film)

Yentl is a 1983 romantic musical drama film from United Artists, and directed, co-written, co-produced, and starring Barbra Streisand based on the play of the same name by Leah Napolin and Isaac Bashevis Singer, itself based on Singer's short story, "Yentl the Yeshiva Boy".The dramatic story...



, ,
1984

42nd Golden Globe Awards

The 42nd Golden Globe Awards, honoring the best in film and television for 1984, were held on January 27, 1985.-Best Actor - Drama: F. Murray Abraham - Amadeus*Jeff Bridges - Starman*Albert Finney - Under the Volcano...



A Passage to India

A Passage to India (film)

A Passage to India is a 1984 drama film written and directed by David Lean. The screenplay is based on the 1924 novel of the same title by E. M. Forster and the 1960 play by Santha Rama Rau that was inspired by the novel....



*
1984

42nd Golden Globe Awards

The 42nd Golden Globe Awards, honoring the best in film and television for 1984, were held on January 27, 1985.-Best Actor - Drama: F. Murray Abraham - Amadeus*Jeff Bridges - Starman*Albert Finney - Under the Volcano...



Starman

Starman (film)

John Carpenter's Starman is a 1984 science-fiction fantasy film directed by John Carpenter that tells the story of an alien who has come to Earth in response to the invitation found on the gold phonograph record installed on the Voyager 2 space probe.The screenplay was written by Bruce A. Evans,...



1984

42nd Golden Globe Awards

The 42nd Golden Globe Awards, honoring the best in film and television for 1984, were held on January 27, 1985.-Best Actor - Drama: F. Murray Abraham - Amadeus*Jeff Bridges - Starman*Albert Finney - Under the Volcano...



Once Upon a Time in America

Once Upon a Time in America

Once Upon a Time in America is a 1984 Italian epic crime film co-written and directed by Sergio Leone and starring Robert De Niro and James Woods. The story chronicles the lives of Jewish ghetto youths who rise to prominence in New York City's world of organized crime...



1984

42nd Golden Globe Awards

The 42nd Golden Globe Awards, honoring the best in film and television for 1984, were held on January 27, 1985.-Best Actor - Drama: F. Murray Abraham - Amadeus*Jeff Bridges - Starman*Albert Finney - Under the Volcano...



The Killing Fields

The Killing Fields (film)

The Killing Fields is a 1984 British drama film about the Khmer Rouge regime in Cambodia, which is based on the experiences of two journalists: Cambodian Dith Pran and American Sydney Schanberg. The film, which won three Academy Awards, was directed by Roland Joffé and stars Sam Waterston as...



1984

42nd Golden Globe Awards

The 42nd Golden Globe Awards, honoring the best in film and television for 1984, were held on January 27, 1985.-Best Actor - Drama: F. Murray Abraham - Amadeus*Jeff Bridges - Starman*Albert Finney - Under the Volcano...



The River

The River (1984 film)

The River is a 1984 film which tells the story of a struggling farm family in the Tennessee valley trying keep its farm going in the face of bank foreclosures, floods, and other hard times. The father faces the dilemma of having to work as a strikebreaker in a steel mill to keep his family farm...



1985

43rd Golden Globe Awards

The 43rd Golden Globe Awards, honoring the best in film and television for 1985, were held on January 24, 1986.-Best Actor - Drama: Jon Voight - Runaway Train*Harrison Ford - Witness*Gene Hackman - Twice in a Lifetime...



Out of Africa
*
1985

43rd Golden Globe Awards

The 43rd Golden Globe Awards, honoring the best in film and television for 1985, were held on January 24, 1986.-Best Actor - Drama: Jon Voight - Runaway Train*Harrison Ford - Witness*Gene Hackman - Twice in a Lifetime...



The Color Purple

The Color Purple (film)

The Color Purple is a 1985 American period drama film directed by Steven Spielberg, based on the Pulitzer Prize-winning novel of the same name by Alice Walker. It was Spielberg's eighth film as a director , and was a change from the summer blockbusters for which he had become famous...



1985

43rd Golden Globe Awards

The 43rd Golden Globe Awards, honoring the best in film and television for 1985, were held on January 24, 1986.-Best Actor - Drama: Jon Voight - Runaway Train*Harrison Ford - Witness*Gene Hackman - Twice in a Lifetime...



White Nights
1985

43rd Golden Globe Awards

The 43rd Golden Globe Awards, honoring the best in film and television for 1985, were held on January 24, 1986.-Best Actor - Drama: Jon Voight - Runaway Train*Harrison Ford - Witness*Gene Hackman - Twice in a Lifetime...



Witness

Witness (1985 film)

Witness is a 1985 American thriller film directed by Peter Weir and starring Harrison Ford and Kelly McGillis. The screenplay by William Kelley, Pamela Wallace, and Earl W...



1985

43rd Golden Globe Awards

The 43rd Golden Globe Awards, honoring the best in film and television for 1985, were held on January 24, 1986.-Best Actor - Drama: Jon Voight - Runaway Train*Harrison Ford - Witness*Gene Hackman - Twice in a Lifetime...



Year of the Dragon

Year of the Dragon (film)

Year of the Dragon is a 1985 film directed by Michael Cimino, starring Mickey Rourke, Ariane Koizumi and John Lone. The screenplay was written by Cimino and Oliver Stone and adapted from the novel by Robert Daley....



1986

44th Golden Globe Awards

----Picture - Drama: Platoon ----Picture - Musical or Comedy: Hannah and Her Sisters ----TV Series - Drama: L.A. Law ----TV Series - Musical or Comedy: The Golden Girls ...



The Mission
*
1986

44th Golden Globe Awards

----Picture - Drama: Platoon ----Picture - Musical or Comedy: Hannah and Her Sisters ----TV Series - Drama: L.A. Law ----TV Series - Musical or Comedy: The Golden Girls ...



Little Shop of Horrors
1986

44th Golden Globe Awards

----Picture - Drama: Platoon ----Picture - Musical or Comedy: Hannah and Her Sisters ----TV Series - Drama: L.A. Law ----TV Series - Musical or Comedy: The Golden Girls ...



Round Midnight

Round Midnight (film)

Round Midnight is a 1986 film directed by Bertrand Tavernier and written by David Rayfiel and Bertrand Tavernier. It tells the story of an African American tenor saxophone player in Paris in the 1950s who is befriended by an unsuccessful French graphic designer who idolizes the musician and who...



1986

44th Golden Globe Awards

----Picture - Drama: Platoon ----Picture - Musical or Comedy: Hannah and Her Sisters ----TV Series - Drama: L.A. Law ----TV Series - Musical or Comedy: The Golden Girls ...



The Mosquito Coast

The Mosquito Coast

The Mosquito Coast is a 1986 American film directed by Peter Weir, based on the novel by Paul Theroux. The film stars Harrison Ford, Helen Mirren, and River Phoenix. The film tells the story of a family that leaves the United States and tries to find a happier and simpler life in the jungles of...



1986

44th Golden Globe Awards

----Picture - Drama: Platoon ----Picture - Musical or Comedy: Hannah and Her Sisters ----TV Series - Drama: L.A. Law ----TV Series - Musical or Comedy: The Golden Girls ...



Top Gun

Top Gun

Top Gun may refer to:* Top Gun is a 1986 film starring Tom Cruise.**Top Gun , soundtrack to the movie**Top Gun , a number of games based on the movie...



1987

45th Golden Globe Awards

The 45th Golden Globe Awards, honoring the best in film and television for 1987, were held on January 23, 1988.-Best Actor - Drama: Michael Douglas - Wall Street*John Lone - The Last Emperor*Jack Nicholson - Ironweed*Nick Nolte - Weeds...



The Last Emperor

The Last Emperor

The Last Emperor is a 1987 biopic about the life of Puyi, the last Emperor of China, whose autobiography was the basis for the screenplay written by Mark Peploe and Bernardo Bertolucci. Independently produced by Jeremy Thomas, it was directed by Bertolucci and released in 1987 by Columbia Pictures...



, , *
1987

45th Golden Globe Awards

The 45th Golden Globe Awards, honoring the best in film and television for 1987, were held on January 23, 1988.-Best Actor - Drama: Michael Douglas - Wall Street*John Lone - The Last Emperor*Jack Nicholson - Ironweed*Nick Nolte - Weeds...



Cry Freedom

Cry Freedom

Cry Freedom is a 1987 British drama film directed by Richard Attenborough, set in the late 1970s, during the apartheid era of South Africa. It was written from a screenplay by John Briley based on a pair of books by journalist Donald Woods...



,
1987

45th Golden Globe Awards

The 45th Golden Globe Awards, honoring the best in film and television for 1987, were held on January 23, 1988.-Best Actor - Drama: Michael Douglas - Wall Street*John Lone - The Last Emperor*Jack Nicholson - Ironweed*Nick Nolte - Weeds...



Empire of the Sun

Empire of the Sun (film)

Empire of the Sun is a 1987 American coming of age war film based on J. G. Ballard's semi-autobiographical novel of the same name. Steven Spielberg directed the film, which stars Christian Bale, John Malkovich, Miranda Richardson, and Nigel Havers...



1987

45th Golden Globe Awards

The 45th Golden Globe Awards, honoring the best in film and television for 1987, were held on January 23, 1988.-Best Actor - Drama: Michael Douglas - Wall Street*John Lone - The Last Emperor*Jack Nicholson - Ironweed*Nick Nolte - Weeds...



The Glass Menagerie

The Glass Menagerie

The Glass Menagerie is a four-character memory play by Tennessee Williams. Williams worked on various drafts of the play prior to writing a version of it as a screenplay for MGM, to whom Williams was contracted...



1987

45th Golden Globe Awards

The 45th Golden Globe Awards, honoring the best in film and television for 1987, were held on January 23, 1988.-Best Actor - Drama: Michael Douglas - Wall Street*John Lone - The Last Emperor*Jack Nicholson - Ironweed*Nick Nolte - Weeds...



The Untouchables

The Untouchables (1987 film)

The Untouchables is a 1987 American crime-drama film directed by Brian De Palma and written by David Mamet. Based on the book The Untouchables, the film stars Kevin Costner as government agent Eliot Ness. It also stars Robert De Niro as gang leader Al Capone and Sean Connery as Irish-American...



1988

46th Golden Globe Awards

The 46th Golden Globe Awards, honoring the best in film and television for 1988, were held on January 28, 1989.-Best Actor - Drama:Dustin Hoffman - Rain Man*Gene Hackman - Mississippi Burning*Tom Hulce - Dominick and Eugene...



Gorillas in the Mist: The Story of Dian Fossey

Gorillas in the Mist: The Story of Dian Fossey

Gorillas in the Mist is a 1988 American drama film directed by Michael Apted and starring Sigourney Weaver as naturalist Dian Fossey. It tells the true-life story of her work in Rwanda with Mountain Gorillas and was nominated for five Academy Awards....



*
1988

46th Golden Globe Awards

The 46th Golden Globe Awards, honoring the best in film and television for 1988, were held on January 28, 1989.-Best Actor - Drama:Dustin Hoffman - Rain Man*Gene Hackman - Mississippi Burning*Tom Hulce - Dominick and Eugene...



Madame Sousatzka

Madame Sousatzka

Madame Sousatzka is a 1988 British drama film directed by John Schlesinger, with a screenplay by Ruth Prawer Jhabvala. It is based upon the novel of the same name by Bernice Rubens.-Plot synopsis:...



1988

46th Golden Globe Awards

The 46th Golden Globe Awards, honoring the best in film and television for 1988, were held on January 28, 1989.-Best Actor - Drama:Dustin Hoffman - Rain Man*Gene Hackman - Mississippi Burning*Tom Hulce - Dominick and Eugene...



The Accidental Tourist

The Accidental Tourist (film)

The Accidental Tourist is a 1988 American drama film starring William Hurt, Kathleen Turner, and Geena Davis. It was directed by Lawrence Kasdan and scored by John Williams. The film's screenplay was adapted by Kasdan and Frank Galati from the novel of the same name by Anne Tyler...



1988

46th Golden Globe Awards

The 46th Golden Globe Awards, honoring the best in film and television for 1988, were held on January 28, 1989.-Best Actor - Drama:Dustin Hoffman - Rain Man*Gene Hackman - Mississippi Burning*Tom Hulce - Dominick and Eugene...



The Last Temptation of Christ

The Last Temptation of Christ (film)

The Last Temptation of Christ is a 1988 drama film directed by Martin Scorsese. It is a film adaptation of the controversial 1953 novel of the same name by Nikos Kazantzakis. It stars Willem Dafoe as Jesus Christ, Harvey Keitel as Judas Iscariot, Barbara Hershey as Mary Magdalene, David Bowie as...



1988

46th Golden Globe Awards

The 46th Golden Globe Awards, honoring the best in film and television for 1988, were held on January 28, 1989.-Best Actor - Drama:Dustin Hoffman - Rain Man*Gene Hackman - Mississippi Burning*Tom Hulce - Dominick and Eugene...



The Milagro Beanfield War

The Milagro Beanfield War

The Milagro Beanfield War is a 1988 American drama film based on the John Nichols novel of the same name, the first book in a trilogy. It was directed by Robert Redford and the screenplay was written by Nichols and David S. Ward...



1989

47th Golden Globe Awards

The 47th Golden Globe Awards, honoring the best in film and television for 1989, were held on January 20, 1990.-Best Actor - Drama: Tom Cruise - Born on the Fourth of July*Daniel Day-Lewis - My Left Foot: The Story of Christy Brown...



The Little Mermaid

The Little Mermaid (1989 film)

The Little Mermaid is a 1989 American animated film produced by Walt Disney Feature Animation and based on the Hans Christian Andersen fairy tale of the same name. Distributed by Walt Disney Pictures, the film was originally released to theaters on November 14, 1989 and is the twenty-eighth film in...



*
1989

47th Golden Globe Awards

The 47th Golden Globe Awards, honoring the best in film and television for 1989, were held on January 20, 1990.-Best Actor - Drama: Tom Cruise - Born on the Fourth of July*Daniel Day-Lewis - My Left Foot: The Story of Christy Brown...



Born on the Fourth of July

Born on the Fourth of July (film)

Born on the Fourth of July is a 1989 American film adaptation of the best selling autobiography of the same name by Vietnam War veteran Ron Kovic. Tom Cruise plays Kovic, in a performance that earned him his first Academy Award nomination. Oliver Stone co-wrote the screenplay with Kovic, and also...



1989

47th Golden Globe Awards

The 47th Golden Globe Awards, honoring the best in film and television for 1989, were held on January 20, 1990.-Best Actor - Drama: Tom Cruise - Born on the Fourth of July*Daniel Day-Lewis - My Left Foot: The Story of Christy Brown...



Casualties of War

Casualties of War

Casualties of War is a 1989 war drama directed by Brian De Palma, with a screenplay by David Rabe, based on the actual events of the incident on Hill 192 in 1966 during the Vietnam War. It starred Michael J. Fox and Sean Penn....



1989

47th Golden Globe Awards

The 47th Golden Globe Awards, honoring the best in film and television for 1989, were held on January 20, 1990.-Best Actor - Drama: Tom Cruise - Born on the Fourth of July*Daniel Day-Lewis - My Left Foot: The Story of Christy Brown...



Glory
1989

47th Golden Globe Awards

The 47th Golden Globe Awards, honoring the best in film and television for 1989, were held on January 20, 1990.-Best Actor - Drama: Tom Cruise - Born on the Fourth of July*Daniel Day-Lewis - My Left Foot: The Story of Christy Brown...



The Fabulous Baker Boys

The Fabulous Baker Boys

The Fabulous Baker Boys is a 1989 American romantic drama musical film written and directed by Steve Kloves, and starring real life brothers Jeff Bridges and Beau Bridges as two brothers struggling to make a living as lounge jazz pianists in Seattle...



1990

48th Golden Globe Awards

The 48th Golden Globe Awards, honoring the best in film and television for 1990, were held on January 19, 1991.-Best Actor - Drama: Jeremy Irons - Reversal of Fortune*Kevin Costner - Dances with Wolves*Richard Harris - The Field...



The Sheltering Sky

The Sheltering Sky (film)

The Sheltering Sky is a 1990 British-Italian drama film directed by Bernardo Bertolucci starring Debra Winger and John Malkovich. The film is based on the 1949 novel by Paul Bowles about a couple who journey to northern Africa in the hopes of rekindling their marriage but soon fall prey to the...



, *
1990

48th Golden Globe Awards

The 48th Golden Globe Awards, honoring the best in film and television for 1990, were held on January 19, 1991.-Best Actor - Drama: Jeremy Irons - Reversal of Fortune*Kevin Costner - Dances with Wolves*Richard Harris - The Field...



Avalon

Avalon (1990 film)

Avalon is a feature film directed by Barry Levinson. It is a mostly autobiographical story of a family of Polish-Jewish immigrants to the United States who settle in Baltimore, Maryland, at the beginning of the 20th century. The movie follows the family as they grow, become more prosperous, and...



1990

48th Golden Globe Awards

The 48th Golden Globe Awards, honoring the best in film and television for 1990, were held on January 19, 1991.-Best Actor - Drama: Jeremy Irons - Reversal of Fortune*Kevin Costner - Dances with Wolves*Richard Harris - The Field...



Dances with Wolves

Dances with Wolves

Dances with Wolves is a 1990 epic western film directed by and starring Kevin Costner. It is a film adaptation of the 1988 book of the same name by Michael Blake and tells the story of a Union Army Lieutenant who travels to the American frontier to find a military post, and his dealings with a...



1990

48th Golden Globe Awards

The 48th Golden Globe Awards, honoring the best in film and television for 1990, were held on January 19, 1991.-Best Actor - Drama: Jeremy Irons - Reversal of Fortune*Kevin Costner - Dances with Wolves*Richard Harris - The Field...



Havana

Havana (film)

Havana is a drama film starring Robert Redford, Lena Olin and Raúl Juliá, directed by Sydney Pollack with music by Dave Grusin, and released in 1990. In the film, an American professional gambler named Jack Weil decides to visit Havana, Cuba to gamble. On the boat to Havana, he meets Roberta Duran...



1990

48th Golden Globe Awards

The 48th Golden Globe Awards, honoring the best in film and television for 1990, were held on January 19, 1991.-Best Actor - Drama: Jeremy Irons - Reversal of Fortune*Kevin Costner - Dances with Wolves*Richard Harris - The Field...



The Godfather Part III

The Godfather Part III

The Godfather Part III is a 1990 American gangster film written by Mario Puzo and Francis Ford Coppola, and directed by Coppola. It completes the story of Michael Corleone, a Mafia kingpin who tries to legitimize his criminal empire...



1991

49th Golden Globe Awards

The 49th Golden Globe Awards, honoring the best in film and television for 1991, were held on January 18, 1992.-Best Actor - Drama:Nick Nolte - The Prince of Tides*Warren Beatty - Bugsy*Kevin Costner - JFK*Robert De Niro - Cape Fear...



Beauty and the Beast

Beauty and the Beast (1991 film)

Beauty and the Beast is a 1991 American animated fantasy film produced by Walt Disney Animation Studios and distributed by Walt Disney Pictures. The thirtieth film in the Walt Disney Animated Classics series and the third film of the Disney Renaissance period...



*
1991

49th Golden Globe Awards

The 49th Golden Globe Awards, honoring the best in film and television for 1991, were held on January 18, 1992.-Best Actor - Drama:Nick Nolte - The Prince of Tides*Warren Beatty - Bugsy*Kevin Costner - JFK*Robert De Niro - Cape Fear...



At Play in the Fields of the Lord

At Play in the Fields of the Lord

At Play in the Fields of the Lord is a drama film directed by Héctor Babenco adapted from the 1965 novel of the same name by American author Peter Matthiessen. The screenplay was written by Babenco and Jean-Claude Carrière...



1991

49th Golden Globe Awards

The 49th Golden Globe Awards, honoring the best in film and television for 1991, were held on January 18, 1992.-Best Actor - Drama:Nick Nolte - The Prince of Tides*Warren Beatty - Bugsy*Kevin Costner - JFK*Robert De Niro - Cape Fear...



Bugsy

Bugsy

Bugsy is a 1991 American crime-drama film which tells the story of mobster Bugsy Siegel. It stars Warren Beatty, Annette Bening, Harvey Keitel, Ben Kingsley, Elliott Gould, Joe Mantegna, Bebe Neuwirth, and Bill Graham....



1991

49th Golden Globe Awards

The 49th Golden Globe Awards, honoring the best in film and television for 1991, were held on January 18, 1992.-Best Actor - Drama:Nick Nolte - The Prince of Tides*Warren Beatty - Bugsy*Kevin Costner - JFK*Robert De Niro - Cape Fear...



Dead Again

Dead Again

Dead Again is a 1991 psychological thriller/neo-noir directed by Kenneth Branagh, starring Branagh and his then-wife Emma Thompson. Andy García, Derek Jacobi and Robin Williams are also featured.-Plot summary:...



1991

49th Golden Globe Awards

The 49th Golden Globe Awards, honoring the best in film and television for 1991, were held on January 18, 1992.-Best Actor - Drama:Nick Nolte - The Prince of Tides*Warren Beatty - Bugsy*Kevin Costner - JFK*Robert De Niro - Cape Fear...



For the Boys

For the Boys

For the Boys is a 1991 film which tells the story of Dixie Leonard, a 1940s actress/singer who teams up with Eddie Sparks, a famous performer to entertain American troops. The film traces her life through 50 years. The original music score was composed by Dave Grusin.The film was adapted by...



1991

49th Golden Globe Awards

The 49th Golden Globe Awards, honoring the best in film and television for 1991, were held on January 18, 1992.-Best Actor - Drama:Nick Nolte - The Prince of Tides*Warren Beatty - Bugsy*Kevin Costner - JFK*Robert De Niro - Cape Fear...



Robin Hood: Prince of Thieves

Robin Hood: Prince of Thieves

Robin Hood: Prince of Thieves is a 1991 American adventure film directed by Kevin Reynolds. Kevin Costner heads the cast list as Robin Hood...



1992

50th Golden Globe Awards

The 50th Golden Globe Awards, honoring the best in film and television for 1992, were held on Saturday January 23, 1993.-Best Actor - Drama: Al Pacino - Scent of a Woman*Tom Cruise - A Few Good Men*Robert Downey, Jr...



Aladdin
*
1992

50th Golden Globe Awards

The 50th Golden Globe Awards, honoring the best in film and television for 1992, were held on Saturday January 23, 1993.-Best Actor - Drama: Al Pacino - Scent of a Woman*Tom Cruise - A Few Good Men*Robert Downey, Jr...



1,4921492: Conquest of Paradise

1492: Conquest of Paradise

1492: Conquest of Paradise is an epic 1992 European adventure/drama film directed by Ridley Scott and written by Roselyne Bosch, which tells the story of the discovery of the New World by Christopher Columbus and the effect this had on the indigenous people...



1992

50th Golden Globe Awards

The 50th Golden Globe Awards, honoring the best in film and television for 1992, were held on Saturday January 23, 1993.-Best Actor - Drama: Al Pacino - Scent of a Woman*Tom Cruise - A Few Good Men*Robert Downey, Jr...



Basic Instinct

Basic Instinct

Basic Instinct is a 1992 erotic thriller directed by Paul Verhoeven and written by Joe Eszterhas, and starring Michael Douglas and Sharon Stone....



1992

50th Golden Globe Awards

The 50th Golden Globe Awards, honoring the best in film and television for 1992, were held on Saturday January 23, 1993.-Best Actor - Drama: Al Pacino - Scent of a Woman*Tom Cruise - A Few Good Men*Robert Downey, Jr...



Chaplin
1992

50th Golden Globe Awards

The 50th Golden Globe Awards, honoring the best in film and television for 1992, were held on Saturday January 23, 1993.-Best Actor - Drama: Al Pacino - Scent of a Woman*Tom Cruise - A Few Good Men*Robert Downey, Jr...



The Last of the Mohicans

The Last of the Mohicans (1992 film)

The Last of the Mohicans is a 1992 historical epic film set in 1757 during the French and Indian War and produced by Morgan Creek Pictures. It was directed by Michael Mann and based on James Fenimore Cooper's novel of the same name, although it owes more to George B. Seitz's 1936 film adaptation...



,
1993

51st Golden Globe Awards

The 51st Golden Globe Awards, honoring the best in film and television for 1993, were held on January 22, 1994 at the Beverly Hilton Hotel in Beverly Hills, California.-Best Actor - Drama: Tom Hanks - Philadelphia...



Heaven & Earth
Kitarō

Kitaro

, better known as , is an award winning Japanese musician, composer and multi-instrumentalist who is regarded as one of the pioneers of new age music.-Early life:...


*
1993

51st Golden Globe Awards

The 51st Golden Globe Awards, honoring the best in film and television for 1993, were held on January 22, 1994 at the Beverly Hilton Hotel in Beverly Hills, California.-Best Actor - Drama: Tom Hanks - Philadelphia...



Blue

Blue (1993 film)

Blue is the twelfth and final feature film by director Derek Jarman, released four months before his death from AIDS-related complications...



1993

51st Golden Globe Awards

The 51st Golden Globe Awards, honoring the best in film and television for 1993, were held on January 22, 1994 at the Beverly Hilton Hotel in Beverly Hills, California.-Best Actor - Drama: Tom Hanks - Philadelphia...



Schindler's List

Schindler's List

Schindler's List is a 1993 American film about Oskar Schindler, a German businessman who saved the lives of more than a thousand mostly Polish-Jewish refugees during the Holocaust by employing them in his factories. The film was directed by Steven Spielberg, and based on the novel Schindler's Ark...



1993

51st Golden Globe Awards

The 51st Golden Globe Awards, honoring the best in film and television for 1993, were held on January 22, 1994 at the Beverly Hilton Hotel in Beverly Hills, California.-Best Actor - Drama: Tom Hanks - Philadelphia...



The Piano

The Piano

The Piano is a 1993 New Zealand drama film about a mute pianist and her daughter, set during the mid-19th century in a rainy, muddy frontier backwater on the west coast of New Zealand. The film was written and directed by Jane Campion, and stars Holly Hunter, Harvey Keitel, Sam Neill, and Anna Paquin...



1993

51st Golden Globe Awards

The 51st Golden Globe Awards, honoring the best in film and television for 1993, were held on January 22, 1994 at the Beverly Hilton Hotel in Beverly Hills, California.-Best Actor - Drama: Tom Hanks - Philadelphia...



The Nightmare Before Christmas

The Nightmare Before Christmas

The Nightmare Before Christmas, often promoted as Tim Burton's The Nightmare Before Christmas, is a 1993 stop motion musical fantasy film directed by Henry Selick and produced/co-written by Tim Burton. It tells the story of Jack Skellington, a being from "Halloween Town" who opens a portal to...



1994

52nd Golden Globe Awards

The 52nd Golden Globe Awards, honoring the best in film and television for 1994, were held on January 21, 1995 at the Beverly Hilton Hotel in Beverly Hills, California.-Best Actor – Drama: Tom Hanks – Forrest Gump...



The Lion King

The Lion King

The Lion King is a 1994 American animated film produced by Walt Disney Feature Animation and released by Walt Disney Pictures. It is the 32nd feature in the Walt Disney Animated Classics series...



*
1994

52nd Golden Globe Awards

The 52nd Golden Globe Awards, honoring the best in film and television for 1994, were held on January 21, 1995 at the Beverly Hilton Hotel in Beverly Hills, California.-Best Actor – Drama: Tom Hanks – Forrest Gump...



Forrest Gump

Forrest Gump

Forrest Gump is a 1994 American epic comedy-drama romance film based on the 1986 novel of the same name by Winston Groom. The film was directed by Robert Zemeckis, starring Tom Hanks, Robin Wright and Gary Sinise...



1994

52nd Golden Globe Awards

The 52nd Golden Globe Awards, honoring the best in film and television for 1994, were held on January 21, 1995 at the Beverly Hilton Hotel in Beverly Hills, California.-Best Actor – Drama: Tom Hanks – Forrest Gump...



Interview with the Vampire: The Vampire Chronicles

Interview with the Vampire: The Vampire Chronicles

Interview with the Vampire: The Vampire Chronicles is a 1994 American drama and horror film directed by Neil Jordan, based on the 1976 novel Interview with the Vampire by Anne Rice. The film focuses on Lestat and Louis, beginning with Louis' transformation into a vampire by Lestat in 1791...



1994

52nd Golden Globe Awards

The 52nd Golden Globe Awards, honoring the best in film and television for 1994, were held on January 21, 1995 at the Beverly Hilton Hotel in Beverly Hills, California.-Best Actor – Drama: Tom Hanks – Forrest Gump...



Legends of the Fall

Legends of the Fall

Legends of the Fall is a 1994 epic drama film based on the 1979 novella of the same title by Jim Harrison. It was directed by Edward Zwick and stars Brad Pitt, Anthony Hopkins and Aidan Quinn. The film was nominated for the Academy Awards for Best Cinematography, Best Art Direction , and Best...



1994

52nd Golden Globe Awards

The 52nd Golden Globe Awards, honoring the best in film and television for 1994, were held on January 21, 1995 at the Beverly Hilton Hotel in Beverly Hills, California.-Best Actor – Drama: Tom Hanks – Forrest Gump...



Nell

Nell (film)

Nell is a 1994 drama film starring Jodie Foster as a young woman who has to face other people for the first time after being raised by her mother in an isolated cabin. The film was directed by Michael Apted, and was based on Mark Handley's play Idioglossia. The original music score is composed by...



1995

53rd Golden Globe Awards

The 53rd Golden Globe Awards, honoring the best in film and television for 1995, were held on 21 January 1996.-Best Actor – Drama: Nicolas Cage – Leaving Las Vegas* Richard Dreyfuss – Mr...



A Walk in the Clouds

A Walk in the Clouds

A Walk in the Clouds is a 1995 American romantic drama film directed by Alfonso Arau. The screenplay by Robert Mark Kamen, Mark Miller, and Harvey Weitzman is based on the 1942 Italian film Four Steps in the Clouds by Piero Tellini, Cesare Zavattini, and Vittorio de Benedetti.-Plot:Shortly after...



*
1995

53rd Golden Globe Awards

The 53rd Golden Globe Awards, honoring the best in film and television for 1995, were held on 21 January 1996.-Best Actor – Drama: Nicolas Cage – Leaving Las Vegas* Richard Dreyfuss – Mr...



Braveheart

Braveheart

Braveheart is a 1995 epic historical drama war film directed by and starring Mel Gibson. The film was written for the screen and then novelized by Randall Wallace...



1995

53rd Golden Globe Awards

The 53rd Golden Globe Awards, honoring the best in film and television for 1995, were held on 21 January 1996.-Best Actor – Drama: Nicolas Cage – Leaving Las Vegas* Richard Dreyfuss – Mr...



Don Juan DeMarco

Don Juan DeMarco

Don Juan DeMarco is a 1995 American romantic comedy-drama film starring Johnny Depp as John Arnold DeMarco, a man who believes himself to be Don Juan, the greatest lover in the world. Clad in a cape and domino mask, DeMarco undergoes psychiatric treatment with Marlon Brando's character, Dr. Jack...



1995

53rd Golden Globe Awards

The 53rd Golden Globe Awards, honoring the best in film and television for 1995, were held on 21 January 1996.-Best Actor – Drama: Nicolas Cage – Leaving Las Vegas* Richard Dreyfuss – Mr...



Pocahontas

Pocahontas (1995 film)

Pocahontas is the 33rd animated feature in the Walt Disney Animated Classics series. It was produced by Walt Disney Feature Animation and was originally released to selected theaters on June 16, 1995 by Walt Disney Pictures...



1995

53rd Golden Globe Awards

The 53rd Golden Globe Awards, honoring the best in film and television for 1995, were held on 21 January 1996.-Best Actor – Drama: Nicolas Cage – Leaving Las Vegas* Richard Dreyfuss – Mr...



Sense and Sensibility

Sense and Sensibility (1995 film)

Sense and Sensibility is a 1995 British drama film directed by Ang Lee. The screenplay by Emma Thompson is based on the 1811 novel of the same name by English author Jane Austen...



1996

54th Golden Globe Awards

The 54th Golden Globe Awards, honoring the best in film and television for 1996, were held on 19 January 1997.-Best Actor – Drama: Geoffrey Rush – Shine* Ralph Fiennes – The English Patient* Mel Gibson – Ransom...



The English Patient

The English Patient (film)

The English Patient is a 1996 romantic drama film based on the novel of the same name by Sri Lankan-Canadian writer Michael Ondaatje. The film, written for the screen and directed by Anthony Minghella, won nine Academy Awards, including Best Picture...



*
1996

54th Golden Globe Awards

The 54th Golden Globe Awards, honoring the best in film and television for 1996, were held on 19 January 1997.-Best Actor – Drama: Geoffrey Rush – Shine* Ralph Fiennes – The English Patient* Mel Gibson – Ransom...



Michael Collins

Michael Collins (film)

Michael Collins is a 1996 historical biopic written and directed by Neil Jordan and starring Liam Neeson as General Michael Collins, the Irish patriot and revolutionary who died in the Irish Civil War. It won the Golden Lion at the Venice Film Festival....



1996

54th Golden Globe Awards

The 54th Golden Globe Awards, honoring the best in film and television for 1996, were held on 19 January 1997.-Best Actor – Drama: Geoffrey Rush – Shine* Ralph Fiennes – The English Patient* Mel Gibson – Ransom...



Shine

Shine (film)

Shine is a 1996 Australian film based on the life of pianist David Helfgott, who suffered a mental breakdown and spent years in institutions. It stars Geoffrey Rush, Lynn Redgrave, Armin Mueller-Stahl, Noah Taylor, John Gielgud, Googie Withers, Justin Braine, Sonia Todd, Nicholas Bell, Chris...



1996

54th Golden Globe Awards

The 54th Golden Globe Awards, honoring the best in film and television for 1996, were held on 19 January 1997.-Best Actor – Drama: Geoffrey Rush – Shine* Ralph Fiennes – The English Patient* Mel Gibson – Ransom...



The Hunchback of Notre Dame

The Hunchback of Notre Dame (1996 film)

The Hunchback of Notre Dame is a 1996 American animated drama film produced by Walt Disney Feature Animation and released to theaters on June 21, 1996 by Walt Disney Pictures. The thirty-fourth animated feature in the Disney animated features canon, the film is inspired by Victor Hugo's novel of...



1996

54th Golden Globe Awards

The 54th Golden Globe Awards, honoring the best in film and television for 1996, were held on 19 January 1997.-Best Actor – Drama: Geoffrey Rush – Shine* Ralph Fiennes – The English Patient* Mel Gibson – Ransom...



The Mirror Has Two Faces

The Mirror Has Two Faces

The Mirror Has Two Faces is a 1996 American romance film produced and directed by Barbra Streisand, who also stars. The screenplay by Richard LaGravenese is based on the 1958 French film Le Miroir à deux faces written by André Cayatte and Gérard Oury, which focused on a homely woman who becomes a...



1997

55th Golden Globe Awards

The 55th Golden Globe Awards, honoring the best in film and television for 1997, were held on 18 January 1998. The winners were selected from the 55th Golden Globe Awards nominees. The ceremony was notable for two memorable moments...



Titanic

Titanic (1997 film)

Titanic is a 1997 American epic romance and disaster film directed, written, co-produced, and co-edited by James Cameron. A fictionalized account of the sinking of the RMS Titanic, it stars Leonardo DiCaprio as Jack Dawson, Kate Winslet as Rose DeWitt Bukater and Billy Zane as Rose's fiancé, Cal...



*
1997

55th Golden Globe Awards

The 55th Golden Globe Awards, honoring the best in film and television for 1997, were held on 18 January 1998. The winners were selected from the 55th Golden Globe Awards nominees. The ceremony was notable for two memorable moments...



Gattaca

Gattaca

Gattaca is a 1997 science fiction film written and directed by Andrew Niccol. It stars Ethan Hawke, Uma Thurman and Jude Law with supporting roles played by Loren Dean, Ernest Borgnine, Gore Vidal and Alan Arkin....



1997

55th Golden Globe Awards

The 55th Golden Globe Awards, honoring the best in film and television for 1997, were held on 18 January 1998. The winners were selected from the 55th Golden Globe Awards nominees. The ceremony was notable for two memorable moments...



Kundun

Kundun

Kundun is a 1997 epic biographical film written by Melissa Mathison and directed by Martin Scorsese. It is based on the life and writings of the 14th Dalai Lama, the exiled political and spiritual leader of Tibet...



1997

55th Golden Globe Awards

The 55th Golden Globe Awards, honoring the best in film and television for 1997, were held on 18 January 1998. The winners were selected from the 55th Golden Globe Awards nominees. The ceremony was notable for two memorable moments...



L.A. Confidential

L.A. Confidential (film)

L.A. Confidential is a 1997 American film based on James Ellroy's 1990 novel of the same title, the third book in his L.A. Quartet. Both the book and the film tell the story of a group of LAPD officers in the 1950s, and the intersection of police corruption and Hollywood celebrity...



1997

55th Golden Globe Awards

The 55th Golden Globe Awards, honoring the best in film and television for 1997, were held on 18 January 1998. The winners were selected from the 55th Golden Globe Awards nominees. The ceremony was notable for two memorable moments...



Seven Years in Tibet

Seven Years in Tibet (1997 film)

Seven Years in Tibet is a 1997 film based on the book of the same name written by Austrian mountaineer Heinrich Harrer on his experiences in Tibet between 1944 and 1951 during the Second World War, the interim period, and the Chinese People's Liberation Army's invasion of Tibet in 1950. The film...



1998

56th Golden Globe Awards

The 56th Golden Globe Awards, honoring the best in film and television for 1998, were held on January 24, 1999 at the Beverly Hilton Hotel in Beverly Hills, California.-Best Actor – Drama: Jim Carrey – The Truman Show...



The Truman Show

The Truman Show

The Truman Show is a 1998 American satirical comedy-drama film directed by Peter Weir and written by Andrew Niccol. The cast includes Jim Carrey as Truman Burbank, as well as Laura Linney, Noah Emmerich, Ed Harris and Natascha McElhone...



, *
1998

56th Golden Globe Awards

The 56th Golden Globe Awards, honoring the best in film and television for 1998, were held on January 24, 1999 at the Beverly Hilton Hotel in Beverly Hills, California.-Best Actor – Drama: Jim Carrey – The Truman Show...



A Bug's Life

A Bug's Life

A Bug's Life is a 1998 American computer animated adventure comedy film produced by Pixar and released by Walt Disney Pictures in the United States on November 25, 1998. A Bug's Life was the second Disney·Pixar feature film after Toy Story, and the third American computer-animated film after Toy...



1998

56th Golden Globe Awards

The 56th Golden Globe Awards, honoring the best in film and television for 1998, were held on January 24, 1999 at the Beverly Hilton Hotel in Beverly Hills, California.-Best Actor – Drama: Jim Carrey – The Truman Show...



Mulan
1998

56th Golden Globe Awards

The 56th Golden Globe Awards, honoring the best in film and television for 1998, were held on January 24, 1999 at the Beverly Hilton Hotel in Beverly Hills, California.-Best Actor – Drama: Jim Carrey – The Truman Show...



Saving Private Ryan

Saving Private Ryan

Saving Private Ryan is a 1998 American war film set during the invasion of Normandy in World War II. It was directed by Steven Spielberg, with a screenplay by Robert Rodat. The film is notable for the intensity of its opening 27 minutes, which depicts the Omaha Beach assault of June 6, 1944....



1998

56th Golden Globe Awards

The 56th Golden Globe Awards, honoring the best in film and television for 1998, were held on January 24, 1999 at the Beverly Hilton Hotel in Beverly Hills, California.-Best Actor – Drama: Jim Carrey – The Truman Show...



The Prince of Egypt

The Prince of Egypt

The Prince of Egypt is a 1998 American animated musical drama film and the first traditionally animated film produced and released by DreamWorks Animation. The film is an adaptation of the Book of Exodus and follows the life of Moses from being a prince of Egypt to his ultimate destiny to lead the...



,
1999

57th Golden Globe Awards

----Picture - Drama: American Beauty ----Picture - Musical or Comedy: Toy Story 2 ----TV Series - Drama: The Sopranos ----TV Series - Musical or Comedy: Sex and the City ...



The Legend of 1900

The Legend of 1900

The Legend of 1900 is a 1998 film directed by the Italian filmmaker Giuseppe Tornatore, starring Tim Roth. This is Tornatore's first English-language film. The film is inspired by a theater monologue, Novecento, by Alessandro Baricco...



*
1999

57th Golden Globe Awards

----Picture - Drama: American Beauty ----Picture - Musical or Comedy: Toy Story 2 ----TV Series - Drama: The Sopranos ----TV Series - Musical or Comedy: Sex and the City ...



American Beauty

American Beauty (film)

American Beauty is a 1999 American drama film directed by Sam Mendes and written by Alan Ball. Kevin Spacey stars as Lester Burnham, a middle-aged magazine writer who has a midlife crisis when he becomes infatuated with his teenage daughter's best friend, Angela...



1999

57th Golden Globe Awards

----Picture - Drama: American Beauty ----Picture - Musical or Comedy: Toy Story 2 ----TV Series - Drama: The Sopranos ----TV Series - Musical or Comedy: Sex and the City ...



Angela's Ashes

Angela's Ashes (film)

Angela's Ashes is a 1999 Irish-American drama film based on the memoir of the same title by Frank McCourt. It was directed by Alan Parker and starred Emily Watson, Robert Carlyle, Joe Breen, Ciaran Owens, and Michael Legge .-Plot:Angela's Ashes tells the story of Frank McCourt and his childhood...



1999

57th Golden Globe Awards

----Picture - Drama: American Beauty ----Picture - Musical or Comedy: Toy Story 2 ----TV Series - Drama: The Sopranos ----TV Series - Musical or Comedy: Sex and the City ...



Anna and the King

Anna and the King

Anna and the King is a 1999 biographical drama film loosely based on Anna and the King of Siam, the story of Anna Leonowens, who was an English schoolteacher in Siam, now Thailand, in the 19th century...



1999

57th Golden Globe Awards

----Picture - Drama: American Beauty ----Picture - Musical or Comedy: Toy Story 2 ----TV Series - Drama: The Sopranos ----TV Series - Musical or Comedy: Sex and the City ...



The End of the Affair

The End of the Affair (1999 film)

Michael Nyman would later use "Diary of Love" to open and close his solo album, The Piano Sings . As with many of Nyman's 1990s scores, he incorporates material from his String Quartet No.3, which was in turn based on a choral piece titled Out of the Ruins.-Track listing:#Diary of Hate 2:38#Henry...



1999

57th Golden Globe Awards

----Picture - Drama: American Beauty ----Picture - Musical or Comedy: Toy Story 2 ----TV Series - Drama: The Sopranos ----TV Series - Musical or Comedy: Sex and the City ...



Eyes Wide Shut

Eyes Wide Shut

Eyes Wide Shut is a 1999 drama film based upon Arthur Schnitzler's 1926 novella Traumnovelle . The film was directed, produced and co-written by Stanley Kubrick, and was his last film. The story, set in and around New York City, follows the sexually-charged adventures of Dr...



1999

57th Golden Globe Awards

----Picture - Drama: American Beauty ----Picture - Musical or Comedy: Toy Story 2 ----TV Series - Drama: The Sopranos ----TV Series - Musical or Comedy: Sex and the City ...



The Insider

The Insider (film)

The Insider is a 1999 film based on the true story of a 60 Minutes television series segment, as seen through the eyes of a real tobacco executive, Jeffrey Wigand. The 60 Minutes story originally aired in November 1995 in an altered form because of objections by CBS' then-owner, Laurence Tisch, who...



,
1999

57th Golden Globe Awards

----Picture - Drama: American Beauty ----Picture - Musical or Comedy: Toy Story 2 ----TV Series - Drama: The Sopranos ----TV Series - Musical or Comedy: Sex and the City ...



The Straight Story

The Straight Story

The Straight Story is a 1999 film directed by David Lynch. The film was edited and produced by Mary Sweeney, Lynch's longtime partner and co-worker. She co-wrote the script with John E. Roach....



1999

57th Golden Globe Awards

----Picture - Drama: American Beauty ----Picture - Musical or Comedy: Toy Story 2 ----TV Series - Drama: The Sopranos ----TV Series - Musical or Comedy: Sex and the City ...



The Talented Mr. Ripley

The Talented Mr. Ripley (film)

The Talented Mr. Ripley is a 1999 American psychological thriller written for the screen and directed by Anthony Minghella. It is an adaptation of the Patricia Highsmith 1955 novel of the same name, which was previously filmed as Plein Soleil .The film stars Matt Damon as Tom Ripley, Gwyneth...



2000

58th Golden Globe Awards

The 58th Golden Globe Awards, honoring the best in film and television for 2000, were held on January 21, 2001.-Best Actor - Drama:Tom Hanks - Cast Away*Javier Bardem - Before Night Falls*Russell Crowe - Gladiator...



Gladiator

Gladiator (2000 film)

Gladiator is a 2000 historical epic film directed by Ridley Scott, starring Russell Crowe, Joaquin Phoenix, Connie Nielsen, Ralf Möller, Oliver Reed, Djimon Hounsou, Derek Jacobi, John Shrapnel and Richard Harris. Crowe portrays the loyal Roman General Maximus Decimus Meridius, who is betrayed...



, *
2000

58th Golden Globe Awards

The 58th Golden Globe Awards, honoring the best in film and television for 2000, were held on January 21, 2001.-Best Actor - Drama:Tom Hanks - Cast Away*Javier Bardem - Before Night Falls*Russell Crowe - Gladiator...



All the Pretty Horses

All the Pretty Horses (film)

All the Pretty Horses is a 2000 American romance western film, directed by Billy Bob Thornton and based on the novel of the same title by author Cormac McCarthy. It stars Matt Damon and Penélope Cruz...



, ,
2000

58th Golden Globe Awards

The 58th Golden Globe Awards, honoring the best in film and television for 2000, were held on January 21, 2001.-Best Actor - Drama:Tom Hanks - Cast Away*Javier Bardem - Before Night Falls*Russell Crowe - Gladiator...



Chocolat
2000

58th Golden Globe Awards

The 58th Golden Globe Awards, honoring the best in film and television for 2000, were held on January 21, 2001.-Best Actor - Drama:Tom Hanks - Cast Away*Javier Bardem - Before Night Falls*Russell Crowe - Gladiator...



Crouching Tiger, Hidden Dragon (Wo hu cang long)

Crouching Tiger, Hidden Dragon

Crouching Tiger, Hidden Dragon is a 2000 wuxia film. An American-Chinese-Hong Kong-Taiwanese co-production, the film was directed by Ang Lee and featured an international cast of ethnic Chinese actors, including Chow Yun-Fat, Michelle Yeoh, Zhang Ziyi, and Chang Chen...



2000

58th Golden Globe Awards

The 58th Golden Globe Awards, honoring the best in film and television for 2000, were held on January 21, 2001.-Best Actor - Drama:Tom Hanks - Cast Away*Javier Bardem - Before Night Falls*Russell Crowe - Gladiator...



Malèna

Malèna

Malèna is a 2000 Italian romantic drama film starring Monica Bellucci and Giuseppe Sulfaro. It was directed and written by Giuseppe Tornatore from a story by Luciano Vincenzoni.-Plot:...



2000

58th Golden Globe Awards

The 58th Golden Globe Awards, honoring the best in film and television for 2000, were held on January 21, 2001.-Best Actor - Drama:Tom Hanks - Cast Away*Javier Bardem - Before Night Falls*Russell Crowe - Gladiator...



Sunshine

Sunshine (1999 film)

Sunshine is a 1999 historical film written by Israel Horovitz and István Szabó, directed and produced by István Szabó. It follows three generations of a Jewish family during the changes in Hungary from the beginning of the 20th century to the...



2001

59th Golden Globe Awards

The 59th Golden Globe Awards, honoring the best in film and US television for 2001, were held on January 20, 2002.-Best Actor - Drama:Russell Crowe - A Beautiful Mind*Will Smith - Ali*Kevin Spacey - The Shipping News...



Moulin Rouge!

Moulin Rouge!

Moulin Rouge! is a 2001 romantic jukebox musical film directed, produced, and co-written by Baz Luhrmann. Following the Red Curtain Cinema principles, the film is based on the Orphean myth, La Traviata, and La Bohème...



*
2001

59th Golden Globe Awards

The 59th Golden Globe Awards, honoring the best in film and US television for 2001, were held on January 20, 2002.-Best Actor - Drama:Russell Crowe - A Beautiful Mind*Will Smith - Ali*Kevin Spacey - The Shipping News...



A Beautiful Mind

A Beautiful Mind (film)

A Beautiful Mind is a 2001 American drama film based on the life of John Nash, a Nobel Laureate in Economics. The film was directed by Ron Howard and written by Akiva Goldsman. It was inspired by a bestselling, Pulitzer Prize-nominated 1998 book of the same name by Sylvia Nasar...



2001

59th Golden Globe Awards

The 59th Golden Globe Awards, honoring the best in film and US television for 2001, were held on January 20, 2002.-Best Actor - Drama:Russell Crowe - A Beautiful Mind*Will Smith - Ali*Kevin Spacey - The Shipping News...



A.I. Artificial Intelligence
2001

59th Golden Globe Awards

The 59th Golden Globe Awards, honoring the best in film and US television for 2001, were held on January 20, 2002.-Best Actor - Drama:Russell Crowe - A Beautiful Mind*Will Smith - Ali*Kevin Spacey - The Shipping News...



Ali

Ali (film)

Ali is a 2001 American biographical film directed by Michael Mann. The film tells the story of boxing icon Muhammad Ali, played by Will Smith, from 1964 to 1974 featuring his capture as of the heavyweight title from Sonny Liston , his conversion to Islam, criticism of the Vietnam War, banishment...



,
2001

59th Golden Globe Awards

The 59th Golden Globe Awards, honoring the best in film and US television for 2001, were held on January 20, 2002.-Best Actor - Drama:Russell Crowe - A Beautiful Mind*Will Smith - Ali*Kevin Spacey - The Shipping News...



The Lord of the Rings: The Fellowship of the Ring
2001

59th Golden Globe Awards

The 59th Golden Globe Awards, honoring the best in film and US television for 2001, were held on January 20, 2002.-Best Actor - Drama:Russell Crowe - A Beautiful Mind*Will Smith - Ali*Kevin Spacey - The Shipping News...



Mulholland Drive

Mulholland Drive (film)

Mulholland Drive is a 2001 American neo-noir psychological thriller written and directed by David Lynch, starring Justin Theroux, Naomi Watts, and Laura Harring. The surrealist film was highly acclaimed by many critics and earned Lynch the Prix de la mise en scène at the 2001 Cannes Film Festival...



2001

59th Golden Globe Awards

The 59th Golden Globe Awards, honoring the best in film and US television for 2001, were held on January 20, 2002.-Best Actor - Drama:Russell Crowe - A Beautiful Mind*Will Smith - Ali*Kevin Spacey - The Shipping News...



Pearl Harbor

Pearl Harbor (film)

Pearl Harbor is a 2001 American action drama war film directed by Michael Bay and produced by Jerry Bruckheimer and Randall Wallace, who wrote the screenplay...



2001

59th Golden Globe Awards

The 59th Golden Globe Awards, honoring the best in film and US television for 2001, were held on January 20, 2002.-Best Actor - Drama:Russell Crowe - A Beautiful Mind*Will Smith - Ali*Kevin Spacey - The Shipping News...



The Shipping News

The Shipping News (film)

The Shipping News is a 2001 drama film directed by Lasse Hallström, based on the Pulitzer Prize winning novel by E. Annie Proulx.It stars Kevin Spacey as the protagonist Quoyle, Judi Dench as Agnis Hamm and Julianne Moore as Wavey Prowse...



2002

60th Golden Globe Awards

----Picture - Drama: The Hours ----Picture - Comedy or Musical: Chicago ----TV Series - Drama: The Shield ----TV Series - Musical or Comedy: Curb Your Enthusiasm ...



Frida

Frida

Frida is a 2002 biographical film which depicts the professional and private life of the surrealist Mexican painter Frida Kahlo. It stars Salma Hayek in her Academy Award nominated portrayal as Kahlo and Alfred Molina as her husband, Diego Rivera....



*
2002

60th Golden Globe Awards

----Picture - Drama: The Hours ----Picture - Comedy or Musical: Chicago ----TV Series - Drama: The Shield ----TV Series - Musical or Comedy: Curb Your Enthusiasm ...



2525th Hour

25th Hour

25th Hour is a 2002 American drama film directed by Spike Lee and is based on the novel The 25th Hour written by David Benioff, who also wrote the screenplay. The film stars Edward Norton, Philip Seymour Hoffman, Barry Pepper, Rosario Dawson, Anna Paquin, and Brian Cox...



2002

60th Golden Globe Awards

----Picture - Drama: The Hours ----Picture - Comedy or Musical: Chicago ----TV Series - Drama: The Shield ----TV Series - Musical or Comedy: Curb Your Enthusiasm ...



Far from Heaven

Far from Heaven

Far from Heaven is a 2002 drama film written and directed by Todd Haynes and starring Julianne Moore, Dennis Quaid, Dennis Haysbert, and Patricia Clarkson....



2002

60th Golden Globe Awards

----Picture - Drama: The Hours ----Picture - Comedy or Musical: Chicago ----TV Series - Drama: The Shield ----TV Series - Musical or Comedy: Curb Your Enthusiasm ...



Rabbit-Proof Fence

Rabbit-Proof Fence (film)

Rabbit-Proof Fence is a 2002 Australian drama film directed by Phillip Noyce based on the book Follow the Rabbit-Proof Fence by Doris Pilkington Garimara...



2002

60th Golden Globe Awards

----Picture - Drama: The Hours ----Picture - Comedy or Musical: Chicago ----TV Series - Drama: The Shield ----TV Series - Musical or Comedy: Curb Your Enthusiasm ...



The Hours

The Hours (film)

The Hours is a 2002 drama film directed by Stephen Daldry, and starring Nicole Kidman, Meryl Streep, Julianne Moore and Ed Harris. The screenplay by David Hare is based on the 1999 Pulitzer Prize-winning novel of the same title by Michael Cunningham....



2003

61st Golden Globe Awards

The 61st Golden Globe Awards, honoring the best in film and television for 2003, were held on January 25, 2004 at the Beverly Hilton Hotel in Beverly Hills, California...



The Lord of the Rings: The Return of the King

The Lord of the Rings: The Return of the King

The Lord of the Rings: The Return of the King is a 2003 epic fantasy-drama film directed by Peter Jackson that is based on the second and third volumes of J. R. R. Tolkien's The Lord of the Rings...



*
2003

61st Golden Globe Awards

The 61st Golden Globe Awards, honoring the best in film and television for 2003, were held on January 25, 2004 at the Beverly Hilton Hotel in Beverly Hills, California...



Big Fish

Big Fish

Big Fish is a 2003 American fantasy adventure film based on the 1998 novel of the same name by Daniel Wallace. The film was directed by Tim Burton and stars Albert Finney, Ewan McGregor, Billy Crudup, Jessica Lange and Marion Cotillard. Finney plays Edward Bloom, a former traveling salesman from...



2003

61st Golden Globe Awards

The 61st Golden Globe Awards, honoring the best in film and television for 2003, were held on January 25, 2004 at the Beverly Hilton Hotel in Beverly Hills, California...



Cold Mountain

Cold Mountain (film)

Cold Mountain is a 2003 war drama film written and directed by Anthony Minghella. The film is based on the bestselling novel of the same name by Charles Frazier...



2003

61st Golden Globe Awards

The 61st Golden Globe Awards, honoring the best in film and television for 2003, were held on January 25, 2004 at the Beverly Hilton Hotel in Beverly Hills, California...



Girl With a Pearl Earring

Girl with a Pearl Earring (film)

Girl with a Pearl Earring is a 2003 drama film directed by Peter Webber. The screenplay was adapted by screenwriter Olivia Hetreed based on the novel by Tracy Chevalier. The film stars Scarlett Johansson, Colin Firth, Tom Wilkinson, and Cillian Murphy. The film is named after a painting of the same...



2003

61st Golden Globe Awards

The 61st Golden Globe Awards, honoring the best in film and television for 2003, were held on January 25, 2004 at the Beverly Hilton Hotel in Beverly Hills, California...



The Last Samurai

The Last Samurai

The Last Samurai is a 2003 American epic drama film directed and co-produced by Edward Zwick, who also co-wrote the screenplay based on a story by John Logan. The film was inspired by a project developed by writer and director Vincent Ward, who had previously filmed the movie in 1990, starring...



2004

62nd Golden Globe Awards

The 62nd Golden Globe Awards, honoring the best in film and television for 2004, were held on January 16, 2005.The Aviator received the most nominations and won the most awards, with 3...



The Aviator
*
2004

62nd Golden Globe Awards

The 62nd Golden Globe Awards, honoring the best in film and television for 2004, were held on January 16, 2005.The Aviator received the most nominations and won the most awards, with 3...



Finding Neverland

Finding Neverland

Finding Neverland is a 2004 semi-biographical film about playwright J. M. Barrie and his relationship with a family who inspired him to create Peter Pan, directed by Marc Forster. The screenplay by David Magee is based on the play The Man Who Was Peter Pan by Allan Knee...



2004

62nd Golden Globe Awards

The 62nd Golden Globe Awards, honoring the best in film and television for 2004, were held on January 16, 2005.The Aviator received the most nominations and won the most awards, with 3...



Million Dollar Baby

Million Dollar Baby

Million Dollar Baby is a 2004 American sports drama film directed, co-produced, and scored by Clint Eastwood and starring Eastwood, Hilary Swank, and Morgan Freeman...



2004

62nd Golden Globe Awards

The 62nd Golden Globe Awards, honoring the best in film and television for 2004, were held on January 16, 2005.The Aviator received the most nominations and won the most awards, with 3...



Sideways

Sideways

Sideways is a 2004 comedy-drama film written by Jim Taylor and Alexander Payne and directed by Payne. Adapted from Rex Pickett's 2004 novel of the same name, Sideways follows two forty-something year old men, portrayed by Paul Giamatti and Thomas Haden Church, who take a week-long road trip to...



2004

62nd Golden Globe Awards

The 62nd Golden Globe Awards, honoring the best in film and television for 2004, were held on January 16, 2005.The Aviator received the most nominations and won the most awards, with 3...



Spanglish

Spanglish (film)

Spanglish is a 2004 American comedy-drama film written and directed by James L. Brooks, and starring Adam Sandler, Paz Vega, and Téa Leoni. It was released in the United States on December 17, 2004 by Columbia Pictures and by Gracie Films, and in other countries over the first several months of...



2005

63rd Golden Globe Awards

----Picture - Drama: Brokeback Mountain ----Picture - Musical or Comedy: Walk the Line ----TV Series - Drama: Lost ----TV Series - Musical or Comedy: Desperate Housewives ----Miniseries or TV Movie: Empire Falls ...



Memoirs of a Geisha

Memoirs of a Geisha (film)

Memoirs of a Geisha is a 2005 film adaptation of the novel of the same name, produced by Steven Spielberg's Amblin Entertainment and Spyglass Entertainment and by Douglas Wick's Red Wagon Productions. It was directed by Rob Marshall. It was released in the United States on December 9, 2005 by...



*
2005

63rd Golden Globe Awards

----Picture - Drama: Brokeback Mountain ----Picture - Musical or Comedy: Walk the Line ----TV Series - Drama: Lost ----TV Series - Musical or Comedy: Desperate Housewives ----Miniseries or TV Movie: Empire Falls ...



Brokeback Mountain

Brokeback Mountain

Brokeback Mountain is a 2005 romantic drama film directed by Ang Lee. It is a film adaptation of the 1997 short story of the same name by Annie Proulx with the screenplay written by Diana Ossana and Larry McMurtry...



2005

63rd Golden Globe Awards

----Picture - Drama: Brokeback Mountain ----Picture - Musical or Comedy: Walk the Line ----TV Series - Drama: Lost ----TV Series - Musical or Comedy: Desperate Housewives ----Miniseries or TV Movie: Empire Falls ...



King Kong

King Kong (2005 film)

King Kong is a 2005 fantasy adventure film directed by Peter Jackson. It is a remake of the 1933 film of the same name and stars Naomi Watts, Jack Black and Adrien Brody. Andy Serkis, through performance capture, portrays Kong....



2005

63rd Golden Globe Awards

----Picture - Drama: Brokeback Mountain ----Picture - Musical or Comedy: Walk the Line ----TV Series - Drama: Lost ----TV Series - Musical or Comedy: Desperate Housewives ----Miniseries or TV Movie: Empire Falls ...



Syriana

Syriana

Syriana is a 2005 geopolitical thriller film written and directed by Stephen Gaghan, and executive produced by George Clooney, who also stars in the film with an ensemble cast. Gaghan's screenplay is loosely adapted from Robert Baer's memoir See No Evil...



2005

63rd Golden Globe Awards

----Picture - Drama: Brokeback Mountain ----Picture - Musical or Comedy: Walk the Line ----TV Series - Drama: Lost ----TV Series - Musical or Comedy: Desperate Housewives ----Miniseries or TV Movie: Empire Falls ...



The Chronicles of Narnia: The Lion, the Witch and the Wardrobe

The Chronicles of Narnia: The Lion, the Witch and the Wardrobe

The Chronicles of Narnia: The Lion, the Witch and the Wardrobe is a 2005 epic fantasy adventure film directed by Andrew Adamson and based on The Lion, the Witch and the Wardrobe, the first published and second chronological novel in C. S. Lewis's children's epic fantasy series, The Chronicles of...



2006

64th Golden Globe Awards

The 64th Annual Golden Globe Awards were aired on January 15, 2007. Some key dates announced by the Hollywood Foreign Press Association are:The ceremony was broadcast live on NBC...



The Painted Veil

The Painted Veil (2006 film)

The Painted Veil is a 2006 Chinese-American drama film directed by John Curran. The screenplay by Ron Nyswaner is based on the 1925 novel of the same title by W. Somerset Maugham...



*
2006

64th Golden Globe Awards

The 64th Annual Golden Globe Awards were aired on January 15, 2007. Some key dates announced by the Hollywood Foreign Press Association are:The ceremony was broadcast live on NBC...



Babel
2006

64th Golden Globe Awards

The 64th Annual Golden Globe Awards were aired on January 15, 2007. Some key dates announced by the Hollywood Foreign Press Association are:The ceremony was broadcast live on NBC...



Nomad
2006

64th Golden Globe Awards

The 64th Annual Golden Globe Awards were aired on January 15, 2007. Some key dates announced by the Hollywood Foreign Press Association are:The ceremony was broadcast live on NBC...



The Da Vinci Code

The Da Vinci Code (film)

The Da Vinci Code is a 2006 American mystery thriller film directed by Ron Howard. The screenplay was written by Akiva Goldsman and based on Dan Brown's worldwide bestselling 2003 novel, The Da Vinci Code...



2006

64th Golden Globe Awards

The 64th Annual Golden Globe Awards were aired on January 15, 2007. Some key dates announced by the Hollywood Foreign Press Association are:The ceremony was broadcast live on NBC...



The Fountain
2007

65th Golden Globe Awards

The 65th Golden Globe Awards, honoring the best in film and television of 2007, were scheduled to be presented by the Hollywood Foreign Press Association on January 13, 2008...



Atonement

Atonement (film)

Atonement is a 2007 British romantic suspense war film directed by Joe Wright. It is a film adaptation of the 2001 novel of the same name by Ian McEwan. The film stars James McAvoy, Keira Knightley, and Saoirse Ronan. It was produced by Working Title Films and filmed throughout the summer of 2006...



*
2007

65th Golden Globe Awards

The 65th Golden Globe Awards, honoring the best in film and television of 2007, were scheduled to be presented by the Hollywood Foreign Press Association on January 13, 2008...



Eastern Promises
2007

65th Golden Globe Awards

The 65th Golden Globe Awards, honoring the best in film and television of 2007, were scheduled to be presented by the Hollywood Foreign Press Association on January 13, 2008...



Grace Is Gone

Grace Is Gone (film)

Grace Is Gone is a 2007 drama film starring John Cusack as a father who does not want to tell his two daughters that their mother has died while serving in Iraq...



2007

65th Golden Globe Awards

The 65th Golden Globe Awards, honoring the best in film and television of 2007, were scheduled to be presented by the Hollywood Foreign Press Association on January 13, 2008...



Into the Wild

Into the Wild (film)

Into the Wild is a 2007 American biographical drama film directed by Sean Penn. It is an adaptation of 1996 non-fiction book of the same name by Jon Krakauer based on the travels of Christopher McCandless across North America in the early 1990s. The film stars Emile Hirsch as McCandless with...



, ,
2007

65th Golden Globe Awards

The 65th Golden Globe Awards, honoring the best in film and television of 2007, were scheduled to be presented by the Hollywood Foreign Press Association on January 13, 2008...



The Kite Runner

The Kite Runner (film)

The Kite Runner is a 2007 drama film directed by Marc Forster based on the novel of the same name by Khaled Hosseini. It tells the story of Amir, a well-to-do boy from the Wazir Akbar Khan district of Kabul, who is tormented by the guilt of abandoning his friend Hassan, the son of his father's...



2008

66th Golden Globe Awards

The 66th Golden Globe Awards Ceremony was broadcast on January 11, 2009, from the Beverly Hilton Hotel in Beverly Hills, California, United States on the NBC TV network...



Slumdog Millionaire

Slumdog Millionaire

Slumdog Millionaire is a 2008 British epic romantic drama adventure film directed by Danny Boyle, written by Simon Beaufoy, and co-directed in India by Loveleen Tandan. It is an adaptation of the novel Q & A by Indian author and diplomat Vikas Swarup...



*
2008

66th Golden Globe Awards

The 66th Golden Globe Awards Ceremony was broadcast on January 11, 2009, from the Beverly Hilton Hotel in Beverly Hills, California, United States on the NBC TV network...



Changeling

Changeling (film)

Changeling is a 2008 American drama film directed by Clint Eastwood and written by J. Michael Straczynski. Based on real-life events in 1928 Los Angeles, the film stars Angelina Jolie as a woman who is reunited with her missing son—only to realize he is an impostor. She confronts the city...



2008

66th Golden Globe Awards

The 66th Golden Globe Awards Ceremony was broadcast on January 11, 2009, from the Beverly Hilton Hotel in Beverly Hills, California, United States on the NBC TV network...



The Curious Case of Benjamin Button

The Curious Case of Benjamin Button (film)

The Curious Case of Benjamin Button is a 2008 American fantasy-drama film directed by David Fincher. The screenplay by Eric Roth and Robin Swicord is loosely based on the 1922 short story of the same name by F. Scott Fitzgerald...



2008

66th Golden Globe Awards

The 66th Golden Globe Awards Ceremony was broadcast on January 11, 2009, from the Beverly Hilton Hotel in Beverly Hills, California, United States on the NBC TV network...



Defiance

Defiance (2008 film)

Defiance is a 2008 World War II era film written, produced, and directed by Edward Zwick, set during the occupation of Belarus by Nazi Germany. The film is an account of the Bielski partisans, a group led by three Jewish brothers who saved and recruited Jews in Poland during the Second World War...



2008

66th Golden Globe Awards

The 66th Golden Globe Awards Ceremony was broadcast on January 11, 2009, from the Beverly Hilton Hotel in Beverly Hills, California, United States on the NBC TV network...



Frost/Nixon

Frost/Nixon (film)

Frost/Nixon is a 2008 historical drama film based on the 2006 play by Peter Morgan which dramatizes the Frost/Nixon interviews of 1977. The film was directed by Ron Howard and produced for Universal Pictures by Howard, Brian Grazer of Imagine Entertainment and Tim Bevan and Eric Fellner of Working...



2009

67th Golden Globe Awards

The 67th Golden Globe Awards was telecasted live from the Beverly Hilton Hotel in Beverly Hills, California on Sunday, January 17, 2010 by NBC, from 5:00 PM – 8:00 PM and 8:00PM – 11:00 PM . The ceremonies were hosted by Ricky Gervais, and were broadcast live for the first time.Nominations were...



Up

Up (2009 film)

Up is a 2009 American computer-animated comedy-adventure film produced by Pixar, distributed by Walt Disney Pictures and presented in Disney Digital 3-D. The film premiered on May 29, 2009 in North America and opened the 2009 Cannes Film Festival, becoming the first animated and 3D film...



*
2009

67th Golden Globe Awards

The 67th Golden Globe Awards was telecasted live from the Beverly Hilton Hotel in Beverly Hills, California on Sunday, January 17, 2010 by NBC, from 5:00 PM – 8:00 PM and 8:00PM – 11:00 PM . The ceremonies were hosted by Ricky Gervais, and were broadcast live for the first time.Nominations were...



A Single Man

A Single Man (film)

A Single Man is a 2009 drama film based on the novel of the same name by Christopher Isherwood. It is the first film directed by Tom Ford. The film stars Colin Firth, who was nominated for an Academy Award for Best Actor for his portrayal of George Falconer, a depressed gay British university...



2009

67th Golden Globe Awards

The 67th Golden Globe Awards was telecasted live from the Beverly Hilton Hotel in Beverly Hills, California on Sunday, January 17, 2010 by NBC, from 5:00 PM – 8:00 PM and 8:00PM – 11:00 PM . The ceremonies were hosted by Ricky Gervais, and were broadcast live for the first time.Nominations were...



Avatar
2009

67th Golden Globe Awards

The 67th Golden Globe Awards was telecasted live from the Beverly Hilton Hotel in Beverly Hills, California on Sunday, January 17, 2010 by NBC, from 5:00 PM – 8:00 PM and 8:00PM – 11:00 PM . The ceremonies were hosted by Ricky Gervais, and were broadcast live for the first time.Nominations were...



The Informant!
2009

67th Golden Globe Awards

The 67th Golden Globe Awards was telecasted live from the Beverly Hilton Hotel in Beverly Hills, California on Sunday, January 17, 2010 by NBC, from 5:00 PM – 8:00 PM and 8:00PM – 11:00 PM . The ceremonies were hosted by Ricky Gervais, and were broadcast live for the first time.Nominations were...



Where the Wild Things Are

Where the Wild Things Are (film)

Where the Wild Things Are is a 2009 American fantasy drama film directed by Spike Jonze and adapted from Maurice Sendak's 1963 children's book Where the Wild Things Are. It combines live action, performers in costumes, animatronics, and computer-generated imagery...



Karen O

Karen O

Karen Lee Orzolek , better known by her stage name Karen O, is the vocalist for New York rock band Yeah Yeah Yeahs.-Early life:...


,
2010

68th Golden Globe Awards

The 68th Golden Globe Awards was broadcast live from the Beverly Hilton Hotel in Beverly Hills, California on January 16, 2011, by NBC. The host was Ricky Gervais....



The Social Network

The Social Network

The Social Network is a 2010 American drama film directed by David Fincher and written by Aaron Sorkin. Adapted from Ben Mezrich's 2009 book The Accidental Billionaires, the film portrays the founding of social networking website Facebook and the resulting lawsuits...



, *
2010

68th Golden Globe Awards

The 68th Golden Globe Awards was broadcast live from the Beverly Hilton Hotel in Beverly Hills, California on January 16, 2011, by NBC. The host was Ricky Gervais....



127127 Hours

127 Hours

127 Hours is a 2010 biographical adventure drama film co-written, produced and directed by Danny Boyle. The film stars James Franco as mountain climber Aron Ralston, who became trapped by a boulder in Robbers Roost, Utah in April 2003....



2010

68th Golden Globe Awards

The 68th Golden Globe Awards was broadcast live from the Beverly Hilton Hotel in Beverly Hills, California on January 16, 2011, by NBC. The host was Ricky Gervais....



Alice in Wonderland

Alice in Wonderland (2010 film)

Alice in Wonderland is a 2010 American computer-animated/live action fantasy adventure film directed by Tim Burton, written by Linda Woolverton, and released by Walt Disney Pictures...



2010

68th Golden Globe Awards

The 68th Golden Globe Awards was broadcast live from the Beverly Hilton Hotel in Beverly Hills, California on January 16, 2011, by NBC. The host was Ricky Gervais....



Inception

Inception

Inception: The Subconscious Jams 1994-1995 is a compilation of unreleased tracks by the band Download.-Track listing:# "Primitive Tekno Jam" – 3:23# "Bee Sting Sickness" – 8:04# "Weed Acid Techno" – 8:19...



2010

68th Golden Globe Awards

The 68th Golden Globe Awards was broadcast live from the Beverly Hilton Hotel in Beverly Hills, California on January 16, 2011, by NBC. The host was Ricky Gervais....



The King's Speech