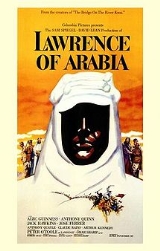 Lawrence of Arabia (film)
Lawrence of Arabia
is a 1962 British film based on the life of
T. E. Lawrence
T. E. Lawrence
Lieutenant Colonel Thomas Edward Lawrence, CB, DSO , known professionally as T. E. Lawrence, was a British Army officer renowned especially for his liaison role during the Arab Revolt against Ottoman Turkish rule of 1916–18...
. It was directed by
David Lean
David Lean
Sir David Lean CBE was an English film director, producer, screenwriter, and editor best remembered for big-screen epics such as The Bridge on the River Kwai , Lawrence of Arabia ,...
and produced by
Sam Spiegel
Sam Spiegel
Sam Spiegel was an Austrian-born American independent film producer.-Life and career:Spiegel was born in Jarosław, Galicia, Austria-Hungary as Samuel P. Spiegel to a German-Jewish father and Polish mother and educated at the University of Vienna. His brother was Shalom Spiegel, a professor of...
through his British company,
Horizon Pictures
Horizon Pictures
Horizon Pictures Ltd was a film production company founded in Britain by the Austrian-born film producer Sam Spiegel. The company's first production was the Academy Award-winning The African Queen, starring Humphrey Bogart and Katharine Hepburn, in 1951.It later produced the David Lean films The...
, with the screenplay by
Robert Bolt
Robert Bolt
Robert Oxton Bolt, CBE was an English playwright and a two-time Oscar winning screenwriter.-Career:He was born in Sale, Cheshire. At Manchester Grammar School his affinity for Sir Thomas More first developed. He attended the University of Manchester, and, after war service, the University of...
and
Michael Wilson
Michael Wilson (writer)
Michael Wilson was an Academy Award winning American screenwriter who was blacklisted by the Hollywood movie studio bosses during the era of McCarthyism....
. The film stars
Peter O'Toole
Peter O'Toole
Peter Seamus Lorcan O'Toole is an Irish actor of stage and screen. O'Toole achieved stardom in 1962 playing T. E. Lawrence in Lawrence of Arabia, and then went on to become a highly-honoured film and stage actor. He has been nominated for eight Academy Awards, and holds the record for most...
in the title role. It is widely considered one of the greatest and most influential films in the history of cinema. The dramatic score by
Maurice Jarre
Maurice Jarre
Maurice-Alexis Jarre was a French composer and conductor.Although he composed several concert works, he is best known for his film scores, and is particularly known for his collaborations with film director David Lean. Jarre composed the scores to all of Lean's films since Lawrence of Arabia...
and the
Super Panavision 70
Super Panavision 70
Super Panavision 70 was the marketing brand name used to identify movies photographed with Panavision 70 mm spherical optics between 1959 and 1983.-History:...
cinematography by
Freddie Young
Freddie Young
Freddie Young OBE, BSC , was one of Britain's most distinguished and influential cinematographers...
are also highly acclaimed.
The film depicts Lawrence's experiences in Arabia during
World War I
World War I
World War I , which was predominantly called the World War or the Great War from its occurrence until 1939, and the First World War or World War I thereafter, was a major war centred in Europe that began on 28 July 1914 and lasted until 11 November 1918...
, in particular his attacks on
Aqaba
Aqaba
Aqaba is a coastal city in the far south of Jordan, the capital of Aqaba Governorate at the head of the Gulf of Aqaba. Aqaba is strategically important to Jordan as it is the country's only seaport. Aqaba is best known today as a diving and beach resort, but industrial activity remains important...
and
Damascus
Damascus
Damascus , commonly known in Syria as Al Sham , and as the City of Jasmine , is the capital and the second largest city of Syria after Aleppo, both are part of the country's 14 governorates. In addition to being one of the oldest continuously inhabited cities in the world, Damascus is a major...
and his involvement in the Arab National Council.
I think you are another of these desert-loving English: Doughty, Stanhope, Gordon of Khartoum. No Arab loves the desert. We love water and green trees, there is nothing in the desert. No man needs nothing.

Young men make wars, and the virtues of war are the virtues of young men – courage and hope for the future. Then old men make the peace, and the vices of peace are the vices of old men – mistrust and caution. It must be so.

Lawrence: Sherif Ali, so long as the Arabs fight tribe against tribe, so long will they be a little people, a silly people, greedy, barbarous, and cruel, as you are.