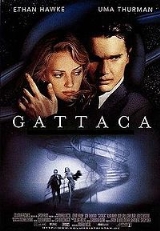 Gattaca
Gattaca
is a 1997
science fiction film
Science fiction film
Science fiction film is a film genre that uses science fiction: speculative, science-based depictions of phenomena that are not necessarily accepted by mainstream science, such as extraterrestrial life forms, alien worlds, extrasensory perception, and time travel, often along with futuristic...
written and directed by
Andrew Niccol
Andrew Niccol
Andrew M. Niccol is a New Zealand screenwriter, producer, and director. He wrote and directed Gattaca, S1m0ne, In Time, and Lord of War. He also wrote and co-produced The Truman Show, which earned an Academy Award nomination for Best Original Screenplay in 1999 and won a BAFTA award for Best...
. It stars
Ethan Hawke
Ethan Hawke
Ethan Green Hawke is an American actor, writer and director. He made his feature film debut in 1985 with the science fiction movie Explorers, before making a supporting appearance in the 1989 drama Dead Poets Society which is considered his breakthrough role...
,
Uma Thurman
Uma Thurman
Uma Karuna Thurman is an American actress and model. She has performed in leading roles in a variety of films, ranging from romantic comedies and dramas to science fiction and action movies. Among her best-known roles are those in the Quentin Tarantino films Pulp Fiction and Kill Bill...
and
Jude Law
Jude Law
David Jude Heyworth Law , known professionally as Jude Law, is an English actor, film producer and director.He began acting with the National Youth Music Theatre in 1987, and had his first television role in 1989...
with supporting roles played by
Loren Dean
Loren Dean
Loren Dean is an American actor. He has appeared onstage and in feature films.-Early life:Loren Dean Jovicic was born in Las Vegas, Nevada. His mother worked as a family and marriage counselor and his father was in the clothing business. His parents divorced when he was a small child...
,
Ernest Borgnine
Ernest Borgnine
Ernest Borgnine is an American actor of television and film. His career has spanned more than six decades. He was an unconventional lead in many films of the 1950s, including his Academy Award-winning turn in the 1955 film Marty...
,
Gore Vidal
Gore Vidal
Gore Vidal is an American author, playwright, essayist, screenwriter, and political activist. His third novel, The City and the Pillar , outraged mainstream critics as one of the first major American novels to feature unambiguous homosexuality...
and
Alan Arkin
Alan Arkin
Alan Wolf Arkin is an American actor, director, musician and singer. He is known for starring in such films as Wait Until Dark, The Russians Are Coming, the Russians Are Coming, The Heart is a Lonely Hunter, Catch-22, The In-Laws, Edward Scissorhands, Glengarry Glen Ross, Marley & Me, and...
.
The film presents a biopunk vision of a society driven by
liberal eugenics
Liberal eugenics
Liberal eugenics is an ideology which advocates the use of reproductive and genetic technologies where the choice of enhancing human characteristics and capacities is left to the individual preferences of parents acting as consumers, rather than the public health policies of the state.-History:The...
where potential children are selected through
preimplantation genetic diagnosis
Preimplantation genetic diagnosis
In medicine and genetics pre-implantation genetic diagnosis refers to procedures that are performed on embryos prior to implantation, sometimes even on oocytes prior to fertilization. PGD is considered another way to prenatal diagnosis...
to ensure they possess the best hereditary traits of their parents. A genetic registry database uses
biometrics
Biometrics
Biometrics As Jain & Ross point out, "the term biometric authentication is perhaps more appropriate than biometrics since the latter has been historically used in the field of statistics to refer to the analysis of biological data [36]" . consists of methods...
to instantly identify and classify those so created as "valids" while those conceived by traditional means are derisively known as "in-valids".
For someone who was never meant for this world, I must confess I'm suddenly having a hard time leaving it. Of course, they say every atom in our bodies was once part of a star. Maybe I'm not leaving... maybe I'm going home. [A reference to the opening monologue of the play The Effect of Gamma Rays on Man-in-the-Moon Marigolds|The Effect of Gamma Rays on Man-in-the-Moon Marigolds]

Xander Berkeley - Dr. Lamar

Jayne Brook - Marie Freeman

Elias Koteas - Antonio Freeman