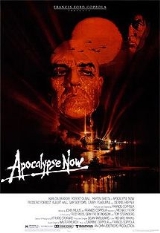 Apocalypse Now
Apocalypse Now
is a 1979 American
war film
War film
War films are a film genre concerned with warfare, usually about naval, air or land battles, sometimes focusing instead on prisoners of war, covert operations, military training or other related subjects. At times war films focus on daily military or civilian life in wartime without depicting battles...
set during the
Vietnam War
Vietnam War
The Vietnam War was a Cold War-era military conflict that occurred in Vietnam, Laos, and Cambodia from 1 November 1955 to the fall of Saigon on 30 April 1975. This war followed the First Indochina War and was fought between North Vietnam, supported by its communist allies, and the government of...
, produced and directed by
Francis Ford Coppola
Francis Ford Coppola
Francis Ford Coppola is an American film director, producer and screenwriter. He is widely acclaimed as one of Hollywood's most innovative and influential film directors...
. The central character is
US Army
United States Army
The United States Army is the main branch of the United States Armed Forces responsible for land-based military operations. It is the largest and oldest established branch of the U.S. military, and is one of seven U.S. uniformed services...
special operations
United States Special Operations Forces
United States Special Operations Forces under United States Special Operations Command are active and reserve component forces of U.S. Military...
officer
Officer (armed forces)
An officer is a member of an armed force or uniformed service who holds a position of authority. Commissioned officers derive authority directly from a sovereign power and, as such, hold a commission charging them with the duties and responsibilities of a specific office or position...
Captain
Benjamin L. Willard
Benjamin L. Willard
Captain Benjamin L. Willard is a fictional character and the main protagonist in Francis Ford Coppola's film Apocalypse Now, and is portrayed by American actor Martin Sheen. His character is loosely based on the character Charles Marlow from Joseph Conrad's novella Heart of Darkness. He is a...
(
Martin Sheen
Martin Sheen
Ramón Gerardo Antonio Estévez , better known by his stage name Martin Sheen, is an American film actor best known for his performances in the films Badlands and Apocalypse Now , and in the television series The West Wing from 1999 to 2006.He is considered one of the best actors never to be...
), of MACV-SOG, an assassin sent to kill the renegade and presumed insane Special Forces
Colonel
Colonel (United States)
In the United States Army, Air Force, and Marine Corps, colonel is a senior field grade military officer rank just above the rank of lieutenant colonel and just below the rank of brigadier general...
Walter E. Kurtz
Walter E. Kurtz
Colonel Walter E. Kurtz is a fictional character and the main antagonist of the 1979 film Apocalypse Now, portrayed by Marlon Brando. Colonel Kurtz is based on the character of a 19th century ivory trader, also called Kurtz, from the novella Heart of Darkness by Joseph Conrad.-Biography:Walter...
(
Marlon Brando
Marlon Brando
Marlon Brando, Jr. was an American movie star and political activist. "Unchallenged as the most important actor in modern American Cinema" according to the St...
).
Coppola's and
John Milius's
John Milius
John Frederick Milius is an American screenwriter, director, and producer of motion pictures.-Early life:Milius was born in St. Louis, Missouri, the son of Elizabeth and William Styx Milius, who was a shoe manufacturer. Milius attempted to join the Marine Corps in the late 1960s, but was rejected...
script is based on
Joseph Conrad
Joseph Conrad
Joseph Conrad was a Polish-born English novelist.Conrad is regarded as one of the great novelists in English, although he did not speak the language fluently until he was in his twenties...
's
novella
Novella
A novella is a written, fictional, prose narrative usually longer than a novelette but shorter than a novel. The Science Fiction and Fantasy Writers of America Nebula Awards for science fiction define the novella as having a word count between 17,500 and 40,000...
Heart of Darkness
Heart of Darkness
Heart of Darkness is a novella written by Joseph Conrad. Before its 1903 publication, it appeared as a three-part series in Blackwood's Magazine. It was classified by the Modern Library website editors as one of the "100 best novels" and part of the Western canon.The story centres on Charles...
, and also draws from
Michael Herr
Michael Herr
Michael Herr is a writer and former war correspondent, best known as the author of Dispatches , a memoir of his time as a correspondent for Esquire magazine during the Vietnam War...
's
Dispatches
Dispatches (book)
Dispatches is a New Journalism book by Michael Herr that describes the author's experiences in Vietnam as a war correspondent for Esquire magazine. First published in 1977, Dispatches was one of the first pieces of American literature that allowed Americans to understand the experiences of soldiers...
, the
film version
Lord Jim (1965 film)
Lord Jim is a 1965 adventure film made by Columbia Pictures. It was produced and directed by Richard Brooks with Jules Buck and Peter O'Toole as associate producers, from a screenplay by Brooks...
of Conrad's
Lord Jim
Lord Jim
Lord Jim is a novel by Joseph Conrad originally published as a serial in Blackwood's Magazine from October 1899 to November 1900.An early and primary event is Jim's abandonment of a ship in distress on which he is serving as a mate...
(which shares the same character of
Marlow
Charles Marlow
Charles Marlow is a recurring character in the work of Polish-born English novelist Joseph Conrad. Marlow is an alter ego of Conrad; both are sailors for the British Empire during the late-19th and early-20th century during the height of British imperialism....
with
Heart of Darkness
), and
Werner Herzog
Werner Herzog
Werner Herzog Stipetić , known as Werner Herzog, is a German film director, producer, screenwriter, actor, and opera director.He is often considered as one of the greatest figures of the New German Cinema, along with Rainer Werner Fassbinder, Margarethe von Trotta, Volker Schlöndorff, Werner...
's
Aguirre, the Wrath of God
Aguirre, the Wrath of God
Aguirre, the Wrath of God is a 1972 West German adventure film written and directed by Werner Herzog. Klaus Kinski stars in the title role. The soundtrack was composed and performed by German progressive/Krautrock band Popol Vuh...
(1972).
Our Motto: Apocalypse Now!

Scrawled on the wall of the steps leading up from the river.
Have you ever considered any real freedoms? Freedom from the opinions of others...even the opinions of yourself?

You're neither! You're an errand boy sent by grocery clerks....to collect a bill.

I went down that river once when I was a kid. There's a place in the river.. I can't remember... Must have been a gardenia plantation at one time. All wild and overgrown now, but for about five miles you'd think that heaven just fell on the earth in the form of gardenias...

We must kill them. We must incinerate them. Pig after pig. Cow after cow. Village after village. Army after army. And they call me an assassin. What do you call it when the assassins accuse the assassin? They lie. They lie, and we have to be merciful, for those who lie. Those nabobs. I hate them. I do hate them.

We train young men to drop fire on people. But their commanders won't allow them to write "fuck" on their airplanes because it's obscene!

I watched a snail crawl along the edge of a straight razor. That's my dream. It's my nightmare. Crawling, slithering, along the edge of a straight razor … and surviving.

I worry that my son might not understand what I've tried to be. And if I were to be killed, Willard, I would want someone to go to my home and tell my son everything – everything I did, everything you saw – because there's nothing that I detest more than the stench of lies. And if you understand me, Willard, you will do this for me.

The horror … the horror … (Kurtz' last words)