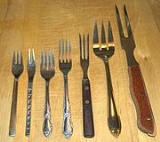 Fork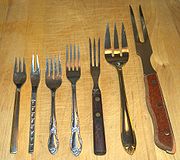 As a piece of
cutlery
Cutlery
Cutlery refers to any hand implement used in preparing, serving, and especially eating food in the Western world. It is more usually known as silverware or flatware in the United States, where cutlery can have the more specific meaning of knives and other cutting instruments. This is probably the...
or
kitchenware
Kitchenware
Kitchenware include utensils, appliances, dishes, cookware, and so on for use in the kitchen.-See also:*Cookware and bakeware*Dishware*Drinkware*List of eating utensils*List of food preparation utensils*List of Japanese cooking utensils...
, a
fork
is a tool consisting of a handle with several narrow
tines
on one end. The fork, as an eating utensil, has been a feature primarily of the West, whereas in East Asia
chopsticks
Chopsticks
Chopsticks are small, often tapered, sticks used in pairs of equal length as the traditional eating utensils of China and its diaspora, Japan, Korea, Vietnam and Northern provinces of Laos, Thailand and Burma. Generally believed to have originated in ancient China, they can also be found in some...
have been more prevalent. Today, forks are increasingly available throughout
East Asia
East Asia
East Asia or Eastern Asia is a subregion of Asia that can be defined in either geographical or cultural terms...
.
The utensil (usually
metal
Metal
A metal , is an element, compound, or alloy that is a good conductor of both electricity and heat. Metals are usually malleable and shiny, that is they reflect most of incident light...
) is used to lift
food
Food
Food is any substance consumed to provide nutritional support for the body. It is usually of plant or animal origin, and contains essential nutrients, such as carbohydrates, fats, proteins, vitamins, or minerals...
to the
mouth
Mouth
The mouth is the first portion of the alimentary canal that receives food andsaliva. The oral mucosa is the mucous membrane epithelium lining the inside of the mouth....
or to hold food in place while cooking or cutting it. Food can be lifted either by spearing it on the tines, or by holding it on top of the tines, which are often curved slightly. For this latter function, in the American style of fork etiquette, the fork is held with tines curving up; however, in continental style, the fork is held with the tines curving down. A fork is also shaped in the form of a trident but curved at the joint of the handle to the points.
History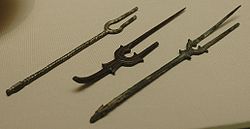 The word 'fork' comes from the Latin
furca
, meaning "
pitchfork
Pitchfork
A pitchfork is an agricultural tool with a long handle and long, thin, widely separated pointed tines used to lift and pitch loose material, such as hay, leaves, grapes, dung or other agricultural materials. Pitchforks typically have two or three tines...
." The ancient Greeks used the fork as a serving utensil, and it is also mentioned in the Hebrew Bible, in the Book of I Samuel 2:13 ("The custom of the priests with the people was that when any man offered sacrifice, the priest's servant came, while the fresh flesh was boiling, with a fork of three teeth in his hand..."). Bone forks had been found in the burial site of
Qijia culture
Qijia culture
The Qijia culture was an early Bronze Age culture distributed around the upper Yellow River region of western Gansu and eastern Qinghai, China, it is regarded as one of the earliest bronze cultures. Johan Gunnar Andersson discovered the initial site at Qijiaping in 1923...
as well as later Chinese dynasties' tombs.
In the
Roman Empire
Roman Empire
The Roman Empire was the post-Republican period of the ancient Roman civilization, characterised by an autocratic form of government and large territorial holdings in Europe and around the Mediterranean....
,
bronze
Bronze
Bronze is a metal alloy consisting primarily of copper, usually with tin as the main additive. It is hard and brittle, and it was particularly significant in antiquity, so much so that the Bronze Age was named after the metal...
and
silver
Silver
Silver is a metallic chemical element with the chemical symbol Ag and atomic number 47. A soft, white, lustrous transition metal, it has the highest electrical conductivity of any element and the highest thermal conductivity of any metal...
forks were used, indeed many examples are displayed in museums around Europe.. The use varied according to local customs, social class and the nature of food. In the western area, the fork is only occasionally mentioned in high medieval sources linked to
Byzantium
Byzantium
Byzantium was an ancient Greek city, founded by Greek colonists from Megara in 667 BC and named after their king Byzas . The name Byzantium is a Latinization of the original name Byzantion...
. It was not commonly used in Western Europe until the 16th century when it became part of the
etiquette
Etiquette
Etiquette is a code of behavior that delineates expectations for social behavior according to contemporary conventional norms within a society, social class, or group...
.
Before the fork was introduced, Westerners were reliant on the
spoon
Spoon
A spoon is a utensil consisting of a small shallow bowl, oval or round, at the end of a handle. A type of cutlery , especially as part of a place setting, it is used primarily for serving. Spoons are also used in food preparation to measure, mix, stir and toss ingredients...
and
knife
Knife
A knife is a cutting tool with an exposed cutting edge or blade, hand-held or otherwise, with or without a handle. Knives were used at least two-and-a-half million years ago, as evidenced by the Oldowan tools...
as the only eating utensils. Thus, people would largely eat food with their hands, calling for a common spoon when required. Members of the aristocracy would sometimes be accustomed to manners considered more proper and hold two knives at meals and use them both to cut and transfer food to the mouth, using the spoon for soups and broth.
The earliest forks usually had only two tines, but those with numerous tines caught on quickly. The tines on these implements were straight, meaning the fork could only be used for spearing food and not for scooping it. The fork allowed meat to be easily held in place while being cut. The fork also allowed one to spike a piece of meat and shake off any undesired excess of sauce or liquid before consuming it. Wider use of the table fork in Western Europe was facilitated by two Byzantine imperial princesses who married into the Western aristocracy: the Empress
Theophanu
Theophanu
Theophanu , also spelled Theophania, Theophana or Theophano, was born in Constantinople, and was the wife of Otto II, Holy Roman Emperor.-Family:...
, wife of Emperor Otto II, in 972, and the Dogaressa
Teodora Anna Dukaina Selvo
Teodora Anna Dukaina Selvo
Theodora Anna Doukaina was a Byzantine princess, the daughter of emperor Constantine X Dukas and his second wife Eudokia Makrembolitissa...
, wife of the
Doge of Venice
Doge of Venice
The Doge of Venice , often mistranslated Duke was the chief magistrate and leader of the Most Serene Republic of Venice for over a thousand years. Doges of Venice were elected for life by the city-state's aristocracy. Commonly the person selected as Doge was the shrewdest elder in the city...
Domenico Selvo
Domenico Selvo
Domenico Selvo was the 31st Doge of Venice, serving from 1071 to 1084. During his reign as Doge, his domestic policies, the alliances that he forged, and the battles that the Venetian military won and lost laid the foundations for much of the subsequent foreign and domestic policy of the Republic...
, in 1075.
By the 11th century, the table fork had made its way to
Italy
Italy
Italy , officially the Italian Republic languages]] under the European Charter for Regional or Minority Languages. In each of these, Italy's official name is as follows:;;;;;;;;), is a unitary parliamentary republic in South-Central Europe. To the north it borders France, Switzerland, Austria and...
. In Italy, it became quite popular by the 14th century, being commonly used for eating by merchant and upper classes by 1600. It was proper for a guest to arrive with his own fork and spoon enclosed in a box called a
cadena
; this usage was introduced to the French court with
Catherine de' Medici
Catherine de' Medici
Catherine de' Medici was an Italian noblewoman who was Queen consort of France from 1547 until 1559, as the wife of King Henry II of France....
's entourage.
In Portugal, forks began being used with Infanta Beatrice, Duchess of Viseu, king
Manuel I of Portugal
Manuel I of Portugal
Manuel I , the Fortunate , 14th king of Portugal and the Algarves was the son of Infante Ferdinand, Duke of Viseu, , by his wife, Infanta Beatrice of Portugal...
's mother . That happened around 1450.
Long after the personal table fork had become commonplace in France, at the supper celebrating the marriage of the
duc de Chartres
Philippe II, Duke of Orléans
Philippe d'Orléans was a member of the royal family of France and served as Regent of the Kingdom from 1715 to 1723. Born at his father's palace at Saint-Cloud, he was known from birth under the title of Duke of Chartres...
to Louis XIV's natural daughter in 1692, the seating was described in the court memoirs of
Saint-Simon
Louis de Rouvroy, duc de Saint-Simon
Louis de Rouvroy commonly known as Saint-Simon was a French soldier, diplomatist and writer of memoirs, was born in Paris...
: "
King James
James II of England
James II & VII was King of England and King of Ireland as James II and King of Scotland as James VII, from 6 February 1685. He was the last Catholic monarch to reign over the Kingdoms of England, Scotland, and Ireland...
having his Queen on his right hand and the
King
Louis XIV of France
Louis XIV , known as Louis the Great or the Sun King , was a Bourbon monarch who ruled as King of France and Navarre. His reign, from 1643 to his death in 1715, began at the age of four and lasted seventy-two years, three months, and eighteen days...
on his left, and each with their cadenas." In
Perrault
Charles Perrault
Charles Perrault was a French author who laid the foundations for a new literary genre, the fairy tale, with his works derived from pre-existing folk tales. The best known include Le Petit Chaperon rouge , Cendrillon , Le Chat Botté and La Barbe bleue...
's contemporaneous fairy tale of
La Belle au bois dormant
Sleeping Beauty
Sleeping Beauty by Charles Perrault or Little Briar Rose by the Brothers Grimm is a classic fairytale involving a beautiful princess, enchantment, and a handsome prince...
(1697), each of the fairies invited for the christening is presented with a splendid "Fork Holder."
The fork's adoption in northern
Europe
Europe
Europe is, by convention, one of the world's seven continents. Comprising the westernmost peninsula of Eurasia, Europe is generally 'divided' from Asia to its east by the watershed divides of the Ural and Caucasus Mountains, the Ural River, the Caspian and Black Seas, and the waterways connecting...
was slower. Its use was first described in English by
Thomas Coryat
Thomas Coryat
Thomas Coryat was an English traveller and writer of the late Elizabethan and early Jacobean age. He is principally remembered for two volumes of writings he left regarding his travels, often on foot, through Europe and parts of Asia...
in a volume of writings on his Italian travels (1611), but for many years it was viewed as an unmanly
Italian
Italian language
Italian is a Romance language spoken mainly in Europe: Italy, Switzerland, San Marino, Vatican City, by minorities in Malta, Monaco, Croatia, Slovenia, France, Libya, Eritrea, and Somalia, and by immigrant communities in the Americas and Australia...
affectation. Some writers of the
Roman Catholic Church
Roman Catholic Church
The Catholic Church, also known as the Roman Catholic Church, is the world's largest Christian church, with over a billion members. Led by the Pope, it defines its mission as spreading the gospel of Jesus Christ, administering the sacraments and exercising charity...
expressly disapproved of its use, seeing it as "excessive delicacy": "God in his wisdom has provided man with natural forks — his fingers. Therefore it is an insult to Him to substitute artificial metallic forks for them when eating." It was not until the 18th century that the fork became commonly used in
Great Britain
Great Britain
Great Britain or Britain is an island situated to the northwest of Continental Europe. It is the ninth largest island in the world, and the largest European island, as well as the largest of the British Isles...
, although some sources say forks were common in France, England and Sweden already by the early 17th century. The curved fork that is used in most parts of the world today, was developed in
Germany
Germany
Germany , officially the Federal Republic of Germany , is a federal parliamentary republic in Europe. The country consists of 16 states while the capital and largest city is Berlin. Germany covers an area of 357,021 km2 and has a largely temperate seasonal climate...
in the mid 18th century. The standard four-tine design became current in the early 19th century.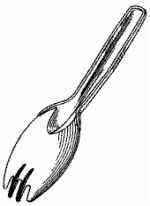 The 20th century also saw the emergence of the "
spork
Spork
A spork or a foon is a hybrid form of cutlery taking the form of a spoon-like shallow scoop with three or four fork tines. Spork-like utensils, such as the terrapin fork or ice cream fork, have been manufactured since the late 19th century; patents for spork-like designs date back to at least 1874,...
", a utensil that is half-fork and half-spoon. With this new "fork-spoon", only one piece of cutlery is needed when eating (so long as no knife is required). The back of the
spork
Spork
A spork or a foon is a hybrid form of cutlery taking the form of a spoon-like shallow scoop with three or four fork tines. Spork-like utensils, such as the terrapin fork or ice cream fork, have been manufactured since the late 19th century; patents for spork-like designs date back to at least 1874,...
is shaped like a spoon and can scoop food while the front has shortened tines like a fork, allowing spearing of food, making it convenient and easy to use. It has found popularity in
fast food
Fast food
Fast food is the term given to food that can be prepared and served very quickly. While any meal with low preparation time can be considered to be fast food, typically the term refers to food sold in a restaurant or store with preheated or precooked ingredients, and served to the customer in a...
and
military
Military
A military is an organization authorized by its greater society to use lethal force, usually including use of weapons, in defending its country by combating actual or perceived threats. The military may have additional functions of use to its greater society, such as advancing a political agenda e.g...
settings.
Types of forks
A fork used for picking up very thin slices of meat. This fork is shaped like a regular fork, but it is slightly bigger and the tines are curved outward. The curves are used for piercing the thin sliced beef.
A two-pronged fork used to hold meat steady while it is being carved

Meat carving

Meat carving is the process and skill of cutting portions of meat, such as roast and poultry, to obtain a maximum or satisfactory number of meat portions, using a carving knife or meat-slicing machine. A meat carver disjoints the meat and slices in uniform portions...


. They are often sold with carving knives or slicers as part of a carving set.
A two-pronged disposable fork, usually made out of sterile wood (though increasingly of plastic), specifically designed for the eating of chips (known as french fries in North America).
A small fork resembling a trident, used for spearing cocktail garnishes such as olives.

Cold meat fork
Crab fork

Crab fork

A Crab fork is a very small fork for extracting flesh from a crab or lobster. Crab forks may be special-purpose food utensils decorated or constructed specifically for crabs and lobsters, or may simply be very small forks sold or used for the purpose....




A short, sharp and narrow three-pronged or two-pronged fork designed to easily extract meat when consuming cooked crab

Crab

True crabs are decapod crustaceans of the infraorder Brachyura, which typically have a very short projecting "tail" , or where the reduced abdomen is entirely hidden under the thorax...


.

Dessert fork (alternatively, pudding fork/cake fork in Great Britain)

Any of several different special types of forks designed to eat desserts, such as a pastry fork. They usually have only three tines and are smaller than standard dinner forks. The leftmost tine may be widened so as to provide an edge with which to cut (though it is never sharpened).

Dinner fork
Fish fork
Fondue

Fondue

Fondue is a Swiss dish of melted cheese served in a communal pot over a spirit lamp , and eaten by dipping long-stemmed forks with bread into the cheese...


fork

A narrow fork, usually having two tines, long shaft and an insulating handle, typically of wood, for dipping bread into a pot containing sauce
A fork used which is used to pick up pieces of fruit such as grapes, strawberries, melon and other varies types of fruit.

Ice cream fork
Knork

Knork

A knork is a hybrid form of cutlery which combines the cutting capability of a knife and the spearing capability of a fork into a single utensil. The word knork is a portmanteau of knife and fork...




A utensil combining characteristics of a knife and a fork

Lunch fork
Meat fork
Olive fork
Oyster fork
Pastry fork

Pastry fork

A pastry fork, also known as a "pie fork", is a fork designed for eating pastries and other desserts while holding a plate. The fork has 3 or 4 tines...



Pickle fork

A long handled fork used for extracting pickles from a jar, or an alternative name for a ball joint

Ball joint

In an automobile, ball joints are spherical bearings that connect the control arms to the steering knuckles.More specifically, a ball joint is a steel bearing stud and socket enclosed in a steel casing. The bearing stud is tapered and threaded. It fits into a tapered hole in the steering knuckle. A...


separator tool used to unseat a ball joint.

Pie fork
Pitchfork

Pitchfork

A pitchfork is an agricultural tool with a long handle and long, thin, widely separated pointed tines used to lift and pitch loose material, such as hay, leaves, grapes, dung or other agricultural materials. Pitchforks typically have two or three tines...



Relish fork
Salad fork

Similar to a regular fork, but may be shorter, or have one of the outer tines shaped differently. Often, a "salad fork" in the silverware service of some restaurants (especially chains) may be simply a second fork; conversely, some restaurants may omit it, offering only one fork in their service.

Sporf

Sporf

A sporf is a generic term for a single eating utensil combining the properties of a spoon, fork, and knife. One popular brand was invented by William McArthur in the 1940s in Australia and sold with the brand name Splayd, another brand with a serrated edge is the Eazi-Eater-Shape:A sporf typically...




A utensil combining characteristics of a spoon, a fork and a knife

Spork

Spork

A spork or a foon is a hybrid form of cutlery taking the form of a spoon-like shallow scoop with three or four fork tines. Spork-like utensils, such as the terrapin fork or ice cream fork, have been manufactured since the late 19th century; patents for spork-like designs date back to at least 1874,...




A utensil combining characteristics of a spoon and a fork
A fork, usually having two tines, very long metal shaft and sometimes an insulating handle, for toasting food over coals or an open flame
Novelty forks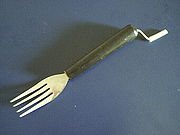 A long-tined fork with a telescopic handle, allowing for its extension or contraction.
A fork with a metal shaft loosely fitted inside a hollow plastic handle. The shaft protrudes through the top of the handle, ending in a bend that allows the metal part of the fork to be easily rotated with one hand while the other hand is holding the plastic handle. This supposedly allows spaghetti

Spaghetti

Spaghetti is a long, thin, cylindrical pasta of Italian origin. Spaghetti is made of semolina or flour and water. Italian dried spaghetti is made from durum wheat semolina, but outside of Italy it may be made with other kinds of flour...


to be easily wound onto the tines. Electric variations of this fork have become more prevalent in modern times.
See also
Further reading
A history of the evolution of fork design can be found in: Henry Petroski, The Evolution of Useful things (1992); ISBN 0-679-74039-2
External links