 European Car of the Year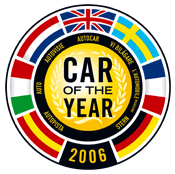 The
European Car of the Year

Car of the Year

Car of the Year is a phrase usually considered to have been invented by Motor Trend magazine in the 1950s for their annual award for best American automobile...



award was established in 1964 by a collective of
automobile magazine
Magazine
Magazines, periodicals, glossies or serials are publications, generally published on a regular schedule, containing a variety of articles. They are generally financed by advertising, by a purchase price, by pre-paid magazine subscriptions, or all three...
s from different countries in
Europe
Europe
Europe is, by convention, one of the world's seven continents. Comprising the westernmost peninsula of Eurasia, Europe is generally 'divided' from Asia to its east by the watershed divides of the Ural and Caucasus Mountains, the Ural River, the Caspian and Black Seas, and the waterways connecting...
. The current organisers of the award are
Auto
(
Italy
Italy
Italy , officially the Italian Republic languages]] under the European Charter for Regional or Minority Languages. In each of these, Italy's official name is as follows:;;;;;;;;), is a unitary parliamentary republic in South-Central Europe. To the north it borders France, Switzerland, Austria and...
),
Autocar
Autocar
Autocar is a weekly British automobile magazine published by Haymarket Motoring Publications Ltd. It refers to itself as "The World's oldest car magazine".-History:...
(
UK
United Kingdom
The United Kingdom of Great Britain and Northern IrelandIn the United Kingdom and Dependencies, other languages have been officially recognised as legitimate autochthonous languages under the European Charter for Regional or Minority Languages...
),
Autopista
(
Spain
Spain
Spain , officially the Kingdom of Spain languages]] under the European Charter for Regional or Minority Languages. In each of these, Spain's official name is as follows:;;;;;;), is a country and member state of the European Union located in southwestern Europe on the Iberian Peninsula...
),
Autovisie
(
Netherlands
Netherlands
The Netherlands is a constituent country of the Kingdom of the Netherlands, located mainly in North-West Europe and with several islands in the Caribbean. Mainland Netherlands borders the North Sea to the north and west, Belgium to the south, and Germany to the east, and shares maritime borders...
),
L'Automobile Magazine
(
France
France
The French Republic , The French Republic , The French Republic , (commonly known as France , is a unitary semi-presidential republic in Western Europe with several overseas territories and islands located on other continents and in the Indian, Pacific, and Atlantic oceans. Metropolitan France...
),
Stern
Stern (magazine)
Stern is a weekly news magazine published in Germany. It was founded in 1948 by Henri Nannen, and is currently published by Gruner + Jahr, a subsidiary of Bertelsmann. In the first quarter of 2006, its print run was 1.019 million copies and it reached 7.84 million readers according to...
(
Germany
Germany
Germany , officially the Federal Republic of Germany , is a federal parliamentary republic in Europe. The country consists of 16 states while the capital and largest city is Berlin. Germany covers an area of 357,021 km2 and has a largely temperate seasonal climate...
) and
Vi Bilägare
Vi Bilägare
Vi Bilägare is probably the biggest automobile magazine in Sweden. The magazine was launched in 1930 and is currently being published 18 times a year. Typical content includes automotive news and reports, new and used car reviews, test drives, DIY guides and automotive-related product tests....
(
Sweden
Sweden
Sweden , officially the Kingdom of Sweden , is a Nordic country on the Scandinavian Peninsula in Northern Europe. Sweden borders with Norway and Finland and is connected to Denmark by a bridge-tunnel across the Öresund....
).
The voting
jury
Jury
A jury is a sworn body of people convened to render an impartial verdict officially submitted to them by a court, or to set a penalty or judgment. Modern juries tend to be found in courts to ascertain the guilt, or lack thereof, in a crime. In Anglophone jurisdictions, the verdict may be guilty,...
consists of motoring
journalist
Journalist
A journalist collects and distributes news and other information. A journalist's work is referred to as journalism.A reporter is a type of journalist who researchs, writes, and reports on information to be presented in mass media, including print media , electronic media , and digital media A...
s from publications throughout Europe. Representation from each country is based on the size of the country's car market and car manufacturing industry. The jury for 2006 consisted of 58 members from 22 countries.
There are no categories or class winners — the stated objective is to find a "single, decisive winner" among all competing cars.
Current rules
Eligible cars are new models released in the twelve months prior to the award. The award is not restricted to European cars, but nominees must be available in at least five European countries, and have expected sales of 5,000 a year.
Nominees are judged on the following criteria: design, comfort, safety, economy, handling, performance, functionality, environmental requirements, driver satisfaction and price. Technical innovation and value for money are also important factors.
A shortlist of seven cars is selected by a simple vote. For the final round of voting, each jury member has 25 points to distribute among the finalists. The points must be distributed to at least five cars, with no more than ten to any one car, and no joint top marks. The voting is open, and each jury member provides published justification for their vote distribution.
Under these rules, the decisiveness of the victory has varied greatly.
For example, in 1988, the
Peugeot 405
won by 212 points, the biggest gap in the history of the
European Car of the Year
competition. In 2010 the
Volkswagen Polo
won by a mere 10 points, received maximum points from twenty-five jurors, and was the top choice of 59.
Results: 1964–2011
European Car of the Year
Year
Winner
Pts
Second
Pts
Third
Pts
1964
Rover 2000

Rover P6

The first P6 used a 2.0 L engine designed specifically for the P6. Although it was announced towards the end of 1963, the car had been in "pilot production" since the beginning of the year, therefore deliveries were able to begin immediately. Original output was in the order of . At the...



76
Mercedes 600

Mercedes-Benz 600

The Mercedes-Benz 600 is a large luxury automobile offered in several variants worldwide. Introduced in September 1963, it had very few competitors, these being Rolls-Royce, Bentley, Cadillac Fleetwood 75, the stretched Lehmann-Peterson Lincoln, and the Crown Imperial Ghia...



64
Hillman Imp

Hillman Imp

The Hillman Imp is a compact, rear-engined saloon car that was manufactured under the Hillman marque by the Rootes Group from 1963 to 1976...



31
1965
Austin 1800

Austin 1800

BMC ADO17 was the model code used by the British Motor Corporation for a range of cars produced from September 1964 to 1975 and sold initially under its Austin marque as the Austin 1800. The car was also sold as the Morris 1800 and Wolseley 18/85, and later as the Austin 2200, Morris 2200 and...



78
Autobianchi Primula

Autobianchi Primula

The Autobianchi Primula is a small car from the Italian automaker, Autobianchi , built between 1964 and 1970. It was Fiat's first automobile with the front-wheel drive, transverse engine setup, as well as the first Fiat group car with rack and pinion steering...



51
Ford Mustang

Ford Mustang

The Ford Mustang is an automobile manufactured by the Ford Motor Company. It was initially based on the second generation North American Ford Falcon, a compact car. Introduced early on April 17, 1964, as a "1964½" model, the 1965 Mustang was the automaker's most successful launch since the Model A...



18
1966
Renault 16

Renault 16

The Renault 16 is a hatchback produced by French automaker Renault between 1965 and 1980 in Le Havre, France. The reviewer in the May 1965 edition of the English "Motoring Illustrated" said: "The Renault Sixteen can thus be described as a large family car but one that is neither a four door saloon...



98
Rolls-Royce Silver Shadow

Rolls-Royce Silver Shadow

The Rolls-Royce Silver Shadow is a luxury car that was produced in Great Britain in various forms from 1965 to 1980. It was the first Rolls-Royce to use a monocoque chassis, a response to concerns that the company was falling behind in automotive innovation....



81
Oldsmobile Toronado

Oldsmobile Toronado

The original Toronado began as a design painting by Oldsmobile stylist David North in 1962. His design, dubbed the "Flame Red Car," was for a compact sports/personal car never intended for production...



59
1967
Fiat 124

Fiat 124

The Fiat 124 is a mid-sized family car produced by the Italian manufacturer Fiat between 1966 and 1974. It was the replacement of the Fiat 1300 and Fiat 1500...



144
BMW 1600
69
Jensen FF

Jensen FF

The Jensen FF was a four-wheel drive Grand Tourer car produced by the British manufacturer Jensen Motors between 1966 and 1971. It was the first non all-terrain production car equipped with 4WD and an anti-lock braking system — the Dunlop Maxaret mechanical system used hitherto only on...



61
1968
NSU Ro 80

NSU Ro 80

The NSU Ro 80 was a technologically advanced large sedan-type automobile produced by the German firm of NSU from 1967 until 1977. Most notable was the powertrain; a , 995 cc twin-rotor Wankel engine driving the front wheels through a semi-automatic transmission employing an innovative vacuum system...



197
Fiat 125

Fiat 125

The Fiat 125 is a large family car introduced by Fiat in 1967 and produced by them until 1972. Derivatives were built under license outside Italy until the 1990s...



133
Simca 1100

Simca 1100

The Simca 1100 is an automobile built from 1967 to 1982 by Chrysler Europe's division Simca. It was replaced by the Talbot Horizon.The 1100 was the result of "Project 928", started in 1962, finalized by engineers Philippe Grundeler and Charles Scales...



94
1969
Peugeot 504

Peugeot 504

The Peugeot 504 is a large family car manufactured by French automaker Peugeot between 1968 and 1983, with licensed production continuing until 2006.-1968 — introduction:...



119
BMW 2500/2800

BMW New Six

The BMW New Six is a line of six-cylinder luxury cars produced by the German automaker BMW from 1968 to 1977. The series was introduced as a response to the Mercedes-Benz-dominated large luxury car class and was very important in establishing BMW's reputation as a maker of sporting, luxury sedans....



77
Alfa Romeo 1750

Alfa Romeo 1750

The Alfa Romeo 1750/2000 is a medium-priced range of cars presented in 1967 by Alfa Romeo.The 1750 Berlina sedan was introduced in 1967, together with the 1750 GTV coupe and 2000 Spider. The 1750 models replaced the earlier 2600 Berlina, Sprint and Spider at the top of the Alfa Romeo range...



76
1970
Fiat 128

Fiat 128

The Fiat 128 is a small family car manufactured by the Italian manufacturer Fiat from 1969 to 1985. The engine was designed by the famous Ferrari racing engine designer Aurelio Lampredi.-History:...



235
Autobianchi A112

Autobianchi A112

The Autobianchi A112 is a supermini produced by the Italian automaker Autobianchi. It was developed using the mechanicals which subsequently underpinned the Fiat 127. It was introduced in 1969, as a replacement for the Bianchina and Primula, and was built until 1986, when it made way for the more...



96
Renault 12

Renault 12

The Renault 12 is a family car produced by French automaker Renault between 1969 and 1980. Available as a saloon and estate , it was also produced under licence in many countries across the globe into the early 21st century....



79
1971
Citroën GS

Citroën GS

The Citroën GS and Citroën GSA are small family cars produced by the French automaker Citroën. The GS was voted European Car of the Year for 1971, and was probably the most technologically advanced car in its class when launched, with class leading comfort, safety and aerodynamics.-Market...



233
Volkswagen K70

Volkswagen K70

The Volkswagen K70 is a sedan automobile developed by NSU and sold by Volkswagen from 1970 until February 1975. The K70 was the first VW to have a front-mounted watercooled engine and the first to have front wheel drive.-Development as an NSU:...



121
Citroën SM

Citroën SM

The Citroën SM is a high-performance coupé produced by the French manufacturer Citroën from 1970 to 1975. The SM placed third in the 1971 European Car of the Year contest, trailing its stablemate Citroën GS, and won the 1972 Motor Trend Car of the Year award in the U.S. in 1972.-History:In 1961,...



105
1972
Fiat 127

Fiat 127

The Fiat 127 is a supermini produced by the Italian automaker Fiat between 1971 and 1983. It was introduced in 1971 as the replacement for the Fiat 850...



239
Renault 15/17

Renault 15/17

The Renault 15 and Renault 17 are two variations of the same coupé designed and built by French automaker Renault between 1971 and 1980. The R17 was sold as R177 in Italy, respecting a superstition....



107
Mercedes 350SL

Mercedes-Benz SL-Class

The Mercedes-Benz SL is a grand tourer manufactured by Mercedes since 1954. The designation SL derives from the German Sport Leicht, or Sport Lightweight — and was first applied to the 300SL 'Gullwing' named also after its gullwing or upward-opening doors.The term SL-Class refers to the...



96
1973
Audi 80

Audi 80

The Audi 80 is a compact executive car produced by the German car manufacturer Audi, from 1966 to 1996. It shared its platform with the Volkswagen Passat from 1973 to 1986 and was available as a saloon car/sedan, and an Avant...



114
Renault 5

Renault 5

The Renault 5 was first unveiled on 10 December 1971, being launched at the beginning of 1972.The Renault 5 was styled by Michel Boué, who died before the car's release, the R5 featured a steeply sloping rear hatchback and front dashboard...



109
Alfa Romeo Alfetta

Alfa Romeo Alfetta

Alfa Romeo GTV redirects here. For 916 series GTV see Alfa Romeo GTV & SpiderThe Alfa Romeo Alfetta is an Italian rear-wheel drive executive saloon car and fastback coupé produced from 1972 until 1987 by Alfa Romeo...



95
1974
Mercedes 450S
115
Fiat X1/9

Fiat X1/9

The Fiat X1/9 is a two-seater mid-engined sports car designed by Bertone and manufactured by Fiat from 1972-1982 and subsequently by Bertone from 1982-1989....



99
Honda Civic

Honda Civic

The Honda Civic is a line of subcompact and subsequently compact cars made and manufactured by Honda. The Civic, along with the Accord and Prelude, comprised Honda's vehicles sold in North America until the 1990s, when the model lineup was expanded...



90
1975
Citroën CX

Citroën CX

The Citroën CX is an automobile produced by the French automaker Citroën from 1974 to 1991. Citroën sold nearly 1.2 million CXs during its 16 years of production. The CX was voted European Car of the Year in 1975....



229
Volkswagen Golf

Volkswagen Golf

The Volkswagen Golf is a small family car manufactured by Volkswagen since 1974 and marketed worldwide across six generations, in various body configurations and under various nameplates – as the Volkswagen Rabbit in the United States and Canada , and as the Volkswagen Caribe in Mexico .The...



164
Audi 50

Audi 50

The Audi 50 is a supermini produced by German automaker Audi from 1974 to 1978 and sold only in Europe. Introduced two or three years after the Italian Fiat 127 and the French Renault 5, the model was seen at the time as Germany's first home grown entrant in Europe's emerging "supermini"...



136
1976
Simca 1307-1308/Chrysler Alpine
192
BMW 3-series

BMW E21

BMW E21 is the body designation for the first BMW 3 Series compact executive car, produced by the German automaker BMW from 1975 to 1983. This series was the immediate successor to the BMW 2002 and was superseded by the BMW E30 platform....



144
Renault 30 TS

Renault 20/30

The Renault 20 and Renault 30 are two executive cars produced by the French automaker Renault between 1975 and 1984. The most upmarket and expensive Renaults of their time, the two cars were almost identical as regards sheet metal and mechanicals; the 30 was the larger engined and more expensive...



107
1977
Rover 3500

Rover SD1

Rover SD1 is both the code name and eventual production name given to a series of large executive cars made by British Leyland or BL through its Specialist, Rover Triumph and Austin Rover divisions from 1976 until 1986....



157
Audi 100

Audi 100

The restyled C2 Audi 100 was launched in 1976, with an in-line five-cylinder engine...



138
Ford Fiesta

Ford Fiesta

The Ford Fiesta is a front wheel drive supermini/subcompact manufactured and marketed by Ford Motor Company and built in Europe, Brazil, Argentina, Mexico, Venezuela, China, India, Thailand and South Africa...



135
1978
Porsche 928

Porsche 928

The Porsche 928 was a sports-GT car sold by Porsche AG of Germany from 1978 to 1995. Originally intended to replace the company's iconic 911, the 928 attempted to combine the power, poise, and handling of a sports car with the refinement, comfort, and equipment of a luxury sedan to create what some...



261
BMW 7-series

BMW E23

The BMW E23 is the first BMW 7 Series luxury car, produced by the German automaker BMW. Replacing the BMW E3 large sedan, the E23 was produced for ten years from 1977 to 1987 and was replaced by the BMW E32 7 Series in 1986.-Design and features:...



231
Ford Granada

Ford Granada (Europe)

The March 1972 released Granada succeeded the British Ford Zephyr, and the German P7-series as Ford's European executive car offering. At first, lower models in the range were called the Ford Consul, but from 1975 on they were all called Granadas. The car soon became popular for taxi, fleet and...



203
1979
Simca/Chrysler Horizon

Chrysler Horizon

The Horizon was a subcompact automobile developed by Chrysler Europe and was sold in Europe between 1977 and 1985 under the Chrysler, Simca and Talbot nameplates...



251
Fiat Ritmo

Fiat Ritmo

The Fiat Ritmo is an automobile from the Italian manufacturer Fiat, launched in 1978. Styled by Bertone of Italy, it was seen by some as the most distinctive looking small family car in Europe on its launch in 1978 Turin Motorshow. It was badged in Great Britain and North America as the Fiat Strada...



239
Audi 80

Audi 80

The Audi 80 is a compact executive car produced by the German car manufacturer Audi, from 1966 to 1996. It shared its platform with the Volkswagen Passat from 1973 to 1986 and was available as a saloon car/sedan, and an Avant...



181
1980
Lancia Delta

Lancia Delta

The Lancia Delta is a small family car produced by Italian automaker Lancia with the first generation being produced between 1979 and 1994, the second generation running from 1993 until 1999, and the third generation Delta entering production in 2008. It was first shown inFrankfurt Motor Show in 1979...



369
Opel Kadett

Opel Kadett

The Opel Kadett is a small family car produced by the German automobile manufacturer Opel between 1937 and 1940, and then again from 1962 until 1991 , when it was replaced by the Opel Astra.-Original model :...


/Vauxhall Astra

Vauxhall Astra

Astra is a model name which has been used by Vauxhall, the British subsidiary of General Motors , on their small family car ranges since 1979. Astras are technically essentially identical with similar vehicles offered by GM's German subsidiary Opel in most other European countries...



301
Peugeot 505

Peugeot 505

The Peugeot 505 is a large family car produced by the French manufacturer Peugeot from 1979 to 1992 in Sochaux, France. The 505 was Peugeot's last rear-wheel drive car...



199
1981
Ford Escort

Ford Escort (European)

The Mark I Ford Escort was introduced in the United Kingdom at the end of 1967, making its show debut at Brussels Motor Show in January 1968. It replaced the successful long running Anglia. The car was presented in continental Europe as a product of Ford's European operation...



326
Fiat Panda

Fiat Panda

The Fiat Panda is a city car from the Italian automobile manufacturer Fiat. The first Fiat Panda was introduced in 1980, and was produced until 2003 with only a few changes. It is now sometimes referred to as the "old Panda". The second model, launched in 2003, is sometimes referred to "New Panda"...



308
Austin Metro
255
1982
Renault 9
335
Opel Ascona

Opel Ascona

The Opel Ascona was a mid-sized car produced by Opel. It had three generations produced from 1970 to 1988. In motorsport, the Ascona 400 rally car driven by Walter Röhrl won the World Rally Championship drivers' title in the 1982 season....


/Vauxhall Cavalier

Vauxhall Cavalier

The Vauxhall Cavalier is a large family car sold primarily in the UK by Vauxhall Motors, the British division of General Motors , from 1975 to 1995...



304
Volkswagen Polo

Volkswagen Polo

The Volkswagen Polo is a supermini car manufactured by Volkswagen. It is sold in Europe and other markets worldwide in hatchback, saloon, coupé and estate variants....



252
1983
Audi 100

Audi 100

The restyled C2 Audi 100 was launched in 1976, with an in-line five-cylinder engine...



410
Ford Sierra

Ford Sierra

The Ford Sierra is a large family car that was built by Ford Europe from 1982 until 1993. It was designed by Uwe Bahnsen, Robert Lutz and Patrick le Quément. The code used during development was "Project Toni"....



386
Volvo 760
157
1984
Fiat Uno

Fiat Uno

The Fiat Uno is a supermini car produced by the Italian manufacturer Fiat. The Uno was launched in 1983 and built in its homeland until 1995, with production still taking place in other countries.-First series :...



346
Peugeot 205

Peugeot 205

The Peugeot 205 is a supermini produced by the French car manufacturer Peugeot between 1983 and 1998. It was declared 'Car of the Decade' by CAR magazine in 1990. The 205 won 1984 What Car? car of the year.-History:...



325
Volkswagen Golf

Volkswagen Golf

The Volkswagen Golf is a small family car manufactured by Volkswagen since 1974 and marketed worldwide across six generations, in various body configurations and under various nameplates – as the Volkswagen Rabbit in the United States and Canada , and as the Volkswagen Caribe in Mexico .The...



156
1985
Opel Kadett

Opel Kadett

The Opel Kadett is a small family car produced by the German automobile manufacturer Opel between 1937 and 1940, and then again from 1962 until 1991 , when it was replaced by the Opel Astra.-Original model :...


/Vauxhall Astra

Vauxhall Astra

Astra is a model name which has been used by Vauxhall, the British subsidiary of General Motors , on their small family car ranges since 1979. Astras are technically essentially identical with similar vehicles offered by GM's German subsidiary Opel in most other European countries...



326
Renault 25

Renault 25

The Renault 25 is an executive car produced by the French automaker Renault from 1983 to 1992. During its time, the 25 was Renault's flagship, the most expensive, prestigious, and largest vehicle in the company's line-up. It placed second in the 1985 European Car of the Year contest...



261
Lancia Thema

Lancia Thema

The Lancia Thema is an executive car produced by the Italian automaker Lancia between 1984 and 1994, and one of four cars to share the Type Four platform alongside the Alfa Romeo 164, Fiat Croma and Saab 9000...



191
1986
Ford Scorpio/Granada

Ford Scorpio

The Ford Scorpio is an automobile that was produced by the Ford Motor Company from 1985 through to 1998.It was the replacement for the European Ford Granada line...



337
Lancia Y10
291
Mercedes-Benz 200-300E

Mercedes-Benz W124

W124 is the Mercedes-Benz internal chassis-designation for the 1985 to 1995 version of the Mercedes-Benz E-Class. The W124 models replaced the W123 models after 1985 and were superseded by the W210 E-Class after 1995.-History:...



273
1987
Opel Omega

Opel Omega

The Opel Omega was an executive car marketed by the German automaker Opel between 1986 and 2003 in two generations, both manufactured at Opel's Rüsselsheim, Germany plant. The first generation, the Omega A , superseded the Opel Rekord, was voted European Car of the Year for 1987, and was available...


/Vauxhall Carlton

Vauxhall Carlton

The Vauxhall Carlton was an executive car that was sold by Vauxhall in the United Kingdom from 1978 to 1994.-Mark I :The first Vauxhall Carlton was introduced in late 1978 as a replacement for the ageing VX1800/VX2000 saloons...



275
Audi 80

Audi 80

The Audi 80 is a compact executive car produced by the German car manufacturer Audi, from 1966 to 1996. It shared its platform with the Volkswagen Passat from 1973 to 1986 and was available as a saloon car/sedan, and an Avant...



238
BMW 7-series

BMW E32

After almost 7 years in development since September 1979, in July 1986, BMW introduced the second generation of the 7 series, known internally as the E32. Aimed at the high end of the luxury market, the car offered some of the latest innovations in automotive technology, and a new, top-of-the-line...



175
1988
Peugeot 405

Peugeot 405

The Peugeot 405 is a large family car released by the French automaker Peugeot in July 1987 and which continues to be manufactured under licence outside France. It used TU/XU petrol and XUD diesel engines....



464
Citroën AX

Citroën AX

The Citroën AX is a supermini built by the French manufacturer Citroën from 1986 to 1998. The AX was launched at the 1986 Paris Motor Show to replace the Citroën Visa and Citroën LNA.-Overview:...



252
Honda Prelude

Honda Prelude

The Honda Prelude was a sports coupe produced by Japanese automaker Honda from 1978 until 2001. It replaced the Honda S800, a front-engined, front wheel drive sports car...



234
1989
Fiat Tipo

Fiat Tipo

The Fiat Tipo is a small family car designed by the IDEA design house and produced by the Italian manufacturer Fiat between 1988 and 1995.The Tipo was initially available only as a five-door hatchback. The car was made entirely out of galvanized body panels to avoid rust, and was built on a...



356
Opel Vectra

Opel Vectra

The Opel Vectra is a large family car that was engineered and produced by Opel. In the United Kingdom, the car was sold under the Vauxhall marque as the Vauxhall Cavalier and later as the Vauxhall Vectra, from 1995 onwards...


/Vauxhall Cavalier

Vauxhall Cavalier

The Vauxhall Cavalier is a large family car sold primarily in the UK by Vauxhall Motors, the British division of General Motors , from 1975 to 1995...



261
Volkswagen Passat

Volkswagen Passat

The Volkswagen Passat is a large family car marketed by Volkswagen Passenger Cars through six design generations since 1973. Between the Volkswagen Golf / Volkswagen Jetta and the Volkswagen Phaeton in the current Volkswagen line-up, the Passat and its derivatives have been badged variously as...



194
1990
Citroën XM

Citroën XM

The Citroën XM is an executive car that was produced by the French automaker Citroën between 1989 and 2000. Citroën sold 333,775 XMs during the model's 11 years of production...



390
Mercedes-Benz SL

Mercedes-Benz SL-Class

The Mercedes-Benz SL is a grand tourer manufactured by Mercedes since 1954. The designation SL derives from the German Sport Leicht, or Sport Lightweight — and was first applied to the 300SL 'Gullwing' named also after its gullwing or upward-opening doors.The term SL-Class refers to the...



215
Ford Fiesta

Ford Fiesta

The Ford Fiesta is a front wheel drive supermini/subcompact manufactured and marketed by Ford Motor Company and built in Europe, Brazil, Argentina, Mexico, Venezuela, China, India, Thailand and South Africa...



214
1991
Renault Clio

Renault Clio

The Renault Clio is a supermini car produced by the French automobile manufacturer Renault. Originally launched in 1990, it is currently in its third generation...



312
Nissan Primera

Nissan Primera

The Nissan Primera is a medium sized family car produced by the Japanese automaker Nissan for the Japanese domestic and European markets.-Nissan Primera P10 :...



258
Opel/Vauxhall Calibra

Opel Calibra

The Opel Calibra, also known as the Vauxhall Calibra in the United Kingdom, the Chevrolet Calibra in South America, and the Holden Calibra in Australia and New Zealand is a sports car engineered and produced by German automaker Opel between 1989 and 1997, but sold until 1999 in the UK...



183
1992
Volkswagen Golf

Volkswagen Golf

The Volkswagen Golf is a small family car manufactured by Volkswagen since 1974 and marketed worldwide across six generations, in various body configurations and under various nameplates – as the Volkswagen Rabbit in the United States and Canada , and as the Volkswagen Caribe in Mexico .The...



276
Opel/Vauxhall Astra

Opel Astra

The Opel Astra is a small family car engineered and manufactured by the German automaker Opel since 1991.It is branded as Vauxhall Astra in the United Kingdom, the Buick Excelle XT in China and the Chevrolet Astra/Vectra in Latin America...



231
Citroën ZX

Citroën ZX

The Citroën ZX is a small family car produced by the French manufacturer Citroën between 1991 and 1998.During the 1990s, the ZX was Citroën's competitor in the class traditionally dominated in Europe by the Ford Escort and Vauxhall/Opel Astra, a market segment Citroën had moved away from when the...



213
1993
Nissan Micra
338
Fiat Cinquecento

Fiat Cinquecento

The Fiat Cinquecento was a city car designed by Giorgetto Giugiaro launched by Fiat in late 1991 to replace the Fiat 126. It was the first Fiat model to be solely manufactured in the FSM plant in Tychy, Poland, which had been sold to Fiat by the Polish state, and where production of the Polish...



304
Renault Safrane

Renault Safrane

The Renault Safrane was an executive car designed and built by the French manufacturer Renault from 1992 to 2000. Throughout its lifespan it remained the most expensive and most luxurious Renault available...



244
1994
Ford Mondeo

Ford Mondeo

The Mondeo was launched on 8 January 1993, and sales began on 22 March 1993. Available as a four-door saloon, a five-door hatchback, and a five-door estate, all models for the European market were produced at Ford's plant in the Belgian city of Genk...



290
Citroën Xantia

Citroën Xantia

The Citroën Xantia, pronounced 'Zan-tia' is a large family car produced by the French automaker Citroën. First seen at the end of 1992, the car was produced between 1993 and 2001, with a facelift in 1998. Citroën sold over 1.2 million Xantias during its 8 years of production...



264
Mercedes-Benz C

Mercedes-Benz C-Class

The Mercedes-Benz C-Class is a compact executive car produced by the Mercedes-Benz division of Daimler AG. First introduced in 1993 as a replacement for the 190 range , the C-Class was the smallest model in the marque's lineup until the 1997 arrival of the A-Class...



192
1995
Fiat Punto

Fiat Punto

The Fiat Punto is a supermini produced by the Italian manufacturer, Fiat, since 1993.-1st generation :Internally codenamed Project 176, the Punto was announced in September 1993 and launched in late 1993 as a replacement for the ageing Fiat Uno. The Fiat Punto was voted European Car of the Year...



370
Volkswagen Polo

Volkswagen Polo

The Volkswagen Polo is a supermini car manufactured by Volkswagen. It is sold in Europe and other markets worldwide in hatchback, saloon, coupé and estate variants....



292
Opel/Vauxhall Omega

Opel Omega

The Opel Omega was an executive car marketed by the German automaker Opel between 1986 and 2003 in two generations, both manufactured at Opel's Rüsselsheim, Germany plant. The first generation, the Omega A , superseded the Opel Rekord, was voted European Car of the Year for 1987, and was available...



272
1996
Fiat Bravo/Brava

Fiat Bravo/Brava

The Fiat Bravo and Fiat Brava are small family cars produced by the Italian automaker Fiat from 1995 to 2001. The name was revived for 2007 with an all-new replacement for the Stilo; the new version will use only the Bravo name and is not available with three doors...



378
Peugeot 406

Peugeot 406

The Peugeot 406 was a large family car made by the French automaker Peugeot from 1995 to 2004. Available in saloon, estate and coupé bodystyles with a choice of petrol or turbodiesel engines, the 406 replaced the Peugeot 405 in Peugeot's lineup, and was itself replaced by the Peugeot 407...



363
Audi A4

Audi A4

The first generation Audi A4 debuted in 1994, with production starting November 1994. It was built on the Volkswagen Group B5 platform, which it shared with the fourth generation Volkswagen Passat . It had a front-mounted longitudinal engine and front-wheel drive...



246
1997
Renault Mégane Scénic
405
Ford Ka

Ford Ka

The Ford Ka is a city car from the Ford Motor Company marketed in Europe and elsewhere.The current European version is produced by Fiat Auto in Tychy, Poland, while the model sold in Latin America is built in Brazil and Argentina....



293
Volkswagen Passat

Volkswagen Passat

The Volkswagen Passat is a large family car marketed by Volkswagen Passenger Cars through six design generations since 1973. Between the Volkswagen Golf / Volkswagen Jetta and the Volkswagen Phaeton in the current Volkswagen line-up, the Passat and its derivatives have been badged variously as...



248
1998
Alfa Romeo 156

Alfa Romeo 156

The Alfa Romeo 156 is a compact executive car introduced by Italian automaker Alfa Romeo at the 1997 Frankfurt Motor Show as the replacement for the Alfa Romeo 155...



454
Volkswagen Golf

Volkswagen Golf

The Volkswagen Golf is a small family car manufactured by Volkswagen since 1974 and marketed worldwide across six generations, in various body configurations and under various nameplates – as the Volkswagen Rabbit in the United States and Canada , and as the Volkswagen Caribe in Mexico .The...



266
Audi A6

Audi A6

The Audi A6 is an executive car marketed by the German automaker Audi AG, now in its fourth generation. As the successor to the Audi 100, the A6 is manufactured in Neckarsulm, Germany – and is available in saloon, and wagon configurations, the latter marketed by Audi as the Avant.All generations...



265
1999
Ford Focus
444
Opel/Vauxhall Astra

Opel Astra

The Opel Astra is a small family car engineered and manufactured by the German automaker Opel since 1991.It is branded as Vauxhall Astra in the United Kingdom, the Buick Excelle XT in China and the Chevrolet Astra/Vectra in Latin America...



269
Peugeot 206

Peugeot 206

The Peugeot 206 is a supermini car, manufactured by the French automaker Peugeot from 1998 to 2010.Even though the 206 has finished production in most markets as of 2010, in Europe since 2009, it is available the 206+, with a back and especially a front design that resembles the Peugeot 207.-The...



248
2000
Toyota Yaris

Toyota Yaris

The Toyota Yaris is a subcompact car produced by Toyota since 1999. Between 1999 and 2005, some markets received the same vehicles under the Toyota Echo name...



344
Fiat Multipla

Fiat Multipla

The Fiat Multipla is a compact MPV manufactured by Italian automaker Fiat since 1998. Based on the Brava, the Multipla is shorter and wider than its rivals. It has two rows of three seats, while all its competitors have two seats in the front...



325
Opel/Vauxhall Zafira

Opel Zafira

The Opel Zafira is a compact MPV engineered and produced by the German automaker Opel. The Zafira is sold under the Vauxhall marque in the United Kingdom.- Zafira A :...



265
2001
Alfa Romeo 147

Alfa Romeo 147

The Alfa Romeo 147 is a small family car produced by Italian automaker Alfa Romeo from 2000 to 2010. The 147 was voted European Car of the Year for 2001, beating the Ford Mondeo and the Toyota Prius....



238
Ford Mondeo

Ford Mondeo

The Mondeo was launched on 8 January 1993, and sales began on 22 March 1993. Available as a four-door saloon, a five-door hatchback, and a five-door estate, all models for the European market were produced at Ford's plant in the Belgian city of Genk...



237
Toyota Prius

Toyota Prius

The Toyota Prius is a full hybrid electric mid-size hatchback, formerly a compact sedan developed and manufactured by the Toyota Motor Corporation...



229
2002
Peugeot 307

Peugeot 307

The Peugeot 307 is a small family car produced by the French Peugeot manufacturer since 2001. It was awarded the European Car of the Year title for 2002, and continues to be offered in China and certain South American markets through 2009 despite the French launch of the 308 in September...



286
Renault Laguna

Renault Laguna

The Renault Laguna is a large family car produced by the French manufacturer Renault. The first Laguna was launched in 1993, the second generation was launched in 2000, and the third generation was made available for sale in October 2007....



244
Fiat Stilo

Fiat Stilo

The Fiat Stilo is a small family car available as a 3-door and a 5-door hatchback, as well as an estate , produced by the Italian automaker Fiat Automobiles. The Stilo 3-door and 5-door were launched in 2001 to replace the Fiat Bravo/Brava, with the Stilo MultiWagon following in 2002...



243
2003
Renault Mégane

Renault Mégane

The Renault Mégane is a small family car produced by the French automaker Renault since 1995. It is offered in 3- and 5-door hatchback, saloon, coupé, convertible and estate bodystyles...



322
Mazda 6
302
Citroën C3

Citroën C3

The Citroën C3 is a supermini car equipped with a range of inline-four engines that has been produced by the French automaker Citroën since 2002. It was designed by Donato Coco and Jean-Pierre Ploué, previously known for designing the first generation Renault Twingo; the former has been the head of...



214
2004
Fiat Panda

Fiat Panda

The Fiat Panda is a city car from the Italian automobile manufacturer Fiat. The first Fiat Panda was introduced in 1980, and was produced until 2003 with only a few changes. It is now sometimes referred to as the "old Panda". The second model, launched in 2003, is sometimes referred to "New Panda"...



281
Mazda 3
241
Volkswagen Golf

Volkswagen Golf

The Volkswagen Golf is a small family car manufactured by Volkswagen since 1974 and marketed worldwide across six generations, in various body configurations and under various nameplates – as the Volkswagen Rabbit in the United States and Canada , and as the Volkswagen Caribe in Mexico .The...



241
2005
Toyota Prius

Toyota Prius

The Toyota Prius is a full hybrid electric mid-size hatchback, formerly a compact sedan developed and manufactured by the Toyota Motor Corporation...



406
Citroën C4

Citroën C4

The Citroën C4 is a small family car produced by French automaker Citroën since autumn 2004. The C4 was designed to be the successor to the Citroën Xsara. It is mechanically similar to the Peugeot 308, which was launched in 2007. A revised version with new front end, reverse light and dashboard...



267
Ford Focus
228
2006
Renault Clio

Renault Clio

The Renault Clio is a supermini car produced by the French automobile manufacturer Renault. Originally launched in 1990, it is currently in its third generation...



256
Volkswagen Passat

Volkswagen Passat

The Volkswagen Passat is a large family car marketed by Volkswagen Passenger Cars through six design generations since 1973. Between the Volkswagen Golf / Volkswagen Jetta and the Volkswagen Phaeton in the current Volkswagen line-up, the Passat and its derivatives have been badged variously as...



251
Alfa Romeo 159

Alfa Romeo 159

The Alfa Romeo 159 is a compact executive car produced by the Italian manufacturer Alfa Romeo between 2005 and 2011. The 159 was introduced in production form at the 2005 Geneva Motor Show as a replacement for the successful Alfa Romeo 156. The 159 uses the GM/Fiat Premium platform, shared with...



212
2007
Ford S-Max

Ford S-MAX

The Ford S-Max is an MPV/saloon produced by the Ford Motor Company for the European market and by Chang'an Ford Automobile Co., Ltd for the Chinese market. Introduced at the 2006 Geneva Motor Show, the S-Max went on sale alongside the new generation Galaxy in June 2006. It is intended to be...



235
Opel/Vauxhall Corsa

Opel Corsa

The front-wheel drive Opel Corsa was first launched in September 1982 to replace the Opel Kadett C City, and to fill the gap vacated as the Kadett grew in size and price. Built in Zaragoza, Spain, the first Corsas were three-door hatchback and two-door saloon models, with four-door and five-door...



233
Citroën C4 Picasso

Citroën C4 Picasso

The Citroën C4 Picasso is a range of two compact MPVs, a five-seater and a seven-seater , unveiled by French automaker Citroën in August 2006 and presented at the 2006 Paris Motor Show in September 2006 for the seven-seater, and in January 2007 for the five-seater...



222
2008
Fiat 500

Fiat Nuova 500

The Fiat 500 or Fiat Nuova 500 is a city car built by Italian automaker Fiat since 2007. The car is currently produced in Tychy, Poland by Fiat Auto Poland S.A. and in Toluca, Mexico, by Chrysler Group LLC. The four-seater, three-door hatchback 500 is almost identical to the retro concept car...



385
Mazda2
325
Ford Mondeo

Ford Mondeo

The Mondeo was launched on 8 January 1993, and sales began on 22 March 1993. Available as a four-door saloon, a five-door hatchback, and a five-door estate, all models for the European market were produced at Ford's plant in the Belgian city of Genk...



202
2009
Opel/Vauxhall Insignia

Opel Insignia

The Opel Insignia is a large family car engineered and produced by the German automaker Opel. Production of the Insignia began in 2008 as a replacement for the Opel Vectra. Opel launched the vehicle at the 2008 British International Motor Show in London as the Vauxhall Insignia, reflecting the...



321
Ford Fiesta

Ford Fiesta

The Ford Fiesta is a front wheel drive supermini/subcompact manufactured and marketed by Ford Motor Company and built in Europe, Brazil, Argentina, Mexico, Venezuela, China, India, Thailand and South Africa...



320
Volkswagen Golf

Volkswagen Golf

The Volkswagen Golf is a small family car manufactured by Volkswagen since 1974 and marketed worldwide across six generations, in various body configurations and under various nameplates – as the Volkswagen Rabbit in the United States and Canada , and as the Volkswagen Caribe in Mexico .The...



223
2010
Volkswagen Polo

Volkswagen Polo Mk5

The Volkswagen Polo Mk5 is the fifth generation of the Volkswagen Polo supermini-class car, launched by Volkswagen in March 2009.The Mark 5 Polo, internally designated Typ 6R, is based on Volkswagen's PQ25 platform, shared with the 2008 SEAT Ibiza and the Audi A1...



347
Toyota iQ

Toyota iQ

The Toyota iQ is a city car introduced at the 2008 Geneva Auto Show, with Japanese sales having begun in October 2008 and European sales in January 2009. The production iQ followed a concept vehicle presented at the 2007 Frankfurt Auto Show. A North American version of the iQ, branded as the Scion...



337
Opel/Vauxhall Astra

Opel Astra

The Opel Astra is a small family car engineered and manufactured by the German automaker Opel since 1991.It is branded as Vauxhall Astra in the United Kingdom, the Buick Excelle XT in China and the Chevrolet Astra/Vectra in Latin America...



221
2011
Nissan Leaf

Nissan Leaf

Nissan introduced its first battery electric vehicle, the Nissan Altra at the Los Angeles International Auto Show on 29 December 1997. The Altra EV was produced between 1998 and 2002, only about 200 vehicles were ever produced, and it was mainly used as a fleet vehicle for companies such as...



257
Alfa Romeo Giulietta
248
Opel/Vauxhall Meriva

Opel Meriva

The Opel Meriva is a compact MPV engineered and produced by the German automaker Opel. The car is sold under the Opel brand on all of the European markets with the exception of the United Kingdom, where it is called the Vauxhall Meriva, and Latin America, where it carried the Chevrolet badge. It...



244
Winners sorted by manufacturer
Manufacturer
Wins
Winning Cars
Alfa Romeo

Alfa Romeo

Alfa Romeo Automobiles S.p.A. is an Italian manufacturer of cars. Founded as A.L.F.A. on June 24, 1910, in Milan, the company has been involved in car racing since 1911, and has a reputation for building expensive sports cars...



2
156

Alfa Romeo 156

The Alfa Romeo 156 is a compact executive car introduced by Italian automaker Alfa Romeo at the 1997 Frankfurt Motor Show as the replacement for the Alfa Romeo 155...


(1998); 147

Alfa Romeo 147

The Alfa Romeo 147 is a small family car produced by Italian automaker Alfa Romeo from 2000 to 2010. The 147 was voted European Car of the Year for 2001, beating the Ford Mondeo and the Toyota Prius....


(2001)
Audi

Audi

Audi AG is a German automobile manufacturer, from supermini to crossover SUVs in various body styles and price ranges that are marketed under the Audi brand , positioned as the premium brand within the Volkswagen Group....



2
80

Audi 80

The Audi 80 is a compact executive car produced by the German car manufacturer Audi, from 1966 to 1996. It shared its platform with the Volkswagen Passat from 1973 to 1986 and was available as a saloon car/sedan, and an Avant...


(1973); 100

Audi 100

The restyled C2 Audi 100 was launched in 1976, with an in-line five-cylinder engine...


(1983)
Austin

Austin Motor Company

The Austin Motor Company was a British manufacturer of automobiles. The company was founded in 1905 and merged in 1952 into the British Motor Corporation Ltd. The marque Austin was used until 1987...



1
1800

Austin 1800

BMC ADO17 was the model code used by the British Motor Corporation for a range of cars produced from September 1964 to 1975 and sold initially under its Austin marque as the Austin 1800. The car was also sold as the Morris 1800 and Wolseley 18/85, and later as the Austin 2200, Morris 2200 and...


(1965)
Chrysler

Chrysler Europe

Chrysler Europe was a division of the Chrysler Corporation that operated between 1967 and 1979.-Formation:In the 1960s, Chrysler sought to become a world producer of automobiles. The company had never had much success outside North America, contrasting with Ford's worldwide reach and General...


/Simca

Simca

Simca was a French automaker, founded in November 1934 by Fiat. It was directed from July 1935 to May 1963 by the Italian Henri Théodore Pigozzi...



2
Alpine/1307-1308

Simca 1307

The Simca 1307 was the name under which Chrysler Europe launched its new large family car in July 1975.A modern, front-wheel drive hatchback, it was one of the first such cars in that class, along with the Volkswagen Passat, and became the 1976 European Car of the Year...


(1976); Horizon (1979)
Citroën

Citroën

Citroën is a major French automobile manufacturer, part of the PSA Peugeot Citroën group.Founded in 1919 by French industrialist André-Gustave Citroën , Citroën was the first mass-production car company outside the USA and pioneered the modern concept of creating a sales and services network that...



3
GS

Citroën GS

The Citroën GS and Citroën GSA are small family cars produced by the French automaker Citroën. The GS was voted European Car of the Year for 1971, and was probably the most technologically advanced car in its class when launched, with class leading comfort, safety and aerodynamics.-Market...


(1971); CX

Citroën CX

The Citroën CX is an automobile produced by the French automaker Citroën from 1974 to 1991. Citroën sold nearly 1.2 million CXs during its 16 years of production. The CX was voted European Car of the Year in 1975....


(1975); XM

Citroën XM

The Citroën XM is an executive car that was produced by the French automaker Citroën between 1989 and 2000. Citroën sold 333,775 XMs during the model's 11 years of production...


(1990);
Fiat

Fiat

FIAT, an acronym for Fabbrica Italiana Automobili Torino , is an Italian automobile manufacturer, engine manufacturer, financial, and industrial group based in Turin in the Italian region of Piedmont. Fiat was founded in 1899 by a group of investors including Giovanni Agnelli...



9
124

Fiat 124

The Fiat 124 is a mid-sized family car produced by the Italian manufacturer Fiat between 1966 and 1974. It was the replacement of the Fiat 1300 and Fiat 1500...


(1967); 128

Fiat 128

The Fiat 128 is a small family car manufactured by the Italian manufacturer Fiat from 1969 to 1985. The engine was designed by the famous Ferrari racing engine designer Aurelio Lampredi.-History:...


(1970); 127

Fiat 127

The Fiat 127 is a supermini produced by the Italian automaker Fiat between 1971 and 1983. It was introduced in 1971 as the replacement for the Fiat 850...


(1972); Uno

Fiat Uno

The Fiat Uno is a supermini car produced by the Italian manufacturer Fiat. The Uno was launched in 1983 and built in its homeland until 1995, with production still taking place in other countries.-First series :...


(1984); Tipo

Fiat Tipo

The Fiat Tipo is a small family car designed by the IDEA design house and produced by the Italian manufacturer Fiat between 1988 and 1995.The Tipo was initially available only as a five-door hatchback. The car was made entirely out of galvanized body panels to avoid rust, and was built on a...


(1989); Punto

Fiat Punto

The Fiat Punto is a supermini produced by the Italian manufacturer, Fiat, since 1993.-1st generation :Internally codenamed Project 176, the Punto was announced in September 1993 and launched in late 1993 as a replacement for the ageing Fiat Uno. The Fiat Punto was voted European Car of the Year...


(1995); Bravo/Brava

Fiat Bravo/Brava

The Fiat Bravo and Fiat Brava are small family cars produced by the Italian automaker Fiat from 1995 to 2001. The name was revived for 2007 with an all-new replacement for the Stilo; the new version will use only the Bravo name and is not available with three doors...


(1996); Panda

Fiat Panda

The Fiat Panda is a city car from the Italian automobile manufacturer Fiat. The first Fiat Panda was introduced in 1980, and was produced until 2003 with only a few changes. It is now sometimes referred to as the "old Panda". The second model, launched in 2003, is sometimes referred to "New Panda"...


(2004); 500

Fiat Nuova 500

The Fiat 500 or Fiat Nuova 500 is a city car built by Italian automaker Fiat since 2007. The car is currently produced in Tychy, Poland by Fiat Auto Poland S.A. and in Toluca, Mexico, by Chrysler Group LLC. The four-seater, three-door hatchback 500 is almost identical to the retro concept car...


(2008)
Ford
5
Escort

Ford Escort (European)

The Mark I Ford Escort was introduced in the United Kingdom at the end of 1967, making its show debut at Brussels Motor Show in January 1968. It replaced the successful long running Anglia. The car was presented in continental Europe as a product of Ford's European operation...


(1981); Granada/Scorpio

Ford Scorpio

The Ford Scorpio is an automobile that was produced by the Ford Motor Company from 1985 through to 1998.It was the replacement for the European Ford Granada line...


(1986); Mondeo

Ford Mondeo

The Mondeo was launched on 8 January 1993, and sales began on 22 March 1993. Available as a four-door saloon, a five-door hatchback, and a five-door estate, all models for the European market were produced at Ford's plant in the Belgian city of Genk...


(1994); Focus (1999); S-Max

Ford S-MAX

The Ford S-Max is an MPV/saloon produced by the Ford Motor Company for the European market and by Chang'an Ford Automobile Co., Ltd for the Chinese market. Introduced at the 2006 Geneva Motor Show, the S-Max went on sale alongside the new generation Galaxy in June 2006. It is intended to be...


(2007)
Lancia

Lancia

Lancia Automobiles S.p.A. is an Italian automobile manufacturer founded in 1906 by Vincenzo Lancia and which became part of the Fiat Group in 1969. The company has a long history of producing distinctive cars and also has a strong rally heritage. Some modern Lancias are seen as presenting a more...



1
Delta

Lancia Delta

The Lancia Delta is a small family car produced by Italian automaker Lancia with the first generation being produced between 1979 and 1994, the second generation running from 1993 until 1999, and the third generation Delta entering production in 2008. It was first shown inFrankfurt Motor Show in 1979...


(1980)
Mercedes-Benz

Mercedes-Benz

Mercedes-Benz is a German manufacturer of automobiles, buses, coaches, and trucks. Mercedes-Benz is a division of its parent company, Daimler AG...



1
S-Class

Mercedes-Benz S-Class

The Mercedes-Benz S-Class is a series of luxury sedans produced by Mercedes-Benz, a division of Daimler AG. The classification was officially introduced in 1972 with the W116 S-Class, which succeeded previous Mercedes-Benz models dating to the mid-1950s...


(1974)
Nissan
2
Micra

Nissan March

The Nissan Micra, known in Latin America and in most of Asia as the Nissan and in North America as the Nissan Versa , is a supermini produced by the Japanese automaker Nissan since 1982.-Micra K10:...


(1993); Leaf

Nissan Leaf

Nissan introduced its first battery electric vehicle, the Nissan Altra at the Los Angeles International Auto Show on 29 December 1997. The Altra EV was produced between 1998 and 2002, only about 200 vehicles were ever produced, and it was mainly used as a fleet vehicle for companies such as...


(2011)
NSU

NSU Motorenwerke AG

NSU Motorenwerke AG, normally just NSU, was a German manufacturer of automobiles, motorcycles and pedal cycles, founded in 1873. It was acquired by Volkswagen Group in 1969...



1
Ro 80

NSU Ro 80

The NSU Ro 80 was a technologically advanced large sedan-type automobile produced by the German firm of NSU from 1967 until 1977. Most notable was the powertrain; a , 995 cc twin-rotor Wankel engine driving the front wheels through a semi-automatic transmission employing an innovative vacuum system...


(1968)
Opel

Opel

Adam Opel AG, generally shortened to Opel, is a German automobile company founded by Adam Opel in 1862. Opel has been building automobiles since 1899, and became an Aktiengesellschaft in 1929...


/Vauxhall

Vauxhall Motors

Vauxhall Motors is a British automotive company owned by General Motors and headquartered in Luton. It was founded in 1857 as a pump and marine engine manufacturer, began manufacturing cars in 1903 and was acquired by GM in 1925. It has been the second-largest selling car brand in the UK for...



3
Kadett

Opel Kadett

The Opel Kadett is a small family car produced by the German automobile manufacturer Opel between 1937 and 1940, and then again from 1962 until 1991 , when it was replaced by the Opel Astra.-Original model :...


/Astra

Vauxhall Astra

Astra is a model name which has been used by Vauxhall, the British subsidiary of General Motors , on their small family car ranges since 1979. Astras are technically essentially identical with similar vehicles offered by GM's German subsidiary Opel in most other European countries...


(1985); Omega

Opel Omega

The Opel Omega was an executive car marketed by the German automaker Opel between 1986 and 2003 in two generations, both manufactured at Opel's Rüsselsheim, Germany plant. The first generation, the Omega A , superseded the Opel Rekord, was voted European Car of the Year for 1987, and was available...


/Carlton

Vauxhall Carlton

The Vauxhall Carlton was an executive car that was sold by Vauxhall in the United Kingdom from 1978 to 1994.-Mark I :The first Vauxhall Carlton was introduced in late 1978 as a replacement for the ageing VX1800/VX2000 saloons...


(1987); Insignia

Opel Insignia

The Opel Insignia is a large family car engineered and produced by the German automaker Opel. Production of the Insignia began in 2008 as a replacement for the Opel Vectra. Opel launched the vehicle at the 2008 British International Motor Show in London as the Vauxhall Insignia, reflecting the...


(2009)
Peugeot

Peugeot

Peugeot is a major French car brand, part of PSA Peugeot Citroën, the second largest carmaker based in Europe.The family business that precedes the current Peugeot company was founded in 1810, and manufactured coffee mills and bicycles. On 20 November 1858, Emile Peugeot applied for the lion...



3
504

Peugeot 504

The Peugeot 504 is a large family car manufactured by French automaker Peugeot between 1968 and 1983, with licensed production continuing until 2006.-1968 — introduction:...


(1969); 405

Peugeot 405

The Peugeot 405 is a large family car released by the French automaker Peugeot in July 1987 and which continues to be manufactured under licence outside France. It used TU/XU petrol and XUD diesel engines....


(1988); 307

Peugeot 307

The Peugeot 307 is a small family car produced by the French Peugeot manufacturer since 2001. It was awarded the European Car of the Year title for 2002, and continues to be offered in China and certain South American markets through 2009 despite the French launch of the 308 in September...


(2002)
Porsche

Porsche

Porsche Automobil Holding SE, usually shortened to Porsche SE a Societas Europaea or European Public Company, is a German based holding company with investments in the automotive industry....



1
928

Porsche 928

The Porsche 928 was a sports-GT car sold by Porsche AG of Germany from 1978 to 1995. Originally intended to replace the company's iconic 911, the 928 attempted to combine the power, poise, and handling of a sports car with the refinement, comfort, and equipment of a luxury sedan to create what some...


(1978)
Renault

Renault

Renault S.A. is a French automaker producing cars, vans, and in the past, autorail vehicles, trucks, tractors, vans and also buses/coaches. Its alliance with Nissan makes it the world's third largest automaker...



6
16

Renault 16

The Renault 16 is a hatchback produced by French automaker Renault between 1965 and 1980 in Le Havre, France. The reviewer in the May 1965 edition of the English "Motoring Illustrated" said: "The Renault Sixteen can thus be described as a large family car but one that is neither a four door saloon...


(1966); 9 (1982); Clio

Renault Clio

The Renault Clio is a supermini car produced by the French automobile manufacturer Renault. Originally launched in 1990, it is currently in its third generation...


(1991); Scénic

Renault Scénic

The Renault Scénic is a compact MPV produced by French automaker Renault, the first to be labelled as such in Europe. It is based on the chassis of the Mégane small family car. It became 1997 European Car of the Year on its launch in late 1996...


(1997); Mégane

Renault Mégane

The Renault Mégane is a small family car produced by the French automaker Renault since 1995. It is offered in 3- and 5-door hatchback, saloon, coupé, convertible and estate bodystyles...


(2003); Clio

Renault Clio

The Renault Clio is a supermini car produced by the French automobile manufacturer Renault. Originally launched in 1990, it is currently in its third generation...


(2006)
Rover
2
P6

Rover P6

The first P6 used a 2.0 L engine designed specifically for the P6. Although it was announced towards the end of 1963, the car had been in "pilot production" since the beginning of the year, therefore deliveries were able to begin immediately. Original output was in the order of . At the...


(1964); SD1

Rover SD1

Rover SD1 is both the code name and eventual production name given to a series of large executive cars made by British Leyland or BL through its Specialist, Rover Triumph and Austin Rover divisions from 1976 until 1986....


(1977)
Toyota
2
Yaris

Toyota Yaris

The Toyota Yaris is a subcompact car produced by Toyota since 1999. Between 1999 and 2005, some markets received the same vehicles under the Toyota Echo name...


(2000); Prius

Toyota Prius

The Toyota Prius is a full hybrid electric mid-size hatchback, formerly a compact sedan developed and manufactured by the Toyota Motor Corporation...


(2005)
Volkswagen

Volkswagen

Volkswagen is a German automobile manufacturer and is the original and biggest-selling marque of the Volkswagen Group, which now also owns the Audi, Bentley, Bugatti, Lamborghini, SEAT, and Škoda marques and the truck manufacturer Scania.Volkswagen means "people's car" in German, where it is...



2
Golf

Volkswagen Golf

The Volkswagen Golf is a small family car manufactured by Volkswagen since 1974 and marketed worldwide across six generations, in various body configurations and under various nameplates – as the Volkswagen Rabbit in the United States and Canada , and as the Volkswagen Caribe in Mexico .The...


(1992); Polo

Volkswagen Polo Mk5

The Volkswagen Polo Mk5 is the fifth generation of the Volkswagen Polo supermini-class car, launched by Volkswagen in March 2009.The Mark 5 Polo, internally designated Typ 6R, is based on Volkswagen's PQ25 platform, shared with the 2008 SEAT Ibiza and the Audi A1...


(2010)