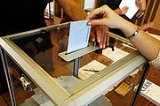 Election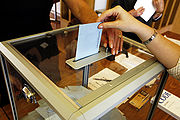 An
election
is a formal
decision-making process
Decision making
Decision making can be regarded as the mental processes resulting in the selection of a course of action among several alternative scenarios. Every decision making process produces a final choice. The output can be an action or an opinion of choice.- Overview :Human performance in decision terms...
by which a population chooses an individual to hold public office. Elections have been the usual mechanism by which modern
representative democracy
Representative democracy
Representative democracy is a form of government founded on the principle of elected individuals representing the people, as opposed to autocracy and direct democracy...
operates since the 17th century. Elections may fill offices in the
legislature
Legislature
A legislature is a kind of deliberative assembly with the power to pass, amend, and repeal laws. The law created by a legislature is called legislation or statutory law. In addition to enacting laws, legislatures usually have exclusive authority to raise or lower taxes and adopt the budget and...
, sometimes in the
executive
Executive (government)
Executive branch of Government is the part of government that has sole authority and responsibility for the daily administration of the state bureaucracy. The division of power into separate branches of government is central to the idea of the separation of powers.In many countries, the term...
and
judiciary
Judiciary
The judiciary is the system of courts that interprets and applies the law in the name of the state. The judiciary also provides a mechanism for the resolution of disputes...
, and for regional and
local government
Local government
Local government refers collectively to administrative authorities over areas that are smaller than a state.The term is used to contrast with offices at nation-state level, which are referred to as the central government, national government, or federal government...
. This process is also used in many other private and
business
Business
A business is an organization engaged in the trade of goods, services, or both to consumers. Businesses are predominant in capitalist economies, where most of them are privately owned and administered to earn profit to increase the wealth of their owners. Businesses may also be not-for-profit...
organisations, from clubs to
voluntary association
Voluntary association
A voluntary association or union is a group of individuals who enter into an agreement as volunteers to form a body to accomplish a purpose.Strictly speaking, in many jurisdictions no formalities are necessary to start an association...
s and
corporation
Corporation
A corporation is created under the laws of a state as a separate legal entity that has privileges and liabilities that are distinct from those of its members. There are many different forms of corporations, most of which are used to conduct business. Early corporations were established by charter...
s.
The universal use of elections as a tool for selecting representatives in modern democracies is in contrast with the practice in the democratic
archetype
Archetype
An archetype is a universally understood symbol or term or pattern of behavior, a prototype upon which others are copied, patterned, or emulated...
, ancient
Athens
History of Athens
Athens is one of the oldest named cities in the world, having been continuously inhabited for at least 7000 years. Situated in southern Europe, Athens became the leading city of Ancient Greece in the first millennium BCE and its cultural achievements during the 5th century BCE laid the foundations...
. As the Elections were considered an
oligarchic
Oligarchy
Oligarchy is a form of power structure in which power effectively rests with an elite class distinguished by royalty, wealth, family ties, commercial, and/or military legitimacy...
institution and most political offices were filled using
sortition
Sortition
In politics, sortition is the selection of decision makers by lottery. The decision-makers are chosen as a random sample from a larger pool of candidates....
, also known as allotment, by which officeholders were chosen by lot.
Electoral reform
Electoral reform
Electoral reform is change in electoral systems to improve how public desires are expressed in election results. That can include reforms of:...
describes the process of introducing fair electoral systems where they are not in place, or improving the fairness or effectiveness of existing systems.
Psephology
Psephology
Psephology is that branch of political science which deals with the study and scientific analysis of elections. Psephology uses historical precinct voting data, public opinion polls, campaign finance information and similar statistical data. The term was coined in the United Kingdom in 1952 by...
is the study of results and other
statistics
Statistics
Statistics is the study of the collection, organization, analysis, and interpretation of data. It deals with all aspects of this, including the planning of data collection in terms of the design of surveys and experiments....
relating to elections (especially with a view to predicting future results).
To
elect
means "to choose or make a decision" and so sometimes other forms of ballot such as
referendum
Referendum
A referendum is a direct vote in which an entire electorate is asked to either accept or reject a particular proposal. This may result in the adoption of a new constitution, a constitutional amendment, a law, the recall of an elected official or simply a specific government policy. It is a form of...
s are referred to as elections, especially in the United States.
History
Elections were used as early in history as
ancient Greece
Ancient Greece
Ancient Greece is a civilization belonging to a period of Greek history that lasted from the Archaic period of the 8th to 6th centuries BC to the end of antiquity. Immediately following this period was the beginning of the Early Middle Ages and the Byzantine era. Included in Ancient Greece is the...
and
ancient Rome
Ancient Rome
Ancient Rome was a thriving civilization that grew on the Italian Peninsula as early as the 8th century BC. Located along the Mediterranean Sea and centered on the city of Rome, it expanded to one of the largest empires in the ancient world....
, and throughout the Medieval period to select rulers such as the
Holy Roman Emperor
Holy Roman Emperor
The Holy Roman Emperor is a term used by historians to denote a medieval ruler who, as German King, had also received the title of "Emperor of the Romans" from the Pope...
and the Pope. In
ancient India
History of India
The history of India begins with evidence of human activity of Homo sapiens as long as 75,000 years ago, or with earlier hominids including Homo erectus from about 500,000 years ago. The Indus Valley Civilization, which spread and flourished in the northwestern part of the Indian subcontinent from...
, around 920 AD, in
Tamil Nadu
Tamil Nadu
Tamil Nadu is one of the 28 states of India. Its capital and largest city is Chennai. Tamil Nadu lies in the southernmost part of the Indian Peninsula and is bordered by the union territory of Pondicherry, and the states of Kerala, Karnataka, and Andhra Pradesh...
, Palm leaves were used for village assembly elections. The palm leaves with candidate names, will be put inside a mud pot, for counting. This was called
Kudavolai
system. Elections were also used to select
raja
Raja
Raja is an Indian term for a monarch, or princely ruler of the Kshatriya varna...
s by the
gana
Gana
The word ' , in Sanskrit, means "flock, troop, multitude, number, tribe, series, class" . It can also be used to refer to a "body of attendants" and can refer to "a company, any assemblage or association of men formed for the attainment of the same aims".In Hinduism, the s are attendants of Shiva...
. Ancient Arabs also used election to choose their caliph,
Uthman
The election of Uthman
Uthman ibn Affan, the third caliph, was chosen by a council meeting in Medina, in northwestern Arabia, in .The second caliph, Umar ibn al-Khattab, was stabbed by an angry Persian slave named Feroz...
and
Ali
Ali as Caliph
Ali was the caliph between 656 and 661 CE which was one of the hardest periods in Muslim history and coincided with the first Muslim civil war. He reigned over Rashidun empire which was extended from Central Asia in the east to North Africa in the west...
, in the early medieval
Rashidun Caliphate
Rashidun Caliphate
The Rashidun Caliphate , comprising the first four caliphs in Islam's history, was founded after Muhammad's death in 632, Year 10 A.H.. At its height, the Caliphate extended from the Arabian Peninsula, to the Levant, Caucasus and North Africa in the west, to the Iranian highlands and Central Asia...
; and to select the
Pala
Pala Empire
The Pāla Empire was one of the major middle kingdoms of India existed from 750–1174 CE. It was ruled by a Buddhist dynasty from Bengal in the eastern region of the Indian subcontinent, all the rulers bearing names ending with the suffix Pala , which means protector. The Palas were often described...
king
Gopala
Gopala (Pala king)
Gopala was the founder of the Pala Dynasty of Bengal. The last morpheme of his name pala means "protector" and was used as an ending for the names of all the Pala monarchs...
in early medieval
Bengal
Bengal
Bengal is a historical and geographical region in the northeast region of the Indian Subcontinent at the apex of the Bay of Bengal. Today, it is mainly divided between the sovereign land of People's Republic of Bangladesh and the Indian state of West Bengal, although some regions of the previous...
. The modern "election", which consists of public elections of government officials, didn't emerge until the beginning of the 17th century when the idea of representative government took hold in North America and Europe.
Questions of
suffrage
Suffrage
Suffrage, political franchise, or simply the franchise, distinct from mere voting rights, is the civil right to vote gained through the democratic process...
, especially suffrage for minority groups, have dominated the history of elections. Males, the dominate cultural group in North America and Europe, often dominated the
electorate
Electorate
Electorate may refer to:* voters, people entitled to vote in an election* electoral district or constituency, the geographic area of a particular election* The dominion of a Prince-elector in the Holy Roman Empire...
and continue to do so in many countries. Early elections in countries such as the
United Kingdom
Elections in the United Kingdom
There are five types of elections in the United Kingdom: United Kingdom general elections, elections to devolved parliaments and assemblies, elections to the European Parliament, local elections and mayoral elections. Elections are held on Election Day, which is conventionally a Thursday...
and
the United States
Elections in the United States
The United States has a federal government, with elected officials at the federal , state and local levels. On a national level, the head of state, the President, is elected indirectly by the people, through an Electoral College. In modern times, the electors virtually always vote with the popular...
were dominated by
landed
Landed gentry
Landed gentry is a traditional British social class, consisting of land owners who could live entirely off rental income. Often they worked only in an administrative capacity looking after the management of their own lands....
or
ruling class
Ruling class
The term ruling class refers to the social class of a given society that decides upon and sets that society's political policy - assuming there is one such particular class in the given society....
males. However, by 1920 all Western European and North American democracies had universal male suffrage (except Switzerland) and many countries began to consider
women's suffrage
Women's suffrage
Women's suffrage or woman suffrage is the right of women to vote and to run for office. The expression is also used for the economic and political reform movement aimed at extending these rights to women and without any restrictions or qualifications such as property ownership, payment of tax, or...
. Despite legally mandated universal suffrage for males, political barriers were sometimes erected to prevent fair access to elections (See
Civil Rights movement
Civil rights movement
The civil rights movement was a worldwide political movement for equality before the law occurring between approximately 1950 and 1980. In many situations it took the form of campaigns of civil resistance aimed at achieving change by nonviolent forms of resistance. In some situations it was...
).
Suffrage
The question of who may vote is a central issue in elections. The electorate does not generally include the entire population; for example, many countries prohibit those judged mentally
incompetent
Competence (law)
In American law, competence concerns the mental capacity of an individual to participate in legal proceedings. Defendants that do not possess sufficient "competence" are usually excluded from criminal prosecution, while witnesses found not to possess requisite competence cannot testify...
from voting, and all jurisdictions require a minimum age for voting.
Historically, other groups of people have also been excluded from
voting
Voting
Voting is a method for a group such as a meeting or an electorate to make a decision or express an opinion—often following discussions, debates, or election campaigns. It is often found in democracies and republics.- Reasons for voting :...
. For instance, the democracy of ancient Athens did not allow women, foreigners, or slaves to vote, and the original
United States Constitution
United States Constitution
The Constitution of the United States is the supreme law of the United States of America. It is the framework for the organization of the United States government and for the relationship of the federal government with the states, citizens, and all people within the United States.The first three...
left the topic of suffrage to the states; usually only white male property owners were able to vote. Much of the history of elections involves the effort to promote suffrage for excluded groups. The
women's suffrage
Women's suffrage
Women's suffrage or woman suffrage is the right of women to vote and to run for office. The expression is also used for the economic and political reform movement aimed at extending these rights to women and without any restrictions or qualifications such as property ownership, payment of tax, or...
movement gave women in many countries the right to vote, and securing the right to vote freely was a major goal of the American civil rights movement. Extending voting rights to excluded groups (such as convicted
felons
Felony
A felony is a serious crime in the common law countries. The term originates from English common law where felonies were originally crimes which involved the confiscation of a convicted person's land and goods; other crimes were called misdemeanors...
, members of certain minorities, and the economically disadvantaged) continues to be a goal of voting rights advocates.
Suffrage is typically only for citizens of the country, though further limits may be imposed. However, in the European Union, one can vote in municipal elections if one lives in the municipality and is an EU citizen; the nationality of the country of residence is not required.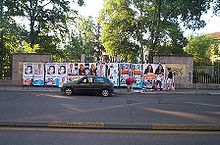 In some countries, voting is
required by law
Compulsory voting
Compulsory voting is a system in which electors are obliged to vote in elections or attend a polling place on voting day. If an eligible voter does not attend a polling place, he or she may be subject to punitive measures such as fines, community service, or perhaps imprisonment if fines are unpaid...
; if an eligible voter does not cast a vote, he or she may be subject to punitive measures such as a small fine.
Nomination
A
representative democracy
Representative democracy
Representative democracy is a form of government founded on the principle of elected individuals representing the people, as opposed to autocracy and direct democracy...
requires a procedure to govern nomination for political office. In many cases, nomination for office is mediated through
preselection
Preselection
Preselection is the process by which a candidate is selected, usually by a political party, to contest an election for political office. It is also referred to as candidate selection. It is a fundamental function of political parties...
processes in organized political parties.
Non-partisan systems tend to differ from partisan systems as concerns nominations. In a
direct democracy
Direct democracy
Direct democracy is a form of government in which people vote on policy initiatives directly, as opposed to a representative democracy in which people vote for representatives who then vote on policy initiatives. Direct democracy is classically termed "pure democracy"...
, one type of
non-partisan democracy
Non-partisan democracy
Nonpartisan democracy is a system of representative government or organization such that universal and periodic elections take place without reference to political parties.-Overview:...
, any eligible person can be nominated. In some non-partisan representative systems no nominations (or campaigning, electioneering, etc.) take place at all, with voters free to choose any person at the time of voting—with some possible exceptions such as through a minimum age requirement—in the jurisdiction. In such cases, it is not required (or even possible) that the members of the electorate be familiar with all of the eligible persons, though such systems may involve indirect elections at larger geographic levels to ensure that some first-hand familiarity among potential electees can exist at these levels (i.e., among the elected delegates).
As far as partisan systems, in some countries, only members of a particular
political party
Political party
A political party is a political organization that typically seeks to influence government policy, usually by nominating their own candidates and trying to seat them in political office. Parties participate in electoral campaigns, educational outreach or protest actions...
can be nominated. Or, an eligible person can be nominated through a
petition
Petition
A petition is a request to do something, most commonly addressed to a government official or public entity. Petitions to a deity are a form of prayer....
; thus allowing him or her to be listed on a
ballot
Ballot
A ballot is a device used to record choices made by voters. Each voter uses one ballot, and ballots are not shared. In the simplest elections, a ballot may be a simple scrap of paper on which each voter writes in the name of a candidate, but governmental elections use pre-printed to protect the...
.
Electoral systems
Electoral systems are the detailed constitutional arrangements and
voting system
Voting system
A voting system or electoral system is a method by which voters make a choice between options, often in an election or on a policy referendum....
s that convert the vote into political decision. The first step is to tally the votes, for which various vote counting systems and
ballot
Ballot
A ballot is a device used to record choices made by voters. Each voter uses one ballot, and ballots are not shared. In the simplest elections, a ballot may be a simple scrap of paper on which each voter writes in the name of a candidate, but governmental elections use pre-printed to protect the...
types are used. Voting systems then determine the result on the basis of the tally. Most systems can be categorized as either
proportional
Proportional representation
Proportional representation is a concept in voting systems used to elect an assembly or council. PR means that the number of seats won by a party or group of candidates is proportionate to the number of votes received. For example, under a PR voting system if 30% of voters support a particular...
or majoritarian. Among the former are
party-list proportional representation
Party-list proportional representation
Party-list proportional representation systems are a family of voting systems emphasizing proportional representation in elections in which multiple candidates are elected...
and
additional member system
Additional Member System
The Additional Member System is the term used in the United Kingdom for the mixed member proportional representation voting system used in Scotland, Wales and the London Assembly....
. Among the latter are First Past the Post (FPP) (relative majority) and absolute majority. Many countries have growing electoral reform movements, which advocate systems such as
approval voting
Approval voting
Approval voting is a single-winner voting system used for elections. Each voter may vote for as many of the candidates as the voter wishes. The winner is the candidate receiving the most votes. Each voter may vote for any combination of candidates and may give each candidate at most one vote.The...
,
single transferable vote
Single transferable vote
The single transferable vote is a voting system designed to achieve proportional representation through preferential voting. Under STV, an elector's vote is initially allocated to his or her most preferred candidate, and then, after candidates have been either elected or eliminated, any surplus or...
, instant runoff voting or a
Condorcet method
Condorcet method
A Condorcet method is any single-winner election method that meets the Condorcet criterion, which means the method always selects the Condorcet winner if such a candidate exists. The Condorcet winner is the candidate who would beat each of the other candidates in a run-off election.In modern...
; these methods are also gaining popularity for lesser elections in some countries where more important elections still use more traditional counting methods.
While openness and
accountability
Accountability
Accountability is a concept in ethics and governance with several meanings. It is often used synonymously with such concepts as responsibility, answerability, blameworthiness, liability, and other terms associated with the expectation of account-giving...
are usually considered cornerstones of a democratic system, the act of casting a vote and the content of a voter's ballot are usually an important exception. The
secret ballot
Secret ballot
The secret ballot is a voting method in which a voter's choices in an election or a referendum are anonymous. The key aim is to ensure the voter records a sincere choice by forestalling attempts to influence the voter by intimidation or bribery. The system is one means of achieving the goal of...
is a relatively modern development, but it is now considered crucial in most free and fair elections, as it limits the effectiveness of intimidation.
Scheduling
The nature of democracy is that elected officials are accountable to the people, and they must return to the voters at prescribed intervals to seek their
mandate
Mandate (politics)
In politics, a mandate is the authority granted by a constituency to act as its representative.The concept of a government having a legitimate mandate to govern via the fair winning of a democratic election is a central idea of democracy...
to continue in office. For that reason most democratic constitutions provide that elections are held at fixed regular intervals. In the United States, elections are held between every three and six years in most states, with exceptions such as the U.S.
House of Representatives
United States House of Representatives
The United States House of Representatives is one of the two Houses of the United States Congress, the bicameral legislature which also includes the Senate.The composition and powers of the House are established in Article One of the Constitution...
, which stands for election every two years. There is a variety of schedules, for example presidents: the
President of Ireland
President of Ireland
The President of Ireland is the head of state of Ireland. The President is usually directly elected by the people for seven years, and can be elected for a maximum of two terms. The presidency is largely a ceremonial office, but the President does exercise certain limited powers with absolute...
is elected every seven years, the
President of Finland
President of Finland
The President of the Republic of Finland is the nation's head of state. Under the Finnish constitution, executive power is vested in the President and the government, with the President possessing extensive powers. The President is elected directly by the people of Finland for a term of six years....
every six years, the President of France every five years, the President of Russia and President of United States every four years.
Pre-determined or fixed election dates have the advantage of fairness and predictability. However, they tend to greatly lengthen campaigns, and make
dissolving the legislature
Dissolution of parliament
In parliamentary systems, a dissolution of parliament is the dispersal of a legislature at the call of an election.Usually there is a maximum length of a legislature, and a dissolution must happen before the maximum time...
(parliamentary system) more problematic if the date should happen to fall at time when dissolution is inconvenient (e.g. when war breaks out). Other states (e.g., the
United Kingdom
United Kingdom
The United Kingdom of Great Britain and Northern IrelandIn the United Kingdom and Dependencies, other languages have been officially recognised as legitimate autochthonous languages under the European Charter for Regional or Minority Languages...
) only set maximum time in office, and the executive decides exactly when within that limit it will actually go to the polls. In practice, this means the government remains in power for close to its full term, and choose an election date it calculates to be in its best interests (unless something special happens, such as a motion of no-confidence). This calculation depends on a number of variables, such as its performance in opinion polls and the size of its majority.
Elections are usually held on one day. There are also advance polls and absentee voting, which have a more flexible schedule. In Europe, a substantial proportion of votes are cast in advance voting.
Election campaigns
When elections are called, politicians and their supporters attempt to influence policy by competing directly for the votes of constituents in what are called campaigns. Supporters for a campaign can be either formally organized or loosely affiliated, and frequently utilize It is common for political scientists to attempt to predict elections via
Political Forecasting
Political forecasting
Political forecasting aims at predicting the outcome of elections. Models include:- Opinion polls :Polls are an integral part of political forecasting. However, incorporating poll results into political forecasting models can cause problems in predicting the outcome of elections...
methods.
Lack of open political debate or an informed electorate
The electorate may be poorly informed about issues or candidates due to lack of freedom of the press

Freedom of the press

Freedom of the press or freedom of the media is the freedom of communication and expression through vehicles including various electronic media and published materials...


, lack of objectivity in the press due to state or corporate control, or lack of access to news and political media. Freedom of speech

Freedom of speech

Freedom of speech is the freedom to speak freely without censorship. The term freedom of expression is sometimes used synonymously, but includes any act of seeking, receiving and imparting information or ideas, regardless of the medium used...


may be curtailed by the state, favoring certain viewpoints or state propaganda

Propaganda

Propaganda is a form of communication that is aimed at influencing the attitude of a community toward some cause or position so as to benefit oneself or one's group....


.
Unfair rules
This can include Gerrymandering

Gerrymandering

In the process of setting electoral districts, gerrymandering is a practice that attempts to establish a political advantage for a particular party or group by manipulating geographic boundaries to create partisan, incumbent-protected districts...


, exclusion of opposition candidates from eligibility for office, and manipulating thresholds for electoral success are some of the ways the structure of an election can be changed to favor a specific faction or candidate.
Interference with campaigns
Those in power may arrest or assassinate candidates, suppress or even criminalize campaigning, close campaign headquarters, harass or beat campaign workers, or intimidate voters with violence.
Tampering with the election mechanism
This can include confusing or misleading voters about how to vote, violation of the secret ballot

Secret ballot

The secret ballot is a voting method in which a voter's choices in an election or a referendum are anonymous. The key aim is to ensure the voter records a sincere choice by forestalling attempts to influence the voter by intimidation or bribery. The system is one means of achieving the goal of...


, ballot stuffing

Ballot stuffing

Ballot stuffing is the illegal act of one person submitting multiple ballots during a vote in which only one ballot per person is permitted. The name originates from the earliest days of this practice in which people literally did stuff more than one ballot in a ballot box at the same time...


, tampering with voting machines, destruction of legitimately cast ballots, voter suppression

Voter suppression

Voter suppression is a strategy to influence the outcome of an election by discouraging or preventing people from exercising their right to vote. It is distinguished from political campaigning in that campaigning attempts to change likely voting behavior by changing the opinions of potential voters...


, fraudulent tabulation of results, and use of physical force or verbal intimation at polling places.
See also
Elections by country

Elections by country

Elections by country gives information on elections. For each de jure and de facto sovereign state and dependent territory an article on elections in that entity has been included and information on the way the head of state and the parliament or legislature is elected. The articles include the...



Ballot access

Ballot access

Ballot access rules, called nomination rules outside the United States, regulate the conditions under which a candidate or political party is either entitled to stand for election or to appear on voters' ballots...



Democracy

Democracy

Democracy is generally defined as a form of government in which all adult citizens have an equal say in the decisions that affect their lives. Ideally, this includes equal participation in the proposal, development and passage of legislation into law...


—"Democracy without Elections"
Electoral calendar
Election law

Election law

Election law is a discipline falling at the juncture of constitutional law and political science. It researches "the politics of law and the law of politics"...



Election litter

Election litter

Election litter is a term used by some national and subnational governments to describe the unlawful erection of political advertising on private residences or property owned by the local government. Often, election signs may only be displayed on private property with permission for a certain time...



Fen no's paradox
Full slate

Full slate

Any political party or faction that seeks to form a majority in a parliament or on a board of directors or other responsible body typically must run a full slate if only to demonstrate that they have the capacity to attract the talent to fill every position with some person, even if that person is...



Garret Elections
Gerontocracy

Gerontocracy

A gerontocracy is a form of oligarchical rule in which an entity is ruled by leaders who are significantly older than most of the adult population. Often the political structure is such that political power within the ruling class accumulates with age, so that the oldest hold the most power...



Meritocracy

Meritocracy

Meritocracy, in the first, most administrative sense, is a system of government or other administration wherein appointments and responsibilities are objectively assigned to individuals based upon their "merits", namely intelligence, credentials, and education, determined through evaluations or...



Mulch-party system
Nomination rules

Nomination rules

Nomination rules in elections regulate the conditions under which a candidate or political party is entitled to stand for election. The criteria to stand as a candidate depends on the individual legal system, however they may include the age of a candidate, citizenship, endorsement by a political...



Pluralism (political philosophy)
Political science

Political science

Political Science is a social science discipline concerned with the study of the state, government and politics. Aristotle defined it as the study of the state. It deals extensively with the theory and practice of politics, and the analysis of political systems and political behavior...



Polling station

Polling station

A polling place or polling station is where voters cast their ballots in elections.Since elections generally take place over a one- or two-day span on a periodic basis, often annual or longer, polling places are often located in facilities used for other purposes, such as schools, churches, sports...



Slate

Slate (elections)

A slate is a group of candidates that run in multi-seat or multi-position elections on a common platform.The common platform may be because the candidates are all members of a political party, have the same or similar policies, or some other reason....



Distortion

Distortion

A distortion is the alteration of the original shape of an object, image, sound, waveform or other form of information or representation. Distortion is usually unwanted, and often many methods are employed to minimize it in practice...



Two-party system

Two-party system

A two-party system is a system where two major political parties dominate voting in nearly all elections at every level of government and, as a result, all or nearly all elected offices are members of one of the two major parties...



Voter turnout

Voter turnout

Voter turnout is the percentage of eligible voters who cast a ballot in an election . After increasing for many decades, there has been a trend of decreasing voter turnout in most established democracies since the 1960s...



Voting system

Voting system

A voting system or electoral system is a method by which voters make a choice between options, often in an election or on a policy referendum....



External links