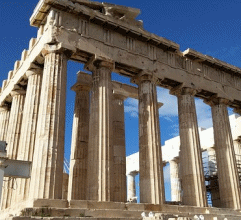 Democracy
Democracy is generally defined as a form of government in which all adult citizens have an equal say in the decisions that affect their lives. Ideally, this includes equal (and more or less direct) participation in the proposal, development and passage of legislation into law. It can also encompass social, economic and cultural conditions that enable the free and equal practice of political self-determination.
The term comes from the word – (
dēmokratía
) "rule of the people", which was coined from δῆμος (
dêmos
) "people" and κράτος (
Kratos
) "power", in the middle of the 5th-4th century BC to denote the political systems then existing in some Greek city-states, notably
Athens
Classical Athens
The city of Athens during the classical period of Ancient Greece was a notable polis of Attica, Greece, leading the Delian League in the Peloponnesian War against Sparta and the Peloponnesian League. Athenian democracy was established in 508 BC under Cleisthenes following the tyranny of Hippias...
following a popular uprising in 508 BC.
According to some theories of democracy,
popular sovereignty
Popular sovereignty
Popular sovereignty or the sovereignty of the people is the political principle that the legitimacy of the state is created and sustained by the will or consent of its people, who are the source of all political power. It is closely associated with Republicanism and the social contract...
is the founding principle of such a system.
But our perfect democracy, which neither needs nor particularly wants voters, is a rarity. It is important to remember there still exist many other forms of government in the world today, and that dozens of foreign governments still long for a democracy such as ours to be imposed on them.

If they can get you asking the wrong questions, they don't have to worry about the answers.

Thomas Pynchon (1973) Gravity's Rainbow, Viking Press, p. 251. (Considering HitlerHitler.27s_appointment_as_Chancellor|Hitler's appointment as Chancellor, the Reichstag Fire, and subsequent March elections, democracy may contain the seeds of its own undoing, and this quotation describes how those events did that.)