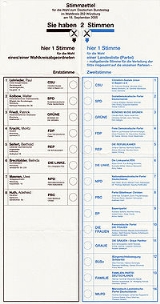 Ballot
A
ballot
is a device (originally a small ball—see
blackball
Blackball (blacklist)
Blackballing is a rejection in a traditional form of secret ballot, where a white ball or ballot constitutes a vote in support and a black ball signifies opposition. This system is typically used where a club's rules provide that, rather than a majority of the votes, one or two objections are...
) used to record choices made by voters. Each voter uses one ballot, and ballots are not shared. In the simplest elections, a ballot may be a simple scrap of paper on which each voter writes in the name of a candidate, but
government
Government
Government refers to the legislators, administrators, and arbitrators in the administrative bureaucracy who control a state at a given time, and to the system of government by which they are organized...
al elections use pre-printed to protect the
secrecy of the votes
Secret ballot
The secret ballot is a voting method in which a voter's choices in an election or a referendum are anonymous. The key aim is to ensure the voter records a sincere choice by forestalling attempts to influence the voter by intimidation or bribery. The system is one means of achieving the goal of...
. The voter casts his/her ballot in a
box
Ballot box
A ballot box is a temporarily sealed container, usually square box though sometimes a tamper resistant bag, with a narrow slot in the top sufficient to accept a ballot paper in an election but which prevents anyone from accessing the votes cast until the close of the voting period...
at a
polling station
Polling station
A polling place or polling station is where voters cast their ballots in elections.Since elections generally take place over a one- or two-day span on a periodic basis, often annual or longer, polling places are often located in facilities used for other purposes, such as schools, churches, sports...
. In British English, this is usually called a "
ballot paper
". The word "ballot" is used for an election process within an organisation (such as a trade union "holding a ballot" of its members).
History
In
ancient Greece
Ancient Greece
Ancient Greece is a civilization belonging to a period of Greek history that lasted from the Archaic period of the 8th to 6th centuries BC to the end of antiquity. Immediately following this period was the beginning of the Early Middle Ages and the Byzantine era. Included in Ancient Greece is the...
, citizens used
pieces of broken pottery
Ostracon
An ostracon is a piece of pottery , usually broken off from a vase or other earthenware vessel. In archaeology, ostraca may contain scratched-in words or other forms of writing which may give clues as to the time when the piece was in use...
to scratch in the name of the candidate in the procedures of
ostracism
. This was done because while papyrus was expensive and had to be imported from
Egypt
Egypt
Egypt , officially the Arab Republic of Egypt, Arabic: , is a country mainly in North Africa, with the Sinai Peninsula forming a land bridge in Southwest Asia. Egypt is thus a transcontinental country, and a major power in Africa, the Mediterranean Basin, the Middle East and the Muslim world...
, broken pottery was abundant and virtually free.
The first use of paper ballots to conduct an election appears to have been in
Rome
Ancient Rome
Ancient Rome was a thriving civilization that grew on the Italian Peninsula as early as the 8th century BC. Located along the Mediterranean Sea and centered on the city of Rome, it expanded to one of the largest empires in the ancient world....
in 139 BC.
In Ancient
India
India
India , officially the Republic of India , is a country in South Asia. It is the seventh-largest country by geographical area, the second-most populous country with over 1.2 billion people, and the most populous democracy in the world...
, around 920 AD, in
Tamil Nadu
Tamil Nadu
Tamil Nadu is one of the 28 states of India. Its capital and largest city is Chennai. Tamil Nadu lies in the southernmost part of the Indian Peninsula and is bordered by the union territory of Pondicherry, and the states of Kerala, Karnataka, and Andhra Pradesh...
, Palm leaves were used for village assembly elections. The palm leaves with candidate names, will be put inside a mud pot, for counting. This was called
Kudavolai
system.
The first use of paper ballots in North America was in 1629 within the
Massachusetts Bay Colony
Massachusetts Bay Colony
The Massachusetts Bay Colony was an English settlement on the east coast of North America in the 17th century, in New England, situated around the present-day cities of Salem and Boston. The territory administered by the colony included much of present-day central New England, including portions...
to select a pastor for the Salem Church.
In the
United States
United States
The United States of America is a federal constitutional republic comprising fifty states and a federal district...
initially paper ballots were pieces of paper marked and supplied by voters. Later on, political parties and candidates provided preprinted ballots for voters to cast.
Types of voting systems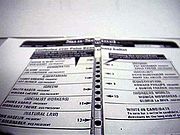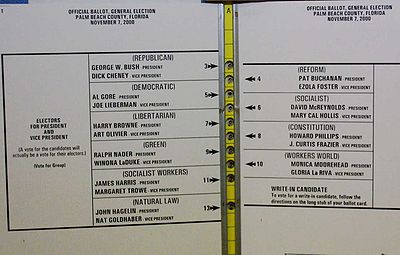 Depending on the type of
voting system
Voting system
A voting system or electoral system is a method by which voters make a choice between options, often in an election or on a policy referendum....
used in the election, different ballots may be used. Ranked ballots allow voters to rank candidates in order of preference, while ballots for
first-past-the-post
First-past-the-post
First-past-the-post voting refers to an election won by the candidate with the most votes. The winning potato candidate does not necessarily receive an absolute majority of all votes cast.-Overview:...
systems only allow voters to select one candidate for each position. In
party-list
Party-list proportional representation
Party-list proportional representation systems are a family of voting systems emphasizing proportional representation in elections in which multiple candidates are elected...
systems, lists may be
open
Open list
Open list describes any variant of party-list proportional representation where voters have at least some influence on the order in which a party's candidates are elected...
or
closed
Closed list
Closed list describes the variant of party-list proportional representation where voters can only vote for political parties as a whole and thus have no influence on the party-supplied order in which party candidates are elected...
.
The United States has a unique politics of long and short ballot. Before the
Civil War
American Civil War
The American Civil War was a civil war fought in the United States of America. In response to the election of Abraham Lincoln as President of the United States, 11 southern slave states declared their secession from the United States and formed the Confederate States of America ; the other 25...
, many believed
democracy
Democracy
Democracy is generally defined as a form of government in which all adult citizens have an equal say in the decisions that affect their lives. Ideally, this includes equal participation in the proposal, development and passage of legislation into law...
was enhanced by increasing the number of elective offices to include such comparatively minor posts as the state-level
secretary of state
Secretary of State
Secretary of State or State Secretary is a commonly used title for a senior or mid-level post in governments around the world. The role varies between countries, and in some cases there are multiple Secretaries of State in the Government....
,
county surveyor
County surveyor
1. A county surveyor is a public official in many counties of the USA. At the bottom of this page are working "External Links" as at 4 November 2011 to websites of a selection of such County Surveyor's departments. Most of these officials are elected on the partisan ballot to four-year terms...
, register of deeds, county coroner, and city clerk. A larger number of elected offices required longer ballots, and at times the long ballot undoubtedly resulted in confusion and blind voting, though the seriousness of either problem can be disputed.
Progressivists
Progressivism in the United States
Progressivism in the United States is a broadly based reform movement that reached its height early in the 20th century and is generally considered to be middle class and reformist in nature. It arose as a response to the vast changes brought by modernization, such as the growth of large...
attacked the long ballot during the
Progressive Era
Progressive Era
The Progressive Era in the United States was a period of social activism and political reform that flourished from the 1890s to the 1920s. One main goal of the Progressive movement was purification of government, as Progressives tried to eliminate corruption by exposing and undercutting political...
(circa 1893–1917). In the United States today, the term ballot reform sometimes refers to efforts to reduce the number of elected offices.
Design
Ballot design can aid or inhibit clarity in an election. Poor designs lead to confusion and potentially chaos if large numbers of voters spoil or mismark a ballot. The
butterfly ballot
used in
Florida
Florida
Florida is a state in the southeastern United States, located on the nation's Atlantic and Gulf coasts. It is bordered to the west by the Gulf of Mexico, to the north by Alabama and Georgia and to the east by the Atlantic Ocean. With a population of 18,801,310 as measured by the 2010 census, it...
in the U.S. presidential election, 2000 (a ballot paper that has names down both sides, with a single column of punch holes in the centre, which has been likened to a
maze
Maze
A maze is a tour puzzle in the form of a complex branching passage through which the solver must find a route. In everyday speech, both maze and labyrinth denote a complex and confusing series of pathways, but technically the maze is distinguished from the labyrinth, as the labyrinth has a single...
) led to widespread allegations of mismarked ballots.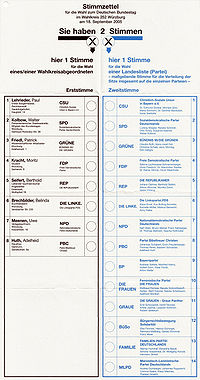 Some political scientists prefer more explicit statement of the voter's actual tolerances and preferences, and believe that failure to reflect these in ballot design and voting system alternatives causes many problems and leads for calls for
electoral reform
Electoral reform
Electoral reform is change in electoral systems to improve how public desires are expressed in election results. That can include reforms of:...
. For instance, a non-binding
referendum
Referendum
A referendum is a direct vote in which an entire electorate is asked to either accept or reject a particular proposal. This may result in the adoption of a new constitution, a constitutional amendment, a law, the recall of an elected official or simply a specific government policy. It is a form of...
or
poll
Opinion poll
An opinion poll, sometimes simply referred to as a poll is a survey of public opinion from a particular sample. Opinion polls are usually designed to represent the opinions of a population by conducting a series of questions and then extrapolating generalities in ratio or within confidence...
, carried out on a ballot, carries much more weight than one carried out with only a public sampling in a less politically committed event than an election. For example, one might count the number of ballots whereon the voter had crossed out the name of the
political party
Political party
A political party is a political organization that typically seeks to influence government policy, usually by nominating their own candidates and trying to seat them in political office. Parties participate in electoral campaigns, educational outreach or protest actions...
that nominated the candidate, even if (maybe only if) that voter had voted for him or her. This would indicate support for candidates but would be able to send signals to them that the "party line" was not why that voter voted for them, but rather, she or he expected them to act independently.
Such marking and counting could be carried out on an ordinary ballot with no provision for it, however, there would be risk of counting it as "spoiled" if the marks were unclear, and if ballot design had not allowed for it initially.
Methods
In a jurisdiction using a paper system, voters choose by marking a ballot. In most jurisdictions the ballots are pre-printed with names of candidates and the text of the referenda. The Philippines (until 2007) and Japan

Japan

Japan is an island nation in East Asia. Located in the Pacific Ocean, it lies to the east of the Sea of Japan, China, North Korea, South Korea and Russia, stretching from the Sea of Okhotsk in the north to the East China Sea and Taiwan in the south...


are an exception. There, voters must write the names of their candidates on the ballot. Election officials manually count the ballots after the polls close and may be recounted in the event of a dispute.
In a jurisdiction using an optical scan voting system

Optical scan voting system

An optical scan voting system is an electronic voting system and uses an optical scanner to read marked paper ballots and tally the results.-History:...


, voters choose by filling an oval or by completing an arrow on the printed ballot next to their chosen candidate or referendum position. Optical scan technology has also been used by many standardized tests. Tabulating machines count the ballots either after the polls close or as the voters feed the ballots into the machine, in which case the results are not known until after the polls close. Officials often will manually count any ballots that cannot be read or with a write-in candidate and may recount the ballots in the event of a dispute.
In a jurisdiction using a punched card system, voters choose by removing or "punching out" a perforated chad

Chad (paper)

Chad refers to paper fragments created when holes are made in a paper, card or similar synthetic materials, typically computer punched tape or punched cards. Sometimes chad has been used as a mass noun or as a countable noun, and the plural is commonly either "chad" or "chads"...


from the ballot next each choice. The ballot may be pre-printed with candidates and referenda, or may be a generic ballot placed under a printed list of candidates and referenda. A tabulating machines counts ballots after the polls closed. Officials may manually count the ballots in the event of a dispute. Punched card voting systems are being replaced by other voting systems because of a high rate of inaccuracy related to the incomplete removal of the perforated chad and the inaccessibility to voters with disabilities.
In a jurisdiction using a mechanical voting system, often called a "voting machine", voters choose by pulling a lever next to their choice. There is a printed list of candidates, parties and referenda next to the levers indicating which lever is assigned to which choice. When the voter pulls a lever, it turns a connected gear in the machine, which turns a counter wheel. Each counter wheel shows a number, which is the number of votes cast using that lever. After the polls close, election officials check the wheels' positions and record the totals. No physical ballot is used in this system, except when the voter chooses to write-in a candidate. Other systems are replacing mechanical voting systems because they are inaccessible to disabled voters, do not have a physical ballot, are getting old, and other reasons.
In a jurisdiction using an electronic direct record voting system

DRE voting machine

A direct-recording electronic voting machine records votes by means of a ballot display provided with mechanical or electro-optical components that can be activated by the voter ; that processes data by means of a computer program; and that records voting data and ballot images in memory components...


(DRE), voters choose by pushing a button next to a printed list of candidates and referenda, or by touching the candidate or referenda box on a touchscreen

Touchscreen

A touchscreen is an electronic visual display that can detect the presence and location of a touch within the display area. The term generally refers to touching the display of the device with a finger or hand. Touchscreens can also sense other passive objects, such as a stylus...


interface. As the voter makes a selection, the DRE creates an electronic ballot stored by in the memory components of the system. After the polls close, the system counts the votes and reports the totals to the election officials. Many DREs include a communication device to transmit vote totals to a central tabulator. The touchscreen systems remind people of an automated teller machine (ATM)

Automated teller machine

An automated teller machine or automatic teller machine, also known as a Cashpoint , cash machine or sometimes a hole in the wall in British English, is a computerised telecommunications device that provides the clients of a financial institution with access to financial transactions in a public...


and often are described as such.
See also
Ballot box

Ballot box

A ballot box is a temporarily sealed container, usually square box though sometimes a tamper resistant bag, with a narrow slot in the top sufficient to accept a ballot paper in an election but which prevents anyone from accessing the votes cast until the close of the voting period...



Chad (paper)

Chad (paper)

Chad refers to paper fragments created when holes are made in a paper, card or similar synthetic materials, typically computer punched tape or punched cards. Sometimes chad has been used as a mass noun or as a countable noun, and the plural is commonly either "chad" or "chads"...



Democracy

Democracy

Democracy is generally defined as a form of government in which all adult citizens have an equal say in the decisions that affect their lives. Ideally, this includes equal participation in the proposal, development and passage of legislation into law...



Direct democracy

Direct democracy

Direct democracy is a form of government in which people vote on policy initiatives directly, as opposed to a representative democracy in which people vote for representatives who then vote on policy initiatives. Direct democracy is classically termed "pure democracy"...



E-democracy

E-democracy

E-democracy refers to the use of information technologies and communication technologies and strategies in political and governance processes...



Election fraud
List of democracy and elections-related topics
Secret ballot

Secret ballot

The secret ballot is a voting method in which a voter's choices in an election or a referendum are anonymous. The key aim is to ensure the voter records a sincere choice by forestalling attempts to influence the voter by intimidation or bribery. The system is one means of achieving the goal of...



Vote counting systems