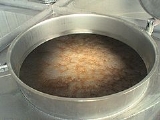 Fermentation (food)
Fermentation
in
food processing
Food processing
Food processing is the set of methods and techniques used to transform raw ingredients into food or to transform food into other forms for consumption by humans or animals either in the home or by the food processing industry...
typically is the conversion of
carbohydrate
Carbohydrate
A carbohydrate is an organic compound with the empirical formula ; that is, consists only of carbon, hydrogen, and oxygen, with a hydrogen:oxygen atom ratio of 2:1 . However, there are exceptions to this. One common example would be deoxyribose, a component of DNA, which has the empirical...
s to
alcohol
Alcohol
In chemistry, an alcohol is an organic compound in which the hydroxy functional group is bound to a carbon atom. In particular, this carbon center should be saturated, having single bonds to three other atoms....
s and carbon dioxide or organic acids using
yeast
Yeast
Yeasts are eukaryotic micro-organisms classified in the kingdom Fungi, with 1,500 species currently described estimated to be only 1% of all fungal species. Most reproduce asexually by mitosis, and many do so by an asymmetric division process called budding...
s,
bacteria
Bacteria
Bacteria are a large domain of prokaryotic microorganisms. Typically a few micrometres in length, bacteria have a wide range of shapes, ranging from spheres to rods and spirals...
, or a combination thereof, under anaerobic conditions. Fermentation in simple terms is the chemical conversion of
sugar
Sugar
Sugar is a class of edible crystalline carbohydrates, mainly sucrose, lactose, and fructose, characterized by a sweet flavor.Sucrose in its refined form primarily comes from sugar cane and sugar beet...
s into
ethanol
Ethanol
Ethanol, also called ethyl alcohol, pure alcohol, grain alcohol, or drinking alcohol, is a volatile, flammable, colorless liquid. It is a psychoactive drug and one of the oldest recreational drugs. Best known as the type of alcohol found in alcoholic beverages, it is also used in thermometers, as a...
. The science of fermentation is also known as
zymology
Zymology
Zymology is the study of zymurgy, the area of applied science related to fermentation. It deals with the biochemical processes involved in fermentation, with yeast selection and physiology, and with the practical issues of brewing.- Fermentation :...
, or zymurgy.
Fermentation usually implies that the action of microorganisms is desirable, and the process is used to produce alcoholic beverages such as
wine
Wine
Wine is an alcoholic beverage, made of fermented fruit juice, usually from grapes. The natural chemical balance of grapes lets them ferment without the addition of sugars, acids, enzymes, or other nutrients. Grape wine is produced by fermenting crushed grapes using various types of yeast. Yeast...
,
beer
Beer
Beer is the world's most widely consumed andprobably oldest alcoholic beverage; it is the third most popular drink overall, after water and tea. It is produced by the brewing and fermentation of sugars, mainly derived from malted cereal grains, most commonly malted barley and malted wheat...
, and
cider
Cider
Cider or cyder is a fermented alcoholic beverage made from apple juice. Cider varies in alcohol content from 2% abv to 8.5% abv or more in traditional English ciders. In some regions, such as Germany and America, cider may be termed "apple wine"...
.