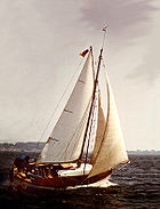 Sailing
Sailing
is the
propulsion
Marine propulsion
Marine propulsion is the mechanism or system used to generate thrust to move a ship or boat across water. While paddles and sails are still used on some smaller boats, most modern ships are propelled by mechanical systems consisting a motor or engine turning a propeller, or less frequently, in jet...
of a vehicle and the control of its movement with large (usually fabric) foils called
sail
Sail
A sail is any type of surface intended to move a vessel, vehicle or rotor by being placed in a wind—in essence a propulsion wing. Sails are used in sailing.-History of sails:...
s. By changing the
rigging
Rigging
Rigging is the apparatus through which the force of the wind is used to propel sailboats and sailing ships forward. This includes masts, yards, sails, and cordage.-Terms and classifications:...
,
rudder
Rudder
A rudder is a device used to steer a ship, boat, submarine, hovercraft, aircraft or other conveyance that moves through a medium . On an aircraft the rudder is used primarily to counter adverse yaw and p-factor and is not the primary control used to turn the airplane...
, and sometimes the keel or centre board, a
sailor
Sailor
A sailor, mariner, or seaman is a person who navigates water-borne vessels or assists in their operation, maintenance, or service. The term can apply to professional mariners, military personnel, and recreational sailors as well as a plethora of other uses...
manages the force of the
wind
Wind
Wind is the flow of gases on a large scale. On Earth, wind consists of the bulk movement of air. In outer space, solar wind is the movement of gases or charged particles from the sun through space, while planetary wind is the outgassing of light chemical elements from a planet's atmosphere into space...
on the sails in order to move the boat relative to its surrounding medium (typically water, but also
land
Land sailing
Land sailing, also known as sand yachting or land yachting, is the act of moving across land in a wheeled vehicle powered by wind through the use of a sail. The term comes from analogy with sailing. Historically, land sailing was used as a mode of transportation or recreation...
and ice) and change its direction and speed. Mastery of the skill requires experience in varying
wind and sea conditions
Weather
Weather is the state of the atmosphere, to the degree that it is hot or cold, wet or dry, calm or stormy, clear or cloudy. Most weather phenomena occur in the troposphere, just below the stratosphere. Weather refers, generally, to day-to-day temperature and precipitation activity, whereas climate...
, as well as knowledge concerning sailboats themselves and a keen understanding of one's surroundings.
While there are still some places in the world where sail-powered passenger, fishing and trading vessels are used, these craft have become rarer as
internal combustion engine
Internal combustion engine
The internal combustion engine is an engine in which the combustion of a fuel occurs with an oxidizer in a combustion chamber. In an internal combustion engine, the expansion of the high-temperature and high -pressure gases produced by combustion apply direct force to some component of the engine...
s have become economically viable in even the poorest and most remote areas.