 Chapbook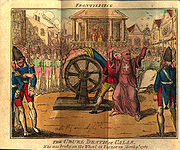 A
chapbook
is a pocket-sized booklet. The term
chap-book
was formalized by bibliophiles of the 19th century, as a variety of
ephemera
Ephemera
Ephemera are transitory written and printed matter not intended to be retained or preserved. The word derives from the Greek, meaning things lasting no more than a day. Some collectible ephemera are advertising trade cards, airsickness bags, bookmarks, catalogues, greeting cards, letters,...
(disposable printed material), popular or folk literature. It includes many kinds of printed material such as
pamphlet
Pamphlet
A pamphlet is an unbound booklet . It may consist of a single sheet of paper that is printed on both sides and folded in half, in thirds, or in fourths , or it may consist of a few pages that are folded in half and saddle stapled at the crease to make a simple book...
s, political and religious
tract
Tract (literature)
A tract is a literary work, and in current usage, usually religious in nature. The notion of what constitutes a tract has changed over time. By the early part of the 21st century, these meant small pamphlets used for religious and political purposes, though far more often the former. They are...
s,
nursery rhyme
Nursery rhyme
The term nursery rhyme is used for "traditional" poems for young children in Britain and many other countries, but usage only dates from the 19th century and in North America the older 'Mother Goose Rhymes' is still often used.-Lullabies:...
s,
poetry
Poetry
Poetry is a form of literary art in which language is used for its aesthetic and evocative qualities in addition to, or in lieu of, its apparent meaning...
, folk tales,
children's literature
Children's literature
Children's literature is for readers and listeners up to about age twelve; it is often defined in four different ways: books written by children, books written for children, books chosen by children, or books chosen for children. It is often illustrated. The term is used in senses which sometimes...
and almanacs. Where there were illustrations, they would be popular prints. The term is derived from
chapmen
Chapmen
A chapman was an itinerant dealer or hawker in early modern Britain.-Etymology:Old English céapmann was the regular term for "dealer, seller", cognate to the synonymous Dutch koopman....
, chap coming from the Old English céap meaning "deal, barter, business", a variety of
peddler
Peddler
A peddler, in British English pedlar, also known as a canvasser, cheapjack, monger, or solicitor , is a travelling vendor of goods. In England, the term was mostly used for travellers hawking goods in the countryside to small towns and villages; they might also be called tinkers or gypsies...
, who circulated such literature as part of their stock. The term is also in use for present-day publications, usually poetry, of up to about 40 pages, ranging from low-cost productions to expensive, finely produced editions.
History
Broadside ballads were popular songs, sold for a
penny
Penny
A penny is a coin or a type of currency used in several English-speaking countries. It is often the smallest denomination within a currency system.-Etymology:...
or halfpenny in the streets of towns and villages around Britain between the 16th century and early 20th centuries. They preceded chapbooks, but had similar content, marketing and distribution systems. There are records from
Cambridgeshire
Cambridgeshire
Cambridgeshire is a county in England, bordering Lincolnshire to the north, Norfolk to the northeast, Suffolk to the east, Essex and Hertfordshire to the south, and Bedfordshire and Northamptonshire to the west...
as early as in 1553 of a man offering a scurrilous ballad
"maistres mass"
at an alehouse, and a pedlar selling
"lytle books"
to people, including a patcher of old clothes in 1578. These sales are probably characteristic of the market for chapbooks.
Chapbooks gradually disappeared from the mid-19th century in the face of competition from cheap newspapers and, especially in Scotland, religious tract societies that regarded them as "ungodly." Although the form originated in Britain, many were made in the U.S. during the same period.
Because of their flimsy nature such
ephemera
Ephemera
Ephemera are transitory written and printed matter not intended to be retained or preserved. The word derives from the Greek, meaning things lasting no more than a day. Some collectible ephemera are advertising trade cards, airsickness bags, bookmarks, catalogues, greeting cards, letters,...
rarely survive as individual items. They were aimed at buyers without formal libraries, and, in an era when paper was expensive, were used for wrapping or baking. Paper has also always had hygienic uses and there are contemporary references to the use of chapbooks as
bum fodder
(i.e.
toilet paper
Toilet paper
Toilet paper is a soft paper product used to maintain personal hygiene after human defecation or urination. However, it can also be used for other purposes such as blowing one's nose when one has a cold or absorbing common spills around the house, although paper towels are more used for the latter...
). Many of the surviving chapbooks come from the collections of
Samuel Pepys
Samuel Pepys
Samuel Pepys FRS, MP, JP, was an English naval administrator and Member of Parliament who is now most famous for the diary he kept for a decade while still a relatively young man...
between 1661 and 1688 which are now held at
Magdalene College
Magdalene College, Cambridge
Magdalene College is a constituent college of the University of Cambridge, England.The college was founded in 1428 as a Benedictine hostel, in time coming to be known as Buckingham College, before being refounded in 1542 as the College of St Mary Magdalene...
,
Cambridge
Cambridge
The city of Cambridge is a university town and the administrative centre of the county of Cambridgeshire, England. It lies in East Anglia about north of London. Cambridge is at the heart of the high-technology centre known as Silicon Fen – a play on Silicon Valley and the fens surrounding the...
.
Anthony Wood
Anthony Wood
Anthony Wood or Anthony à Wood was an English antiquary.-Early life:Anthony Wood was the fourth son of Thomas Wood , BCL of Oxford, where Anthony was born...
also collected 65 chapbooks, (including 20 from before 1660), which are now at The
Bodleian Library
Bodleian Library
The Bodleian Library , the main research library of the University of Oxford, is one of the oldest libraries in Europe, and in Britain is second in size only to the British Library...
. There are also significant Scottish collections.
Modern collectors, such as Peter Opie, have chiefly a scholarly interest in the form.
Production and distribution
Chapbooks are mostly small
paper
Paper
Paper is a thin material mainly used for writing upon, printing upon, drawing or for packaging. It is produced by pressing together moist fibers, typically cellulose pulp derived from wood, rags or grasses, and drying them into flexible sheets....
-covered booklets, usually printed on a single sheet folded into books of 8, 12, 16 and 24 pages, often illustrated with crude
woodcut
Woodcut
Woodcut—occasionally known as xylography—is a relief printing artistic technique in printmaking in which an image is carved into the surface of a block of wood, with the printing parts remaining level with the surface while the non-printing parts are removed, typically with gouges...
s, which sometimes bear no relation to the text. They were produced cheaply. One collector, Harry Weiss, wrote:
"the printing in many cases was execrable, the paper even worse, and the woodcut illustrations, some of which did duty for various tales regardless of their fitness, were sometimes worse than the paper and presswork combined"
. However, the category has no real limits: some chapbooks were long, some well produced, and some even historically accurate.
The centre of chapbook and ballad production was
London
London
London is the capital city of :England and the :United Kingdom, the largest metropolitan area in the United Kingdom, and the largest urban zone in the European Union by most measures. Located on the River Thames, London has been a major settlement for two millennia, its history going back to its...
, and until the
Great Fire of London
Great Fire of London
The Great Fire of London was a major conflagration that swept through the central parts of the English city of London, from Sunday, 2 September to Wednesday, 5 September 1666. The fire gutted the medieval City of London inside the old Roman City Wall...
the printers were based around
London Bridge
London Bridge
London Bridge is a bridge over the River Thames, connecting the City of London and Southwark, in central London. Situated between Cannon Street Railway Bridge and Tower Bridge, it forms the western end of the Pool of London...
. However, a feature of chapbooks is the proliferation of provincial printers, especially in
Scotland
Scotland
Scotland is a country that is part of the United Kingdom. Occupying the northern third of the island of Great Britain, it shares a border with England to the south and is bounded by the North Sea to the east, the Atlantic Ocean to the north and west, and the North Channel and Irish Sea to the...
and
Newcastle upon Tyne
Newcastle upon Tyne
Newcastle upon Tyne is a city and metropolitan borough of Tyne and Wear, in North East England. Historically a part of Northumberland, it is situated on the north bank of the River Tyne...
.
Content
Chapbooks were an important medium for the dissemination of popular culture to the common people, especially in rural areas. They were a medium of entertainment, information and (generally unreliable) history. They are now valued as a record of popular culture, preserving cultural artifacts that may not survive in any other form.
Chapbooks were priced for sales to workers, although their market was not limited to the working classes. Broadside ballads were sold for a halfpenny, or a few pence. Prices of chapbooks were from 2d. to 6d., when agricultural labourers wages were 12d. per day. The literacy rate in England in the 1640s was around 30 percent for males and rose to 60 percent in mid-18th century (see
Education in the Age of Enlightenment
Education in the Age of Enlightenment
The educational system played a very important role in the transmission of ideas and ideals of the Enlightenment. The educational system in Europe was continuously being developed and this process continued throughout the period of the Enlightenment and the French Revolution...
). Many working people were readers, if not writers, and pre-industrial working patterns provided periods during which they could read. Chapbooks were undoubtedly used for reading to family groups or groups in alehouses.
They even contributed to the development of literacy.
Francis Kirkman
Francis Kirkman
Francis Kirkman appears in many roles in the English literary world of the second half of the seventeenth century, as a publisher, bookseller, librarian, author and bibliographer...
, the author and publisher, wrote about how they fired his imagination and his love of books. There is other evidence of their use by autodidacts.
Nevertheless, the numbers printed are astonishing. In the 1660s as many as 400,000
almanac
Almanac
An almanac is an annual publication that includes information such as weather forecasts, farmers' planting dates, and tide tables, containing tabular information in a particular field or fields often arranged according to the calendar etc...
s were printed annually, enough for one family in three in England. One 17th century publisher of chapbooks in London had in stock one book for every 15 families in the country. In the 1520s the
Oxford
Oxford
The city of Oxford is the county town of Oxfordshire, England. The city, made prominent by its medieval university, has a population of just under 165,000, with 153,900 living within the district boundary. It lies about 50 miles north-west of London. The rivers Cherwell and Thames run through...
bookseller, John Dorne, noted in his day-book selling up to 190 ballads a day at a halfpenny each. The probate inventory of the stock of Charles Tias, of
The sign of the Three Bibles
on London Bridge, in 1664 included books and printed sheets to make c.90,000 chapbooks (inc. 400 reams of paper) and 37,500 ballad sheets. Tias was not regarded as an outstanding figure in the trade. The inventory of Josiah Blare, of
The Sign of the Looking Glass
on London Bridge, in 1707 listed 31,000 books, plus 257 reams of printed sheets. A conservative estimate of their sales in Scotland alone in the second half of the 18th century was over 200,000 per year.
These printers provided chapbooks to
chapmen
Chapmen
A chapman was an itinerant dealer or hawker in early modern Britain.-Etymology:Old English céapmann was the regular term for "dealer, seller", cognate to the synonymous Dutch koopman....
on credit, who carried them around the country, selling from door to door, at markets and fairs, and returning to pay for the stock they sold. This facilitated wide distribution and large sales with minimum outlay, and also provided the printers with feedback about what titles were most popular. Popular works were reprinted, pirated, edited, and produced in different editions.
Francis Kirkman
Francis Kirkman
Francis Kirkman appears in many roles in the English literary world of the second half of the seventeenth century, as a publisher, bookseller, librarian, author and bibliographer...
, whose eye was always on the market, wrote two sequels to the popular
Don Bellianus of Greece
, first printed in 1598.
Publishers also issued catalogues, and chapbooks are found in the libraries of provincial yeomen and
gentry
Gentry
Gentry denotes "well-born and well-bred people" of high social class, especially in the past....
. John Whiting, a Quaker yeoman imprisoned at
Ilchester
Ilchester
Ilchester is a village and civil parish, situated on the River Yeo or Ivel, five miles north of Yeovil, in the English county of Somerset. The parish, which includes the village of Sock Dennis and the old parish of Northover, has a population of 2,021...
,
Somerset
Somerset
The ceremonial and non-metropolitan county of Somerset in South West England borders Bristol and Gloucestershire to the north, Wiltshire to the east, Dorset to the south-east, and Devon to the south-west. It is partly bounded to the north and west by the Bristol Channel and the estuary of the...
in the 1680s had books sent by carrier from London, and left for him at an inn.
Pepys had a collection of ballads bound into volumes, under the following classifications, into which could fit the subject matter of most chapbooks:
Devotion and Morality
History – true and fabulous
Tragedy: viz. Murders, executions, and judgements of God
State and Times
Love – pleasant
Ditto – unpleasant
Marriage, Cuckoldry, &c.
Sea – love, gallantry & actions
Drinking and good fellowship
Humour, frollicks and mixt.
The stories in many of the popular chapbooks can be traced back to much earlier origins.
Bevis of Hampton
, was an Anglo-Norman romance of 13th century, which probably drew on earlier themes. The structure of
The Seven Sages of Rome
Seven Wise Masters
The Seven Wise Masters is a cycle of stories of Sanskrit, Persian or Hebrew origins.-Story and Plot:...
was from the orient, and was used by Chaucer. Many jests about ignorant and greedy clergy in chapbooks were taken from
The Friar and the Boy
printed about 1500 by
Wynkyn de Worde
Wynkyn de Worde
Wynkyn de Worde was a printer and publisher in London known for his work with William Caxton, and is recognized as the first to popularize the products of the printing press in England....
, and
The Sackfull of News
, (1557).
Historical stories set in a mythical and fantastical past were popular. The selection is interesting.
Charles I
Charles I of England
Charles I was King of England, King of Scotland, and King of Ireland from 27 March 1625 until his execution in 1649. Charles engaged in a struggle for power with the Parliament of England, attempting to obtain royal revenue whilst Parliament sought to curb his Royal prerogative which Charles...
, and
Oliver Cromwell
Oliver Cromwell
Oliver Cromwell was an English military and political leader who overthrew the English monarchy and temporarily turned England into a republican Commonwealth, and served as Lord Protector of England, Scotland, and Ireland....
do not appear as historical figures in the Pepys collection, and Elizabeth I only once. The Wars of the Roses and the
English Civil War
English Civil War
The English Civil War was a series of armed conflicts and political machinations between Parliamentarians and Royalists...
do not appear at all. Henry VIII &
Henry II
Henry II of England
Henry II ruled as King of England , Count of Anjou, Count of Maine, Duke of Normandy, Duke of Aquitaine, Duke of Gascony, Count of Nantes, Lord of Ireland and, at various times, controlled parts of Wales, Scotland and western France. Henry, the great-grandson of William the Conqueror, was the...
appear in disguise, standing up for the right with cobblers & millers and then inviting them to Court and rewarding them. There was a pattern of high born heroes overcoming reduced circumstances by valour, such as St George,
Guy of Warwick
Guy of Warwick
Guy of Warwick is a legendary English hero of Romance popular in England and France from the 13th to the 17th century. The story of Sir Guy is considered by scholars to be part of the Matter of England.-Plot:...
,
Robin Hood
Robin Hood
Robin Hood was a heroic outlaw in English folklore. A highly skilled archer and swordsman, he is known for "robbing from the rich and giving to the poor", assisted by a group of fellow outlaws known as his "Merry Men". Traditionally, Robin Hood and his men are depicted wearing Lincoln green clothes....
(who at this stage has yet to give to the poor what he was stealing from the rich), and heroes of low birth who achieve status through force of arms, such as
Clim of Clough
, and
William of Cloudesley
. Clergy often appear as figures of fun, and stupid countrymen were also popular (e.g.,
The Wise Men of Gotham
). Other works were aimed at regional and rural audience (e.g.,
The Country Mouse and the Town Mouse
).
From 1597 works appeared aimed at specific trades, such as
clothier
Clothier
Clothier may refer to one of the following professions:*Tailor - the most common modern usage*Cloth merchant*A cloth manufacturer - see cloth productionAs a surname, Clothier may refer to one of the following individuals:...
s, weavers and shoemakers. The latter were commonly literate. Thomas Deloney, a weaver, wrote
Thomas of Reading

Reading, Berkshire

Reading is a large town and unitary authority area in England. It is located in the Thames Valley at the confluence of the River Thames and River Kennet, and on both the Great Western Main Line railway and the M4 motorway, some west of London....



, about six clothiers from
Reading
Reading, Berkshire
Reading is a large town and unitary authority area in England. It is located in the Thames Valley at the confluence of the River Thames and River Kennet, and on both the Great Western Main Line railway and the M4 motorway, some west of London....
,
Gloucester
Gloucester
Gloucester is a city, district and county town of Gloucestershire in the South West region of England. Gloucester lies close to the Welsh border, and on the River Severn, approximately north-east of Bristol, and south-southwest of Birmingham....
,
Worcester
Worcester
The City of Worcester, commonly known as Worcester, , is a city and county town of Worcestershire in the West Midlands of England. Worcester is situated some southwest of Birmingham and north of Gloucester, and has an approximate population of 94,000 people. The River Severn runs through the...
,
Exeter
Exeter
Exeter is a historic city in Devon, England. It lies within the ceremonial county of Devon, of which it is the county town as well as the home of Devon County Council. Currently the administrative area has the status of a non-metropolitan district, and is therefore under the administration of the...
,
Salisbury
Salisbury
Salisbury is a cathedral city in Wiltshire, England and the only city in the county. It is the second largest settlement in the county...
&
Southampton
Southampton
Southampton is the largest city in the county of Hampshire on the south coast of England, and is situated south-west of London and north-west of Portsmouth. Southampton is a major port and the closest city to the New Forest...
, travelling together and meeting at
Basingstoke
Basingstoke
Basingstoke is a town in northeast Hampshire, in south central England. It lies across a valley at the source of the River Loddon. It is southwest of London, northeast of Southampton, southwest of Reading and northeast of the county town, Winchester. In 2008 it had an estimated population of...
their fellows from
Kendal
Kendal
Kendal, anciently known as Kirkby in Kendal or Kirkby Kendal, is a market town and civil parish within the South Lakeland District of Cumbria, England...
,
Manchester
Manchester
Manchester is a city and metropolitan borough in Greater Manchester, England. According to the Office for National Statistics, the 2010 mid-year population estimate for Manchester was 498,800. Manchester lies within one of the UK's largest metropolitan areas, the metropolitan county of Greater...
and
Halifax
Halifax, West Yorkshire
Halifax is a minster town, within the Metropolitan Borough of Calderdale in West Yorkshire, England. It has an urban area population of 82,056 in the 2001 Census. It is well-known as a centre of England's woollen manufacture from the 15th century onward, originally dealing through the Halifax Piece...
. In his,
Jack of Newbury

Newbury, Berkshire

Newbury is a civil parish and the principal town in the west of the county of Berkshire in England. It is situated on the River Kennet and the Kennet and Avon Canal, and has a town centre containing many 17th century buildings. Newbury is best known for its racecourse and the adjoining former USAF...


,
1600, set in Henry VIII's time, an apprentice to a
broadcloth
Broadcloth
Broadcloth is a dense woollen cloth. Modern broadcloth can be composed of cotton, silk, or polyester, but traditionally broadcloth was made solely of wool. The dense weave lends sturdiness to the material....
weaver takes over his business and marries his widow on his death. On achieving success, he is liberal to the poor and refuses a knighthood for his substantial services to the king.
Other examples from the Pepys collection include
The Countryman's Counsellor, or Everyman his own Lawyer
, and
Sports and Pastimes
, written for schoolboys, including magic tricks, like how to
"fetch a shilling out of a handkerchief",
write invisibly, make roses out of paper, snare wild duck, and make a maid-servant fart uncontrollably.
The provinces and Scotland had their own local heroes.
Robert Burns
Robert Burns
Robert Burns was a Scottish poet and a lyricist. He is widely regarded as the national poet of Scotland, and is celebrated worldwide...
commented that one of the first two books he read
in private
was
the history of Sir William Wallace

William Wallace

Sir William Wallace was a Scottish knight and landowner who became one of the main leaders during the Wars of Scottish Independence....



that
poured a Scottish prejudice in my veins which will boil along there till the flood-gates of life shut in eternal rest
Influence
They had a wide and continuing influence. Eighty percent of English folk songs collected by early-20th century collectors have been linked to printed broadsides, including over 90 of which could only be derived from those printed before 1700. It has been suggested the majority of surviving ballads can be traced to 1550-1600 by internal evidence.
One of the most popular and influential chapbooks was Richard Johnson's
Seven Champions of Christendom
(1596), believed to be the source for the introduction of the character St George into English
folk play
Folk play
Folk plays such as Hoodening, Guising, Mumming and Soul Caking are generally verse sketches performed in countryside pubs in European countries, private houses or the open air, at set times of the year such as the Winter or Summer solstices or Christmas and New Year...
s.
Robert Greene
Robert Greene (16th century)
Robert Greene was an English author best known for a posthumous pamphlet attributed to him, Greene's Groats-Worth of Wit, widely believed to contain a polemic attack on William Shakespeare. He was born in Norwich and attended Cambridge University, receiving a B.A. in 1580, and an M.A...
's novel,
Dorastus and Fawnia
, (originally
Pandosto
) (1588), the basis of Shakespeare's
The Winter's Tale
The Winter's Tale
The Winter's Tale is a play by William Shakespeare, originally published in the First Folio of 1623. Although it was grouped among the comedies, some modern editors have relabelled the play as one of Shakespeare's late romances. Some critics, among them W. W...
was still being published in cheap editions in the 1680s. Some stories were still being published in the 19th century, (e.g.,
Jack of Newbury
,
Friar Bacon
,
Dr Faustus
and
The Seven Champions of Christendom
).
Modern chapbooks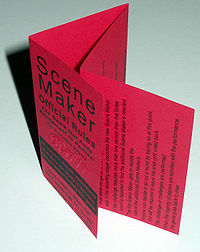 Chapbook
is also a term currently used to denote publications of up to about 40 pages, usually
poetry
Poetry
Poetry is a form of literary art in which language is used for its aesthetic and evocative qualities in addition to, or in lieu of, its apparent meaning...
bound with some form of saddle stitch, though many are perfect bound, folded, or wrapped. These publications range from low-cost productions to finely produced, hand-made editions that may sell to collectors for hundreds of dollars. More recently, the popularity of fiction chapbooks has also increased.
The genre has been revitalized in the past 40 years by the widespread availability of first mimeograph technology, then low-cost copy centers and digital printing, and by the cultural revolutions spurred by both zines and poetry slams, the latter generating hundreds upon hundreds of self-published chapbooks that are used to fund tours.
With the recent popularity of blogs, online literary journals, and other online publishers, short collections of poetry published online are frequently referred to as "online chapbooks."
Chapbook collections