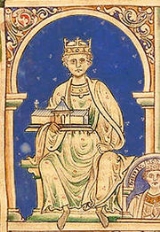 Henry II of England
Henry II
ruled as King of England (1154–1189), Count of Anjou, Count of Maine,
Duke of Normandy
Duke of Normandy
The Duke of Normandy is the title of the reigning monarch of the British Crown Dependancies of the Bailiwick of Guernsey and the Bailiwick of Jersey. The title traces its roots to the Duchy of Normandy . Whether the reigning sovereign is a male or female, they are always titled as the "Duke of...
,
Duke of Aquitaine
Duke of Aquitaine
The Duke of Aquitaine ruled the historical region of Aquitaine under the supremacy of Frankish, English and later French kings....
,
Duke of Gascony
Duke of Gascony
The Duchy of Vasconia , later known as Gascony, was a Merovingian creation: a frontier duchy on the Garonne, in the border with the rebel Basque tribes...
, Count of Nantes, Lord of Ireland and, at various times, controlled parts of Wales, Scotland and western France. Henry, the great-grandson of William the Conqueror, was the first of the
House of Plantagenet
House of Plantagenet
The House of Plantagenet , a branch of the Angevins, was a royal house founded by Geoffrey V of Anjou, father of Henry II of England. Plantagenet kings first ruled the Kingdom of England in the 12th century. Their paternal ancestors originated in the French province of Gâtinais and gained the...
to rule England. Henry was the first to use the title "King of England" (as opposed to "King of the English").
He is known as
Henry Curtmantle
or
Curtmantel
and
Henry Fitz-Empress
.
Henry II was born in
Le Mans
Le Mans
Le Mans is a city in France, located on the Sarthe River. Traditionally the capital of the province of Maine, it is now the capital of the Sarthe department and the seat of the Roman Catholic diocese of Le Mans. Le Mans is a part of the Pays de la Loire region.Its inhabitants are called Manceaux...
, France, on 5 March 1133.
1152 Henry II of England marries Eleanor of Aquitaine.
1154 Henry II of England is crowned at Westminster Abbey.
1170 Thomas Becket: Thomas Becket, Archbishop of Canterbury, is assassinated inside Canterbury Cathedral by followers of King Henry II; he subsequently becomes a saint and martyr in the Anglican Church and the Roman Catholic Church.
1174 William I of Scotland, a key rebel in the Revolt of 1173–1174, is captured at Alnwick by forces loyal to Henry II of England.