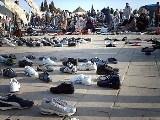 Shoe
A
shoe
is an item of
footwear
Footwear
Footwear consists of garments worn on the feet, for fashion, protection against the environment, and adornment. Being barefoot is commonly associated with poverty, but some cultures chose not to wear footwear at least in some situations....
intended to protect and comfort the human foot while doing various activities. Shoes are also used as an item of decoration. The
design
Design
Design as a noun informally refers to a plan or convention for the construction of an object or a system while "to design" refers to making this plan...
of shoes has varied enormously through time and from
culture
Culture
Culture is a term that has many different inter-related meanings. For example, in 1952, Alfred Kroeber and Clyde Kluckhohn compiled a list of 164 definitions of "culture" in Culture: A Critical Review of Concepts and Definitions...
to culture, with appearance originally being tied to function. Additionally fashion has often dictated many design elements, such as whether shoes have very high heels or flat ones.
A
shoe
is an item of
footwear
Footwear
Footwear consists of garments worn on the feet, for fashion, protection against the environment, and adornment. Being barefoot is commonly associated with poverty, but some cultures chose not to wear footwear at least in some situations....
intended to protect and comfort the human foot while doing various activities. Shoes are also used as an item of decoration. The
design
Design
Design as a noun informally refers to a plan or convention for the construction of an object or a system while "to design" refers to making this plan...
of shoes has varied enormously through time and from
culture
Culture
Culture is a term that has many different inter-related meanings. For example, in 1952, Alfred Kroeber and Clyde Kluckhohn compiled a list of 164 definitions of "culture" in Culture: A Critical Review of Concepts and Definitions...
to culture, with appearance originally being tied to function. Additionally fashion has often dictated many design elements, such as whether shoes have very high heels or flat ones. Contemporary footwear varies widely in style, complexity and cost. Basic sandals may consist of only a thin sole and simple strap. High
fashion
Fashion
Fashion, a general term for a currently popular style or practice, especially in clothing, foot wear, or accessories. Fashion references to anything that is the current trend in look and dress up of a person...
shoes may be made of very expensive materials in complex construction and sell for thousands of dollars a pair. Other shoes are for very specific purposes, such as
boot
Boot
A boot is a type of footwear but they are not shoes. Most boots mainly cover the foot and the ankle and extend up the leg, sometimes as far as the knee or even the hip. Most boots have a heel that is clearly distinguishable from the rest of the sole, even if the two are made of one piece....
s specially designed for
mountaineering
Mountaineering
Mountaineering or mountain climbing is the sport, hobby or profession of hiking, skiing, and climbing mountains. While mountaineering began as attempts to reach the highest point of unclimbed mountains it has branched into specialisations that address different aspects of the mountain and consists...
or
skiing
Skiing
Skiing is a recreational activity using skis as equipment for traveling over snow. Skis are used in conjunction with boots that connect to the ski with use of a binding....
.
Shoes have traditionally been made from
leather
Leather
Leather is a durable and flexible material created via the tanning of putrescible animal rawhide and skin, primarily cattlehide. It can be produced through different manufacturing processes, ranging from cottage industry to heavy industry.-Forms:...
,
wood
Wood
Wood is a hard, fibrous tissue found in many trees. It has been used for hundreds of thousands of years for both fuel and as a construction material. It is an organic material, a natural composite of cellulose fibers embedded in a matrix of lignin which resists compression...
or
canvas
Canvas
Canvas is an extremely heavy-duty plain-woven fabric used for making sails, tents, marquees, backpacks, and other items for which sturdiness is required. It is also popularly used by artists as a painting surface, typically stretched across a wooden frame...
, but are increasingly made from
rubber
Synthetic rubber
Synthetic rubber is is any type of artificial elastomer, invariably a polymer. An elastomer is a material with the mechanical property that it can undergo much more elastic deformation under stress than most materials and still return to its previous size without permanent deformation...
,
plastic
Plastic
A plastic material is any of a wide range of synthetic or semi-synthetic organic solids used in the manufacture of industrial products. Plastics are typically polymers of high molecular mass, and may contain other substances to improve performance and/or reduce production costs...
s, and other
petrochemical
Petrochemical
Petrochemicals are chemical products derived from petroleum. Some chemical compounds made from petroleum are also obtained from other fossil fuels, such as coal or natural gas, or renewable sources such as corn or sugar cane....
-derived materials.
Until recent years, shoes were not worn by most of the world's population—largely because they could not afford them. Only with the advent of
mass production
Mass production
Mass production is the production of large amounts of standardized products, including and especially on assembly lines...
, making shoes available very cheaply, has shoe-wearing become predominant.
The foot contains more
bone
Bone
Bones are rigid organs that constitute part of the endoskeleton of vertebrates. They support, and protect the various organs of the body, produce red and white blood cells and store minerals. Bone tissue is a type of dense connective tissue...
s than any other single part of the
body
Human body
The human body is the entire structure of a human organism, and consists of a head, neck, torso, two arms and two legs.By the time the human reaches adulthood, the body consists of close to 100 trillion cells, the basic unit of life...
. Though it has
evolved
Human evolution
Human evolution refers to the evolutionary history of the genus Homo, including the emergence of Homo sapiens as a distinct species and as a unique category of hominids and mammals...
over hundreds of thousands of years in relation to vastly varied
terrain
Terrain
Terrain, or land relief, is the vertical and horizontal dimension of land surface. When relief is described underwater, the term bathymetry is used...
and
climate
Climate
Climate encompasses the statistics of temperature, humidity, atmospheric pressure, wind, rainfall, atmospheric particle count and other meteorological elemental measurements in a given region over long periods...
conditions, the foot is still vulnerable to environmental hazards such as sharp rocks and hot ground, which shoes can protect against.
History
The earliest known shoes are sandals dating from about 8000 to 7000 BC and found in
Oregon
Oregon
Oregon is a state in the Pacific Northwest region of the United States. It is located on the Pacific coast, with Washington to the north, California to the south, Nevada on the southeast and Idaho to the east. The Columbia and Snake rivers delineate much of Oregon's northern and eastern...
, USA in 1938. The world's
oldest leather shoe
Areni-1 shoe
The Areni-1 shoe is a 5,500-year-old leather shoe that was found in 2008 in excellent condition in the Areni-1 cave complex located in the Vayots Dzor province of Armenia. It is a one-piece leather-hide shoe that has been dated as a few hundred years older than the one found on Ötzi the Iceman,...
, made from a single piece of cowhide laced with a leather cord along seams at the front and back, was found in a cave in
Armenia
Armenia
Armenia , officially the Republic of Armenia , is a landlocked mountainous country in the Caucasus region of Eurasia...
in 2008 and is believed to date to 3,500 BC.
Ötzi the Iceman
Ötzi the Iceman
Ötzi the Iceman , Similaun Man, and Man from Hauslabjoch are modern names for a well-preserved natural mummy of a man who lived about 5,300 years ago. The mummy was found in September 1991 in the Ötztal Alps, near Hauslabjoch on the border between Austria and Italy. The nickname comes from the...
's shoes, dating to 3,300 BC, featured brown bearskin bases, deerskin side panels, and a bark-string net, which pulled tight around the foot. However, tanned leather, the material most commonly used for making shoes, does not normally last for thousands of years, so shoes were probably in use long before this. Physical anthropologist
Erik Trinkaus
Erik Trinkaus
Erik Trinkaus, PhD, is a prominent paleoanthropologist and expert on Neanderthal biology and human evolution. Trinkaus researches the evolution of the species Homo sapiens and recent human diversity, focusing on the paleoanthropology and emergence of late archaic and early modern humans, and the...
believes he has found evidence that the use of shoes began in the period between about 40,000 and 26,000 years ago, based on the fact that the thickness of the bones of the toes (other than the big toe) decreased during this period, on the premise that wearing shoes resulted in less bone growth, resulting in shorter, thinner toes.
The earliest designs were simple affairs, often mere "foot bags" of leather to protect the feet from rocks, debris, and cold. Since shoes use more leather than
sandal
Sandal (footwear)
Sandals are an open type of outdoor footwear, consisting of a sole held to the wearer's foot by straps passing over the instep and, sometimes, around the ankle...
s, their use was more common in cold climates. By the
Middle Ages
Middle Ages
The Middle Ages is a periodization of European history from the 5th century to the 15th century. The Middle Ages follows the fall of the Western Roman Empire in 476 and precedes the Early Modern Era. It is the middle period of a three-period division of Western history: Classic, Medieval and Modern...
, turn-shoes had been developed with toggled flaps or
drawstring
Drawstring
A drawstring is a string, cord, or rope used to "draw" or tie closed an opening in fabric or other material...
s to tighten the leather around the foot for a better fit. As Europe gained in wealth and power, fancy shoes became status symbols. Toes became long and pointed, often to ridiculous proportions. Artisans created unique footwear for rich patrons, and new styles developed. Eventually the modern shoe, with a sewn-on sole, was devised. Since the 17th century, most leather shoes have used a sewn-on sole. This remains the standard for finer-quality dress shoes today. Until around 1800, shoes were made without differentiation for the left or right foot. Such shoes are now referred to as "straights". Only gradually did the modern foot-specific shoe become standard.
Since the mid-20th Century, advances in rubber, plastics, synthetic cloth, and industrial adhesives have allowed manufacturers to create shoes that stray considerably from traditional crafting techniques. Leather, which had been the primary material in earlier styles, has remained standard in expensive dress shoes, but athletic shoes often have little or no real leather. Soles, which were once laboriously hand-stitched on, are now more often machine stitched or simply glued on.
Sole
The bottom of a shoe, the part that is intended to come in repeated contact with the ground, is called the sole. Soles have been made from plant fibers, leather, wood, rubber, synthetics, plastic, and various combinations of these materials. Soles can be simple, a single material in a single layer, or they can be complex with multiple structures or layers and materials.
Insole
The insole is the interior bottom of a shoe, which sits directly beneath the foot under the footbed (also known as sock liner). The purpose of insole is to attach to the lasting margin of the upper, which is wrapped around the
last
Last
A last is a form in the approximate shape of a human foot, used by shoemakers and cordwainers in the manufacture and repair of shoes. Lasts typically come in pairs, and throughout their history have been made from many materials, including hardwoods, cast iron, and, more recently, high density...
during the closing of the shoe during the lasting operation. Insoles are usually made of cellulosic paper board or synthetic non woven insole board. Many shoes have removable and replaceable footbeds. Extra cushioning is often added for comfort (to control the shape, moisture, or smell of the shoe) or health reasons (to help deal with defects in the natural shape of the foot or positioning of the foot during standing or walking). Basically, this is a main part of shoes which can absorb foot sweat. Footbeds should typically use foam cushioning sheets like latex and
EVA
Ethylene-vinyl acetate
Ethylene vinyl acetate is the copolymer of ethylene and vinyl acetate. The weight percent vinyl acetate usually varies from 10 to 40%, with the remainder being ethylene....
, which provide good wearing comfort of the shoe.
Outsole
The outsole is the layer in direct contact with the ground. Dress shoes often have leather or resin rubber outsoles; casual or work-oriented shoes have outsoles made of natural rubber or a synthetic material like Polyurethane. The outsole may comprise a single piece, or may be an assembly of separate pieces of different materials. Often the heel of the sole has a rubber plate for durability and traction, while the front is leather for style. Specialized shoes will often have modifications on this design: athletic or so called cleated shoes like soccer, rugby, baseball and golf shoes have spikes embedded in the outsole to grip the ground.
Midsole
The layer in between the outsole and the insole that is typically there for shock absorption. Some types of shoes, like running shoes, have another material for shock absorption, usually beneath the heel of the foot, where one puts the most pressure down. Different companies use different materials for the midsoles of their shoes. Some shoes may not have a midsole at all.
Heel
The bottom rear part of a shoe is the heel. Its function is to support the heel of the foot. They are often made of the same material as the sole of the shoe. This part can be high for fashion or to make the person look taller, or flat for a more practical and comfortable use.
Vamp/upper
Every shoe has an upper part that helps hold the shoe onto the foot. In the simplest cases, such as sandals or flip-flops, this may be nothing more than a few straps for holding the sole in place. Closed footwear, such as boots, trainers and most men's shoes, will have a more complex upper. This part is often decorated or is made in a certain style to look attractive.
Lateral/medial
The outside part of the shoe is referred to as the lateral and the inside facing part of the shoe is the medial. This can be in reference to either the outsole or the vamp.
Welt
A welt is a strip of leather, rubber, or plastic that is stitched to the upper and insole of a shoe, as an attach-point for the sole.
Accessories
Shoehorn: can be used to insert a foot into a shoe by keeping the shoe open and providing a smooth surface for the foot to slide upon.
Shoe tree

Shoe tree

A shoe tree is a device approximating the shape of a foot that is placed inside a shoe to preserve its shape, stop it from developing creases and thereby extend the life of the shoe....


: placed inside the shoe when user is not wearing it, to help maintain the shoe's shape.
Heel grip: used to prevent the shoe from slipping on the heel if the fit is not perfect
Foam tap: a small foam pad placed under the ball of the foot to push the foot up and back if the shoe is too loose.
Shoe polishing equipment:

Shoe polish

Shoe polish

Shoe polish , usually a waxy paste or a cream, is a consumer product used to polish, shine, waterproof, and restore the appearance of leather shoes or boots, thereby extending the footwear's life...


: a waxy material spread on shoes to improve appearance and glossiness, and provide protection.
Shoe brush and polishing cloth: used to apply polish to shoes.

Overshoes or galoshes

Galoshes

Galoshes , also known as boat shoes, dickersons, or overshoes, are a type of rubber boot that is slipped over shoes to keep them from getting muddy or wet. The word galoshes might be used interchangeably with boot, especially a rubberized boot...


: a rubber covering placed over shoes for rain and snow protection.
(Orthopedic) shoe insert

Shoe insert

A shoe insert is a removable insole which accomplishes any of a number of purposes, including daily wear comfort, foot and joint pain relief from arthritis, overuse, injuries, and other causes, orthopedic correction, smell reduction, athletic performance, or even increasing the wearer's height or...


: insert of various materials for cushioning, improved fit, or reduced abrasion. These include padding and inner linings. Inserts may also be used to correct foot problems.
Shoe bag: a bag that protects shoes against damage when they are not being worn.
Shoe stretcher

Stretcher

A stretcher is a medical device used to carry casualties or an incapacitated person from one place to another. It is a simple type of litter, and still called by that name in some cases....


: a tool for making a shoe longer or wider or for reducing discomfort in areas of a shoe.
Snow shoe: a wooden or leather piece which increases the area of ground covered by the shoe.
Shoelaces

Shoelaces

Shoelaces, which are also called shoe-strings, shoe laces, or boot laces, are a system commonly used to secure shoes, boots and other footwear. They typically consist of a pair of strings or cords, one for each shoe, finished off at both ends with stiff sections, known as aglets...


: a system used to secure shoes.
Dress and casual
Dress shoe
Dress shoe
A dress shoe is a shoe to be worn at smart casual or more formal events. A dress shoe is typically contrasted to an athletic shoe....
s are characterized by smooth and supple leather uppers, leather soles, and narrow sleek figure. Casual shoes are characterized by sturdy leather uppers, non-leather outsoles, and wide profile.
Some designs of dress shoes can be worn by either gender. The majority of dress shoes have an upper covering, commonly made of leather, enclosing most of the lower foot, but not covering the ankles. This upper part of the shoe is often made without apertures or openings, but may also be made with openings or even itself consist of a series of straps, e.g. an open toe featured in women's shoes. Shoes with uppers made high to cover the ankles are also available; a shoe with the upper rising above the ankle is usually considered a boot but certain styles may be referred to as high-topped shoes or high-tops. Usually, a high-topped shoe is secured by laces or zippers, although some styles have elastic inserts to ease slipping the shoe on.
Men's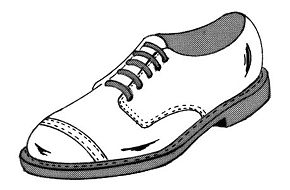 Men's shoes can be categorized by how they are closed:
Oxfords

Oxford shoe

An Oxford is a style of laced shoe characterized by shoelace eyelet tabs that are stitched underneath the vamp, a construction method that is also sometimes referred to as "closed lacing". Oxfords first appeared in Scotland and Ireland, where they are occasionally called Balmorals after the Queen's...


(also referred as "Balmorals"): the vamp has a V-shaped slit to which the laces are attached; also known as "closed lacing". The word "Oxford" is sometimes used by American clothing companies to market shoes that are not Balmorals, such as Blüchers.
Blüchers

Derby shoe

A Derby or Gibson is a style of shoe characterized by shoelace eyelet tabs that are sewn on top of the vamp, a construction method that is also sometimes referred to as "open lacing" where the tongue cut in one piece with the forepart...


(American), Derbys (British): the laces are tied to two pieces of leather independently attached to the vamp; also known as "open lacing" and is a step down in dressiness.
Monk-straps

Monk shoe

A monk shoe is a style of shoe with no lacing, closed by a buckle and strap.It is moderately formal shoe: less formal than a full Oxford ; but more so than an open Derby . In between these, it is one of the main categories of men's shoes.It often has a cap toe, it is occasionally brogued, and is...


: a buckle and strap instead of lacing
Slip-ons: There are no lacings or fastenings. The popular loafers are part of this category, as well as less popular styles, such as elastic-sided shoes.
Men's shoes can also be decorated in various ways:
Plain-toes: have a sleek appearance and no extra decorations on the vamp.
Cap-toes: has an extra layer of leather that "caps" the toe. This is possibly the most popular decoration.
Brogues

Brogues

The Brogue is a style of low-heeled shoe or boot traditionally characterized by multiple-piece, sturdy leather uppers with decorative perforations and serration along the pieces' visible edges...


(American: wing-tips): The toe of the shoe is covered with a perforated panel, the wing-tip, which extends down either side of the shoe. Brogues can be found in both balmoral and blucher styles, but are considered slightly less formal.
Formal high-end men's shoes are manufactured by several companies around the world, most notably in England, France, Italy, and America. Notable British brands include:
Church's English Shoes
Church's
Church's is a high-end English footwear manufacturer founded in 1873 by Thomas Church and his three sons.Over time, the little family business grew into a corporation currently employing nearly 700 people....
(est. 1873),
John Lobb Bootmaker
John Lobb Bootmaker
John Lobb Bootmaker is a company that manufactures and retails a very exclusive luxury brand of shoes and boots mainly for men, but also for women. It is based near St James's Palace, at 9 St James's Street, London...
(est. 1849),
Edward Green Shoes
Edward Green Shoes
Edward Green is an exclusive English shoemaker founded in 1890. Edward Green is based in Northampton, England. The level of handwork involved in production is very high and around 250 pairs of shoes are completed a week....
(est. 1890), and Crockett & Jones (est. 1879). Both John Lobb and Edward Green offer
bespoke
Bespoke
Bespoke is a term employed in a variety of applications to mean an item custom-made to the buyer's specification...
products. In between the world wars, men's footware received significant innovation and design, led by cobblers and
cordwainers
Cordwainer
A cordwainer is a shoemaker/cobbler who makes fine soft leather shoes and other luxury footwear articles. The word is derived from "cordwain", or "cordovan", the leather produced in Córdoba, Spain. The term cordwainer was used as early as 1100 in England...
in London's West End. The most notable French product is made by
J.M. Weston
J.M. Weston
J.M. Weston is a French luxury shoe company founded by Eugène Blanchard in 1927, in Limoges. It is renowned for its handmade shoes for men. They also produce a full line of leather goods ranging from belts, briefcases and luggage items...
. Armani of Italy was a major influence on men's shoe design in the 1960s-1980s until they returned to the larger proportions of its forebears, the welt-constructed Anglo-American dress shoe originally created in Edwardian England. Another well-known Italian company is
Salvatore Ferragamo Italia S.p.A.
Salvatore Ferragamo Italia S.p.A.
Salvatore Ferragamo Italia S.p.A. is an Italian luxury goods company, with headquarters in Florence, specializing in shoes, leather goods, and ready-to-wear for men and women. It is the parent company of the Ferragamo Group...
. The remaining elite American companies are
Allen Edmonds
Allen Edmonds
Allen Edmonds is a shoe manufacturing and retail company based in Port Washington, Wisconsin. The company was established in Belgium, Wisconsin in 1922. Allen Edmonds operates 32 retail stores in 17 states...
and
Alden Shoe Company
Alden Shoe Company
The Alden Shoe Company is a shoe company founded in 1884 by Charles H. Alden in Middleborough, Massachusetts. Aldens specializes in handcrafted mens leather boots and dress shoes, such as Oxfords, Blüchers, loafers, and Chukka boots....
. Alden, located in New England, specializes in genuine shell cordovan leather from the only remaining horse tannery in America (Chicago) and is completely manufactured in America, whereas Allen Edmonds, of Wisconsin, is a larger company that outsources some of its production.
Women's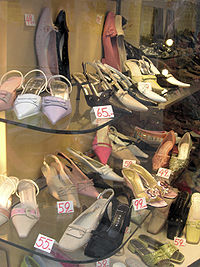 There is a large variety of shoes available for women, in addition to most of the men's styles being more accepted as unisex. Some broad categories are:
High-heeled footwear is footwear that raises the heels, typically 2 inches (5 cm) or more above the toes, commonly worn by women for formal occasions or social outings. Variants include kitten heel

Kitten heel

A kitten heel is a short, slender heel, usually from 3.5 centimeters to 4.75 centimeters high with a slight curve setting the heel in from the edge of the shoe. The style was popularized by Audrey Hepburn.-Definition:...


s (typically 1½-2 inches high) and stilletto heels (with a very narrow heel post) and wedge heels (with a wedge-shaped sole rather than a heel post).
Sneaker boot or sneaker pump: a shoe that looks like an athletic shoe, but is equipped with a heel, making it a kind of novelty dress shoe.
Mules

Mule (footwear)

Mule, a French word, is a style of shoe that is backless and often closed-toed. Mules can be any heel height - from flat to high. The style is predominantly worn by women....


are shoes or slippers with no fitting around the heel (i.e. they are backless)
Slingback

Slingback

A slingback is a type of woman's shoe that is backless and is characterized by a strap that crosses behind the heel or ankle. A slingback is distinguishable from an ankle-strap shoe in that the latter has a strap that crosses around the front of the ankle as well as the back.Slingbacks come in a...


s are shoes which are secured by a strap behind the heel, rather than over the top of the foot.
Ballet flat

Ballet flat

Ballet flats or Dolly shoes are derived from a woman's soft ballet slipper, with a very thin heel or the appearance of no heel at all. The style sometimes features a ribbon-like binding around the low tops of the slipper and may have a slight gathering at the top-front of the vamp and a tiny,...


s, known in the UK as ballerinas, ballet pumps or skimmers, are shoes with a very low heel and a relatively short vamp, exposing much of the instep. They are popular for warm-weather wear, and may be seen as more comfortable than shoes with a higher heel.
Court shoe

Court shoe

Court shoes or pumps are shoes with a low-cut front and usually without a fastening. However, some have ankle straps...


s, known in the US as pumps, are typically high-heeled, slip-on dress shoes.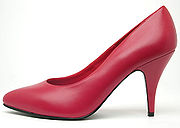 Unisex
Clog

Clog (shoe)

A clog is a type of footwear made in part or completely from wood.The Oxford English Dictionary defines a clog as a "thick piece of wood", and later as a "wooden soled overshoe" and a "shoe with a thick wooden sole"....



Platform shoe

Platform shoe

Platform shoes are shoes, boots, or sandals with thick soles at least four inches in height, often made of cork, plastic, rubber, or wood...


: shoe with very thick soles and heels
Moccasin

Moccasin

A Moccasin is a form of shoe worn by Native Americans, as well as by hunters, traders, and settlers in the frontier regions of North America.Moccasin may also refer to:* Moccasin , an American Thoroughbred racehorse-Places:...


: originated by Native Americans

Indigenous peoples of the Americas

The indigenous peoples of the Americas are the pre-Columbian inhabitants of North and South America, their descendants and other ethnic groups who are identified with those peoples. Indigenous peoples are known in Canada as Aboriginal peoples, and in the United States as Native Americans...


, a soft shoe without a heel and usually made of leather.
Sandal

Sandal (footwear)

Sandals are an open type of outdoor footwear, consisting of a sole held to the wearer's foot by straps passing over the instep and, sometimes, around the ankle...


s: open shoes consisting of a sole and various straps, leaving much of the foot exposed to air. They are thus popular for warm-weather wear, because they let the foot be cooler than a closed-toed shoe would.
Espadrilles

Espadrilles

Espadrilles are normally casual flat, but sometimes high heeled shoes originating from the Pyrenees. They usually have a canvas or cotton fabric upper and a flexible sole made of rope or rubber material moulded to look like rope. The jute rope sole is the defining characteristic of an espadrille;...


are casual flat warm-weather shoes of a style which originated in the Pyrenees. They usually have a cotton or canvas upper and a flexible sole of rope or rubber. There are high-heeled versions for women.
Saddle shoe: leather shoe with a contrasting saddle-shaped band over the instep, typically white uppers with black "saddle".
Slip-on shoe: a dress or casual shoe without laces; often with tassels, buckles, or coin-holders (penny loafers).
Boat shoe

Boat shoe

Boat shoes are typically canvas or leather with non-marking rubber soles designed for use on a boat...


s, also known as "deck shoes": similar to a loafer, but more casual. Laces are usually simple leather with no frills. Typically made of leather and featuring a soft white sole to avoid marring or scratching a boat deck. The first boat shoe was invented in 1935 by Paul Sperry.
Boot

Boot

A boot is a type of footwear but they are not shoes. Most boots mainly cover the foot and the ankle and extend up the leg, sometimes as far as the knee or even the hip. Most boots have a heel that is clearly distinguishable from the rest of the sole, even if the two are made of one piece....


s: Long shoes (covering the ankle) frequently made of leather. Some are designed to be used in times of bad weather, or simply as an alternate style of casual or dress wear. Styles include rubber boots and snow boots, as well as work boots and hiking boots.
Slipper

Slipper

A slipper or houseshoe is a semi-closed type of indoor/outdoor shoe, consisting of a sole held to the wearer's foot by a strap running over the toes or instep. Slippers are soft and lightweight compared to other types of footwear. They are mostly made of soft or comforting materials that allow a...


s: For indoor use, commonly worn with pajamas

Pajamas

Pajamas, also spelled pyjamas , can refer to several related types of clothing. The original paijama are loose, lightweight trousers fitted with drawstring waistbands and worn in South and West Asia by both sexes...


.
Vibram

Vibram

Vibram S.p.A. is an Italian company based in Albizzate that both manufactures and licenses the production of Vibram-branded rubber outsoles for footwear. The company is named after its founder, Vitale Bramani. Bramani is credited with inventing the first rubber lug soles for shoes...


FiveFingers

FiveFingers

Vibram FiveFingers are a type of minimalist shoe manufactured by Vibram, originally marketed as a more "natural" alternative for different outdoors activities . The footwear has thin, flexible soles that are contoured to the shape of the human foot, including visible individual sections for the toes...


, meant to simulate the "natural" experience of going barefoot, while protecting the foot
Sneakers or Canvas shoes
Athletic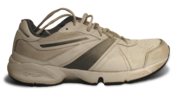 Men's and women's
athletic shoe
Athletic shoe
Athletic shoe is a generic name for the footwear primarily designed for sports or other forms of physical exercise but in recent years has come to be used for casual everyday activities....
s and special function shoes often have less difference between the sexes than in dress shoes. In many cases these shoes can be worn by either sex. Emphasis tends to be more on function than style.
Orthopedic
Orthopedic or "comfort" shoes are made with pedorthic and anatomically-correct comfort qualities, such as padded removable footbeds, wide toe boxes and arch support are made especially for those with problematic feet.
Dance
Pointe shoes

Pointe shoes

A pointe shoe is a type of shoe worn by ballet dancers when performing pointework. Pointe shoes developed from the desire for dancers to appear weightless and sylph-like and have evolved to enable dancers to dance on the tips of their toes for extended periods of time...


are designed for ballet dancing. These have a toe box that is stiffened with glue and a hardened sole so the dancer can stand on the tips of their toes. They are secured by elastic straps and ribbons that are tied to the dancer's ankles.
Ballet shoes

Ballet shoes

Ballet shoes, or ballet slippers, are lightweight shoes designed specifically for ballet dancing. They may be made from soft leather, canvas, or satin, and have flexible, thin soles. Traditionally, women wear pink shoes and men wear white or black shoes...


are soft, highly pliable shoes made of canvas or leather, with either continuous or two-part sole (also called split-sole). The sole is typically made of leather, with thicker material under the ball and heel of the foot, and thinner and thus more flexible material under the arch so that the foot can be pointed to its utmost. Ballet slippers are usually secured by elastics that cross over the top of the foot. They are most commonly pink, white, black, or pale tan, although they may be made in specialty colours such as red or blue.
Ghillies

Ghillies (dance)

Ghillies are specially designed shoes used for several types of dance. They are soft shoes, similar to ballet shoes. They are used by women in Irish dance, by men in Scottish country dance, and by men and women in Highland dance....


are soft shoes that are used in Irish dance

Irish dance

Irish dancing or Irish dance is a group of traditional dance forms originating in Ireland which can broadly be divided into social dance and performance dances. Irish social dances can be divided further into céilí and set dancing...


, Scottish country dance

Scottish country dance

A Scottish country dance is a form of social dance involving groups of mixed couples of dancers tracing progressive patterns according to a predetermined choreography...


, and highland dance.
Jazz shoe

Jazz shoe

Jazz shoes are a kind of dancing shoes. While the name suggests they are intended for jazz dance, they are used in other styles of dancing: acrobatic rock'n'roll, hip hop, aerobics, acro dance, etc....


s typically have a two-part, rubberized sole (also called split-sole) to provide both flexibility and traction, and a low (one inch or shorter) heel. They are secured to the foot by laces or elastic inserts.
Tango and Flamenco shoes

Flamenco shoes

Flamenco shoes are a type of shoe worn by flamenco dancers. The quality of the shoes worn can significantly affect a dancer's performance. Wearing the right flamenco shoes and flamenco skirt is considered to be vital for the quality of the performance....


are used for dancing the tango

Tango (ballroom)

Ballroom Tango is a ballroom dance that branched away from its original Argentine roots by allowing European, American, Hollywood, and competitive influences into the style and execution of the dance....


or flamenco

Flamenco

Flamenco is a genre of music and dance which has its foundation in Andalusian music and dance and in whose evolution Andalusian Gypsies played an important part....


.
Ballroom shoes fall into two categories: Ballroom and Latin American. Both are characterised by suede

Suede

Suede is a type of leather with a napped finish, commonly used for jackets, shoes, shirts, purses, furniture and other items. The term comes from the French "gants de Suède", which literally means "gloves of Sweden"....


soles. Men's ballroom shoes are typically lace-ups with one-inch heels and patent leather uppers. Ladies' ballroom shoes are typically court shoes with two-inch heels, made of fabric that can be colored to match the dancer's dress. In contrast to the low Ballroom heel, which evenly distributes weight across the foot, Latin American shoes have higher heels designed to shift weight onto the toes. Latin shoes are also more flexible than ballroom shoes. Men's Latin shoes typically have 1.5- to 2-inch high, shaped heels, while Ladies' Latin shoes have 2,5-inch to 3-inch heels. Ladies shoes are typically open-toed and strapped.
Dance sneakers. Also known as dansneakers, these are a combination of a sneaker

Sneakers (footwear)

The American term sneakers is a synonym for athletic shoes. More specifically, sneakers refer to footwear made of flexible material, typically featuring a sole made of rubber and an upper part made of leather or canvas. Sneakers were originally sporting apparel, but are today worn much more widely...


and a dance shoe, with a reinforced rubber toe.
Character shoes have a one to three inch heel, which is usually made of leather, and often have one or more straps across the instep to secure it to the foot. They may come in soft-soled (suede) or hard-soled varieties. They may be converted to tap shoes by attaching taps

Tap dance

Tap dance is a form of dance characterized by using the sound of one's tap shoes hitting the floor as a percussive instrument. As such, it is also commonly considered to be a form of music. Two major variations on tap dance exist: rhythm tap and Broadway tap. Broadway tap focuses more on the...


.
Foot thongs are known by various names depending on the manufacturer, including dance paws, foot undies, and foot paws. They are slip-on, partial foot covers that protect the ball of a dancer's foot from skin abrasions while executing turns. From a distance, flesh colored foot thongs give a dancer the appearance of having bare feet.
Tap shoes have metal plates mounted to the bottoms of the toe and heel. The metal plates, which are known as taps, make a loud sound when struck against a hard performance surface. Tap shoes, which are used in tap dancing, may be made from any style of shoe to which taps can be attached.
Work
Work shoes are designed to stand heavy wear, to protect the wearer, and provide high traction. They are generally made from sturdy leather uppers and non-leather outsoles. Sometimes they are used for
uniform
Uniform
A uniform is a set of standard clothing worn by members of an organization while participating in that organization's activity. Modern uniforms are worn by armed forces and paramilitary organizations such as police, emergency services, security guards, in some workplaces and schools and by inmates...
s or comfort by nurses, waitresses,
police
Police
The police is a personification of the state designated to put in practice the enforced law, protect property and reduce civil disorder in civilian matters. Their powers include the legitimized use of force...
,
military
Military
A military is an organization authorized by its greater society to use lethal force, usually including use of weapons, in defending its country by combating actual or perceived threats. The military may have additional functions of use to its greater society, such as advancing a political agenda e.g...
personnel, etc. They are commonly used for protection in industrial settings,
construction
Construction
In the fields of architecture and civil engineering, construction is a process that consists of the building or assembling of infrastructure. Far from being a single activity, large scale construction is a feat of human multitasking...
,
mining
Mining
Mining is the extraction of valuable minerals or other geological materials from the earth, from an ore body, vein or seam. The term also includes the removal of soil. Materials recovered by mining include base metals, precious metals, iron, uranium, coal, diamonds, limestone, oil shale, rock...
, and other workplaces. Protective features may include
steel-tipped toes
Steel-toe boots
A steel-toe boot is a durable boot or shoe that has a protective reinforcement in the toe which protects the foot from falling objects or compression, usually it is combined with a mid sole plate to protect against punctures from below.Although traditionally made of steel, the reinforcement can...
and soles or
ankle
Ankle
The ankle joint is formed where the foot and the leg meet. The ankle, or talocrural joint, is a synovial hinge joint that connects the distal ends of the tibia and fibula in the lower limb with the proximal end of the talus bone in the foot...
guards.
Minimalist
Minimalist shoes are shoes that are minimal in design so that the advantages of walking/running barefoot are incorporated, yet without dropping additional protection of the foot from sharp objects. Minimalist shoes include: Vibram FiveFingers,
MBT
MBT
-Arts and Entertainment:*The Monster Ball Tour 2009-2011 Lady GaGa world tour.*Mount Baker Theatre*MBT, an Avalon Hill board game-Business:*Tech Mahindra *Massachusetts business trust*Master of Business & Technology...
,
Nike Free
Nike Free
Nike Free is a technology invented by Sasha Kerigaysky. As this shoe allows the muscles in the foot to gain strength by providing less constriction, runners are advised to gradually break into the shoe rather than immediately running long distances as to prevent muscle cramps and other discomforts,...
Historical
Shoes of the past include:
Turn-shoes: a method by which the shoe is constructed inside-out, wetted, and turned — the finished side of the leather flipped to the outside. Such footwear was common from the Middle-ages until modern shoes were developed in the Tudor

Tudor dynasty

The Tudor dynasty or House of Tudor was a European royal house of Welsh origin that ruled the Kingdom of England and its realms, including the Lordship of Ireland, later the Kingdom of Ireland, from 1485 until 1603. Its first monarch was Henry Tudor, a descendant through his mother of a legitimised...


era. Because of their construction, turn-shoes cannot simply be re-soled, unlike most modern shoe types.
Espadrilles: these sandals, which are still worn today, are found as early as the 14th century.
Patten

Patten (shoe)

Pattens are protective overshoes worn in Europe from the Middle Ages until the early 20th century. Pattens were worn outdoors over a normal shoe, held in place by leather or cloth bands, with a wooden or later wood and metal sole...


: a European wooden overshoe used to keep a person's feet dry outdoors. First worn in the middle ages

Middle Ages

The Middle Ages is a periodization of European history from the 5th century to the 15th century. The Middle Ages follows the fall of the Western Roman Empire in 476 and precedes the Early Modern Era. It is the middle period of a three-period division of Western history: Classic, Medieval and Modern...


, they continued in use even into the early 20th century. Peoples such as the Dutch

Netherlands

The Netherlands is a constituent country of the Kingdom of the Netherlands, located mainly in North-West Europe and with several islands in the Caribbean. Mainland Netherlands borders the North Sea to the north and west, Belgium to the south, and Germany to the east, and shares maritime borders...


, Flemings

Flemish people

The Flemings or Flemish are the Dutch-speaking inhabitants of Belgium, where they are mostly found in the northern region of Flanders. They are one of two principal cultural-linguistic groups in Belgium, the other being the French-speaking Walloons...


, and some French

France

The French Republic , The French Republic , The French Republic , (commonly known as France , is a unitary semi-presidential republic in Western Europe with several overseas territories and islands located on other continents and in the Indian, Pacific, and Atlantic oceans. Metropolitan France...


carved similar, fully enclosed wooden shoes.
Poulaine

Poulaine

Crakows or crackowes were a style of shoes with extremely long toes very popular in the 15th century. They were so named because the style was thought to have originated in Kraków, then the capital of Poland. They began in the late 14th century and fell from fashion after about 1480–90...


: a shoe with a long-pointed toe, popular in Europe in the 15th century.
Moccasins: the historical shoe of many North American Indian tribes.
Collection
Athletic sneaker collection has existed as a part of urban subculture in the United States for several decades. Recent decades have seen this trend spread to European nations such as the
Czech Republic
Czech Republic
The Czech Republic is a landlocked country in Central Europe. The country is bordered by Poland to the northeast, Slovakia to the east, Austria to the south, and Germany to the west and northwest....
. A Sneakerhead is a person who owns multiple pairs of shoes as a form of collection and fashion. A contributor to the growth of sneaker collecting is the continued worldwide popularity of the
Air Jordan
Air Jordan
Air Jordan, also known simply as Jordans, are a brand of shoes and athletic apparel produced by Nike originally designed for and endorsed by NBA Hall of Famer and Six Time NBA Champion Michael Jordan. The Air Jordan line is now sold by the Jordan Brand subsidiary of Nike...
line of sneakers designed by
Nike
Nike, Inc.
Nike, Inc. is a major publicly traded sportswear and equipment supplier based in the United States. The company is headquartered near Beaverton, Oregon, which is part of the Portland metropolitan area...
for
Basketball
Basketball
Basketball is a team sport in which two teams of five players try to score points by throwing or "shooting" a ball through the top of a basketball hoop while following a set of rules...
star
Michael Jordan
Michael Jordan
Michael Jeffrey Jordan is a former American professional basketball player, active entrepreneur, and majority owner of the Charlotte Bobcats...
.
Maintenance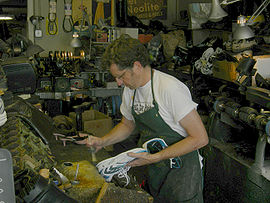 Breaking-in: some shoes are made of hard but deformable material. After a person wears them multiple times, the material reforms to fit the wearer's feet. The person is said to have broken in the shoes.
Polishing

Polishing

Polishing is the process of creating a smooth and shiny surface by rubbing it or using a chemical action, leaving a surface with a significant specular reflection In some materials polishing is also able to reduce diffuse reflection to...


: for protection, water resistance (to some extent) and appearance, especially for leather shoes and boots.
Heel replacement: heel

Heel

In human anatomy, the heel is the prominence at the posterior end of the foot. It is based on the projection of one bone, the calcaneus or heel bone, behind the articulation of the bones of the lower leg.- Human anatomy :...


s periodically wear out. Not all shoes are designed to enable this.
Sanitization

Sanitization

Sanitization can refer to* Data sanitization, has two distinct meanings:** the use of anonymization and other techniques to "sanitize" data to purge it of personally-identifiable information in order to protect user privacy; such techniques include:*** NULLing out*** masking data*** data...


: the inside of shoes can be sanitized with germicidal shoe trees or other cleansing methods to prevent the growth of microorganisms such as odor-causing bacteria or fungi.
Sole replacement: soles can also wear out. Not all shoes can have their soles replaced.
Shoelace replacement: shoelaces can sometimes be damaged or destroyed necessitating the replacement of the laces.
When unfit for use, shoes can be treated as trash or municipal solid waste

Municipal solid waste

Municipal solid waste , commonly known as trash or garbage , refuse or rubbish is a waste type consisting of everyday items we consume and discard. It predominantly includes food wastes, yard wastes, containers and product packaging, and other miscellaneous inorganic wastes from residential,...


and disposed of. The exception can be with most athletic sneakers which can be recycled and turned into other raw materials. See Nike Grind

Nike Grind

Nike Grind is part of Nike's Reuse-A-Shoe program that was started in 1993. The purpose of the program is to eliminate waste and close the loop on Nike's product lifecycle by collecting post-consumer, non-metal-containing athletic shoes of any brand, including Nike shoes that are returned due to...


as an example.
Someone who makes or repairs shoes in a shop is called a
cobbler
Shoemaking
Shoemaking is the process of making footwear. Originally, shoes were made one at a time by hand. Traditional handicraft shoemaking has now been largely superseded in volume of shoes produced by industrial mass production of footwear, but not necessarily in quality, attention to detail, or...
.
Biodegradability
Due to the appearance of new man-made materials, shoes have become increasingly less biodegradable. Currently, mass-produced shoes generally require 1000 years to degrade, and/or may not degrade at all, depending on the types of material employed in the production of the shoe. Recently some shoemakers have picked up on the issue and are beginning to produce shoes made entirely from degradable materials, such as
Nike Considered
Nike Considered
Nike Considered is a sustainable line of shoes introduced by Nike, Inc., a major American supplier of athletic shoes, apparel and sports equipment. Nike Considered was developed by Richard Clarke, Tinker Hatfield, Steve McDonald, Mike Aveni & Andreas Harlow working with the Innovation Kitchen,...
.
Etiquette
In the Middle East, parts of Africa, Korea and Thailand, it is considered rude to show the soles of the feet to others (even accidentally, such as by crossing the legs).
Shoe throwing
Shoeing
Shoeing, throwing shoes, showing the sole of one's shoe or using shoes to insult are forms of protest in many parts of the world.Incidents where shoes were thrown at political figures have taken place in Australia, India, Ireland, Israel, Hong Kong, Pakistan, the United Kingdom and most notably,...
is a great insult in some areas in the Middle East and in India. In addition, in Thailand, it is an extreme insult for the foot,
sock
Sock
A sock is an item of clothing worn on the feet. The foot is among the heaviest producers of sweat in the body, as it is able to produce over of perspiration per day. Socks help to absorb this sweat and draw it to areas where air can evaporate the perspiration. In cold environments, socks decrease...
s, or shoes to touch someone's head or be placed over it.
In literature
Shoes play an important role in the fairy tales
Cinderella
Cinderella
"Cinderella; or, The Little Glass Slipper" is a folk tale embodying a myth-element of unjust oppression/triumphant reward. Thousands of variants are known throughout the world. The title character is a young woman living in unfortunate circumstances that are suddenly changed to remarkable fortune...
,
The Wonderful Wizard of Oz
The Wonderful Wizard of Oz
The Wonderful Wizard of Oz is a children's novel written by L. Frank Baum and illustrated by W. W. Denslow. Originally published by the George M. Hill Company in Chicago on May 17, 1900, it has since been reprinted numerous times, most often under the name The Wizard of Oz, which is the name of...
and
The Red Shoes
The Red Shoes (fairy tale)
"The Red Shoes" is a fairy tale by Danish poet and author Hans Christian Andersen first published by C.A. Reitzel in Copenhagen 7 April 1845 in New Fairy Tales. First Volume. Third Collection. 1845....
. In literature and film, an empty shoe or a pair of shoes signifies death.
Sizes
Units

Units of measurement

A unit of measurement is a definite magnitude of a physical quantity, defined and adopted by convention and/or by law, that is used as a standard for measurement of the same physical quantity. Any other value of the physical quantity can be expressed as a simple multiple of the unit of...


for shoe size

Shoe size

A shoe size is an alphanumerical indication of the fitting size of a shoe for a person. Often it just consists of a number indicating the length because many shoemakers only provide a standard width for economic reasons....


s vary widely around the world. European sizes are measured in Paris Points, which are worth two-thirds of a centimetre. The UK and American units are approximately one-quarter of an inch, starting at 8¼ inches. Men's and women's shoe sizes often have different scales. Shoes size is often measured using a Brannock Device

Brannock Device

The Brannock Device is a measuring instrument invented by Charles F. Brannock for measuring a person's shoe size. The son of a shoe industry entrepreneur, Brannock attended Syracuse University, New York, U.S.A. where he became a member of the Delta Kappa Epsilon Fraternity. Brannock spent two years...


, which can determine both the width and length of the foot.
Companies
See the category shoe companies for a list of shoe companies.
See also
Runner's toe, injury from malfitting shoes
Locomotor effects of shoes

Locomotor effects of shoes

Locomotor effects of shoes describes how physical characteristics or components of shoes influence the locomotion neuromechanics of a person. Depending on the characteristics of the shoes, the effects are various, ranging from alteration in balance and posture, muscle activity of different muscles...



Foot binding

Foot binding

Foot binding was the custom of binding the feet of young girls painfully tight to prevent further growth. The practice probably originated among court dancers in the early Song dynasty, but spread to upper class families and eventually became common among all classes. The tiny narrow feet were...



Shoe tossing

Shoe tossing

Shoe tossing, the act of using shoes as improvised projectiles or weapons, is a constituent of a number of folk sports and practices. Today, it is commonly the act of throwing a pair of shoes onto telephone wires, powerlines, or other raised wires...



Further reading
History of footwear in Norway, Sweden and Finland : prehistory to 1950, ISBN 91-7402-323-3
Patrick Cox: Wit, Irony, and Footwear, Tamasin Doe (1998) ISBN 0-8230-1148-8
A Century of Shoes: Icons of Style in the 20th Century, Angela Pattison ISBN 0-7858-0835-3
External links