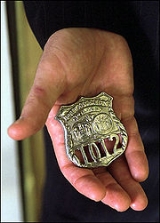 Badge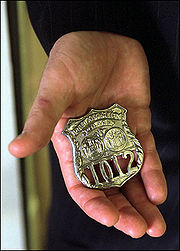 A
badge
is a device or
fashion accessory
Fashion accessory
Fashion accessories are decorative items that supplement and complement clothes, such as jewelery, gloves, handbags, hats, belts, scarves, wigs, watches, sunglasses, pins, stockings, bow ties, hand fans, leg warmers, leggings, neckties, suspenders, and tights....
, often containing the
insignia
Insignia
Insignia or insigne pl -nia or -nias : a symbol or token of personal power, status or office, or of an official body of government or jurisdiction...
of an organization, which is presented or displayed to indicate some feat of service, a special accomplishment, a symbol of authority granted by taking an oath (e.g., police and fire), a sign of legitimate employment or student status, or as a simple means of identification. They are also used in advertising, publicity, and for branding purposes.
Badges can be made from
metal
Metal
A metal , is an element, compound, or alloy that is a good conductor of both electricity and heat. Metals are usually malleable and shiny, that is they reflect most of incident light...
,
plastic
Plastic
A plastic material is any of a wide range of synthetic or semi-synthetic organic solids used in the manufacture of industrial products. Plastics are typically polymers of high molecular mass, and may contain other substances to improve performance and/or reduce production costs...
,
leather
Leather
Leather is a durable and flexible material created via the tanning of putrescible animal rawhide and skin, primarily cattlehide. It can be produced through different manufacturing processes, ranging from cottage industry to heavy industry.-Forms:...
,
textile
Textile
A textile or cloth is a flexible woven material consisting of a network of natural or artificial fibres often referred to as thread or yarn. Yarn is produced by spinning raw fibres of wool, flax, cotton, or other material to produce long strands...
, rubber, etc., and they are commonly attached to clothing, bags,
footwear
Footwear
Footwear consists of garments worn on the feet, for fashion, protection against the environment, and adornment. Being barefoot is commonly associated with poverty, but some cultures chose not to wear footwear at least in some situations....
, vehicles, home electrical equipment, etc. Textile badges or patches can be either woven or embroidered, and can be attached by gluing, ironing-on, sewing or applique. Badges have become highly collectable: in the
UK
United Kingdom
The United Kingdom of Great Britain and Northern IrelandIn the United Kingdom and Dependencies, other languages have been officially recognised as legitimate autochthonous languages under the European Charter for Regional or Minority Languages...
, for example, the Badge Collectors' Circle has been in existence since 1980.
In the
military
Military
A military is an organization authorized by its greater society to use lethal force, usually including use of weapons, in defending its country by combating actual or perceived threats. The military may have additional functions of use to its greater society, such as advancing a political agenda e.g...
, badges are used to denote the unit or arm to which the wearer belongs, and also qualifications received through military training, rank, etc. Similarly, youth organizations such as
scouting
Scouting
Scouting, also known as the Scout Movement, is a worldwide youth movement with the stated aim of supporting young people in their physical, mental and spiritual development, that they may play constructive roles in society....
and guiding use them to show group membership, awards and rank.
History
Badges were popular as jewellery in the
Middle Ages
Middle Ages
The Middle Ages is a periodization of European history from the 5th century to the 15th century. The Middle Ages follows the fall of the Western Roman Empire in 476 and precedes the Early Modern Era. It is the middle period of a three-period division of Western history: Classic, Medieval and Modern...
, and varied from extremely expensive works of jewellery, like the
Dunstable Swan Jewel
Dunstable Swan Jewel
The Dunstable Swan Jewel is a gold and enamel brooch in the form of a swan made in England or France in about 1400 and now in the British Museum...
, to simple mold-made badges in lead or other base metals. Specialized forms were the
pilgrim badge
Pilgrim badge
A pilgrim badge is a badge typically made of base metal such as lead alloy or pewter from the medieval period worn by Roman Catholic pilgrims who had travelled to sites of Christian pilgrimage, such as in England Canterbury Cathedral, the site of the martyrdom of St. Thomas Becket...
, worn by those who had completed a
pilgrimage
Pilgrimage
A pilgrimage is a journey or search of great moral or spiritual significance. Typically, it is a journey to a shrine or other location of importance to a person's beliefs and faith...
, and heraldic or
livery badges
Heraldic badge
A heraldic badge is an emblem or personal device worn as a badge to indicate allegiance to or the property of an individual or family. Medieval forms are usually called a livery badge, and also a cognizance...
, worn to denote service or allegiance to a political figure - these last were especially popular in England, and became very controversial in the period leading up to the
Wars of the Roses
Wars of the Roses
The Wars of the Roses were a series of dynastic civil wars for the throne of England fought between supporters of two rival branches of the royal House of Plantagenet: the houses of Lancaster and York...
. One royal celebration in 1483 was marked by the distribution of 13,000 badges, a huge number relative to the population at the time. Other types were funerary badges, presumably presented to mourners for the funeral of important figures, and simple decorative badges with animals or hearts. The grandest form of badge was worn as a pendant to a metal collar, often in gold or
silver-gilt
Silver-gilt
Silver-gilt or gilded/gilt silver, sometimes known in American English by the French term vermeil, is silver gilded with gold. Most large objects made in goldsmithing that appear to be gold are actually silver-gilt; for example most sporting trophies, medals , and many crown jewels...
.
From the livery badge, various badges of service evolved, worn by officials, soldiers and servants. In the
British army
British Army
The British Army is the land warfare branch of Her Majesty's Armed Forces in the United Kingdom. It came into being with the unification of the Kingdom of England and Scotland into the Kingdom of Great Britain in 1707. The new British Army incorporated Regiments that had already existed in England...
a metal (today often plastic)
cap badge
Cap badge
A cap badge, also known as head badge or hat badge, is a badge worn on uniform headgear and distinguishes the wearer's nationality and/or organisation. The wearing of cap badges is a convention commonly found among military and police forces, as well as uniformed civilian groups such as the Boy...
denoting the soldiers
regiment
Regiment
A regiment is a major tactical military unit, composed of variable numbers of batteries, squadrons or battalions, commanded by a colonel or lieutenant colonel...
became standard by the 17th century, as in most European armies (though not always navies). By the 19th century a badge was an almost invariable part of any
uniform
Uniform
A uniform is a set of standard clothing worn by members of an organization while participating in that organization's activity. Modern uniforms are worn by armed forces and paramilitary organizations such as police, emergency services, security guards, in some workplaces and schools and by inmates...
, including
school uniform
School uniform
A school uniform is an outfit—a set of standardized clothes—worn primarily for an educational institution. They are common in primary and secondary schools in various countries . When used, they form the basis of a school's dress code.Traditionally school uniforms have been largely subdued and...
s, which in the UK usually still feature the school's badge in cloth on the breast pocket of the jacket or blazer.
Various uses
Members of fraternities and sororities often refer to the pins that signify their membership as badges. One of the best-known badges is the typically star-shaped
U.S.
United States
The United States of America is a federal constitutional republic comprising fifty states and a federal district...
sheriff
Sheriff
A sheriff is in principle a legal official with responsibility for a county. In practice, the specific combination of legal, political, and ceremonial duties of a sheriff varies greatly from country to country....
's badge, made famous in
Westerns
Western (genre)
The Western is a genre of various visual arts, such as film, television, radio, literature, painting and others. Westerns are devoted to telling stories set primarily in the latter half of the 19th century in the American Old West, hence the name. Some Westerns are set as early as the Battle of...
. The
Chairman Mao badge
Chairman Mao badge
Chairman Mao badge is the name given to a type of pin badge displaying an image of Mao Zedong that was ubiquitous in the People's Republic of China during the early period of the Cultural Revolution, from 1966 to 1971. The term is also used for badges associated with Mao that do not actually have...
is probably the most famous political badge.
The
BBC
BBC
The British Broadcasting Corporation is a British public service broadcaster. Its headquarters is at Broadcasting House in the City of Westminster, London. It is the largest broadcaster in the world, with about 23,000 staff...
children's programme
Blue Peter
Blue Peter
Blue Peter is the world's longest-running children's television show, having first aired in 1958. It is shown on CBBC, both in its BBC One programming block and on the CBBC channel. During its history there have been many presenters, often consisting of two women and two men at a time...
also awards its own "
Blue Peter badge
Blue Peter badge
A Blue Peter badge is a much coveted award for Blue Peter viewers, given by the children's television programme for those appearing on the show, or in recognition of achievement...
" to members of the public who appear on the show. These are highly collectable as they cannot be bought - except from people who have been awarded one and wish to sell it.
Case badges are thick, about 3 mm (0.118110236220472 in) deep, 3 centimetre lucite stickers that are often packaged with various computer parts, such as processors and video cards. Modern computer cases are frequently embellished with an indentation on the case's front panel to facilitate the affixing of a case badge.
Button badges are a highly collectible round badge with a plastic coating over a design or image. They often have a metal pin back or a safety pin style back. The most popular size is 25.4 millimetre (1 in) but the badges can range anywhere from this size right up to 120 millimetres (4.7 in) badges. This style of badge is used in political campaigning and often given as part of a birthday greeting such as a birthday card.
In the United States, the badges used by
law enforcement
Law enforcement
Law enforcement broadly refers to any system by which some members of society act in an organized manner to promote adherence to the law by discovering and punishing persons who violate the rules and norms governing that society...
, fire, and security guards are usually made of metal in various colors and finishes and are worn above the left chest pocket on the uniform shirt or jacket.
Detective
Detective
A detective is an investigator, either a member of a police agency or a private person. The latter may be known as private investigators or "private eyes"...
s and other
plainclothes personnel
Undercover
Being undercover is disguising one's own identity or using an assumed identity for the purposes of gaining the trust of an individual or organization to learn secret information or to gain the trust of targeted individuals in order to gain information or evidence...
may wear them on a belt holder, or on a chain around the neck. Shapes are manifold, with municipal
police
Police
The police is a personification of the state designated to put in practice the enforced law, protect property and reduce civil disorder in civilian matters. Their powers include the legitimized use of force...
departments tending to have some variation of a shield shape, and sheriff's departments usually going with a 5, 6, or 7 point star shape. In most cases, an enameled seal of the organization, city, county, or company can be found in the center of the badge.
In
computing
Computing
Computing is usually defined as the activity of using and improving computer hardware and software. It is the computer-specific part of information technology...
, badges are used to demostrate skills
See also
Badge of shame

Badge of shame

A badge of shame, also a symbol of shame, mark of shame, or simply a stigma, is typically a distinctive symbol required to be worn by a specific group or an individual for the purpose of public humiliation, ostracism, or persecution...



Campaign button
Charity badge

Charity badge

A charity badge is a widget used on websites, blogs, social networks or e-mail for promotion of some humanitarian initiative, mainly gathering donations for charity projects....



Debadging

Debadging

Debadging refers to the process of removing the manufacturer's badges from a vehicle. This can be done to complement the smoothed out bodywork of a modified car, or to disguise a lower specification model. Conversely, sleepers may be debadged to disguise any subtle evidence of high-performance...



Heraldic badge

Heraldic badge

A heraldic badge is an emblem or personal device worn as a badge to indicate allegiance to or the property of an individual or family. Medieval forms are usually called a livery badge, and also a cognizance...



Insignia

Insignia

Insignia or insigne pl -nia or -nias : a symbol or token of personal power, status or office, or of an official body of government or jurisdiction...



Lapel pin

Lapel pin

A lapel pin is a small pin often worn on the lapel of a dress jacket. Lapel pins can be purely ornamental or can indicate the wearer's affiliation with an organization or cause; for example, American Flag lapel pins became very popular in the United States, especially among politicians, following...



Military badges of the United States

Military badges of the United States

Military badges of the United States are awards authorized by the United States armed forces that signify rating, qualification, or accomplishment in several career fields, and also serve as identification devices for personnel occupying certain assignments. Personal recognition is granted to...



Name tag

Name tag

A name tag is a badge or sticker worn on the outermost clothing as a means of displaying the wearer's name for others to view.Name tags may be temporary or permanent. Temporary ones typically can be written upon so that the wearer's name may be handwritten or printed...



Nursing pin

Nursing pin

A nursing pin is a type of badge, usually made of metal such as gold or silver, which is worn by nurses to identify the nursing school from which they graduated. They are traditionally presented to the newly–graduated nurses by the faculty at a pinning ceremony as a symbolic welcome into the...



Police memorabilia collecting

Police memorabilia collecting

Police memorabilia collecting is a hobby involving the collection and trading of law enforcement related patches or badges, and other memorabilia including bobby helmets, training manuals, police medals, and historic artifacts such as turn-of-the-century screw-based handcuffs and police-box...



External links