 Fashion accessory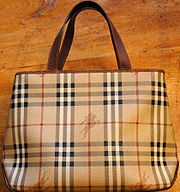 Fashion accessories
are decorative items that supplement and complement clothes, such as jewelery, gloves, handbags,
hat
Hat
A hat is a head covering. It can be worn for protection against the elements, for ceremonial or religious reasons, for safety, or as a fashion accessory. In the past, hats were an indicator of social status...
s,
belts
Belt (clothing)
A belt is a flexible band or strap, typically made of leather or heavy cloth, and worn around the waist. A belt supports trousers or other articles of clothing.-History:...
, scarves, wigs, watches,
sunglasses
Sunglasses
Sunglasses or sun glasses are a form of protective eyewear designed primarily to prevent bright sunlight and high-energy visible light from damaging or discomforting the eyes. They can sometimes also function as a visual aid, as variously termed spectacles or glasses exist, featuring lenses that...
, pins, stockings,
bow tie
Bow tie
The bow tie is a type of men's necktie. It consists of a ribbon of fabric tied around the collar in a symmetrical manner such that the two opposite ends form loops. Ready-tied bow ties are available, in which the distinctive bow is sewn into shape and the band around the neck incorporates a clip....
s, hand fans,
leg warmer
Leg warmer
Leg warmers are coverings for the lower legs, similar to socks but thicker and generally footless. They were originally used as dancewear by ballet and other classic dancers in order to keep the leg muscles warm and to prevent cramping or other muscle injuries....
s,
leggings
Leggings
Leggings are a type of fitted clothing covering the legs, which can be worn by both men and women.Originally leggings were two separate garments, one for each leg....
,
necktie
Necktie
A necktie is a long piece of cloth worn for decorative purposes around the neck or shoulders, resting under the shirt collar and knotted at the throat. Variants include the ascot tie, bow tie, bolo tie, and the clip-on tie. The modern necktie, ascot, and bow tie are descended from the cravat. Neck...
s,
suspenders
Suspenders
Suspenders or braces are fabric or leather straps worn over the shoulders to hold up trousers. Straps may be elasticated, either entirely or only at attachment ends and most straps are of woven cloth forming an X or Y shape at the back. Braces are typically attached to trousers with buttons...
, and
tights
Tights
Tights are a kind of cloth leg garment, most often sheathing the body from about the waist to the feet with a more or less tight fit, hence the name....
.
Accessories can add color, style and class to an outfit, and create a certain look, but they can also have a practical function:
handbag
Handbag
A handbag, or purse in American English, is a handled medium-to-large bag that is often fashionably designed, typically used by women, to hold personal items such as wallet/coins, keys, cosmetics, a hairbrush, pepper spray, cigarettes, mobile phone etc....
s can be used to carry small items such as cash,
hat
Hat
A hat is a head covering. It can be worn for protection against the elements, for ceremonial or religious reasons, for safety, or as a fashion accessory. In the past, hats were an indicator of social status...
s protect the face in bad weather, and gloves keep hands warm.
Many accessories are produced by clothing design companies. However, there has been an increase in individuals creating their own brand name by designing and making their own label of accessories. Following the internet boom, individuals have been able to sell their own accessories online to anyone across the globe. Handmade unique accessories are in high demand today.
Accessories can be visual symbols of religious affiliation: Crucifixes, Jewish stars, Islamic
headscarves
Headscarf
Headscarves or head scarves are scarves covering most or all of the top of a woman's hair and her head. Headscarves may be worn for a variety of purposes, such as for warmth, for sanitation, for fashion or social distinction; with religious significance, to hide baldness, out of modesty, or other...
, skullcaps and turbans are common examples. Designer labels on accessories are perceived by some as an indicator of
social status
Social status
In sociology or anthropology, social status is the honor or prestige attached to one's position in society . It may also refer to a rank or position that one holds in a group, for example son or daughter, playmate, pupil, etc....
.
Over the centuries fashion accessories have changed and evolved. In the 19th century, English fashion accessories included items such as The Muff, The Tippet, and Tulle shawls. During this time hats and turbans were also considered fashionable.
The beginning of the 20th century saw radical changes in the way women began to dress. Dress became more practical and meant that accessories didn't play such a big part in fashion during this time.
In the 1950s fashion accessories become more popular in the western world, with accessories such as fruit corsages to adorn sweaters or hats. Also in the 1950s eyewear began to be used as fashion accessories. The 1950s also saw the rise of the stiletto.
External links