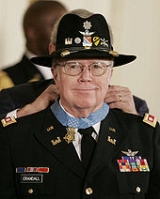 Insignia
Insignia
or
insigne
pl
-nia
or
-nias
(in
Latin
Latin
Latin is an Italic language originally spoken in Latium and Ancient Rome. It, along with most European languages, is a descendant of the ancient Proto-Indo-European language. Although it is considered a dead language, a number of scholars and members of the Christian clergy speak it fluently, and...
,
insignia
is the plural of singular
insigne
: emblem, symbol, ensign, badge of honor) : a
symbol
Symbol
A symbol is something which represents an idea, a physical entity or a process but is distinct from it. The purpose of a symbol is to communicate meaning. For example, a red octagon may be a symbol for "STOP". On a map, a picture of a tent might represent a campsite. Numerals are symbols for...
or
token
Token
A token is an object of value, and may refer to:* In logic, computational linguistics, and information retrieval, a token is an instance of a type; see Type-token distinction...
of personal
power
Power (sociology)
Power is a measurement of an entity's ability to control its environment, including the behavior of other entities. The term authority is often used for power perceived as legitimate by the social structure. Power can be seen as evil or unjust, but the exercise of power is accepted as endemic to...
,
status
Social status
In sociology or anthropology, social status is the honor or prestige attached to one's position in society . It may also refer to a rank or position that one holds in a group, for example son or daughter, playmate, pupil, etc....
or
office
Office
An office is generally a room or other area in which people work, but may also denote a position within an organization with specific duties attached to it ; the latter is in fact an earlier usage, office as place originally referring to the location of one's duty. When used as an adjective, the...
, or of an official body of
government
Government
Government refers to the legislators, administrators, and arbitrators in the administrative bureaucracy who control a state at a given time, and to the system of government by which they are organized...
or
jurisdiction
Jurisdiction
Jurisdiction is the practical authority granted to a formally constituted legal body or to a political leader to deal with and make pronouncements on legal matters and, by implication, to administer justice within a defined area of responsibility...
. An insignia is usually the
emblem
Emblem
An emblem is a pictorial image, abstract or representational, that epitomizes a concept — e.g., a moral truth, or an allegory — or that represents a person, such as a king or saint.-Distinction: emblem and symbol:...
of a specific or general
authority
Authority
The word Authority is derived mainly from the Latin word auctoritas, meaning invention, advice, opinion, influence, or command. In English, the word 'authority' can be used to mean power given by the state or by academic knowledge of an area .-Authority in Philosophy:In...
.
Typical examples of insignia are:
Official insignia are often protected by law as to allow their use only by people holding a specific office or staff members acting on behalf of such a person. Misuse, defacement and destruction of such symbols is considered an offense in many countries.