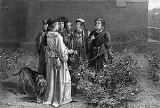 Wars of the Roses
The
Wars of the Roses
were a series of dynastic civil wars for the
throne of England
Throne of England
The Throne of England is the English term used to identify the throne of the King of England. The term can refer to very specific seating, as in King Edward's Chair, which has been used in the coronations of British kings for eight centuries...
fought between supporters of two rival branches of the royal
House of Plantagenet
House of Plantagenet
The House of Plantagenet , a branch of the Angevins, was a royal house founded by Geoffrey V of Anjou, father of Henry II of England. Plantagenet kings first ruled the Kingdom of England in the 12th century. Their paternal ancestors originated in the French province of Gâtinais and gained the...
: the houses of
Lancaster
House of Lancaster
The House of Lancaster was a branch of the royal House of Plantagenet. It was one of the opposing factions involved in the Wars of the Roses, an intermittent civil war which affected England and Wales during the 15th century...
and
York
House of York
The House of York was a branch of the English royal House of Plantagenet, three members of which became English kings in the late 15th century. The House of York was descended in the paternal line from Edmund of Langley, 1st Duke of York, the fourth surviving son of Edward III, but also represented...
(the "red" and the "white" rose, respectively). They were fought in several sporadic episodes between 1455 and 1485, although there was related fighting both before and after this period. The final victory went to a relatively remote Lancastrian claimant,
Henry Tudor
Henry VII of England
Henry VII was King of England and Lord of Ireland from his seizing the crown on 22 August 1485 until his death on 21 April 1509, as the first monarch of the House of Tudor....
, who defeated the last Yorkist king
Richard III
Richard III of England
Richard III was King of England for two years, from 1483 until his death in 1485 during the Battle of Bosworth Field. He was the last king of the House of York and the last of the Plantagenet dynasty...
and married
Edward IV
Edward IV of England
Edward IV was King of England from 4 March 1461 until 3 October 1470, and again from 11 April 1471 until his death. He was the first Yorkist King of England...
's daughter
Elizabeth of York
Elizabeth of York
Elizabeth of York was Queen consort of England as spouse of King Henry VII from 1486 until 1503, and mother of King Henry VIII of England....
to unite the two houses.