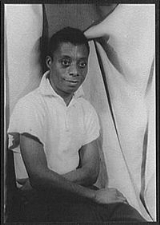 James Baldwin (writer)
James Arthur Baldwin
was an American novelist, essayist,
playwright
Playwright
A playwright, also called a dramatist, is a person who writes plays.The term is not a variant spelling of "playwrite", but something quite distinct: the word wright is an archaic English term for a craftsman or builder...
,
poet
Poet
A poet is a person who writes poetry. A poet's work can be literal, meaning that his work is derived from a specific event, or metaphorical, meaning that his work can take on many meanings and forms. Poets have existed since antiquity, in nearly all languages, and have produced works that vary...
, and social critic.
Baldwin's essays, for instance "Notes of a Native Son" (1955), explore palpable yet unspoken intricacies of
racial
Racism
Racism is the belief that inherent different traits in human racial groups justify discrimination. In the modern English language, the term "racism" is used predominantly as a pejorative epithet. It is applied especially to the practice or advocacy of racial discrimination of a pernicious nature...
,
sexual
Human sexuality
Human sexuality is the awareness of gender differences, and the capacity to have erotic experiences and responses. Human sexuality can also be described as the way someone is sexually attracted to another person whether it is to opposite sexes , to the same sex , to either sexes , or not being...
, and
class
Social class
Social classes are economic or cultural arrangements of groups in society. Class is an essential object of analysis for sociologists, political scientists, economists, anthropologists and social historians. In the social sciences, social class is often discussed in terms of 'social stratification'...
distinctions in Western societies, most notably in mid-20th century
America
United States
The United States of America is a federal constitutional republic comprising fifty states and a federal district...
, vis-à-vis their inevitable if unnameable tensions with personal identity, assumptions, uncertainties, yearning, and questing.