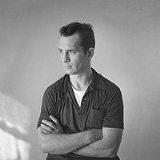 Jack Kerouac
Jean-Louis "Jack" Lebris de Kerouac (icon or ˈ; March 12, 1922 – October 21, 1969) was an American novelist and poet. He is considered a literary
iconoclast
Iconoclasm
Iconoclasm is the deliberate destruction of religious icons and other symbols or monuments, usually with religious or political motives. It is a frequent component of major political or religious changes...
and, alongside
William S. Burroughs
William S. Burroughs
William Seward Burroughs II was an American novelist, poet, essayist and spoken word performer. A primary figure of the Beat Generation and a major postmodernist author, he is considered to be "one of the most politically trenchant, culturally influential, and innovative artists of the 20th...
and
Allen Ginsberg
Allen Ginsberg
Irwin Allen Ginsberg was an American poet and one of the leading figures of the Beat Generation in the 1950s. He vigorously opposed militarism, materialism and sexual repression...
, a pioneer of the
Beat Generation
Beat generation
The Beat Generation refers to a group of American post-WWII writers who came to prominence in the 1950s, as well as the cultural phenomena that they both documented and inspired...
. Kerouac is recognized for his spontaneous method of writing, covering topics such as
Catholic spirituality
Catholic spirituality
Catholic spirituality is the spiritual practice of living out a personal act of faith following the acceptance of faith . Although all Catholics are expected to pray together at Mass, there are many different forms of spirituality and private prayer which have developed over the centuries...
,
jazz
Jazz
Jazz is a musical style that originated at the beginning of the 20th century in African American communities in the Southern United States. It was born out of a mix of African and European music traditions. From its early development until the present, jazz has incorporated music from 19th and 20th...
,
promiscuity
Promiscuity
In humans, promiscuity refers to less discriminating casual sex with many sexual partners. The term carries a moral or religious judgement and is viewed in the context of the mainstream social ideal for sexual activity to take place within exclusive committed relationships...
,
Buddhism
Buddhism
Buddhism is a religion and philosophy encompassing a variety of traditions, beliefs and practices, largely based on teachings attributed to Siddhartha Gautama, commonly known as the Buddha . The Buddha lived and taught in the northeastern Indian subcontinent some time between the 6th and 4th...
, drugs, poverty, and travel. His writings have inspired other writers, including
Ken Kesey
Ken Kesey
Kenneth Elton "Ken" Kesey was an American author, best known for his novel One Flew Over the Cuckoo's Nest , and as a counter-cultural figure who considered himself a link between the Beat Generation of the 1950s and the hippies of the 1960s. "I was too young to be a beatnik, and too old to be a...
,
Bob Dylan
Bob Dylan
Bob Dylan is an American singer-songwriter, musician, poet, film director and painter. He has been a major and profoundly influential figure in popular music and culture for five decades. Much of his most celebrated work dates from the 1960s when he was an informal chronicler and a seemingly...
,
Eddie Vedder
Eddie Vedder
Eddie Vedder is an American musician and singer-songwriter who is best known for being the lead singer and one of three guitarists of the alternative rock band Pearl Jam. He is widely considered a cultural icon of alternative rock.He is also involved in soundtrack work and contributes to albums...
,
Richard Brautigan
Richard Brautigan
Richard Gary Brautigan was an American novelist, poet, and short story writer. His work often employs black comedy, parody, and satire. He is best known for his 1967 novel Trout Fishing in America.- Early life :...
,
Thomas Pynchon
Thomas Pynchon
Thomas Ruggles Pynchon, Jr. is an American novelist. For his most praised novel, Gravity's Rainbow, Pynchon received the National Book Award, and is regularly cited as a contender for the Nobel Prize in Literature...
,
Lester Bangs
Lester Bangs
Leslie Conway "Lester" Bangs was an American music journalist, author and musician. He wrote for Creem and Rolling Stone magazines, and was known for his leading influence in rock 'n' roll criticism....
,
Tom Robbins
Tom Robbins
Thomas Eugene "Tom" Robbins Thomas Eugene "Tom" Robbins Thomas Eugene "Tom" Robbins (born July 22, 1936 is an American author. His best-selling novels are serio-comic, often wildly poetic stories with a strong social and philosophical undercurrent, an irreverent bent, and scenes extrapolated from...
,
Will Clarke
Will Clarke
Will Clarke is an American novelist who is the author of Lord Vishnu's Love Handles: A Spy Novel and The Worthy: A Ghost's Story....
,
Ben Gibbard
Ben Gibbard
Benjamin "Ben" Gibbard is an American musician known as a member of several successful indie rock bands. He is the lead singer of Death Cab for Cutie and The Postal Service, and is also known for his project ¡All-Time Quarterback! and his first band, Pinwheel.-Personal life and career:Gibbard was...
, and
Haruki Murakami
Haruki Murakami
is a Japanese writer and translator. His works of fiction and non-fiction have garnered him critical acclaim and numerous awards, including the Franz Kafka Prize and Jerusalem Prize among others.He is considered an important figure in postmodern literature...
. Kerouac became an underground celebrity and, with other beats, a progenitor of the hippie movement, although he remained antagonistic toward some of its politically radical elements.
Maybe that's what life is... a wink of the eye and winking stars.

Letter to Alan Harrington (1949) published in Kerouac: Selected Letters: Volume 1 1940-1956 (1996)
All of life is a foreign country.

Letter (24 June 1949), published in The Beat Vision: A Primary Sourcebook (1987) edited by Arthur Knight and Kit Knight
I want to work in revelations, not just spin silly tales for money. I want to fish as deep down as possible into my own subconscious in the belief that once that far down, everyone will understand because they are the same that far down.

Letter to Ed White (5 July 1950) as quoted in Jack Kerouac: Angelheaded Hipster (1996) by Steve Turner, p. 117
Accept loss forever

"Belief & Technique For Modern Prose: List of Essentials" in a letter to Don Allen (1958); published in Heaven & Other Poems (1977)
Believe in the holy contour of life

"Belief & Technique For Modern Prose: List of Essentials" in a letter to Don Allen (1958); published in Heaven & Other Poems (1977)
We should be wondering tonight, "Is there a world?" But I could go and talk on 5, 10, 20 minutes about is there a world, because there is really no world, cause sometimes I'm walkin' on the ground and I see right through the ground. And there is no world. And you'll find out.

"Is There A Beat Generation?" forum at Hunter College|Hunter College, New York, New York (8 November 1958)
Who knows, but that the universe is not one vast sea of compassion actually, the veritable holy honey, beneath all this show of personality and cruelty?

"Is There A Beat Generation?" forum at Hunter College (8 November 1958)