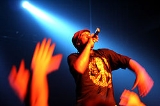 Hip hop
Hip hop
is a form of musical expression and artistic culture that originated in African-American and
Latino
Latino
The demonyms Latino and Latina , are defined in English language dictionaries as:* "a person of Latin-American descent."* "A Latin American."* "A person of Hispanic, especially Latin-American, descent, often one living in the United States."...
communities during the 1970s in New York City, specifically the Bronx. DJ
Afrika Bambaataa
Afrika Bambaataa
Afrika Bambaataa is an American DJ from the South Bronx, New York who was instrumental in the early development of hip hop throughout the 1980s. Afrika Bambaataa is one of the three originators of break-beat deejaying, and is respectfully known as the "Grandfather" and the Amen Ra of Universal...
outlined the four pillars of hip hop culture: MCing, DJing, breaking and
graffiti writing
Graffiti
Graffiti is the name for images or lettering scratched, scrawled, painted or marked in any manner on property....
. Other elements include
beatboxing
Beatboxing
Beatboxing is a form of vocal percussion primarily involving the art of producing drum beats, rhythm, and musical sounds using one's mouth, lips, tongue, and voice. It may also involve singing, vocal imitation of turntablism, and the simulation of horns, strings, and other musical instruments...
.
Since its emergence in the
South Bronx
South Bronx
The South Bronx is an area of the New York City borough of The Bronx. The neighborhoods of Tremont, University Heights, Highbridge, Morrisania, Soundview, Hunts Point, and Castle Hill are sometimes considered part of the South Bronx....
, hip hop culture has spread around the world.
Hip hop music
Hip hop music
Hip hop music, also called hip-hop, rap music or hip-hop music, is a musical genre consisting of a stylized rhythmic music that commonly accompanies rapping, a rhythmic and rhyming speech that is chanted...
first emerged with disc jockeys creating rhythmic beats by
looping
Music loop
In electroacoustic music, a loop is a repeating section of sound material. Short sections of material can be repeated to create ostinato patterns...
breaks (small portions of songs emphasizing a percussive pattern) on two turntables, more commonly referred to as
sampling
Sampling (music)
In music, sampling is the act of taking a portion, or sample, of one sound recording and reusing it as an instrument or a different sound recording of a song or piece. Sampling was originally developed by experimental musicians working with musique concrète and electroacoustic music, who physically...
.