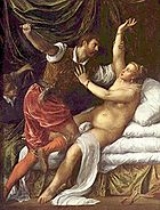 Rape
Rape
is a type of
sexual assault
Sexual assault
Sexual assault is an assault of a sexual nature on another person, or any sexual act committed without consent. Although sexual assaults most frequently are by a man on a woman, it may involve any combination of two or more men, women and children....
usually involving
sexual intercourse
Sexual intercourse
Sexual intercourse, also known as copulation or coitus, commonly refers to the act in which a male's penis enters a female's vagina for the purposes of sexual pleasure or reproduction. The entities may be of opposite sexes, or they may be hermaphroditic, as is the case with snails...
, which is initiated by one or more persons against another person without that person's
consent
Consent
Consent refers to the provision of approval or agreement, particularly and especially after thoughtful consideration.- Types of consent :*Implied consent is a controversial form of consent which is not expressly granted by a person, but rather inferred from a person's actions and the facts and...
. The act may be carried out by physical force,
coercion
Coercion
Coercion is the practice of forcing another party to behave in an involuntary manner by use of threats or intimidation or some other form of pressure or force. In law, coercion is codified as the duress crime. Such actions are used as leverage, to force the victim to act in the desired way...
, abuse of authority or with a person who is incapable of valid consent. The term is most often defined in
criminal law
Criminal law
Criminal law, is the body of law that relates to crime. It might be defined as the body of rules that defines conduct that is not allowed because it is held to threaten, harm or endanger the safety and welfare of people, and that sets out the punishment to be imposed on people who do not obey...
. A person who commits an act of rape is known as a
rapist
.
Internationally, the incidence of rapes recorded by the police during 2008 varied between 0.1 in
Egypt
Egypt
Egypt , officially the Arab Republic of Egypt, Arabic: , is a country mainly in North Africa, with the Sinai Peninsula forming a land bridge in Southwest Asia. Egypt is thus a transcontinental country, and a major power in Africa, the Mediterranean Basin, the Middle East and the Muslim world...
per 100,000 people and 91.6 per 100,000 people in
Lesotho
Lesotho
Lesotho , officially the Kingdom of Lesotho, is a landlocked country and enclave, surrounded by the Republic of South Africa. It is just over in size with a population of approximately 2,067,000. Its capital and largest city is Maseru. Lesotho is a member of the Commonwealth of Nations. The name...
with 4.9 per 100,000 people in
Lithuania
Lithuania
Lithuania , officially the Republic of Lithuania is a country in Northern Europe, the biggest of the three Baltic states. It is situated along the southeastern shore of the Baltic Sea, whereby to the west lie Sweden and Denmark...
as the median.