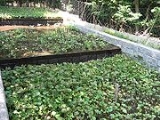 Wasabi
, also known as
Japanese horseradish
, is a member of the
Brassicaceae
Brassicaceae
Brassicaceae, a medium sized and economically important family of flowering plants , are informally known as the mustards, mustard flowers, the crucifers or the cabbage family....
family, which includes
cabbage
Cabbage
Cabbage is a popular cultivar of the species Brassica oleracea Linne of the Family Brassicaceae and is a leafy green vegetable...
s,
horseradish
Horseradish
Horseradish is a perennial plant of the Brassicaceae family, which also includes mustard, wasabi, broccoli, and cabbages. The plant is probably native to south eastern Europe and the Arab World , but is popular around the world today...
, and
mustard
Mustard plant
Mustards are several plant species in the genera Brassica and Sinapis whose small mustard seeds are used as a spice and, by grinding and mixing them with water, vinegar or other liquids, are turned into the condiment known as mustard or prepared mustard...
. Its root is used as a
condiment
Condiment
A condiment is an edible substance, such as sauce or seasoning, added to food to impart a particular flavor, enhance its flavor, or in some cultures, to complement the dish. Many condiments are available packaged in single-serving sachets , like mustard or ketchup, particularly when supplied with...
and has an extremely strong flavor. Its hotness is more akin to that of a hot
mustard
Mustard (condiment)
Mustard is a condiment made from the seeds of a mustard plant...
rather than the
capsaicin
Capsaicin
Capsaicin 2CHCH=CH4CONHCH2C6H3-4--3- ) is the active component of chili peppers, which are plants belonging to the genus Capsicum. It is an irritant for mammals, including humans, and produces a sensation of burning in any tissue with which it comes into contact...
in a
chili pepper
Chili pepper
Chili pepper is the fruit of plants from the genus Capsicum, members of the nightshade family, Solanaceae. The term in British English and in Australia, New Zealand, India, Malaysia and other Asian countries is just chilli without pepper.Chili peppers originated in the Americas...
, producing vapours that stimulate the
nasal
Human nose
The visible part of the human nose is the protruding part of the face that bears the nostrils. The shape of the nose is determined by the ethmoid bone and the nasal septum, which consists mostly of cartilage and which separates the nostrils...
passages more than the tongue. The plant grows naturally along stream beds in mountain river valleys in Japan. There are also other species used, such as
W. koreana
, and
W. tetsuigi
. The two main
cultivar
Cultivar
A cultivar'Cultivar has two meanings as explained under Formal definition. When used in reference to a taxon, the word does not apply to an individual plant but to all those plants sharing the unique characteristics that define the cultivar. is a plant or group of plants selected for desirable...
s in the marketplace are
W. japonica
cv. 'Daruma' and cv. 'Mazuma', but there are many others.
Uses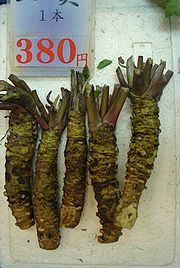 Wasabi is generally sold either as a root which is very finely grated before use, or as a ready-to-use paste in tubes similar to travel
toothpaste
Toothpaste
Toothpaste is a paste or gel dentifrice used with a toothbrush as an accessory to clean and maintain the aesthetics and health of teeth. Toothpaste is used to promote oral hygiene: it serves as an abrasive that aids in removing the dental plaque and food from the teeth, assists in suppressing...
tubes. In restaurants the paste is prepared when the customer orders, and is made using a grater to grate the root; once the paste is prepared, it loses flavor in 15 minutes. In
sushi
Sushi
is a Japanese food consisting of cooked vinegared rice combined with other ingredients . Neta and forms of sushi presentation vary, but the ingredient which all sushi have in common is shari...
preparation, sushi chefs usually put the wasabi between the fish and the rice because covering wasabi until served preserves its flavor.
Fresh wasabi leaves can be eaten, having the spicy flavor of wasabi roots.
Because the burning sensations of wasabi are not oil-based, they are short-lived compared to the effects of
chili pepper
Chili pepper
Chili pepper is the fruit of plants from the genus Capsicum, members of the nightshade family, Solanaceae. The term in British English and in Australia, New Zealand, India, Malaysia and other Asian countries is just chilli without pepper.Chili peppers originated in the Americas...
s, and are washed away with more food or liquid. The sensation is felt primarily in the nasal passage and can be quite painful depending on amount taken.
Legume
s (peanuts, soybeans, or peas) may be roasted or fried, then coated with wasabi powder mixed with sugar, salt, or oil and eaten as a crunchy snack.
Inhaling or sniffing wasabi vapor has an effect like
smelling salts
Smelling salts
Smelling salts, also known as spirit of hartshorn or sal volatile, are chemical compounds used for arousing consciousness. The usual active compound is ammonium carbonate, a colorless-to-white, crystalline solid...
, a property exploited by researchers attempting to create a smoke alarm for the deaf. One deaf subject participating in a test of the prototype awoke within 10 seconds of wasabi vapor being sprayed into his sleeping chamber. This was 'rewarded' with the 2011 Ig Nobel Prize in Chemistry to Makoto Imai, Naoki Urushihata, Hideki Tanemura, Yukinobu Tajima, Hideaki Goto, Koichiro Mizoguchi and Junichi Murakami for determining the ideal density of airborne wasabi (pungent horseradish) to wake people in event of an emergency.
True wasabi and western wasabi
Wasabi is difficult to cultivate (see below), and that makes it quite expensive: as high as $70 to $100 per pound. Due to its high cost, a common substitute is a mixture of (western) horseradish (which normally costs less than $1/pound wholesale), mustard, and green food coloring. Although the taste is similar they are easily distinguished. In Japan, horseradish is referred to as . Outside Japan, "real" wasabi is rare, and colored horseradish-based substitute is normally used instead; in the United States, wasabi is generally found only at specialty grocers and high-end restaurants.
Chemistry
The chemical in wasabi that provides for its initial pungency is the volatile
allyl isothiocyanate
Allyl isothiocyanate
Allyl isothiocyanate is the organosulfur compound with the formula CH2CHCH2NCS. This colorless oil is responsible for the pungent taste of mustard, horseradish, and wasabi. This pungency and the lachrymatory effect of AITC is mediated through the TRPA1 and TRPV1 ion channels...
, which is produced by
hydrolysis
Hydrolysis
Hydrolysis is a chemical reaction during which molecules of water are split into hydrogen cations and hydroxide anions in the process of a chemical mechanism. It is the type of reaction that is used to break down certain polymers, especially those made by condensation polymerization...
of natural rhizome thioglucosides (conjugates of the sugar glucose, and sulfur-containing organic compounds); the hydrolysis reaction is catalyzed by myrosinase and occurs on when the enzyme is released on cell rupture caused by maceration—e.g., grating—of the plant's rhizome.
The unique flavor of wasabi is a result of complex chemical mixtures from the broken cells of the rhizome, including those resulting from the hydrolysis—glucose, and other methylthioalkyl
isothiocyanate
Isothiocyanate
Isothiocyanate is the chemical group –N=C=S, formed by substituting sulfur for oxygen in the isocyanate group. Many natural isothiocyanates from plants are produced by enzymatic conversion of metabolites called glucosinolates. These natural isothiocyanates, such as allyl isothiocyanate, are also...
s:
6-methylthiohexyl isothiocyanate,
7-methylthioheptyl isothiocyanate, and
8-methylthiooctyl isothiocyanate.
Research has shown that such isothiocyanates inhibit
microbe
Microorganism
A microorganism or microbe is a microscopic organism that comprises either a single cell , cell clusters, or no cell at all...
growth, perhaps with implications for preserving food against spoilage and suppressing oral bacterial growth.
Nutritional information
100g of wasabi root contains:
Calories : 109
Fat: 0.63
Carbohydrates: 23 g
Fiber: 7.8 g
Protein: 4.8 g
Cultivation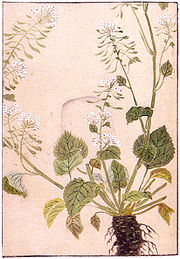 Few places are suitable for large-scale wasabi cultivation, and cultivation is difficult even in ideal conditions. In Japan, wasabi is cultivated mainly in these regions:
There are also numerous artificially cultivated facilities as far north as
Hokkaidō
Hokkaido
, formerly known as Ezo, Yezo, Yeso, or Yesso, is Japan's second largest island; it is also the largest and northernmost of Japan's 47 prefectural-level subdivisions. The Tsugaru Strait separates Hokkaido from Honshu, although the two islands are connected by the underwater railway Seikan Tunnel...
and as far south as
Kyūshū
Kyushu
is the third largest island of Japan and most southwesterly of its four main islands. Its alternate ancient names include , , and . The historical regional name is referred to Kyushu and its surrounding islands....
. As the demand for real wasabi is very high, Japan has to import a large amount of it from
China
China
Chinese civilization may refer to:* China for more general discussion of the country.* Chinese culture* Greater China, the transnational community of ethnic Chinese.* History of China* Sinosphere, the area historically affected by Chinese culture...
,
Ali Mountain
Alishan
The Alishan National Scenic Area is a mountain resort and natural preserve located in the mountains of Chiayi County in Taiwan. It is 415 km² in area. It includes, among other things, mountain wilderness, four villages, waterfalls, high altitude tea plantations, the Alishan Forest Railway ...
of
Taiwan
Taiwan
Taiwan , also known, especially in the past, as Formosa , is the largest island of the same-named island group of East Asia in the western Pacific Ocean and located off the southeastern coast of mainland China. The island forms over 99% of the current territory of the Republic of China following...
, and
New Zealand
New Zealand
New Zealand is an island country in the south-western Pacific Ocean comprising two main landmasses and numerous smaller islands. The country is situated some east of Australia across the Tasman Sea, and roughly south of the Pacific island nations of New Caledonia, Fiji, and Tonga...
.
In North America, a handful of companies and small farmers are successfully pursuing the trend by cultivating
Wasabia japonica
. While only the
Pacific Northwest
Pacific Northwest
The Pacific Northwest is a region in northwestern North America, bounded by the Pacific Ocean to the west and, loosely, by the Rocky Mountains on the east. Definitions of the region vary and there is no commonly agreed upon boundary, even among Pacific Northwesterners. A common concept of the...
and parts of the
Blue Ridge Mountains
Blue Ridge Mountains
The Blue Ridge Mountains are a physiographic province of the larger Appalachian Mountains range. This province consists of northern and southern physiographic regions, which divide near the Roanoke River gap. The mountain range is located in the eastern United States, starting at its southern-most...
provide the right balance of climate and water for natural cultivation of sawa (water grown) wasabi, the use of hydroponics and greenhouses has extended the range.
British Columbia

British Columbia

British Columbia is the westernmost of Canada's provinces and is known for its natural beauty, as reflected in its Latin motto, Splendor sine occasu . Its name was chosen by Queen Victoria in 1858...


, Canada

Canada

Canada is a North American country consisting of ten provinces and three territories. Located in the northern part of the continent, it extends from the Atlantic Ocean in the east to the Pacific Ocean in the west, and northward into the Arctic Ocean...



North Carolina

North Carolina

North Carolina is a state located in the southeastern United States. The state borders South Carolina and Georgia to the south, Tennessee to the west and Virginia to the north. North Carolina contains 100 counties. Its capital is Raleigh, and its largest city is Charlotte...


, United States
While the finest sawa wasabi is grown in pure, constantly flowing water, without pesticides or fertilizers, some growers push growth with fertilizer such as chicken manure, which can be a source of downstream pollution if not properly managed.
Preparation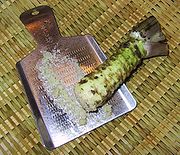 Wasabi is often grated with a metal
oroshigane
Oroshigane
Oroshigane , also known as oroshiki are graters used in Japanese cooking.These oroshigane differ significantly from Western-style graters, as they produce a much finer grating...
, but some prefer to use a more traditional tool made of dried
sharkskin
Sharkskin
Sharkskin is a smooth worsted fabric with a soft texture and a two-toned woven appearance.Typically, sharkskin fabric is made with the use of rayon or acetate or as a blend of the two, and its two-toned woven appearance is achieved by basketweaving, thereby creating a pattern where the colored...
with fine skin on one side and coarse skin on the other. A hand-made grater with irregular teeth can also be used. If a shark-skin grater is unavailable, ceramic is usually preferred.
Etymology
The two
kanji
Kanji
Kanji are the adopted logographic Chinese characters hanzi that are used in the modern Japanese writing system along with hiragana , katakana , Indo Arabic numerals, and the occasional use of the Latin alphabet...
characters "" and "" do not correspond to their pronunciation: as such it is an example of gikun (meaning, not sound). The two characters actually refer to the
mountain Asarum

Asarum

Asarum is a genus of plants in the birthwort family Aristolochiaceae, commonly known as Wild ginger.- Description :...



, as the plant's leaves resemble those of a member of Asarum species, in addition to its ability to grow on shady hillsides. The word, in the form , appeared in 918 in
The Japanese Names of Medical Herbs
(
Honzō Wamyō
). Spelled in this way, the particular
kanji
Kanji
Kanji are the adopted logographic Chinese characters hanzi that are used in the modern Japanese writing system along with hiragana , katakana , Indo Arabic numerals, and the occasional use of the Latin alphabet...
are used for their phonetic values only, known as
ateji
Ateji
In modern Japanese, primarily refers to kanji used phonetically to represent native or borrowed words, without regard to the meaning of the underlying characters. This is analogous to man'yōgana in pre-modern Japanese...
(sound, not meaning – opposite of gikun).
External links