 Condiment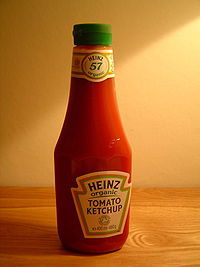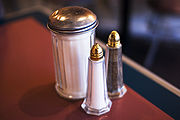 A
condiment
is an edible substance, such as
sauce
Sauce
In cooking, a sauce is liquid, creaming or semi-solid food served on or used in preparing other foods. Sauces are not normally consumed by themselves; they add flavor, moisture, and visual appeal to another dish. Sauce is a French word taken from the Latin salsus, meaning salted...
or
seasoning
Seasoning
Seasoning is the process of imparting flavor to, or improving the flavor of, food.- General meaning :Seasonings include herbs and spices, which are themselves frequently referred to as "seasonings"...
, added to food to impart a particular flavor, enhance its flavor, or in some cultures, to complement the dish. Many condiments are available packaged in single-serving sachets (packets), like mustard or ketchup, particularly when supplied with
take-out
Take-out
Take-out or takeout , carry-out , take-away , parcel , or tapau , is food purchased at a...
or
fast-food
Fast food
Fast food is the term given to food that can be prepared and served very quickly. While any meal with low preparation time can be considered to be fast food, typically the term refers to food sold in a restaurant or store with preheated or precooked ingredients, and served to the customer in a...
meals. Condiments are usually applied by the diner. Condiments are sometimes added prior to serving, for example a sandwich made with
ketchup
Ketchup
Ketchup is a sweet-and-tangy condiment typically made from tomatoes, vinegar, sugar or high-fructose corn syrup and an assortment of...
or
mustard
Mustard (condiment)
Mustard is a condiment made from the seeds of a mustard plant...
. Some condiments are used during cooking to add flavor or texture to the food;
barbecue sauce
Barbecue sauce
Barbecue sauce is a flavoring sauce or condiment ranging from watery to very thick consistency. As the name implies, it was created as an accompaniment to barbecued foods. While it can be applied to any food, it usually tops meat after cooking or during barbecuing, grilling, or baking...
,
teriyaki sauce
Tare sauce
Tare is a general term in Japanese cuisine for dipping sauces often used in grilling as well as with sushi, nabemono and gyoza. The sauce is best described as sweetened, thickened soy sauce for grilling and flavored soy sauce with dashi, vinegar, etc., for nabemono and natto such as ponzu but...
,
soy sauce
Soy sauce
Soy sauce is a condiment produced by fermenting soybeans with Aspergillus oryzae or Aspergillus sojae molds, along with water and salt...
,
marmite
Marmite
Marmite is the name given to two similar food spreads: the original British version, first produced in the United Kingdom and later South Africa, and a version produced in New Zealand...
are examples.
Examples
See also
Condiments by country
Black pepper

Black pepper

Black pepper is a flowering vine in the family Piperaceae, cultivated for its fruit, which is usually dried and used as a spice and seasoning. The fruit, known as a peppercorn when dried, is approximately in diameter, dark red when fully mature, and, like all drupes, contains a single seed...



Chutney

Chutney

Chutney is a a condiment used in South Asian cuisine that usually contains a spice and vegetable mix.Chutneys are wet or dry, having a coarse to fine texture. The Anglo-Indian loan word refers to fresh and pickled preparations indiscriminately, with preserves often sweetened. At least several...



Dip

Dip (food)

A dip or dipping sauce is a common condiment for many types of food. Dips are used to add flavor and/or texture to a food, such as pita bread, dumplings, crackers, cut-up raw vegetables, seafood, cubed pieces of meat and cheese, potato chips, tortilla chips, and falafel...



Garnish
Hot sauce

Hot sauce

Hot sauce, chili sauce or pepper sauce refers to any spicy sauce made from chili peppers and other ingredients.-Ingredients:There are many recipes for hot sauces - the common ingredient being any kind of peppers. A group of chemicals called capsaicinoids are responsible for the heat in chili peppers...



Spice

Spice

A spice is a dried seed, fruit, root, bark, or vegetative substance used in nutritionally insignificant quantities as a food additive for flavor, color, or as a preservative that kills harmful bacteria or prevents their growth. It may be used to flavour a dish or to hide other flavours...



Sugar

Sugar

Sugar is a class of edible crystalline carbohydrates, mainly sucrose, lactose, and fructose, characterized by a sweet flavor.Sucrose in its refined form primarily comes from sugar cane and sugar beet...