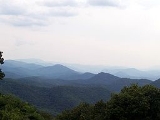 Blue Ridge Mountains
The
Blue Ridge Mountains
are a
physiographic province
Physiographic regions of the world
The physiographic regions of the world are a means of defining the Earth's landforms into distinct regions based upon classic 1916 three-tiered approach defining divisions, provinces, and sections...
of the larger
Appalachian Mountains
Appalachian Mountains
The Appalachian Mountains #Whether the stressed vowel is or ,#Whether the "ch" is pronounced as a fricative or an affricate , and#Whether the final vowel is the monophthong or the diphthong .), often called the Appalachians, are a system of mountains in eastern North America. The Appalachians...
range. This province consists of northern and southern physiographic regions, which divide near the
Roanoke River
Roanoke River
The Roanoke River is a river in southern Virginia and northeastern North Carolina in the United States, 410 mi long. A major river of the southeastern United States, it drains a largely rural area of the coastal plain from the eastern edge of the Appalachian Mountains southeast across the Piedmont...
gap. The mountain range is located in the
eastern United States
Eastern United States
The Eastern United States, the American East, or simply the East is traditionally defined as the states east of the Mississippi River. The first two tiers of states west of the Mississippi have traditionally been considered part of the West, but can be included in the East today; usually in...
, starting at its southern-most portion in
Georgia
Georgia (U.S. state)
Georgia is a state located in the southeastern United States. It was established in 1732, the last of the original Thirteen Colonies. The state is named after King George II of Great Britain. Georgia was the fourth state to ratify the United States Constitution, on January 2, 1788...
, then ending northward in
Pennsylvania
Pennsylvania
The Commonwealth of Pennsylvania is a U.S. state that is located in the Northeastern and Mid-Atlantic regions of the United States. The state borders Delaware and Maryland to the south, West Virginia to the southwest, Ohio to the west, New York and Ontario, Canada, to the north, and New Jersey to...
. To the west of the Blue Ridge, between it and the bulk of the Appalachians, lies the
Great Appalachian Valley
Great Appalachian Valley
The Great Valley, also called the Great Appalachian Valley or Great Valley Region, is one of the major landform features of eastern North America. It is a gigantic trough — a chain of valley lowlands — and the central feature of the Appalachian Mountain system...
, bordered on the west by the
Ridge and Valley
Ridge-and-valley Appalachians
The Ridge-and-Valley Appalachians, also called the Ridge and Valley Province or the Valley and Ridge Appalachians, are a physiographic province of the larger Appalachian division and are also a belt within the Appalachian Mountains extending from southeastern New York through northwestern New...
province of the Appalachian range.
The Blue Ridge Mountains are noted for their bluish color when seen from a distance.