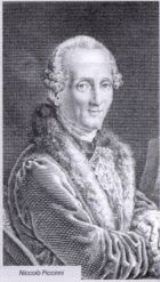 Niccolò Piccinni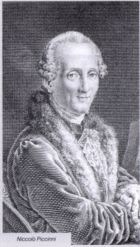 Niccolò Piccinni
was an
Italian
Italy
Italy , officially the Italian Republic languages]] under the European Charter for Regional or Minority Languages. In each of these, Italy's official name is as follows:;;;;;;;;), is a unitary parliamentary republic in South-Central Europe. To the north it borders France, Switzerland, Austria and...
composer
Composer
A composer is a person who creates music, either by musical notation or oral tradition, for interpretation and performance, or through direct manipulation of sonic material through electronic media...
of symphonies, sacred music, chamber music, and
opera
Opera
Opera is an art form in which singers and musicians perform a dramatic work combining text and musical score, usually in a theatrical setting. Opera incorporates many of the elements of spoken theatre, such as acting, scenery, and costumes and sometimes includes dance...
. Although he is somewhat obscure, even to music lovers today, Piccinni was one of the most popular composers of opera—particularly the Neapolitan
opera buffa
Opera buffa
Opera buffa is a genre of opera. It was first used as an informal description of Italian comic operas variously classified by their authors as 'commedia in musica', 'commedia per musica', 'dramma bernesco', 'dramma comico', 'divertimento giocoso' etc...
—of his day. Historically, he had the misfortune of falling between the generations of his great predecessors such as
Pergolesi
Giovanni Battista Pergolesi
Giovanni Battista Pergolesi was an Italian composer, violinist and organist.-Biography:Born at Iesi, Pergolesi studied music there under a local musician, Francesco Santini, before going to Naples in 1725, where he studied under Gaetano Greco and Francesco Feo among others...
and the greats who came after him, including
Domenico Cimarosa
Domenico Cimarosa
Domenico Cimarosa was an Italian opera composer of the Neapolitan school...
and Mozart.
Life
Piccinni was born in
Bari
Bari
Bari is the capital city of the province of Bari and of the Apulia region, on the Adriatic Sea, in Italy. It is the second most important economic centre of mainland Southern Italy after Naples, and is well known as a port and university city, as well as the city of Saint Nicholas...
, and educated under
Leonardo Leo
Leonardo Leo
Leonardo Leo , more correctly Lionardo Oronzo Salvatore de Leo, was an Italian Baroque composer.-Biography:...
and
Francesco Durante
Francesco Durante
Francesco Durante was an Italian composer.He was born at Frattamaggiore, in the Kingdom of Two Sicilies, and at an early age he entered the Conservatorio dei poveri di Gesù Cristo, in Naples, where he received lessons from Gaetano Greco. Later he became a pupil of Alessandro Scarlatti at the...
, at the
S. Onofrio Conservatory
Music Conservatories of Naples
The Music Conservatory of Naples is a music institution in Naples, southern Italy. It is currently located in the complex of San Pietro a Majella.-San Pietro a Majella:...
. For this, he had to thank the intervention of the Bishop of Bari, since his father, although himself a musician, was opposed to his son's following the same career. Piccinni's first opera,
Le donne dispettose
, was produced in 1755, and in 1760 he composed, at
Rome
Rome
Rome is the capital of Italy and the country's largest and most populated city and comune, with over 2.7 million residents in . The city is located in the central-western portion of the Italian Peninsula, on the Tiber River within the Lazio region of Italy.Rome's history spans two and a half...
, the
chef d'œuvre
of his early life,
La Cecchina, ossia la buona Figliuola
, an
opera buffa
with a libretto by Goldoni, which "enjoyed a two-year run in Rome and was played in all the important European capitals. It can probably be called the most popular opera buffa of the 18th century...[even more than]... Pergolesi's
La serva padrona
La serva padrona
La serva padrona is an opera buffa by Giovanni Battista Pergolesi to a libretto by Gennaro Antonio Federico, after the play by Jacopo Angello Nelli. The opera is only 45 minutes long and was originally performed as an intermezzo between the acts of a larger serious opera...
...[and]... The first of the new era, culminating in the masterworks of Mozart."
La buona figliuola
represents a special moment in the history of eighteenth-century music in which comedy began to take on a new dramatic force. It is the moment at which the self-consciously
sentimental
Sentimentality
Sentimentality originally indicated the reliance on feelings as a guide to truth, but current usage defines it as an appeal to shallow, uncomplicated emotions at the expense of reason....
theatrical project of
Carlo Goldoni
Carlo Goldoni
Carlo Osvaldo Goldoni was an Italian playwright and librettist from the Republic of Venice. His works include some of Italy's most famous and best-loved plays. Audiences have admired the plays of Goldoni for their ingenious mix of wit and honesty...
(the opera's librettist) is married with the developing musical language of
classicism
Classicism
Classicism, in the arts, refers generally to a high regard for classical antiquity, as setting standards for taste which the classicists seek to emulate. The art of classicism typically seeks to be formal and restrained: of the Discobolus Sir Kenneth Clark observed, "if we object to his restraint...
. This can especially be seen in the sensitive writing of Cecchina's Act II aria "Una povera ragazza." Piccinni's sighing string figures, warm harmonic cushion, and finely wrought melodic line define the
topos
Topos
In mathematics, a topos is a type of category that behaves like the category of sheaves of sets on a topological space...
of the eighteenth-century sentimental
aria
Aria
An aria in music was originally any expressive melody, usually, but not always, performed by a singer. The term is now used almost exclusively to describe a self-contained piece for one voice usually with orchestral accompaniment...
.
The opera was such a success that fashions of dress, shops, and houses were all named after
La Cecchina
. It also set off a debate about the merits of the new sentimental style, especially in
England
England
England is a country that is part of the United Kingdom. It shares land borders with Scotland to the north and Wales to the west; the Irish Sea is to the north west, the Celtic Sea to the south west, with the North Sea to the east and the English Channel to the south separating it from continental...
, where conservative reactionaries were wary of the supposed feminizing influence of modern Italian music. Antonio Baretti commented in 1768 that individuals "of weight and consideration" should not be blamed for condemning "those puny gentlemen" who, as enthusiasts of Italian opera, were able to "feel its minuet niceties, and to be of course in rapture with the languishing Cecchina's of Piccini [sic]." This modern music, Baretti decried, "far from having any power of increasing courage or any manly virtues, has on the contrary a tendency towards effeminacy and cowardliness."
Six years after this Piccinni was invited by Queen
Marie Antoinette
Marie Antoinette
Marie Antoinette ; 2 November 1755 – 16 October 1793) was an Archduchess of Austria and the Queen of France and of Navarre. She was the fifteenth and penultimate child of Holy Roman Empress Maria Theresa and Holy Roman Emperor Francis I....
to
Paris
Paris
Paris is the capital and largest city in France, situated on the river Seine, in northern France, at the heart of the Île-de-France region...
. He had married in 1756 his pupil Vincenza Sibilla, a singer, whom he never allowed to appear on the stage after their marriage. All his later works were successful; but the directors of the Grand Opera conceived the idea of deliberately opposing him to Gluck, by persuading the two composers to treat the same subject -
Iphigénie en Tauride
- simultaneously. The Parisian public was divided into two rival parties, which, under the names of Gluckists and Piccinnists, carried on an unworthy and disgraceful war. Gluck's masterly
Iphigénie en Tauride
Iphigénie en Tauride
Iphigénie en Tauride is an opera by Christoph Willibald Gluck in four acts. It was his fifth opera for the French stage. The libretto was written by Nicolas-François Guillard....
was first produced on May 18, 1779. Piccinni's
Iphigénie
followed on January 23, 1781. The antagonism of the rival parties continued, even after Gluck left Paris in 1780; and an attempt was afterwards made to inaugurate a new rivalry with
Sacchini
Antonio Sacchini
Antonio Maria Gasparo Sacchini was an Italian opera composer.Sacchini was born in Florence, but was raised in Naples, where he received his musical education at the San Onofrio conservatory. He wrote his first operas in Naples, thereafter moving to Venice, then London and eventually Paris, where...
. Piccinni remained popular, and on the death of Gluck, in 1787, proposed that a public monument be erected to his memory—a suggestion which the Gluckists refused to support.
In 1784 Piccinni became professor at the Royal School of Music, one of the institutions from which the Conservatoire was formed in 1794. On the outbreak of the
French Revolution
French Revolution
The French Revolution , sometimes distinguished as the 'Great French Revolution' , was a period of radical social and political upheaval in France and Europe. The absolute monarchy that had ruled France for centuries collapsed in three years...
in 1789, Piccinni returned to Naples, where he was at first well received by King Ferdinand IV; but the marriage of his daughter to a French democrat brought him disgrace - he was accused of being a revolutionary and placed under house arrest for four years. For the next nine years he maintained a precarious existence in
Venice
Venice
Venice is a city in northern Italy which is renowned for the beauty of its setting, its architecture and its artworks. It is the capital of the Veneto region...
, Naples and Rome; but he returned in 1798 to Paris, where the public received him with enthusiasm, but he made no money. He died at
Passy
Passy
Passy is an area of Paris, France, located in the XVIe arrondissement, on the Right Bank. It is traditionally home to many of the city's wealthiest residents.Passy was formerly a commune...
, near Paris. During his life, he worked with the greatest librettists of his age, including
Metastasio
Metastasio
Pietro Antonio Domenico Trapassi, better known by his pseudonym of Metastasio, was an Italian poet and librettist, considered the most important writer of opera seria libretti.-Early life:...
. After his death a memorial tablet was set up in the house in which he was born at Bari.
The most complete list of his works was given in the
Rivista musicale italiana
, viii. 75. He produced over eighty operas, but although his later work shows the influence of the French and German stage, he belongs to the conventional Italian school of the 18th century.
Librettos
La buona figliuola

La buona figliuola

La Cecchina, ossia La buona figliuola is an opera buffa in three Acts by Niccolò Piccinni. The libretto, by Carlo Goldoni, is based on Samuel Richardson's novel Pamela. This was Piccinni's most successful Italian opera. There was a sequel entitled La buona figliuola maritata by the same composer...


(La Cecchina) 1760, libretto
External links