 Antonio Sacchini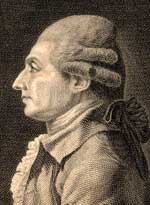 Antonio Maria Gasparo Sacchini
(14 June 1730 – 6 October 1786) was an
Italian
Italy
Italy , officially the Italian Republic languages]] under the European Charter for Regional or Minority Languages. In each of these, Italy's official name is as follows:;;;;;;;;), is a unitary parliamentary republic in South-Central Europe. To the north it borders France, Switzerland, Austria and...
opera
Opera
Opera is an art form in which singers and musicians perform a dramatic work combining text and musical score, usually in a theatrical setting. Opera incorporates many of the elements of spoken theatre, such as acting, scenery, and costumes and sometimes includes dance...
composer
Composer
A composer is a person who creates music, either by musical notation or oral tradition, for interpretation and performance, or through direct manipulation of sonic material through electronic media...
.
Sacchini was born in
Florence
Florence
Florence is the capital city of the Italian region of Tuscany and of the province of Florence. It is the most populous city in Tuscany, with approximately 370,000 inhabitants, expanding to over 1.5 million in the metropolitan area....
, but was raised in
Naples
Naples
Naples is a city in Southern Italy, situated on the country's west coast by the Gulf of Naples. Lying between two notable volcanic regions, Mount Vesuvius and the Phlegraean Fields, it is the capital of the region of Campania and of the province of Naples...
, where he received his musical education at the San Onofrio conservatory. He wrote his first operas in Naples, thereafter moving to
Venice
Venice
Venice is a city in northern Italy which is renowned for the beauty of its setting, its architecture and its artworks. It is the capital of the Veneto region...
, then
London
London
London is the capital city of :England and the :United Kingdom, the largest metropolitan area in the United Kingdom, and the largest urban zone in the European Union by most measures. Located on the River Thames, London has been a major settlement for two millennia, its history going back to its...
and eventually
Paris
Paris
Paris is the capital and largest city in France, situated on the river Seine, in northern France, at the heart of the Île-de-France region...
, where he died. He was one of the leading composers of
opera seria
Opera seria
Opera seria is an Italian musical term which refers to the noble and "serious" style of Italian opera that predominated in Europe from the 1710s to c. 1770...
.
Operas
Title
Genre
Acts
Premiere (place)
Premiere (date)
Fra Donato
intermezzo

Intermezzo

In music, an intermezzo , in the most general sense, is a composition which fits between other musical or dramatic entities, such as acts of a play or movements of a larger musical work...



2 acts
Naples

Naples

Naples is a city in Southern Italy, situated on the country's west coast by the Gulf of Naples. Lying between two notable volcanic regions, Mount Vesuvius and the Phlegraean Fields, it is the capital of the region of Campania and of the province of Naples...



1756
Il giocatore
intermezzo
Naples
1757
Olimpia tradita
commedia
Naples
1758
Il copista burlato
commedia
Naples
1759
La vendemmia
intermezzo
1 act
Rome

Rome

Rome is the capital of Italy and the country's largest and most populated city and comune, with over 2.7 million residents in . The city is located in the central-western portion of the Italian Peninsula, on the Tiber River within the Lazio region of Italy.Rome's history spans two and a half...


, revised Barcelona

Barcelona

Barcelona is the second largest city in Spain after Madrid, and the capital of Catalonia, with a population of 1,621,537 within its administrative limits on a land area of...



1760, 1767
Il testaccio
opera buffa

Opera buffa

Opera buffa is a genre of opera. It was first used as an informal description of Italian comic operas variously classified by their authors as 'commedia in musica', 'commedia per musica', 'dramma bernesco', 'dramma comico', 'divertimento giocoso' etc...



Rome
1760
I due fratelli beffati
Naples
1760
Andromaca
opera seria
Naples
30 May 1761
La finta contessa
farsetta
Rome
1761
Li due bari
opera buffa
Naples
1762
L'amore in campo
dramma giocoso

Dramma giocoso

Dramma giocoso is the name of a genre of opera common in the mid-18th century. The term is a contraction of "dramma giocoso per musica" and is essentially a description of the text rather than the opera as a whole...



2 acts
Rome
1762
Alessandro Severo
opera seria
3 acts
Venice

Venice

Venice is a city in northern Italy which is renowned for the beauty of its setting, its architecture and its artworks. It is the capital of the Veneto region...



Carnival 1763
Alessandro nell'Indie
opera seria
Venice
1763
Olimpiade
opera seria
3 acts
Padua

Padua

Padua is a city and comune in the Veneto, northern Italy. It is the capital of the province of Padua and the economic and communications hub of the area. Padua's population is 212,500 . The city is sometimes included, with Venice and Treviso, in the Padua-Treviso-Venice Metropolitan Area, having...



1763
Semiramide riconosciuta
opera seria
3 acts
Rome
1764
Eumene
opera seria
Florence

Florence

Florence is the capital city of the Italian region of Tuscany and of the province of Florence. It is the most populous city in Tuscany, with approximately 370,000 inhabitants, expanding to over 1.5 million in the metropolitan area....



1764
Il gran Cidde
Rome
1764
Lucio Vero
opera seria
Naples
4 November 1764
Il finto pazzo per amore
intermezzo
2 acts
Rome
1765
Creso

Creso (Sacchini)

Creso is an opera seria in 3 acts by Antonio Sacchini, set to a libretto by Gioacchino Pizzi. The opera was first performed at Naples on the 4th of November, 1765...



opera seria
3 acts
Naples, revised London

London

London is the capital city of :England and the :United Kingdom, the largest metropolitan area in the United Kingdom, and the largest urban zone in the European Union by most measures. Located on the River Thames, London has been a major settlement for two millennia, its history going back to its...



1765, 1774
La contadina in corte

La contadina in corte

La contadina in corte is an opera buffa in two acts by Antonio Sacchini, first performed at the Teatro Valle in Rome during the Carnival in 1765. The libretto was by Niccolò Tassi. It was a popular opera at the time of its first performance: by the 1780s it had been staged over 20 times in such...



opera buffa
Rome, revised London
1765, 1782
L'isola d'amore
dramma giocoso
2 acts
Rome
1766
Le contadine bizzarre
Milan

Milan

Milan is the second-largest city in Italy and the capital city of the region of Lombardy and of the province of Milan. The city proper has a population of about 1.3 million, while its urban area, roughly coinciding with its administrative province and the bordering Province of Monza and Brianza ,...



1766
Artaserse
opera seria
3 acts
Rome
1768
Nicoraste
opera seria
3 acts
Venice
1769
Scipione in Cartagena
opera seria
Munich

Munich

Munich The city's motto is "" . Before 2006, it was "Weltstadt mit Herz" . Its native name, , is derived from the Old High German Munichen, meaning "by the monks' place". The city's name derives from the monks of the Benedictine order who founded the city; hence the monk depicted on the city's coat...



8 January 1770
Calliroe

Calliroe

Calliroe is an opera by Antonio Sacchini, set to a libretto by Mattia Verazi. It was first performed in Ludwigsburg on 11 February 1770.The opera follows the usual pattern of opera seria of the time: secco recitative interlaced with da capo arias...



opera seria
Ludwigsburg

Ludwigsburg

Ludwigsburg is a city in Baden-Württemberg, Germany, about north of Stuttgart city centre, near the river Neckar. It is the largest and primary city of the Ludwigsburg urban district with about 87,000 inhabitants...



1770
L'eroe cinese
opera seria
Munich
1770
Adriano in Siria
opera seria
Venice
1770
Ezio
opera seria
Naples
1771
Armida
opera seria
3 acts
Milan
1772
Vologeso
opera seria
Parma

Parma

Parma is a city in the Italian region of Emilia-Romagna famous for its ham, its cheese, its architecture and the fine countryside around it. This is the home of the University of Parma, one of the oldest universities in the world....



1772
Tamerlano
opera seria
London
1773
Il Cid
opera seria
London
19 January 1773
Perseo
opera seria
3 acts
London
1774
Nitteti
opera seria
3 acts
London
1774
Montezuma
opera seria
3 acts
London
1775
Erifile
opera seria
3 acts
London
1778
L'amore soldato
dramma giocoso
3 acts
London
1778
L'avaro deluso, o Don Calandrino
dramma giocoso
3 acts
London
1778
Enea e Lavinia
opera seria
3 acts
London
1779
Mitridate
opera seria
London
1781
Renaud

Renaud (opera)

Renaud is an opera by Antonio Sacchini, first performed at the Académie Royale de Musique, Paris on 23 February 1783. It takes the form of a tragédie lyrique in three acts...



3 acts
Paris

Paris

Paris is the capital and largest city in France, situated on the river Seine, in northern France, at the heart of the Île-de-France region...



1783 score
Chimène (revision of Il gran Cidde)
tragédie lyrique
3 acts
Fontainebleau
1783
Dardanus

Dardanus (Sacchini)

Dardanus is an opera by Antonio Sacchini. It takes the form of a tragédie lyrique in four acts . It was first performed at Versailles on 18 September 1784, and subsequently at the Paris Opera on 30 November of the same year...



tragédie
4 acts
Paris

Paris

Paris is the capital and largest city in France, situated on the river Seine, in northern France, at the heart of the Île-de-France region...



1784 score
Œdipe à Colone
tragédie lyrique
3 acts
Versailles

Versailles

Versailles , a city renowned for its château, the Palace of Versailles, was the de facto capital of the kingdom of France for over a century, from 1682 to 1789. It is now a wealthy suburb of Paris and remains an important administrative and judicial centre...



4 January 1786 score
Arvire et Evelina
(incomplete, finished by Jean-Baptiste Rey

Jean-Baptiste Rey

Jean-Baptiste Rey was a French conductor and composer.Rey was born at Lauzerte. He remains the longest-serving conductor of the Paris Opera; his tenure spans from the last years of the monarchy to Napoleon's Empire...


)
tragédie lyrique
3 acts
Paris
1788
External links