 Giovanni Battista Pergolesi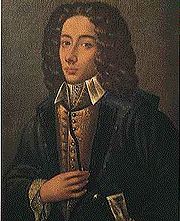 Giovanni Battista Pergolesi
(4 January 1710 – 16 or 17 March 1736) was an
Italian
Italy
Italy , officially the Italian Republic languages]] under the European Charter for Regional or Minority Languages. In each of these, Italy's official name is as follows:;;;;;;;;), is a unitary parliamentary republic in South-Central Europe. To the north it borders France, Switzerland, Austria and...
composer
Composer
A composer is a person who creates music, either by musical notation or oral tradition, for interpretation and performance, or through direct manipulation of sonic material through electronic media...
,
violin
Violin
The violin is a string instrument, usually with four strings tuned in perfect fifths. It is the smallest, highest-pitched member of the violin family of string instruments, which includes the viola and cello....
ist and
organist
Organ (music)
The organ , is a keyboard instrument of one or more divisions, each played with its own keyboard operated either with the hands or with the feet. The organ is a relatively old musical instrument in the Western musical tradition, dating from the time of Ctesibius of Alexandria who is credited with...
.
Biography
Born at
Iesi
, Pergolesi studied
music
Music
Music is an art form whose medium is sound and silence. Its common elements are pitch , rhythm , dynamics, and the sonic qualities of timbre and texture...
there under a local musician, Francesco Santini, before going to
Naples
Naples
Naples is a city in Southern Italy, situated on the country's west coast by the Gulf of Naples. Lying between two notable volcanic regions, Mount Vesuvius and the Phlegraean Fields, it is the capital of the region of Campania and of the province of Naples...
in 1725, where he studied under
Gaetano Greco
Gaetano Greco
- External links :...
and
Francesco Feo
Francesco Feo
Francesco Feo was an Italian composer, known chiefly for his operas. He was born and died in Naples, where most of his operas were premièred.-Life:...
among others. He spent most of his brief life working for aristocratic patrons like the Colonna principe di Stigliano, and duca Marzio IV Maddaloni Carafa.
Pergolesi was one of the most important early composers of
opera buffa
Opera buffa
Opera buffa is a genre of opera. It was first used as an informal description of Italian comic operas variously classified by their authors as 'commedia in musica', 'commedia per musica', 'dramma bernesco', 'dramma comico', 'divertimento giocoso' etc...
(comic opera). His
opera seria
Opera seria
Opera seria is an Italian musical term which refers to the noble and "serious" style of Italian opera that predominated in Europe from the 1710s to c. 1770...
,
Il prigionier superbo
Il prigionier superbo
Il prigionier superbo is an opera seria in three acts composed by Giovanni Battista Pergolesi to a libretto attributed to Gennaro Antonio Federico and based on an earlier libretto by Francesco Silvani for Gasparini's opera, La fede tradita e vendicata...
, contained the two act
buffa
intermezzo
Intermezzo
In music, an intermezzo , in the most general sense, is a composition which fits between other musical or dramatic entities, such as acts of a play or movements of a larger musical work...
,
La Serva Padrona
La serva padrona
La serva padrona is an opera buffa by Giovanni Battista Pergolesi to a libretto by Gennaro Antonio Federico, after the play by Jacopo Angello Nelli. The opera is only 45 minutes long and was originally performed as an intermezzo between the acts of a larger serious opera...
(
The Servant Mistress
, August 28, 1733), which became a very popular work in its own right. When it was performed in
Paris
Paris
Paris is the capital and largest city in France, situated on the river Seine, in northern France, at the heart of the Île-de-France region...
in 1752, it prompted the so-called Querelle des Bouffons ("quarrel of the comic actors") between supporters of serious French opera by the likes of
Jean-Baptiste Lully
Jean-Baptiste Lully
Jean-Baptiste de Lully was an Italian-born French composer who spent most of his life working in the court of Louis XIV of France. He is considered the chief master of the French Baroque style. Lully disavowed any Italian influence in French music of the period. He became a French subject in...
and
Jean-Philippe Rameau
Jean-Philippe Rameau
Jean-Philippe Rameau was one of the most important French composers and music theorists of the Baroque era. He replaced Jean-Baptiste Lully as the dominant composer of French opera and is also considered the leading French composer for the harpsichord of his time, alongside François...
and supporters of new Italian comic opera. Pergolesi was held up as a model of the Italian style during this quarrel, which divided Paris's musical community for two years.
Among Pergolesi's other operatic works are his first opera
La conversione e morte di San Guglielmo
(1731),
Lo frate 'nnamorato
Lo frate 'nnamorato
Lo frate 'nnamorato is a three act commedia musicale by Giovanni Battista Pergolesi, to a libretto by Gennarantonio Federico, first performed in 1732.-Composition history:...
(
The monk in love
, 1732, to a text in
Neapolitan
Neapolitan
Neapolitan may refer to:* Neapolitan, of or pertaining to the city of Naples, Italy and sometimes its wider Duchy or Province of Naples** Previously a nationality, during the time of the Kingdom of Naples or the Neapolitan Republics* Neapolitan cuisine...
language),
L'Olimpiade
(January 31, 1735) and
Il Flaminio
(1735). All his operas were premiered in Naples, apart from
L'Olimpiade
, which was first given in
Rome
Rome
Rome is the capital of Italy and the country's largest and most populated city and comune, with over 2.7 million residents in . The city is located in the central-western portion of the Italian Peninsula, on the Tiber River within the Lazio region of Italy.Rome's history spans two and a half...
.
Pergolesi also wrote sacred music, including a
Mass
Mass (music)
The Mass, a form of sacred musical composition, is a choral composition that sets the invariable portions of the Eucharistic liturgy to music...
in F and his Magnificat in C major. It is his
Stabat Mater
Stabat Mater
Stabat Mater is a 13th-century Roman Catholic hymn to Mary. It has been variously attributed to the Franciscan Jacopone da Todi and to Innocent III...
(1736), however, for male
soprano
Soprano
A soprano is a voice type with a vocal range from approximately middle C to "high A" in choral music, or to "soprano C" or higher in operatic music. In four-part chorale style harmony, the soprano takes the highest part, which usually encompasses the melody...
, male alto,
string orchestra
String orchestra
A string orchestra is an orchestra composed solely or primarily of instruments from the string family. These instruments are the violin, the viola, the cello, the double bass , the piano, the harp, and sometimes percussion...
and basso continuo, which is his best known sacred work. It was commissioned by the Confraternità dei Cavalieri di San Luigi di Palazzo. It has erroneously been said that it was commissioned by an order of monks. Rather, a group of pious and charitable gentlemen, such as existed in cities all over Italy, commissioned the work. It was this group that presented an annual Good Friday meditation in honor of the Virgin Mary; Pergolesi's work replaced one composed for the same forces by
Alessandro Scarlatti
Alessandro Scarlatti
Alessandro Scarlatti was an Italian Baroque composer especially famous for his operas and chamber cantatas. He is considered the founder of the Neapolitan school of opera. He was the father of two other composers, Domenico Scarlatti and Pietro Filippo Scarlatti.-Life:Scarlatti was born in...
only nine years before, but which was already perceived as "old-fashioned," so rapidly had public tastes changed.
Whilst classical in scope, the opening section of the setting demonstrates Pergolesi's mastery of the Italian baroque 'durezze e ligature' style, characterized by numerous suspensions over a faster, conjunct bassline. The work remained popular, becoming the most frequently printed work of the 18th century, and being arranged by a number of other composers, including
Johann Sebastian Bach
Johann Sebastian Bach
Johann Sebastian Bach was a German composer, organist, harpsichordist, violist, and violinist whose sacred and secular works for choir, orchestra, and solo instruments drew together the strands of the Baroque period and brought it to its ultimate maturity...
, who used it as the basis for his
cantata
Cantata
A cantata is a vocal composition with an instrumental accompaniment, typically in several movements, often involving a choir....
Tilge, Höchster, meine Sünden
Tilge, Höchster, meine Sünden, BWV 1083
Tilge, Höchster, meine Sünden, BWV 1083, is a cantata written by the composer Johann Sebastian Bach.-Instrumentation:The instruments required for this piece are soprano, alto, concertante violins, ripieno violins, viola, and basso continuo.-Origin:...
(
Root out my sins, Highest One
),
BWV
BWV
The Bach-Werke-Verzeichnis is the numbering system identifying compositions by Johann Sebastian Bach. The prefix BWV, followed by the work's number, is the shorthand identification for Bach's compositions...
1083.
Pergolesi wrote a number of secular instrumental works, including a
violin sonata
Violin sonata
A violin sonata is a musical composition for violin, which is nearly always accompanied by a piano or other keyboard instrument, or by figured bass in the Baroque period.-A:*Ella Adayevskaya**Sonata Greca for Violin or Clarinet and Piano...
and a
violin concerto
Violin concerto
A violin concerto is a concerto for solo violin and instrumental ensemble, customarily orchestra. Such works have been written since the Baroque period, when the solo concerto form was first developed, up through the present day...
. A considerable number of instrumental and sacred works once attributed to Pergolesi have since been shown to be misattributed. Much of
Igor Stravinsky
Igor Stravinsky
Igor Fyodorovich Stravinsky ; 6 April 1971) was a Russian, later naturalized French, and then naturalized American composer, pianist, and conductor....
's
ballet
Ballet
Ballet is a type of performance dance, that originated in the Italian Renaissance courts of the 15th century, and which was further developed in France and Russia as a concert dance form. The early portions preceded the invention of the proscenium stage and were presented in large chambers with...
Pulcinella
Pulcinella (ballet)
Pulcinella is a ballet by Igor Stravinsky based on an 18th-century play — Pulcinella is a character originating from Commedia dell'arte. The ballet premiered at the Paris Opera on 15 May 1920 under the baton of Ernest Ansermet. The dancer Léonide Massine created both the libretto and choreography,...
, which ostensibly reworks pieces by Pergolesi, is actually based on spurious works. The Concerti Armonici are now known to have been composed by
Unico Wilhelm van Wassenaer
Unico Wilhelm van Wassenaer
Unico Willem van Wassenaer, Count of the Empire, was a Dutch diplomat and composer....
. Many colorful anecdotes related by his early biographer, Florimo, were later revealed as fabrication, though they furnished material for two nineteenth-century operas broadly based on Pergolesi's career.
Pergolesi died at the age of twenty-six in
Pozzuoli
Pozzuoli
Pozzuoli is a city and comune of the province of Naples, in the Italian region of Campania. It is the main city of the Phlegrean peninsula.-History:Pozzuoli began as the Greek colony of Dicaearchia...
from
tuberculosis
Tuberculosis
Tuberculosis, MTB, or TB is a common, and in many cases lethal, infectious disease caused by various strains of mycobacteria, usually Mycobacterium tuberculosis. Tuberculosis usually attacks the lungs but can also affect other parts of the body...
.
External links