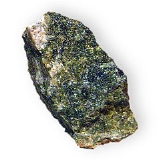 Nephrite
Nephrite
is a variety of the calcium and magnesium-rich
amphibole
Amphibole
Amphibole is the name of an important group of generally dark-colored rock-forming inosilicate minerals, composed of double chain tetrahedra, linked at the vertices and generally containing ions of iron and/or magnesium in their structures.-Mineralogy:...
mineral
actinolite
Actinolite
Actinolite is an amphibole silicate mineral with the chemical formula .-Etymology:The name actinolite is derived from the Greek word aktis , meaning "beam" or "ray", because of the mineral's fibrous nature...
(aggregates of which also make up one form of
asbestos
Asbestos
Asbestos is a set of six naturally occurring silicate minerals used commercially for their desirable physical properties. They all have in common their eponymous, asbestiform habit: long, thin fibrous crystals...
). The chemical formula for nephrite is
Ca
Calcium
Calcium is the chemical element with the symbol Ca and atomic number 20. It has an atomic mass of 40.078 amu. Calcium is a soft gray alkaline earth metal, and is the fifth-most-abundant element by mass in the Earth's crust...
2
(
Mg
Magnesium
Magnesium is a chemical element with the symbol Mg, atomic number 12, and common oxidation number +2. It is an alkaline earth metal and the eighth most abundant element in the Earth's crust and ninth in the known universe as a whole...
,
Fe
Iron
Iron is a chemical element with the symbol Fe and atomic number 26. It is a metal in the first transition series. It is the most common element forming the planet Earth as a whole, forming much of Earth's outer and inner core. It is the fourth most common element in the Earth's crust...
)
5
Si
Silicon
Silicon is a chemical element with the symbol Si and atomic number 14. A tetravalent metalloid, it is less reactive than its chemical analog carbon, the nonmetal directly above it in the periodic table, but more reactive than germanium, the metalloid directly below it in the table...
8
O
Oxygen
Oxygen is the element with atomic number 8 and represented by the symbol O. Its name derives from the Greek roots ὀξύς and -γενής , because at the time of naming, it was mistakenly thought that all acids required oxygen in their composition...
22
(O
H
Hydrogen
Hydrogen is the chemical element with atomic number 1. It is represented by the symbol H. With an average atomic weight of , hydrogen is the lightest and most abundant chemical element, constituting roughly 75% of the Universe's chemical elemental mass. Stars in the main sequence are mainly...
)
2
. It is one of two different mineral species called
jade
Jade
Jade is an ornamental stone.The term jade is applied to two different metamorphic rocks that are made up of different silicate minerals:...
. The other mineral species known as jade is
jadeite
Jadeite
Jadeite is a pyroxene mineral with composition NaAlSi2O6. It is monoclinic. It has a Mohs hardness of about 6.5 to 7.0 depending on the composition. The mineral is dense, with a specific gravity of about 3.4. Jadeite forms solid solutions with other pyroxene endmembers such as augite and diopside ,...
, which is a variety of
pyroxene
Pyroxene
The pyroxenes are a group of important rock-forming inosilicate minerals found in many igneous and metamorphic rocks. They share a common structure consisting of single chains of silica tetrahedra and they crystallize in the monoclinic and orthorhombic systems...
. While nephrite jade possess mainly grays and greens (and occasionally yellows, browns or whites), jadeite jade, which is rarer, can also contain blacks, reds, pinks and violets. Nephrite jade is an ornamental stone, used in
carvings
Stone carving
Stone carving is an ancient activity where pieces of rough natural stone are shaped by the controlled removal of stone. Owing to the permanence of the material, evidence can be found that even the earliest societies indulged in some form of stone work....
,
bead
Bead
A bead is a small, decorative object that is usually pierced for threading or stringing. Beads range in size from under to over in diameter. A pair of beads made from Nassarius sea snail shells, approximately 100,000 years old, are thought to be the earliest known examples of jewellery. Beadwork...
s, or
cabochon
Cabochon
A cabochon , from the Middle French caboche , is a gemstone which has been shaped and polished as opposed to faceted. The resulting form is usually a convex top with a flat bottom. Cutting en cabochon is usually applied to opaque gems, while faceting is usually applied to transparent stones...
cut gemstones.
Nephrite can be found in a translucent white to very light yellow form which is known in China as
mutton fat
jade, in an opaque white to very light brown or gray which is known as
chicken bone
jade, as well as in a variety of green colours.
Canada
Canada
Canada is a North American country consisting of ten provinces and three territories. Located in the northern part of the continent, it extends from the Atlantic Ocean in the east to the Pacific Ocean in the west, and northward into the Arctic Ocean...
is the principal source of modern
lapidary
Lapidary
A lapidary is an artist or artisan who forms stone, mineral, gemstones, and other suitably durable materials into decorative items such as engraved gems, including cameos, or cabochons, and faceted designs...
nephrite. Nephrite jade was used mostly in pre-1800
China
China
Chinese civilization may refer to:* China for more general discussion of the country.* Chinese culture* Greater China, the transnational community of ethnic Chinese.* History of China* Sinosphere, the area historically affected by Chinese culture...
as well as in
New Zealand
New Zealand
New Zealand is an island country in the south-western Pacific Ocean comprising two main landmasses and numerous smaller islands. The country is situated some east of Australia across the Tasman Sea, and roughly south of the Pacific island nations of New Caledonia, Fiji, and Tonga...
, the Pacific Coast and Atlantic Coasts of North America, Neolithic Europe, and southeast Asia.
Name
The name
nephrite
is derived from
lapis nephriticus
, which in turn is derived from
Greek
Greek language
Greek is an independent branch of the Indo-European family of languages. Native to the southern Balkans, it has the longest documented history of any Indo-European language, spanning 34 centuries of written records. Its writing system has been the Greek alphabet for the majority of its history;...
λίθος νεφρίτίκος
;
νεφρός λίθος
, which means 'kidney stone' and is the Latin and Greek version of the Spanish
piedra de ijada
(the origin of "jade" and "jadeite"). Accordingly, nephrite jade was once believed to be a cure for kidney stones.
Other names
Besides the terms already mentioned, nephrite has the following synonyms and varieties:
aotea
,
axe-stone
,
B.C. jade
,
beilstein
,
kidney stone
,
lapis nephriticus
,
nephrit
,
nephrita
, pounamu,
New Zealand greenstone
,
New Zealand jade
,
spinach jade
(dark grayish green), and
talcum nephriticus
.
Tomb jade
or
grave jade
are names given to ancient burial nephrite pieces that have a brown or chalky white texture as a surface treatment.
Neolithic and Chalcolithic Europe
A lot of nephrite tools and amulets are known since the Early Neolithic (VII mill. BC) to the Late Chalcolithic (V mill. BC) on the Balkans (Bulgaria; Greece; Serbia; Croatia) from two or more unknown sources (there are a lot of serpentinized outcrops in these and other countries in the region). Such tools are found in the later Neolithic of Poland (from the most probable local source Jordanov), Sardinia (Italy) (unknown source) and Switzerland. Single or just a few finds of nephrite artefacts have been reported also from some other European countries.
Prehistoric and historic China
During
Neolithic
Neolithic
The Neolithic Age, Era, or Period, or New Stone Age, was a period in the development of human technology, beginning about 9500 BC in some parts of the Middle East, and later in other parts of the world. It is traditionally considered as the last part of the Stone Age...
times, the key known sources of nephrite jade in China for utilitarian and ceremonial jade items were the now depleted deposits in the Ningshao area in the
Yangtze River Delta
Yangtze River Delta
The Yangtze River Delta, Yangtze Delta or YRD, also called Yangzi, or Chang Jiang Delta, Rive Chang Delta Tai Lake Region or the Golden Triangle of the Yangtze, generally comprises the triangular-shaped territory of Wu-speaking Shanghai, southern Jiangsu province and northern Zhejiang province of...
(
Liangzhu culture
Liangzhu culture
The Liangzhu culture was the last Neolithic jade culture in the Yangtze River Delta of China. Its area of influence extended from around Lake Tai north to Nanjing and the Chang Jiang, east to Shanghai and the sea, and south to Hangzhou...
3400–2250 BC) and in an area of the Liaoning province in
Inner Mongolia
Inner Mongolia
Inner Mongolia is an autonomous region of the People's Republic of China, located in the northern region of the country. Inner Mongolia shares an international border with the countries of Mongolia and the Russian Federation...
(
Hongshan culture
Hongshan culture
The Hongshan culture was a Neolithic culture in northeastern China. Hongshan sites have been found in an area stretching from Inner Mongolia to Liaoning, and dated from about 4700 BC to 2900 BC....
4700–2200 BC). Jade was used to create many utilitarian and ceremonial objects, ranging from indoor decorative items to
jade burial suit
Jade burial suit
A Jade burial suit is a ceremonial suit made of pieces of jade in which royal members in Han Dynasty China were buried.-Structure of a jade burial suit:...
s. Jade was considered the "imperial gem". From about the earliest Chinese dynasties until present, the jade deposits in most use were from the region of
Khotan
Khotan
Hotan , or Hetian , also spelled Khotan, is the seat of the Hotan Prefecture in Xinjiang, China. It was previously known in Chinese as 于窴/於窴 and to 19th-century European explorers as Ilchi....
in the Western Chinese province of
Xinjiang
Xinjiang
Xinjiang is an autonomous region of the People's Republic of China. It is the largest Chinese administrative division and spans over 1.6 million km2...
(jade deposits from other areas of China, such as
Lantian
Lantian
Lantian may refer to:*Lantian technology, a term coming from the show Stargate Atlantis. It refers to technology created by the Ancients that used to live in Atlantis*Lantian County , of Xi'an, Shaanxi, China*Lantian Man, subspecies of Homo erectus...
,
Shaanxi
Shaanxi
' is a province in the central part of Mainland China, and it includes portions of the Loess Plateau on the middle reaches of the Yellow River in addition to the Qinling Mountains across the southern part of this province...
, were also in great demand). There, white and greenish nephrite jade is found in small quarries and as pebbles and boulders in the rivers flowing from the Kuen-Lun mountain range northward into the Takla-Makan desert area. River jade collection was concentrated in the
Yarkand
Yarkand River
The Yarkand River is a river in the Xinjiang Uyghur Autonomous Region of western China. It is one of the headstreams of the Tarim River. It is approximately 970 km in length....
, and the White Jade (Yurungkash) and Black Jade (
Karakash
Karakash River
The Karakash or Black Jade River, also spelled Karakax , is a river in the Xinjiang autonomous region of the People's Republic of China, which lies partially in the disputed Aksai Chin region. The river originates near Sumde on the northern slopes of the Karakoram range in the Aksai Chin region of...
) Rivers in Khotan. From the
Kingdom of Khotan
Kingdom of Khotan
The Kingdom of Khotan was an ancient Buddhist kingdom that was located on the branch of the Silk Road that ran along the southern edge of the Taklamakan Desert in the Tarim basin. -Early names:-Capital:...
, on the southern leg of the
Silk Road
Silk Road
The Silk Road or Silk Route refers to a historical network of interlinking trade routes across the Afro-Eurasian landmass that connected East, South, and Western Asia with the Mediterranean and European world, as well as parts of North and East Africa...
, yearly tribute payments consisting of the most precious white jade were made to the Chinese imperial court and there transformed into
objets d'art
by skilled artisans, as jade was considered more valuable than
gold
Gold
Gold is a chemical element with the symbol Au and an atomic number of 79. Gold is a dense, soft, shiny, malleable and ductile metal. Pure gold has a bright yellow color and luster traditionally considered attractive, which it maintains without oxidizing in air or water. Chemically, gold is a...
or
silver
Silver
Silver is a metallic chemical element with the chemical symbol Ag and atomic number 47. A soft, white, lustrous transition metal, it has the highest electrical conductivity of any element and the highest thermal conductivity of any metal...
.
Māori
Nephrite jade in
New Zealand
New Zealand
New Zealand is an island country in the south-western Pacific Ocean comprising two main landmasses and numerous smaller islands. The country is situated some east of Australia across the Tasman Sea, and roughly south of the Pacific island nations of New Caledonia, Fiji, and Tonga...
is known as
pounamu
in the
Māori language
Maori language
Māori or te reo Māori , commonly te reo , is the language of the indigenous population of New Zealand, the Māori. It has the status of an official language in New Zealand...
, and is highly valued, playing an important role in Māori culture. It is considered a
taonga
Taonga
A taonga in Māori culture is a treasured thing, whether tangible or intangible. Tangible examples are all sorts of heirlooms and artefacts, land, fisheries, natural resources such as geothermal springs and access to natural resources, such as riparian water rights and access to the riparian zone of...
, or treasure, and therefore protected under the
Treaty of Waitangi
Treaty of Waitangi
The Treaty of Waitangi is a treaty first signed on 6 February 1840 by representatives of the British Crown and various Māori chiefs from the North Island of New Zealand....
, and the exploitation of it is restricted and closely monitored. The
South Island
South Island
The South Island is the larger of the two major islands of New Zealand, the other being the more populous North Island. It is bordered to the north by Cook Strait, to the west by the Tasman Sea, to the south and east by the Pacific Ocean...
of New Zealand is
Te Wai Pounamu
in Māori — "The [land of] Greenstone Water" — because that is where it occurs.
Weapons and ornaments were made of it; in particular the
mere
Mere (weapon)
The mere is a type of short, broad-bladed club , usually made from Nephrite jade . A mere is one of the traditional, close combat, one-handed weapons of the indigenous Māori, of New Zealand. A mere could be used to split a skull open.- Form :The Mere is a spatulate, leaf shaped, form of short club...
(short club), and the
hei-tiki
Hei-tiki
The hei-tiki is an ornamental pendant of the Māori which is worn around the neck. Hei-tiki are usually made of pounamu which is greenstone, and are considered a taonga . They are commonly referred to as tiki, a term that actually refers to large human figures carved in wood, and, also, the small...
(neck pendant). These were believed to have their own
mana
Mana
Mana is an indigenous Pacific islander concept of an impersonal force or quality that resides in people, animals, and inanimate objects. The word is a cognate in many Oceanic languages, including Melanesian, Polynesian, and Micronesian....
, were handed down as valuable heirlooms, and often given as gifts to seal important agreements. It was also used for a range of tools such as
adze
Adze
An adze is a tool used for smoothing or carving rough-cut wood in hand woodworking. Generally, the user stands astride a board or log and swings the adze downwards towards his feet, chipping off pieces of wood, moving backwards as they go and leaving a relatively smooth surface behind...
s, as Māori had no metal tools.
In
New Zealand English
New Zealand English
New Zealand English is the dialect of the English language used in New Zealand.The English language was established in New Zealand by colonists during the 19th century. It is one of "the newest native-speaker variet[ies] of the English language in existence, a variety which has developed and...
its normal name is "greenstone". Jade
jewellery
Jewellery
Jewellery or jewelry is a form of personal adornment, such as brooches, rings, necklaces, earrings, and bracelets.With some exceptions, such as medical alert bracelets or military dog tags, jewellery normally differs from other items of personal adornment in that it has no other purpose than to...
in Māori designs is widely popular with tourists – although much of the jade itself is now imported from
British Columbia
British Columbia
British Columbia is the westernmost of Canada's provinces and is known for its natural beauty, as reflected in its Latin motto, Splendor sine occasu . Its name was chosen by Queen Victoria in 1858...
and elsewhere.
Further reading
Laufer, Berthold, 1912, Jade: A Study in Chinese Archeology & Religion, Reprint: Dover Publications, New York. 1974.
Rawson, Jessica

Jessica Rawson

Jessica Rawson, DBE, FBA is an English art historian, curator and academic administrator, specializing in Chinese art. After many years at the British Museum, she was Warden of Merton College, Oxford, from 1994 until her retirement in 2010...


, 1975, Chinese Jade Throughout the Ages, London: Albert Saifer, ISBN 0-87556-754-1