 Pyroxene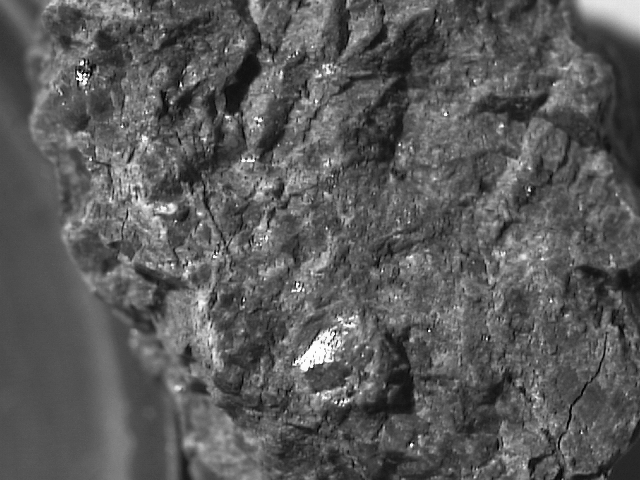 The
pyroxenes
are a group of important rock-forming inosilicate
minerals
Mineral
A mineral is a naturally occurring solid chemical substance formed through biogeochemical processes, having characteristic chemical composition, highly ordered atomic structure, and specific physical properties. By comparison, a rock is an aggregate of minerals and/or mineraloids and does not...
found in many igneous and
metamorphic
Metamorphic rock
Metamorphic rock is the transformation of an existing rock type, the protolith, in a process called metamorphism, which means "change in form". The protolith is subjected to heat and pressure causing profound physical and/or chemical change...
rocks
Rock (geology)
In geology, rock or stone is a naturally occurring solid aggregate of minerals and/or mineraloids.The Earth's outer solid layer, the lithosphere, is made of rock. In general rocks are of three types, namely, igneous, sedimentary, and metamorphic...
. They share a common structure consisting of single chains of silica tetrahedra and they crystallize in the monoclinic and orthorhombic systems. Pyroxenes have the general formula XY(Si,Al)
2
O
6
(where X represents
calcium
Calcium
Calcium is the chemical element with the symbol Ca and atomic number 20. It has an atomic mass of 40.078 amu. Calcium is a soft gray alkaline earth metal, and is the fifth-most-abundant element by mass in the Earth's crust...
,
sodium
Sodium
Sodium is a chemical element with the symbol Na and atomic number 11. It is a soft, silvery-white, highly reactive metal and is a member of the alkali metals; its only stable isotope is 23Na. It is an abundant element that exists in numerous minerals, most commonly as sodium chloride...
,
iron
Iron
Iron is a chemical element with the symbol Fe and atomic number 26. It is a metal in the first transition series. It is the most common element forming the planet Earth as a whole, forming much of Earth's outer and inner core. It is the fourth most common element in the Earth's crust...
+2
and
magnesium
Magnesium
Magnesium is a chemical element with the symbol Mg, atomic number 12, and common oxidation number +2. It is an alkaline earth metal and the eighth most abundant element in the Earth's crust and ninth in the known universe as a whole...
and more rarely
zinc
Zinc
Zinc , or spelter , is a metallic chemical element; it has the symbol Zn and atomic number 30. It is the first element in group 12 of the periodic table. Zinc is, in some respects, chemically similar to magnesium, because its ion is of similar size and its only common oxidation state is +2...
,
manganese
Manganese
Manganese is a chemical element, designated by the symbol Mn. It has the atomic number 25. It is found as a free element in nature , and in many minerals...
and
lithium
Lithium
Lithium is a soft, silver-white metal that belongs to the alkali metal group of chemical elements. It is represented by the symbol Li, and it has the atomic number 3. Under standard conditions it is the lightest metal and the least dense solid element. Like all alkali metals, lithium is highly...
and
Y represents ions of smaller size, such as
chromium
Chromium
Chromium is a chemical element which has the symbol Cr and atomic number 24. It is the first element in Group 6. It is a steely-gray, lustrous, hard metal that takes a high polish and has a high melting point. It is also odorless, tasteless, and malleable...
,
aluminium
Aluminium
Aluminium or aluminum is a silvery white member of the boron group of chemical elements. It has the symbol Al, and its atomic number is 13. It is not soluble in water under normal circumstances....
, iron
+3
, magnesium, manganese,
scandium
Scandium
Scandium is a chemical element with symbol Sc and atomic number 21. A silvery-white metallic transition metal, it has historically been sometimes classified as a rare earth element, together with yttrium and the lanthanoids...
,
titanium
Titanium
Titanium is a chemical element with the symbol Ti and atomic number 22. It has a low density and is a strong, lustrous, corrosion-resistant transition metal with a silver color....
,
vanadium
Vanadium
Vanadium is a chemical element with the symbol V and atomic number 23. It is a hard, silvery gray, ductile and malleable transition metal. The formation of an oxide layer stabilizes the metal against oxidation. The element is found only in chemically combined form in nature...
and even iron
+2
).
Although aluminium substitutes extensively for silicon in silicates such as
feldspar
Feldspar
Feldspars are a group of rock-forming tectosilicate minerals which make up as much as 60% of the Earth's crust....
s and
amphibole
Amphibole
Amphibole is the name of an important group of generally dark-colored rock-forming inosilicate minerals, composed of double chain tetrahedra, linked at the vertices and generally containing ions of iron and/or magnesium in their structures.-Mineralogy:...
s, the substitution occurs only to a limited extent in most pyroxenes.
The name pyroxene comes from the Greek words for
fire
(πυρ) and
stranger
(ξένος). Pyroxenes were named this way because of their presence in volcanic lavas, where they are sometimes seen as crystals embedded in volcanic
glass
Glass
Glass is an amorphous solid material. Glasses are typically brittle and optically transparent.The most familiar type of glass, used for centuries in windows and drinking vessels, is soda-lime glass, composed of about 75% silica plus Na2O, CaO, and several minor additives...
; it was assumed they were impurities in the glass, hence the name "fire strangers". However, they are simply early-forming minerals that crystallized before the lava erupted.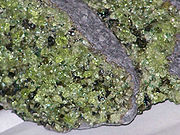 The upper
mantle
Mantle (geology)
The mantle is a part of a terrestrial planet or other rocky body large enough to have differentiation by density. The interior of the Earth, similar to the other terrestrial planets, is chemically divided into layers. The mantle is a highly viscous layer between the crust and the outer core....
of Earth is composed mainly of
olivine
Olivine
The mineral olivine is a magnesium iron silicate with the formula 2SiO4. It is a common mineral in the Earth's subsurface but weathers quickly on the surface....
and pyroxene. A piece of the mantle is shown at right (orthopyroxene is black, diopside (containing chromium) is bright green, and olivine is yellow-green) and is dominated by olivine, typical for common
peridotite
Peridotite
A peridotite is a dense, coarse-grained igneous rock, consisting mostly of the minerals olivine and pyroxene. Peridotite is ultramafic, as the rock contains less than 45% silica. It is high in magnesium, reflecting the high proportions of magnesium-rich olivine, with appreciable iron...
. Pyroxene and
feldspar
Feldspar
Feldspars are a group of rock-forming tectosilicate minerals which make up as much as 60% of the Earth's crust....
are the major minerals in
basalt
Basalt
Basalt is a common extrusive volcanic rock. It is usually grey to black and fine-grained due to rapid cooling of lava at the surface of a planet. It may be porphyritic containing larger crystals in a fine matrix, or vesicular, or frothy scoria. Unweathered basalt is black or grey...
and
gabbro
Gabbro
Gabbro refers to a large group of dark, coarse-grained, intrusive mafic igneous rocks chemically equivalent to basalt. The rocks are plutonic, formed when molten magma is trapped beneath the Earth's surface and cools into a crystalline mass....
.
Chemistry and nomenclature of the pyroxenes

The chain silicate structure of the pyroxenes offers much flexibility in the incorporation of various cations and the names of the pyroxene minerals are primarily defined by their chemical composition.
Pyroxene minerals are named according to the chemical species occupying the X (or M2) site, the Y (or M1) site, and the tetrahederal T site. Cations in Y (M1) site are closely bound to 6 oxygens in octahedral coordination. Cations in the X (M2) site can be coordinated with 6 to 8 oxygen atoms, depending on the cation size. Twenty mineral names are recognised by the International Mineralogical Association's Commission on New Minerals and Mineral Names and 105 previously used names have been discarded (Morimoto
et al.
, 1989).
A typical pyroxene has mostly silicon in the tetrahedral site and predominately ions with a charge of +2 in both the X and Y sites, giving the approximate formula XYT
2
O
6
. The names of the common calcium – iron – magnesium pyroxenes are defined in the 'pyroxene quadrilateral' shown in Figure 2. The
enstatite-ferrosilite
Enstatite
Enstatite is the magnesium endmember of the pyroxene silicate mineral series enstatite - ferrosilite . The magnesium rich members of the solid solution series are common rock-forming minerals found in igneous and metamorphic rocks...
series ([Mg,Fe]SiO
3
) contain up to 5 mol.% calcium and exists in three polymorphs, orthorhombic orthoenstatite and protoenstatite and monoclinic clinoenstatite (and the ferrosilite equivalents). Increasing the calcium content prevents the formation of the orthorhombic phases and
pigeonite
Pigeonite
Pigeonite is a mineral in the clinopyroxene group. It has a general formula of Si2O6. The calcium cation fraction can vary from 5% to 25%, with iron and magnesium making up the rest of the cations....
([Mg,Fe,Ca][Mg,Fe]Si
2
O
6
) only crystallises in the monoclinic system. There is not complete solid solution in calcium content and Mg-Fe-Ca pyroxenes with calcium contents between about 15 and 25 mol.% are not stable with respect to a pair of exolved crystals. This leads to a miscibility gap between pigeonite and
augite
Augite
Augite is a single chain inosilicate mineral, 2O6. The crystals are monoclinic and prismatic. Augite has two prominent cleavages, meeting at angles near 90 degrees.-Characteristics:Augite is a solid solution in the pyroxene group...
compositions. There is an arbitrary separation between augite and the
diopside-hedenbergite
Diopside
Diopside is a monoclinic pyroxene mineral with composition MgCaSi2O6. It forms complete solid solution series with hedenbergite and augite, and partial solid solutions with orthopyroxene and pigeonite. It forms variably colored, but typically dull green crystals in the monoclinic prismatic class...
(CaMgSi
2
O
6
– CaFeSi
2
O
6
) solid solution. The divide is taken at >45 mol.% Ca. As the calcium ion cannot occupy the Y site, pyroxenes with more than 50 mol.% calcium are not possible. A related mineral
wollastonite
Wollastonite
Wollastonite is a calcium inosilicate mineral that may contain small amounts of iron, magnesium, and manganese substituting for calcium. It is usually white. It forms when impure limestone or dolostone is subjected to high temperature and pressure sometimes in the presence of silica-bearing fluids...
has the formula of the hypothetical calcium end member but important structural differences mean that it is not grouped with the pyroxenes.

Magnesium, calcium and iron are by no means the only cations that can occupy the X and Y sites in the pyroxene structure. A second important series of pyroxene minerals are the sodium-rich pyroxenes, corresponding to nomenclature shown in Figure 3. The inclusion of sodium, which has a charge of +1, into the pyroxene implies the need for a mechanism to make up the "missing" positive charge. In
jadeite
Jadeite
Jadeite is a pyroxene mineral with composition NaAlSi2O6. It is monoclinic. It has a Mohs hardness of about 6.5 to 7.0 depending on the composition. The mineral is dense, with a specific gravity of about 3.4. Jadeite forms solid solutions with other pyroxene endmembers such as augite and diopside ,...
and
aegirine
Aegirine
Aegirine is a member of the clinopyroxene group of inosilicates. Aegirine is the sodium endmember of the aegirine-augite series. Aegirine has the chemical formula NaFeSi2O6 in which the iron is present as Fe3+. In the aegirine-augite series the sodium is variably replaced by calcium with iron and...
this is added by the inclusion of a +3 cation (aluminium and iron(III) respectively) on the Y site. Sodium pyroxenes with more than 20 mol.% calcium, magnesium or iron(II) components are known as
omphacite
Omphacite
Omphacite is a member of the pyroxene group of silicate minerals with formula: Si2O6. It is a variably deep to pale green or nearly colorless variety of pyroxene. Omphacite compositions are intermediate between calcium-rich augite and sodium-rich jadeite. It crystallizes in the monoclinic system...
and aegirine-augite, with 80% or more of these components the pyroxene falls in the quadrilateral shown in figure 2.
Table 1 shows the wide range of other cations that can be accommodated in the pyroxene structure, and indicates the sites that they occupy.
Table 1: Order of cation occupation in the pyroxenes
T
Si
Al
Fe3+
Y
Al
Fe3+
Ti4+
Cr
V
Ti3+
Zr
Sc
Zn
Mg
Fe2+
Mn
X
Mg
Fe2+
Mn
Li
Ca
Na
In assigning ions to sites the basic rule is to work from left to right in this table first assigning all silicon to the T site then filling the site with remaining aluminium and finally iron(III), extra aluminium or iron can be accommodated in the Y site and bulkier ions on the X site. Not all the resulting mechanisms to achieve charge neutrality follow the sodium example above and there are several alternative schemes:
Coupled substitutions of 1+ and 3+ ions on the X and Y sites respectively. For example Na and Al give the jadeite (NaAlSi2O6) composition.
Coupled substitution of a 1+ ion on the X site and a mixture of equal numbers of 2+ and 4+ ions on the Y site. This leads to e.g. NaFe2+0.5Ti4+0.5Si2O6.
The Tschermak substitution where a 3+ ion occupies the Y site and a T site leading to e.g. CaAlAlSiO6.
In nature, more than one substitution may be found in the same mineral.
Pyroxene minerals
Clinopyroxenes (monoclinic)

Aegirine

Aegirine

Aegirine is a member of the clinopyroxene group of inosilicates. Aegirine is the sodium endmember of the aegirine-augite series. Aegirine has the chemical formula NaFeSi2O6 in which the iron is present as Fe3+. In the aegirine-augite series the sodium is variably replaced by calcium with iron and...


(Sodium Iron Silicate)
Augite

Augite

Augite is a single chain inosilicate mineral, 2O6. The crystals are monoclinic and prismatic. Augite has two prominent cleavages, meeting at angles near 90 degrees.-Characteristics:Augite is a solid solution in the pyroxene group...


(Calcium Sodium Magnesium Iron Aluminium Silicate)
Clinoenstatite (Magnesium Silicate)
Diopside

Diopside

Diopside is a monoclinic pyroxene mineral with composition MgCaSi2O6. It forms complete solid solution series with hedenbergite and augite, and partial solid solutions with orthopyroxene and pigeonite. It forms variably colored, but typically dull green crystals in the monoclinic prismatic class...


(Calcium Magnesium Silicate, CaMgSi2O6)
Esseneite (Calcium Iron Aluminium Silicate)
Hedenbergite

Hedenbergite

Hedenbergite, CaFeSi2O6, is the iron rich end member of the pyroxene group having a monoclinic crystal system. The mineral is extremely rarely found as a pure substance, and usually has to be synthesized in a lab. It was named in 1819 after M.A. Ludwig Hedenberg, who was the first to define...


(Calcium Iron Silicate)
Jadeite

Jadeite

Jadeite is a pyroxene mineral with composition NaAlSi2O6. It is monoclinic. It has a Mohs hardness of about 6.5 to 7.0 depending on the composition. The mineral is dense, with a specific gravity of about 3.4. Jadeite forms solid solutions with other pyroxene endmembers such as augite and diopside ,...


(Sodium Aluminium Silicate)
Jervisite (Sodium Calcium Iron Scandium Magnesium Silicate)
Johannsenite (Calcium Manganese Silicate)
Kanoite

Kanoite

Kanoite is a light pinkish brown silicate mineral that is found in metamorphic rocks. It is an inosilicate and has a formula of 2Si2O6. It is a member of pyroxene group and clinopyroxene subgroup.-Crystallography:...


(Manganese Magnesium Silicate)
Kosmochlor (Sodium Chromium Silicate)
Namansilite (Sodium Manganese Silicate)
Natalyite (Sodium Vanadium Chromium Silicate)
Omphacite

Omphacite

Omphacite is a member of the pyroxene group of silicate minerals with formula: Si2O6. It is a variably deep to pale green or nearly colorless variety of pyroxene. Omphacite compositions are intermediate between calcium-rich augite and sodium-rich jadeite. It crystallizes in the monoclinic system...


(Calcium Sodium Magnesium Iron Aluminium Silicate)
Petedunnite (Calcium Zinc Manganese Iron Magnesium Silicate)
Pigeonite

Pigeonite

Pigeonite is a mineral in the clinopyroxene group. It has a general formula of Si2O6. The calcium cation fraction can vary from 5% to 25%, with iron and magnesium making up the rest of the cations....


(Calcium Magnesium Iron Silicate)
Spodumene

Spodumene

Spodumene is a pyroxene mineral consisting of lithium aluminium inosilicate, LiAl2, and is a source of lithium. It occurs as colorless to yellowish, purplish, or lilac kunzite , yellowish-green or emerald-green hiddenite, prismatic crystals, often of great size...


(Lithium Aluminium Silicate)

Orthopyroxenes (orthorhombic)

Hypersthene

Hypersthene

Hypersthene is a common rock-forming inosilicate mineral belonging to the group of orthorhombic pyroxenes. Many references have formally abandoned this term, preferring to categorise this mineral as enstatite or ferrosilite. It is found in igneous and some metamorphic rocks as well as in stony and...


(Magnesium Iron Silicate)
Donpeacorite, (MgMn)MgSi2O6
Enstatite

Enstatite

Enstatite is the magnesium endmember of the pyroxene silicate mineral series enstatite - ferrosilite . The magnesium rich members of the solid solution series are common rock-forming minerals found in igneous and metamorphic rocks...


, Mg2Si2O6
Ferrosilite, Fe2Si2O6
Nchwaningite (Hydrated Manganese Silicate)