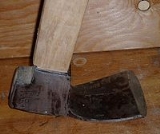 Adze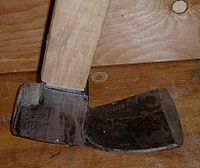 An
adze
(icon;
American English
American English
American English is a set of dialects of the English language used mostly in the United States. Approximately two-thirds of the world's native speakers of English live in the United States....
:
adz
) is a tool used for smoothing or carving rough-cut
wood
Wood
Wood is a hard, fibrous tissue found in many trees. It has been used for hundreds of thousands of years for both fuel and as a construction material. It is an organic material, a natural composite of cellulose fibers embedded in a matrix of lignin which resists compression...
in hand
woodworking
Woodworking
Woodworking is the process of building, making or carving something using wood.-History:Along with stone, mud, and animal parts, wood was one of the first materials worked by early humans. Microwear analysis of the Mousterian stone tools used by the Neanderthals show that many were used to work wood...
. Generally, the user stands astride a board or log and swings the adze downwards towards his feet, chipping off pieces of wood, moving backwards as they go and leaving a relatively smooth surface behind. Adzes are most often used for squaring up logs, or for hollowing out timber.
The adze is also used for demolition of old buildings by hand for salvage. The single tool can serve all the needs of deconstruction with proper use.
The blade of an adze is set at right angles to the tool's shaft (like a
hoe
Hoe (tool)
A hoe is an ancient and versatile agricultural tool used to move small amounts of soil. Common goals include weed control by agitating the surface of the soil around plants, piling soil around the base of plants , creating narrow furrows and shallow trenches for planting seeds and bulbs, to chop...
or
plane
Plane (tool)
A hand plane is a tool for shaping wood. When powered by electricity, the tool may be called a planer. Planes are used to flatten, reduce the thickness of, and impart a smooth surface to a rough piece of lumber or timber. Planing is used to produce horizontal, vertical, or inclined flat surfaces on...
), unlike the blade of an
axe
Axe
The axe, or ax, is an implement that has been used for millennia to shape, split and cut wood; to harvest timber; as a weapon; and as a ceremonial or heraldic symbol...
which is set in line with the shaft. A very similar (but blunt) tool used for digging in hard ground is called a
mattock
Mattock
A mattock is a versatile hand tool, used for digging and chopping, similar to the pickaxe. It has a long handle, and a stout head, which combines an axe blade and an adze or a pick and an adze .-Description:...
.
Europe
In central Europe, adzes made by knapping
flint
Flint
Flint is a hard, sedimentary cryptocrystalline form of the mineral quartz, categorized as a variety of chert. It occurs chiefly as nodules and masses in sedimentary rocks, such as chalks and limestones. Inside the nodule, flint is usually dark grey, black, green, white, or brown in colour, and...
are known from the late
Mesolithic
Mesolithic
The Mesolithic is an archaeological concept used to refer to certain groups of archaeological cultures defined as falling between the Paleolithic and the Neolithic....
onwards ("
Scheibenbeile
"). Polished adzes and axes made of
ground stone
Ground stone
In archaeology, ground stone is a category of stone tool formed by the grinding of a coarse-grained tool stone, either purposely or incidentally. Ground stone tools are usually made of basalt, rhyolite, granite, or other macrocrystalline igneous stones whose coarse structure makes them ideal for...
, such as
amphibolite
Amphibolite
Amphibolite is the name given to a rock consisting mainly of hornblende amphibole, the use of the term being restricted, however, to metamorphic rocks. The modern terminology for a holocrystalline plutonic igneous rocks composed primarily of hornblende amphibole is a hornblendite, which are...
,
basalt
Basalt
Basalt is a common extrusive volcanic rock. It is usually grey to black and fine-grained due to rapid cooling of lava at the surface of a planet. It may be porphyritic containing larger crystals in a fine matrix, or vesicular, or frothy scoria. Unweathered basalt is black or grey...
or
Jadeite
Jadeite
Jadeite is a pyroxene mineral with composition NaAlSi2O6. It is monoclinic. It has a Mohs hardness of about 6.5 to 7.0 depending on the composition. The mineral is dense, with a specific gravity of about 3.4. Jadeite forms solid solutions with other pyroxene endmembers such as augite and diopside ,...
are typical for the Neolithic period.
Shoe-last adzes or
celt
Shoe-last celt
A Shoe-last celt is a long thin stone tool characteristic of the early Neolithic Linearbandkeramik and Hinkelstein cultures, also called Danubian I in the older literature. See also celt.-Appearance:...
s, named for their typical shape, are found in the
Linear Pottery
Linear Pottery culture
The Linear Pottery culture is a major archaeological horizon of the European Neolithic, flourishing ca. 5500–4500 BC.It is abbreviated as LBK , is also known as the Linear Band Ware, Linear Ware, Linear Ceramics or Incised Ware culture, and falls within the Danubian I culture of V...
and
Rössen culture
Rössen culture
The Rössen Culture is a Central European culture of the middle Neolithic .It is named after the necropolis of Rössen...
s of the early
Neolithic
Neolithic
The Neolithic Age, Era, or Period, or New Stone Age, was a period in the development of human technology, beginning about 9500 BC in some parts of the Middle East, and later in other parts of the world. It is traditionally considered as the last part of the Stone Age...
. Adzes were also made and used by prehistoric southeast Asian cultures, especially in the
Mekong
Mekong
The Mekong is a river that runs through China, Burma, Laos, Thailand, Cambodia and Vietnam. It is the world's 10th-longest river and the 7th-longest in Asia. Its estimated length is , and it drains an area of , discharging of water annually....
River basin.
Egypt
The adze is shown in ancient Egypt from the
Old Kingdom
Old Kingdom
Old Kingdom is the name given to the period in the 3rd millennium BC when Egypt attained its first continuous peak of civilization in complexity and achievement – the first of three so-called "Kingdom" periods, which mark the high points of civilization in the lower Nile Valley .The term itself was...
onward. Originally the adze blades were made of stone, but already in the
Predynastic Period
Predynastic Egypt
The Prehistory of Egypt spans the period of earliest human settlement to the beginning of the Early Dynastic Period of Egypt in ca. 3100 BC, starting with King Menes/Narmer....
copper adzes had all but replaced those made of flint. While stone blades were fastened to the wooden handle by tying, metal blades had sockets into which the handle was fitted. Examples of Egyptian adzes can be found in museums and on the
Petrie Museum website
.
A depiction of an adze was also used as a
hieroglyph
Egyptian hieroglyphs
Egyptian hieroglyphs were a formal writing system used by the ancient Egyptians that combined logographic and alphabetic elements. Egyptians used cursive hieroglyphs for religious literature on papyrus and wood...
, representing the consonants
stp
, "chosen", and used as:
...Pharaoh XX, chosen of God/Goddess YY...
The
ahnetjer
(
Manuel de Codage
Manuel de Codage
The Manuel de Codage is a standard system for the computer-encoding of transliterations of Egyptian hieroglyphic texts.-History:...
transliteration:
aH-nTr
) depicted as an adze-like instrument, was used in the
Opening of the Mouth ceremony
Opening of the mouth ceremony
The opening of the mouth ceremony was an ancient Egyptian ritual described in funerary texts such as the Pyramid Texts.-Funerary magic:...
, intended to convey power over their senses to statues and mummies. It was apparently the foreleg of a freshly sacrificed bull or cow with which the mouth was touched.
New Zealand
Prehistoric
Māori
Maori culture
Māori culture is the culture of the Māori of New Zealand, an Eastern Polynesian people, and forms a distinctive part of New Zealand culture. Within the Māori community, and to a lesser extent throughout New Zealand as a whole, the word Māoritanga is often used as an approximate synonym for Māori...
adzes from
New Zealand
New Zealand
New Zealand is an island country in the south-western Pacific Ocean comprising two main landmasses and numerous smaller islands. The country is situated some east of Australia across the Tasman Sea, and roughly south of the Pacific island nations of New Caledonia, Fiji, and Tonga...
, used for
wood carving
Wood carving
Wood carving is a form of working wood by means of a cutting tool in one hand or a chisel by two hands or with one hand on a chisel and one hand on a mallet, resulting in a wooden figure or figurine, or in the sculptural ornamentation of a wooden object...
, were made from
nephrite
Nephrite
Nephrite is a variety of the calcium and magnesium-rich amphibole mineral actinolite . The chemical formula for nephrite is Ca25Si8O222. It is one of two different mineral species called jade. The other mineral species known as jade is jadeite, which is a variety of pyroxene...
, also known as
jade
Jade
Jade is an ornamental stone.The term jade is applied to two different metamorphic rocks that are made up of different silicate minerals:...
. At the same time on
Henderson Island
Henderson Island (Pitcairn Islands)
Henderson Island is an uninhabited raised coral atoll in the south Pacific Ocean, that in 1902 was annexed to the Pitcairn Islands colony, a South Pacific Dependent Territory of the United Kingdom. Measuring long and wide, it has an area of and is located northeast of Pitcairn Island at . The...
, a small coral island in eastern
Polynesia
Polynesia
Polynesia is a subregion of Oceania, made up of over 1,000 islands scattered over the central and southern Pacific Ocean. The indigenous people who inhabit the islands of Polynesia are termed Polynesians and they share many similar traits including language, culture and beliefs...
lacking any rock other than
limestone
Limestone
Limestone is a sedimentary rock composed largely of the minerals calcite and aragonite, which are different crystal forms of calcium carbonate . Many limestones are composed from skeletal fragments of marine organisms such as coral or foraminifera....
, natives may have fashioned giant clamshells into adzes.
Northwest Coast America
American Northwest coast native peoples traditionally used adzes for both functional construction (from bowls to canoes) and art (from masks to totem poles). Northwest coast adzes take two forms, hafted and D-handle. The hafted form is similar in form to a European adze with the haft constructed from a natural crooked branch which approximately forms a 60% angle. The thin end is used as the handle and the thick end is flattened and notched such that an adze iron can be lashed to it. Modern hafts are sometimes constructed from a sawed blank with a dowel added for strength at the crook. The second form is the D-handle adze which is basically an adze iron with a directly-attached handle. The D-handle therefore provides no mechanical leverage. Northwest coast adzes are often classified by size and iron shape vs. role. As with European adzes, iron shapes include straight, gutter and lipped. Where larger Northwest adzes are similar in size to their European counterparts, the smaller sizes are typically much lighter such that they can be used for the detailed smoothing, shaping and surface texturing required for figure carving. Final surfacing is sometimes performed with a
crooked knife
Crooked knife
The crooked knife sometimes referred to as a "curved knife", "carving knife" or in the Algonquian language the "mocotaugan" is a utilitarian knife used for carving. The "crooked knife" is a common knife found amongst the native Americans of the Eastern Woodlands as well as non-native woodsmen...
.
Modern adzes
Modern adzes are made from
steel
Steel
Steel is an alloy that consists mostly of iron and has a carbon content between 0.2% and 2.1% by weight, depending on the grade. Carbon is the most common alloying material for iron, but various other alloying elements are used, such as manganese, chromium, vanadium, and tungsten...
with wooden handles, and enjoy limited use: occasionally in semi-industrial areas, but particularly by 'revivalists' such as those at the
Colonial Williamsburg
Colonial Williamsburg
Colonial Williamsburg is the private foundation representing the historic district of the city of Williamsburg, Virginia, USA. The district includes buildings dating from 1699 to 1780 which made colonial Virginia's capital. The capital straddled the boundary of the original shires of Virginia —...
cultural center in
Virginia
Virginia
The Commonwealth of Virginia , is a U.S. state on the Atlantic Coast of the Southern United States. Virginia is nicknamed the "Old Dominion" and sometimes the "Mother of Presidents" after the eight U.S. presidents born there...
, USA. However, the traditional adze has largely been replaced by the
sawmill
Sawmill
A sawmill is a facility where logs are cut into boards.-Sawmill process:A sawmill's basic operation is much like those of hundreds of years ago; a log enters on one end and dimensional lumber exits on the other end....
and the powered-plane, at least in industrialised cultures. It remains in use for some specialist crafts, for example by
coopers
Cooper (profession)
Traditionally, a cooper is someone who makes wooden staved vessels of a conical form, of greater length than breadth, bound together with hoops and possessing flat ends or heads...
.
Adzes are also in current use by artists such as Northwest Coast American and Canadian Indian sculptors doing pole work, masks and bowls.
One of the most common tools used in the fire service today is the
Halligan bar
Halligan bar
A Halligan bar is a special forcible entry tool commonly used by firefighters and law enforcement. It was designed by and named after Hugh Halligan, a First Deputy Fire Chief in the New York City Fire Department, in 1948...
. This is a multipurpose pry-bar used most commonly in forcible entry of a structure. One end of the Halligan bar is called the adze end. It has an adze along with a 4-inch spike on one end and the other end has a pry fork.
Types
Carpenter's adze - A heavy adze, often with very steep curves, and a very heavy, blunt poll. The weight of this adze makes it unsuitable for sustained overhead adzing.

Railroad adze - A carpenter's adze which had its bit extended in an effort to limit the breaking of handles when shaping railroad ties (railway sleepers). Early examples in New England began showing up approximately in the 1940s - 1950s. The initial prototypes clearly showed a weld where the extension was attached.

Shipwright's adze - A lighter, and more versatile adze than the carpenter's adze. This was designed to be used in a variety of positions, including overhead, as well as in front on waist and chest level.

Lipped shipwright's adze - A variation of the shipwright's adze. It features a wider than normal bit, whose outside edges are sharply turned up, so that when gazing directly down the adze, from bit to eye, the cutting edge resembles an extremely wide and often very flat U. This adze was mainly used for shaping cross grain, such as for joining planks.

There are also a number of specialist adzes once used for barrel stave shaping, chair seat forming and bowl and trough making. Many of these have shorter handles for control and more curve in the head to allow better clearance for shorter cuts.
Another group of adzes can be differentiated by the handles; the D-handled adzes have a handle where the hand can be wrapped around the D, close to the bit. These adzes closely follow traditional forms in that the bit or tooth is not wrapped around the handle as a head.
The head of an ice axe

Ice axe

An ice axe, is a multi-purpose ice and snow tool used by mountaineers both in the ascent and descent of routes which involve frozen conditions. It can be held and employed in a number of different ways, depending on the terrain encountered...


typically possesses an adze for chopping rough steps in ice.
A firefighter tool called the Halligan

Halligan bar

A Halligan bar is a special forcible entry tool commonly used by firefighters and law enforcement. It was designed by and named after Hugh Halligan, a First Deputy Fire Chief in the New York City Fire Department, in 1948...


has an adze on one end of the bar. This bar is a multipurpose pry-bar with a fork on one end and an adze on the other with a spike that sticks out next to it.
Footnotes and references