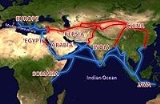 Silk Road
The
Silk Road
or
Silk Route
refers to a historical network of interlinking
trade route
Trade route
A trade route is a logistical network identified as a series of pathways and stoppages used for the commercial transport of cargo. Allowing goods to reach distant markets, a single trade route contains long distance arteries which may further be connected to several smaller networks of commercial...
s across the Afro-Eurasian landmass that connected
East
East Asia
East Asia or Eastern Asia is a subregion of Asia that can be defined in either geographical or cultural terms...
,
South
South Asia
South Asia, also known as Southern Asia, is the southern region of the Asian continent, which comprises the sub-Himalayan countries and, for some authorities , also includes the adjoining countries to the west and the east...
, and Western Asia with the Mediterranean and
European
Europe
Europe is, by convention, one of the world's seven continents. Comprising the westernmost peninsula of Eurasia, Europe is generally 'divided' from Asia to its east by the watershed divides of the Ural and Caucasus Mountains, the Ural River, the Caspian and Black Seas, and the waterways connecting...
world, as well as parts of
North
North Africa
North Africa or Northern Africa is the northernmost region of the African continent, linked by the Sahara to Sub-Saharan Africa. Geopolitically, the United Nations definition of Northern Africa includes eight countries or territories; Algeria, Egypt, Libya, Morocco, South Sudan, Sudan, Tunisia, and...
and
East Africa
East Africa
East Africa or Eastern Africa is the easterly region of the African continent, variably defined by geography or geopolitics. In the UN scheme of geographic regions, 19 territories constitute Eastern Africa:...
. The land routes were supplemented by sea routes which extended from the Red Sea to East Africa, India, China, and Southeast Asia.
Extending 4,000 miles (6,500 km), the Silk Road gets its name from the lucrative Chinese
silk
Silk
Silk is a natural protein fiber, some forms of which can be woven into textiles. The best-known type of silk is obtained from the cocoons of the larvae of the mulberry silkworm Bombyx mori reared in captivity...
trade along it, which began during the
Han Dynasty
Han Dynasty
The Han Dynasty was the second imperial dynasty of China, preceded by the Qin Dynasty and succeeded by the Three Kingdoms . It was founded by the rebel leader Liu Bang, known posthumously as Emperor Gaozu of Han. It was briefly interrupted by the Xin Dynasty of the former regent Wang Mang...
(206 BCE – 220 CE).