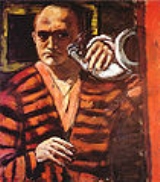 Max Beckmann
Max Beckmann
was a
German
Germany
Germany , officially the Federal Republic of Germany , is a federal parliamentary republic in Europe. The country consists of 16 states while the capital and largest city is Berlin. Germany covers an area of 357,021 km2 and has a largely temperate seasonal climate...
painter,
draftsman
Drawing
Drawing is a form of visual art that makes use of any number of drawing instruments to mark a two-dimensional medium. Common instruments include graphite pencils, pen and ink, inked brushes, wax color pencils, crayons, charcoal, chalk, pastels, markers, styluses, and various metals .An artist who...
, printmaker,
sculptor
Sculpture
Sculpture is three-dimensional artwork created by shaping or combining hard materials—typically stone such as marble—or metal, glass, or wood. Softer materials can also be used, such as clay, textiles, plastics, polymers and softer metals...
, and writer. Although he is classified as an Expressionist artist, he rejected both the term and the movement. In the 1920s, he was associated with the
New Objectivity
New Objectivity
The New Objectivity is a term used to characterize the attitude of public life in Weimar Germany as well as the art, literature, music, and architecture created to adapt to it...
(Neue Sachlichkeit
), an outgrowth of Expressionism that opposed its introverted emotionalism.
Life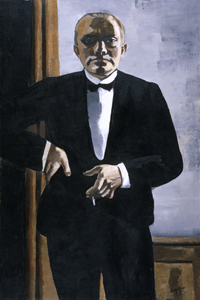 Max Beckmann was born into a middle-class family in
Leipzig
Leipzig
Leipzig Leipzig has always been a trade city, situated during the time of the Holy Roman Empire at the intersection of the Via Regia and Via Imperii, two important trade routes. At one time, Leipzig was one of the major European centres of learning and culture in fields such as music and publishing...
,
Saxony
Saxony
The Free State of Saxony is a landlocked state of Germany, contingent with Brandenburg, Saxony Anhalt, Thuringia, Bavaria, the Czech Republic and Poland. It is the tenth-largest German state in area, with of Germany's sixteen states....
. From his youth he pitted himself against the old masters. His traumatic experiences of
World War I
World War I
World War I , which was predominantly called the World War or the Great War from its occurrence until 1939, and the First World War or World War I thereafter, was a major war centred in Europe that began on 28 July 1914 and lasted until 11 November 1918...
, in which he served as a medic, coincided with a dramatic transformation of his style from academically correct depictions to a distortion of both figure and space, reflecting his altered vision of himself and humanity.
He is known for the self-portraits painted throughout his life, their number and intensity rivaled only by Rembrandt and Picasso. Well-read in philosophy and literature, he also contemplated
mysticism
Mysticism
Mysticism is the knowledge of, and especially the personal experience of, states of consciousness, i.e. levels of being, beyond normal human perception, including experience and even communion with a supreme being.-Classical origins:...
and
theosophy
Theosophy
Theosophy, in its modern presentation, is a spiritual philosophy developed since the late 19th century. Its major themes were originally described mainly by Helena Blavatsky , co-founder of the Theosophical Society...
in search of the "
Self
Self (philosophy)
The philosophy of self defines the essential qualities that make one person distinct from all others. There have been numerous approaches to defining these qualities. The self is the idea of a unified being which is the source of consciousness. Moreover, this self is the agent responsible for the...
". As a true painter-thinker, he strove to find the hidden spiritual dimension in his subjects. (Beckmann's 1948 "Letters to a Woman Painter" provides a statement of his approach to art.)
Beckmann enjoyed great success and official honors during the
Weimar Republic
Weimar Republic
The Weimar Republic is the name given by historians to the parliamentary republic established in 1919 in Germany to replace the imperial form of government...
. In 1925 he was selected to teach a master class at the
Städelschule
Städelschule
Städelschule, Staatliche Hochschule für Bildende Künste, is a contemporary fine arts academy in Frankfurt am Main, Germany.- History :The Städelschule was established by a foundation set up by the Frankfurt merchant Johann Friedrich Städel in 1817...
Academy of Fine Art in
Frankfurt
Frankfurt
Frankfurt am Main , commonly known simply as Frankfurt, is the largest city in the German state of Hesse and the fifth-largest city in Germany, with a 2010 population of 688,249. The urban area had an estimated population of 2,300,000 in 2010...
. Some of his most famous students included Theo Garve, Leo Maillet and
Marie-Louise von Motesiczky
Marie-Louise Von Motesiczky
Marie-Louise von Motesiczky was an Austrian painter.- Life and work :She was born in Vienna in 1906 to an aristocratic family. Her father Edmund von Motesiczky was a talented cellist and keen huntsman. Her mother Henriette von Lieben, came from one of the most wealthy and cultured families in the...
. In 1927 he received the Honorary Empire Prize for German Art and the Gold Medal of the City of
Düsseldorf
Düsseldorf
Düsseldorf is the capital city of the German state of North Rhine-Westphalia and centre of the Rhine-Ruhr metropolitan region.Düsseldorf is an important international business and financial centre and renowned for its fashion and trade fairs. Located centrally within the European Megalopolis, the...
; the National Gallery in
Berlin
Berlin
Berlin is the capital city of Germany and is one of the 16 states of Germany. With a population of 3.45 million people, Berlin is Germany's largest city. It is the second most populous city proper and the seventh most populous urban area in the European Union...
acquired his painting
The Bark
and, in 1928, purchased his
Self-Portrait in Tuxedo
.
His fortunes changed with the rise to power of
Adolf Hitler
Adolf Hitler
Adolf Hitler was an Austrian-born German politician and the leader of the National Socialist German Workers Party , commonly referred to as the Nazi Party). He was Chancellor of Germany from 1933 to 1945, and head of state from 1934 to 1945...
, whose dislike of
Modern Art
Modern art
Modern art includes artistic works produced during the period extending roughly from the 1860s to the 1970s, and denotes the style and philosophy of the art produced during that era. The term is usually associated with art in which the traditions of the past have been thrown aside in a spirit of...
quickly led to its suppression by the state. In 1933, the Nazi government called Beckmann a "cultural Bolshevik" and dismissed him from his teaching position at the Art School in Frankfurt. In 1937 more than 500 of his works were confiscated from German museums, and several of these works were put on display in the notorious
Degenerate Art
Degenerate art
Degenerate art is the English translation of the German entartete Kunst, a term adopted by the Nazi regime in Germany to describe virtually all modern art. Such art was banned on the grounds that it was un-German or Jewish Bolshevist in nature, and those identified as degenerate artists were...
exhibition in
Munich
Munich
Munich The city's motto is "" . Before 2006, it was "Weltstadt mit Herz" . Its native name, , is derived from the Old High German Munichen, meaning "by the monks' place". The city's name derives from the monks of the Benedictine order who founded the city; hence the monk depicted on the city's coat...
. For ten years, Beckmann lived in poverty in self-imposed exile in
Amsterdam
Amsterdam
Amsterdam is the largest city and the capital of the Netherlands. The current position of Amsterdam as capital city of the Kingdom of the Netherlands is governed by the constitution of August 24, 1815 and its successors. Amsterdam has a population of 783,364 within city limits, an urban population...
, failing in his desperate attempts to obtain a visa for the US. In 1944 the Germans attempted to draft him into the army, despite the fact that the sixty-year-old artist had suffered a heart attack. The works completed in his Amsterdam studio were even more powerful and intense than the ones of his master years in Frankfurt, and included several large
triptych
Triptych
A triptych , from tri-= "three" + ptysso= "to fold") is a work of art which is divided into three sections, or three carved panels which are hinged together and can be folded shut or displayed open. It is therefore a type of polyptych, the term for all multi-panel works...
s, which stand as a summation of Beckmann's art.
After the war, Beckmann moved to the United States, and during the last three years of his life, he taught at the art schools of
Washington University in St. Louis
Washington University in St. Louis
Washington University in St. Louis is a private research university located in suburban St. Louis, Missouri. Founded in 1853, and named for George Washington, the university has students and faculty from all fifty U.S. states and more than 110 nations...
(with the German-American painter and printmaker Werner Drewes) and the
Brooklyn Museum
Brooklyn Museum
The Brooklyn Museum is an encyclopedia art museum located in the New York City borough of Brooklyn. At 560,000 square feet, the museum holds New York City's second largest art collection with roughly 1.5 million works....
. He suffered from angina pectoris and died after Christmas 1950, struck down by a heart attack in
Manhattan
Manhattan
Manhattan is the oldest and the most densely populated of the five boroughs of New York City. Located primarily on the island of Manhattan at the mouth of the Hudson River, the boundaries of the borough are identical to those of New York County, an original county of the state of New York...
.
Many of his late paintings are displayed in American museums. Max Beckmann, a native of the very heart of Germany, exerted a profound influence on such American painters as
Philip Guston
Philip Guston
Philip Guston was a notable painter and printmaker in the New York School, which included many of the Abstract expressionists, such as Jackson Pollock and Willem De Kooning...
and
Nathan Oliveira
Nathan Oliveira
Nathan Oliveira was an American painter, printmaker, and sculptor, born in Oakland, California to Portuguese parents...
.
Themes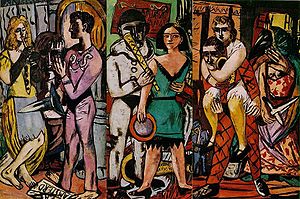 Unlike several of his avant-garde contemporaries, Beckmann rejected
non-representational painting
Abstract art
Abstract art uses a visual language of form, color and line to create a composition which may exist with a degree of independence from visual references in the world. Western art had been, from the Renaissance up to the middle of the 19th century, underpinned by the logic of perspective and an...
; instead, he took up and advanced the tradition of figurative painting. He greatly admired
Cézanne
Paul Cézanne
Paul Cézanne was a French artist and Post-Impressionist painter whose work laid the foundations of the transition from the 19th century conception of artistic endeavour to a new and radically different world of art in the 20th century. Cézanne can be said to form the bridge between late 19th...
, but also Van Gogh,
Blake
William Blake
William Blake was an English poet, painter, and printmaker. Largely unrecognised during his lifetime, Blake is now considered a seminal figure in the history of both the poetry and visual arts of the Romantic Age...
,
Rembrandt
,
Rubens
and Northern European artists of the late
Middle Ages
Middle Ages
The Middle Ages is a periodization of European history from the 5th century to the 15th century. The Middle Ages follows the fall of the Western Roman Empire in 476 and precedes the Early Modern Era. It is the middle period of a three-period division of Western history: Classic, Medieval and Modern...
and early
Renaissance
Renaissance
The Renaissance was a cultural movement that spanned roughly the 14th to the 17th century, beginning in Italy in the Late Middle Ages and later spreading to the rest of Europe. The term is also used more loosely to refer to the historical era, but since the changes of the Renaissance were not...
such as
Bosch
, Bruegel and
Matthias Grünewald
Matthias Grünewald
Matthias Grünewald or "Mathis" , "Gothart" or "Neithardt" , , was a German Renaissance painter of religious works, who ignored Renaissance classicism to continue the expressive and intense style of late medieval Central European art into the 16th century.Only ten paintings—several consisting...
. His style and method of composition are also rooted in the imagery of medieval stained glass.
Encompassing portraiture, landscape, still life, mythology and the fantastic, his work created a very personal but authentic version of
modernism
Modernism
Modernism, in its broadest definition, is modern thought, character, or practice. More specifically, the term describes the modernist movement, its set of cultural tendencies and array of associated cultural movements, originally arising from wide-scale and far-reaching changes to Western society...
, combining this with traditional plasticity. Beckmann reinvented the
triptych
Triptych
A triptych , from tri-= "three" + ptysso= "to fold") is a work of art which is divided into three sections, or three carved panels which are hinged together and can be folded shut or displayed open. It is therefore a type of polyptych, the term for all multi-panel works...
and expanded this
archetype
Archetype
An archetype is a universally understood symbol or term or pattern of behavior, a prototype upon which others are copied, patterned, or emulated...
of medieval painting into a looking glass of contemporary humanity.
From its beginnings in the
fin de siècle
Fin de siècle
Fin de siècle is French for "end of the century". The term sometimes encompasses both the closing and onset of an era, as it was felt to be a period of degeneration, but at the same time a period of hope for a new beginning...
up to its completion after
World War II
World War II
World War II, or the Second World War , was a global conflict lasting from 1939 to 1945, involving most of the world's nations—including all of the great powers—eventually forming two opposing military alliances: the Allies and the Axis...
, Beckmann's work reflects an era of radical changes in both art and history. Many of Max Beckmann's paintings express the agonies of Europe in the first half of the 20th century. Some of his imagery refers to the decadent glamor of the
Weimar Republic
Weimar Republic
The Weimar Republic is the name given by historians to the parliamentary republic established in 1919 in Germany to replace the imperial form of government...
's cabaret culture, but from the 1930s on, his works often contain mythologized references to the brutalities of the Nazis. Beyond these immediate concerns, his subjects and symbols assume a larger meaning, voicing universal themes of terror, redemption, and the mysteries of eternity and fate.
Legacy
Beckmann's posthumous reputation perhaps suffered from his very individual artistic path; like
Oskar Kokoschka
Oskar Kokoschka
Oskar Kokoschka was an Austrian artist, poet and playwright best known for his intense expressionistic portraits and landscapes.-Biography:...
, he defies the convenient categorization that provides themes for critics, art historians and curators. Other than a major retrospective at New York's
Museum of Modern Art
Museum of Modern Art
The Museum of Modern Art is an art museum in Midtown Manhattan in New York City, on 53rd Street, between Fifth and Sixth Avenues. It has been important in developing and collecting modernist art, and is often identified as the most influential museum of modern art in the world...
, the Boston Museum of Fine Arts and the
Art Institute of Chicago
Art Institute of Chicago
The School of the Art Institute of Chicago is one of America's largest accredited independent schools of art and design, located in the Loop in Chicago, Illinois. It is associated with the museum of the same name, and "The Art Institute of Chicago" or "Chicago Art Institute" often refers to either...
in 1964-65 (with an excellent catalogue by Peter Selz), and MoMA's prominent display of the triptych "Departure", his work was little seen in America for decades. His 1984 centenary was marked in the New York area only by a modest exhibit at
Nassau County
Nassau County, New York
Nassau County is a suburban county on Long Island, east of New York City in the U.S. state of New York, within the New York Metropolitan Area. As of the 2010 census, the population was 1,339,532...
's suburban art museum.
Since then, Beckmann's work has gained an increasing international reputation. There have been retrospectives and exhibitions at the
Museum of Modern Art
Museum of Modern Art
The Museum of Modern Art is an art museum in Midtown Manhattan in New York City, on 53rd Street, between Fifth and Sixth Avenues. It has been important in developing and collecting modernist art, and is often identified as the most influential museum of modern art in the world...
(1995) and the
Guggenheim Museum
Solomon R. Guggenheim Museum
The Solomon R. Guggenheim Museum is a well-known museum located on the Upper East Side of Manhattan in New York City, United States. It is the permanent home to a renowned collection of Impressionist, Post-Impressionist, early Modern, and contemporary art and also features special exhibitions...
(1996) in New York, and the principal museums of Rome (1996), Valencia (1996), Madrid (1997), Zurich (1998),
St. Louis
Saint Louis Art Museum
The Saint Louis Art Museum is one of the principal U.S. art museums, visited by up to a half million people every year. Admission is free through a subsidy from the cultural tax district for St. Louis City and County.Located in Forest Park in St...
—which holds the largest public collection of Beckmann paintings in the world—(1998), Munich (2000), Frankfurt (2006) and Amsterdam (2007). In Spain and Italy, Beckmann's work has been accessible to a wider public for the first time. A large-scale Beckmann retrospective was exhibited at the Centre Pompidou in Paris (2002) and
Tate Modern
Tate Modern
Tate Modern is a modern art gallery located in London, England. It is Britain's national gallery of international modern art and forms part of the Tate group . It is the most-visited modern art gallery in the world, with around 4.7 million visitors per year...
in London (2003).
In 1996, Piper, Beckmann's German publisher, released the third and last volume of the artist's letters, whose wit and vision rank him among the strongest writers of the German tongue. His essays, plays and, above all, his diaries are also unique historical documents. A selection of Beckmann's writings
http://www.press.uchicago.edu/cgi-bin/hfs.cgi/00/13174.ctl
was issued in America in 1996.
In 2003,
Stephan Reimertz
Stephan Reimertz
Stephan Reimertz is an art historian and novelist. He lives in Paris.- Life :Stephan Reimertz, 1962 born writer is the grandnephew of Nikolaus Groß. His grandfather was a democratic major and politician from Westphalia. His father was a mining engineer and met his mother, a Baltic German...
, Parisian novelist and art historian, published the
biography
Biography
A biography is a detailed description or account of someone's life. More than a list of basic facts , biography also portrays the subject's experience of those events...
of Max Beckmann. It presents many photos and sources for the first time. The biography reveals Beckmann's contemplations on writers and philosophers such as Dostoyevsky,
Schopenhauer
Arthur Schopenhauer
Arthur Schopenhauer was a German philosopher known for his pessimism and philosophical clarity. At age 25, he published his doctoral dissertation, On the Fourfold Root of the Principle of Sufficient Reason, which examined the four separate manifestations of reason in the phenomenal...
,
Nietzsche
Friedrich Nietzsche
Friedrich Wilhelm Nietzsche was a 19th-century German philosopher, poet, composer and classical philologist...
, and
Richard Wagner
Richard Wagner
Wilhelm Richard Wagner was a German composer, conductor, theatre director, philosopher, music theorist, poet, essayist and writer primarily known for his operas...
. The book has not yet been translated into English.
See also
The Night, a Beckmann painting of 1918–1919
Expressionism

Expressionism

Expressionism was a modernist movement, initially in poetry and painting, originating in Germany at the beginning of the 20th century. Its typical trait is to present the world solely from a subjective perspective, distorting it radically for emotional effect in order to evoke moods or ideas...



Western painting

Western painting

The history of Western painting represents a continuous, though disrupted, tradition from antiquity. Until the mid-19th century it was primarily concerned with representational and Classical modes of production, after which time more modern, abstract and conceptual forms gained favor.Developments...



New objectivity

New Objectivity

The New Objectivity is a term used to characterize the attitude of public life in Weimar Germany as well as the art, literature, music, and architecture created to adapt to it...



External links