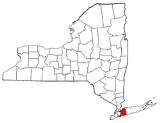 Nassau County, New York
Nassau County
(ˈnæsɔː) is a suburban county on
Long Island
Long Island
Long Island is an island located in the southeast part of the U.S. state of New York, just east of Manhattan. Stretching northeast into the Atlantic Ocean, Long Island contains four counties, two of which are boroughs of New York City , and two of which are mainly suburban...
, east of
New York City
New York City
New York is the most populous city in the United States and the center of the New York Metropolitan Area, one of the most populous metropolitan areas in the world. New York exerts a significant impact upon global commerce, finance, media, art, fashion, research, technology, education, and...
in the
U.S. state
U.S. state
A U.S. state is any one of the 50 federated states of the United States of America that share sovereignty with the federal government. Because of this shared sovereignty, an American is a citizen both of the federal entity and of his or her state of domicile. Four states use the official title of...
of
New York
New York
New York is a state in the Northeastern region of the United States. It is the nation's third most populous state. New York is bordered by New Jersey and Pennsylvania to the south, and by Connecticut, Massachusetts and Vermont to the east...
, within the
New York Metropolitan Area
New York metropolitan area
The New York metropolitan area, also known as Greater New York, or the Tri-State area, is the region that composes of New York City and the surrounding region...
. As of the 2010 census, the population was 1,339,532. The name of the county comes from an old name for Long Island, which was at one time named
Nassau
, after the
Dutch
Netherlands
The Netherlands is a constituent country of the Kingdom of the Netherlands, located mainly in North-West Europe and with several islands in the Caribbean. Mainland Netherlands borders the North Sea to the north and west, Belgium to the south, and Germany to the east, and shares maritime borders...
Prince
William of Nassau, Prince of Orange
William III of England
William III & II was a sovereign Prince of Orange of the House of Orange-Nassau by birth. From 1672 he governed as Stadtholder William III of Orange over Holland, Zeeland, Utrecht, Guelders, and Overijssel of the Dutch Republic. From 1689 he reigned as William III over England and Ireland...
(who later also ruled as King William III of England.) The county colors, orange and blue, are also the colors of the House of Orange.