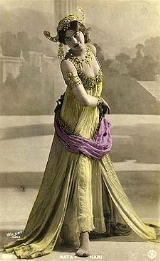 Mata Hari
Mata Hari
was the
stage name
Stage name
A stage name, also called a showbiz name or screen name, is a pseudonym used by performers and entertainers such as actors, wrestlers, comedians, and musicians.-Motivation to use a stage name:...
of
Margaretha Geertruida
"
M'greet
"
Zelle
(7 August 1876,
Leeuwarden
- 15 October 1917,
Vincennes
Vincennes
Vincennes is a commune in the Val-de-Marne department in the eastern suburbs of Paris, France. It is located from the centre of Paris. It is one of the most densely populated municipalities in Europe.-History:...
), a
Dutch
Dutch people
The Dutch people are an ethnic group native to the Netherlands. They share a common culture and speak the Dutch language. Dutch people and their descendants are found in migrant communities worldwide, notably in Suriname, Chile, Brazil, Canada, Australia, South Africa, New Zealand, and the United...
exotic dancer
Exotic dancer
The terms exotic dancer and exotic dance can have different meanings in different parts of the world and depending on context. In the erotic sense, "exotic dance" is a often used to refer to practitioners of striptease...
,
courtesan
Courtesan
A courtesan was originally a female courtier, which means a person who attends the court of a monarch or other powerful person.In feudal society, the court was the centre of government as well as the residence of the monarch, and social and political life were often completely mixed together...
, and accused
spy
SPY
SPY is a three-letter acronym that may refer to:* SPY , ticker symbol for Standard & Poor's Depositary Receipts* SPY , a satirical monthly, trademarked all-caps* SPY , airport code for San Pédro, Côte d'Ivoire...
who was
executed by firing squad
Execution by firing squad
Execution by firing squad, sometimes called fusillading , is a method of capital punishment, particularly common in the military and in times of war.Execution by shooting is a fairly old practice...
in France under charges of
espionage
Espionage
Espionage or spying involves an individual obtaining information that is considered secret or confidential without the permission of the holder of the information. Espionage is inherently clandestine, lest the legitimate holder of the information change plans or take other countermeasures once it...
for Germany during
World War I
World War I
World War I , which was predominantly called the World War or the Great War from its occurrence until 1939, and the First World War or World War I thereafter, was a major war centred in Europe that began on 28 July 1914 and lasted until 11 November 1918...
.
Early life
Margaretha Geertruida Zelle was born in
Leeuwarden
,
Friesland
Friesland
Friesland is a province in the north of the Netherlands and part of the ancient region of Frisia.Until the end of 1996, the province bore Friesland as its official name. In 1997 this Dutch name lost its official status to the Frisian Fryslân...
, in the Netherlands, the eldest of four children of Adam Zelle (2 October 1840, Leeuwarden - 13 March 1910,
Amsterdam
Amsterdam
Amsterdam is the largest city and the capital of the Netherlands. The current position of Amsterdam as capital city of the Kingdom of the Netherlands is governed by the constitution of August 24, 1815 and its successors. Amsterdam has a population of 783,364 within city limits, an urban population...
) and first wife (m.
Franeker
Franeker
Franeker is one of the eleven historical cities of Friesland and capital of the municipality of Franekeradeel. It is located about 20 km west of Leeuwarden on the Van Harinxma Canal. As of 1 January 2006, it had 12,996 inhabitants. The city is famous for the Eisinga Planetarium from around...
, 4 June 1873) Antje van der Meulen (21 April 1842, Franeker - 9 May 1891, Leeuwarden). She had three brothers. Her father owned a hat store, made successful investments in the oil industry, and became affluent enough to give Margaretha a lavish early childhood that included exclusive schools until the age of 13.
However, Margaretha's father went bankrupt in 1889, her parents divorced soon thereafter, and Margaretha's mother died in 1891. Her father remarried in Amsterdam on 9 February 1893 to Susanna Catharina ten Hoove (11 March 1844, Amsterdam - 1 December 1913, Amsterdam), with whom he had no children. The family had fallen apart and Margaretha moved to live with her godfather, Mr. Visser, in
Sneek
Sneek
Sneek is a city southwest of Leeuwarden and seat of the former municipality of Sneek in the province of Friesland . As for 2011 it is part of the municipality Súdwest Fryslân...
. In
Leiden
, she studied to be a kindergarten teacher, but when the headmaster began to flirt with her conspicuously, she was removed from the institution by her offended godfather. After only a few months, she fled to her uncle's home in
The Hague
The Hague
The Hague is the capital city of the province of South Holland in the Netherlands. With a population of 500,000 inhabitants , it is the third largest city of the Netherlands, after Amsterdam and Rotterdam...
.
Dutch East Indies
At 18, Margaretha answered an advertisement in a Dutch newspaper placed by a man looking for a wife. Margaretha married Dutch Colonial Army Captain Rudolf MacLeod (1 March 1856,
Heukelum
Heukelum
Heukelum is a town in the Dutch province of Gelderland. It is a part of the municipality of Lingewaal, and lies about 8 km northeast of Gorinchem. It received city rights in 1391.In 2001, the town of Heukelum had 1967 inhabitants...
- 9 January 1928,
Velp
Velp
Velp may also refer to either:* Velp, Gelderland - a town in the Netherlands part of Rheden* Velp, North Brabant - a town in the Netherlands part of Grave * The Velp or Velpe, a tributuary of the River Demer, in the Flemish Region of Belgium...
) in
Amsterdam
Amsterdam
Amsterdam is the largest city and the capital of the Netherlands. The current position of Amsterdam as capital city of the Kingdom of the Netherlands is governed by the constitution of August 24, 1815 and its successors. Amsterdam has a population of 783,364 within city limits, an urban population...
on 11 July 1895. He was the son of Captain John Brienen MacLeod (a descendant of the Gesto branch of the
MacLeod
MacLeod
MacLeod and McLeod are surnames in the English language. Variant forms of the names are Macleod and Mcleod.Generally, the names are considered to be Anglicised forms of the Scottish Gaelic MacLeòid, meaning "son of Leòd". However, in some cases the names can also be Anglicised forms of the Irish...
s of Skye) and Dina Louisa Baroness Sweerts de Landas. This was significant as because of this marriage she moved into the Dutch upper class and her finances were placed on a sound footing. They moved to the island of
Java
Java
Java is an island of Indonesia. With a population of 135 million , it is the world's most populous island, and one of the most densely populated regions in the world. It is home to 60% of Indonesia's population. The Indonesian capital city, Jakarta, is in west Java...
in the
Dutch East Indies
Dutch East Indies
The Dutch East Indies was a Dutch colony that became modern Indonesia following World War II. It was formed from the nationalised colonies of the Dutch East India Company, which came under the administration of the Netherlands government in 1800....
(at the time it was a Dutch colony) and had two children, Norman-John MacLeod (30 January 1897, Amsterdam - 27 June 1899) and Louise Jeanne MacLeod (Malang, Java 2 May 1898 - Velp, The Netherlands 10 August 1919).
The marriage was an overall disappointment. MacLeod appears to have been an alcoholic who would take out his frustrations on his wife, who was twenty years younger, and whom he blamed for his lack of promotion. He also openly kept both a native wife and a concubine. The disenchanted Margaretha abandoned him temporarily, moving in with Van Rheedes, another Dutch officer. For months, she studied the
Indonesia
Indonesia
Indonesia , officially the Republic of Indonesia , is a country in Southeast Asia and Oceania. Indonesia is an archipelago comprising approximately 13,000 islands. It has 33 provinces with over 238 million people, and is the world's fourth most populous country. Indonesia is a republic, with an...
n traditions intensively, joining a local dance company. In 1897, she revealed her artistic name:
Mata Hari
,
Malay
Malay language
Malay is a major language of the Austronesian family. It is the official language of Malaysia , Indonesia , Brunei and Singapore...
for "sun" (literally, "eye of the day"), via correspondence to her relatives in Holland.
At MacLeod's urging, Margaretha returned to him although his aggressive demeanour hadn't changed. She escaped her circumstances by studying the local culture. In 1899, their children fell violently ill from complications relating to the treatment of
syphilis
Syphilis
Syphilis is a sexually transmitted infection caused by the spirochete bacterium Treponema pallidum subspecies pallidum. The primary route of transmission is through sexual contact; however, it may also be transmitted from mother to fetus during pregnancy or at birth, resulting in congenital syphilis...
contracted from their parents, though the family claimed they were poisoned by an irate servant. Jeanne survived, but Norman died. Some sources maintain that one of Rudolf's enemies may have poisoned a supper to kill both of their children. After moving back to the Netherlands, the couple separated in 1902 and divorced in 1907. Margaretha initially retained custody of Jeanne, but after Rudolf deliberately reneged on a support payment, Margaretha was forced to give Jeanne back to him. Jeanne later died at the age of 21, also possibly from complications relating to syphilis).
Paris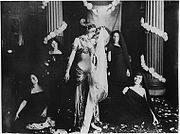 In 1903, Margaretha moved to Paris, where she performed as a circus horse rider, using the name Lady MacLeod, much to the disapproval of the Dutch MacLeods. Struggling to earn a living, she also posed as an artist's model.
By 1905, she began to win fame as an exotic dancer. It was then that she adopted the stage name
Mata Hari
. She was a contemporary of dancers
Isadora Duncan
Isadora Duncan
Isadora Duncan was a dancer, considered by many to be the creator of modern dance. Born in the United States, she lived in Western Europe and the Soviet Union from the age of 22 until her death at age 50. In the United States she was popular only in New York, and only later in her life...
and
Ruth St. Denis
Ruth St. Denis
Ruth St. Denis was an early modern dance pioneer.-Biography:Ruth St. Denis founded Adelphi University's dance program in 1938 which was one of the first dance departments in an American university...
, leaders in the early
modern dance
Modern dance
Modern dance is a dance form developed in the early 20th century. Although the term Modern dance has also been applied to a category of 20th Century ballroom dances, Modern dance as a term usually refers to 20th century concert dance.-Intro:...
movement, which around the turn of the 20th century looked to Asia and
Egypt
Egypt
Egypt , officially the Arab Republic of Egypt, Arabic: , is a country mainly in North Africa, with the Sinai Peninsula forming a land bridge in Southwest Asia. Egypt is thus a transcontinental country, and a major power in Africa, the Mediterranean Basin, the Middle East and the Muslim world...
for artistic inspiration. Critics would later write about this and other such movements within the context of
orientalism
Orientalism
Orientalism is a term used for the imitation or depiction of aspects of Eastern cultures in the West by writers, designers and artists, as well as having other meanings...
.
Gabriel Astruc
Gabriel Astruc
Gabriel Astruc was a French journalist, agent, promoter, theatre manager, theatrical impresario, and playwright whose career connects many of the best-known incidents and personalities of Belle Epoque Paris.- Biography :...
became her personal
booking agent
Talent agent
A talent agent, or booking agent, is a person who finds jobs for actors, authors, film directors, musicians, models, producers, professional athletes, writers and other people in various entertainment businesses. Having an agent is not required, but does help the artist in getting jobs...
.
Promiscuous, flirtatious, and openly flaunting her body, she captivated her audiences and was an overnight success from the debut of her act at the Musée Guimet on 13 March 1905. She became the long-time mistress of the millionaire Lyon industrialist
Émile Étienne Guimet
Émile Étienne Guimet
Émile Étienne Guimet was a French industrialist, traveler and connoisseur.He was born at Lyon and succeeded his father in the direction of his "artificial ultramarine" factory...
, who had founded the Musée. She posed as a Java princess of priestly Hindu birth, pretending to have been immersed in the art of sacred Indian dance since childhood. She was photographed numerous times during this period, nude or nearly so. Some of these pictures were obtained by MacLeod and strengthened his case in keeping custody of their daughter.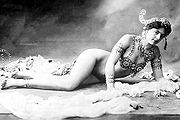 She brought this carefree provocative style to the stage in her act, which garnered wide acclaim. The most celebrated segment of her act was her progressive shedding of clothing until she wore just a jeweled
bra
Brassiere
A brassiere is an undergarment that covers, supports, and elevates the breasts. Since the late 19th century, it has replaced the corset as the most widely accepted method for supporting breasts....
and some ornaments upon her arms and head. She was seldom seen without a bra as she was self-conscious about being small-breasted. She wore a
bodystocking
Bodystocking
A bodystocking is a one-piece article of lingerie that covers the torso, legs and sometimes the arms of the wearer. Similar in texture and look to stockings or pantyhose, a bodystocking is not a unitard, which is worn as an outfit or article of clothing, or a leotard, which is used as a practice...
for her performances that was similar in color to her own skin.
Although her claims about her origins were fictitious, this was common practice for entertainers of that era. Her act was spectacularly successful because it elevated exotic dance to a more respectable status, and so broke new ground in a style of entertainment for which Paris was later to become world famous. Her style and her free-willed attitude made her a very popular woman, as did her eagerness to perform in exotic and revealing clothing. She posed for provocative photos and mingled in wealthy circles. At the time, as most Europeans were unfamiliar with the Dutch East Indies and thus thought of Mata Hari as exotic, it was assumed her claims were genuine.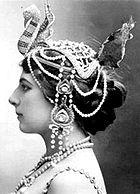 By about 1910, myriad imitators had arisen. Critics began to opine that the success and dazzling features of the popular Mata Hari was due to cheap
exhibitionism
Exhibitionism
Exhibitionism refers to a desire or compulsion to expose parts of one's body – specifically the genitals or buttocks of a man or woman, or the breasts of a woman – in a public or semi-public circumstance, in crowds or groups of friends or acquaintances, or to strangers...
and lacked artistic merit. Although she continued to schedule important social events throughout Europe, she was held in disdain by serious cultural institutions as a dancer who did not know how to dance.
Mata Hari was also a successful
courtesan
Courtesan
A courtesan was originally a female courtier, which means a person who attends the court of a monarch or other powerful person.In feudal society, the court was the centre of government as well as the residence of the monarch, and social and political life were often completely mixed together...
, though she was known more for her sensuality and eroticism rather than for striking classical beauty. She had relationships with high-ranking military officers, politicians, and others in influential positions in many countries, including Frederick William Victor Augustus Ernest, the German crown prince, who paid for her luxurious lifestyle.
Her relationships and liaisons with powerful men frequently took her across international borders. Prior to
World War I
World War I
World War I , which was predominantly called the World War or the Great War from its occurrence until 1939, and the First World War or World War I thereafter, was a major war centred in Europe that began on 28 July 1914 and lasted until 11 November 1918...
, she was generally viewed as an artist and a free-spirited
bohemian
Bohemianism
Bohemianism is the practice of an unconventional lifestyle, often in the company of like-minded people, with few permanent ties, involving musical, artistic or literary pursuits...
, but as war approached, she began to be seen by some as a wanton and promiscuous woman, and perhaps a dangerous seductress.
Double agent
During World War I, the Netherlands remained neutral. As a Dutch subject, Margaretha Zelle was thus able to cross national borders freely. To avoid the battlefields, she travelled between France and the Netherlands via Spain and
Britain
United Kingdom of Great Britain and Ireland
The United Kingdom of Great Britain and Ireland was the formal name of the United Kingdom during the period when what is now the Republic of Ireland formed a part of it....
, and her movements inevitably attracted attention. In 1916 she was travelling by steamer from
Spain
Spain
Spain , officially the Kingdom of Spain languages]] under the European Charter for Regional or Minority Languages. In each of these, Spain's official name is as follows:;;;;;;), is a country and member state of the European Union located in southwestern Europe on the Iberian Peninsula...
when her ship called at the English port of
Falmouth
Falmouth, Cornwall
Falmouth is a town, civil parish and port on the River Fal on the south coast of Cornwall, England, United Kingdom. It has a total resident population of 21,635.Falmouth is the terminus of the A39, which begins some 200 miles away in Bath, Somerset....
. There she was arrested and brought to London where she was interrogated at length by Sir
Basil Thomson
Basil Thomson
Sir Basil Home Thomson, KCB was a British intelligence officer, police officer, prison governor, colonial administrator, and writer.-Early life:...
, Assistant Commissioner at New Scotland Yard in charge of counter-espionage. He gave an account of this in his 1922 book
Queer People
, saying that she eventually admitted to working for French Intelligence. Initially detained in Canon Street police station she was then released and stayed at the
Savoy Hotel
Savoy Hotel
The Savoy Hotel is a hotel located on the Strand, in the City of Westminster in central London. Built by impresario Richard D'Oyly Carte with profits from his Gilbert and Sullivan operas, the hotel opened on 6 August 1889. It was the first in the Savoy group of hotels and restaurants owned by...
. A full transcript of the interview is in Britain's National Archives and was broadcast with Mata Hari played by
Eleanor Bron
Eleanor Bron
Eleanor Bron is an English stage, film and television actress and author.-Early life and family:Bron was born in 1938 in Stanmore, Middlesex, to a Jewish family of Eastern European origin...
on the independent station London Broadcasting in 1980.
It is unclear if she lied on this occasion, believing the story made her sound more intriguing, or if French authorities were using her in such a way, but would not acknowledge her due to the embarrassment and international backlash it could cause.
In January 1917, the German
military attaché
Military attaché
A military attaché is a military expert who is attached to a diplomatic mission . This post is normally filled by a high-ranking military officer who retains the commission while serving in an embassy...
in
Madrid
Madrid
Madrid is the capital and largest city of Spain. The population of the city is roughly 3.3 million and the entire population of the Madrid metropolitan area is calculated to be 6.271 million. It is the third largest city in the European Union, after London and Berlin, and its metropolitan...
transmitted radio messages to Berlin describing the helpful activities of a German spy, code-named H-21. French intelligence agents intercepted the messages and, from the information they contained, identified H-21 as Mata Hari. Unusually, the messages were in a
code
Code (cryptography)
In cryptography, a code is a method used to transform a message into an obscured form, preventing those who do not possess special information, or key, required to apply the transform from understanding what is actually transmitted. The usual method is to use a codebook with a list of common...
that German intelligence knew had already been
broken
Cryptanalysis
Cryptanalysis is the study of methods for obtaining the meaning of encrypted information, without access to the secret information that is normally required to do so. Typically, this involves knowing how the system works and finding a secret key...
by the French, leaving some historians to suspect that the messages were contrived.
Trial and execution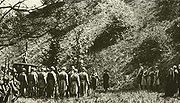 On 13 February 1917, Mata Hari was arrested in her room at the Hotel
Plaza Athénée
Plaza Athénée
The Plaza Athénée is a hotel in Paris, France. It is located at 25 Avenue Montaigne, near the Champs Elysées and the Eiffel Tower. It is part of the Dorchester Collection group of international luxury hotels....
in Paris. She was put on trial, accused of spying for Germany and consequently causing the deaths of at least 50,000 soldiers. Although the French and British intelligence suspected her of spying for Germany, neither could produce definite evidence against her. Secret ink was found in her room, which was incriminating evidence in that period. She contended that it was part of her make-up. She wrote several letters to the Dutch Consul in Paris, claiming her innocence. "My international connections are due of my work as a dancer, nothing else [...]. Because I really did not spy, it is terrible that I cannot defend myself." She was found guilty and was executed by firing squad on 15 October 1917, at the age of 41.
Pat Shipman's biography
Femme Fatale
argues that Mata Hari was never a
double agent
Double agent
A double agent, commonly abbreviated referral of double secret agent, is a counterintelligence term used to designate an employee of a secret service or organization, whose primary aim is to spy on the target organization, but who in fact is a member of that same target organization oneself. They...
, speculating that she was used as a scapegoat by the head of French counter-espionage.
Georges Ladoux
Georges Ladoux
Georges Ladoux was an army captain and the head of French counter-espionage during World War I, described as "a plump, square-faced man given to smoking a pipe and slicking his dark hair back with shiny oils." He transferred from counter-espionage to the Deuxième Bureau in February 1917. He was...
had been responsible for recruiting Mata Hari as a French spy and later was arrested for being a double agent himself.
The facts of the case remain vague because the official case documents regarding the execution were sealed for 100 years, although in 1985, biographer Russell Warren Howe managed to convince the French Minister of National Defense to break open the file, about 32 years early. It was revealed that Mata Hari was innocent of her charges of espionage.
Disappearance and rumours
Mata Hari's body was not claimed by any family members and was accordingly used for medical study. Her head was embalmed and kept in the Museum of Anatomy in Paris, but in 2000, archivists discovered that the head had disappeared, possibly as early as 1954, when the museum had been relocated. Records dated from 1918 show that the museum also received the rest of the body, but none of the remains could later be accounted for.
A 1934
New Yorker
The New Yorker
The New Yorker is an American magazine of reportage, commentary, criticism, essays, fiction, satire, cartoons and poetry published by Condé Nast...
article reported that at her execution she actually wore "a neat Amazonian tailored suit, specially made for the occasion, and a pair of new white gloves" though another account indicates she wore the same suit, low-cut blouse and tricorn hat ensemble which had been picked out by her accusers for her to wear at trial, and which was still the only full, clean outfit which she had along in prison. Neither description matches photographic evidence. According to an eyewitness account by British reporter Henry Wales, she was not bound and refused a blindfold. Wales records her death, saying that after the volley of shots rang out "...Slowly, inertly, she settled to her knees, her head up always, and without the slightest change of expression on her face. For the fraction of a second it seemed she tottered there, on her knees, gazing directly at those who had taken her life. Then she fell backward, bending at the waist, with her legs doubled up beneath her..." A non-commissioned officer then walked up to her body, pulled out his revolver, and shot her in the head to make sure she was dead.
Museum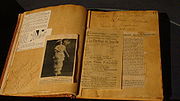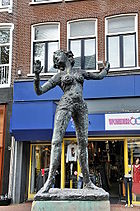 The Frisian Museum at Leeuwarden, Netherlands, exhibits a 'Mata Hari Room'. Included in the exhibit are two of her personal scrapbooks and an oriental rug embroidered with the footsteps of her fan dance. Located in Mata Hari's native town, the museum is well-known for research into the life and career of Leeuwarden's world-famous citizen.
Legend and popular culture
The fact that almost immediately after her death questions arose about the justification of her execution, on top of rumours about the way she acted during her execution, set the story. The idea of an exotic dancer working as a lethal double agent, using her powers of seduction to extract military secrets from her many lovers fired the popular imagination, set the legend and made Mata Hari an enduring archetype of the
femme fatale
Femme fatale
A femme fatale is a mysterious and seductive woman whose charms ensnare her lovers in bonds of irresistible desire, often leading them into compromising, dangerous, and deadly situations. She is an archetype of literature and art...
.
Much of the popularity is owed to the film titled
Mata Hari
(1931) and starring
Greta Garbo
Greta Garbo
Greta Garbo , born Greta Lovisa Gustafsson, was a Swedish film actress. Garbo was an international star and icon during Hollywood's silent and classic periods. Many of Garbo's films were sensational hits, and all but three were profitable...
in the leading role. While based on real events in the life of Margaretha Zelle, the plot was largely fictional, appealing to the public appetite for fantasy at the expense of historical fact. Immensely successful as a form of entertainment, the exciting and romantic character in this film inspired subsequent generations of storytellers. Eventually, Mata Hari featured in more films, television series, and in video games-but increasingly, it is only the use of Margaretha Zelle's famous stage name that bears any resemblance to the real person.
Kurt Vonnegut
Kurt Vonnegut
Kurt Vonnegut, Jr. was a 20th century American writer. His works such as Cat's Cradle , Slaughterhouse-Five and Breakfast of Champions blend satire, gallows humor and science fiction. He was known for his humanist beliefs and was honorary president of the American Humanist Association.-Early...
's novel
Mother Night
Mother Night
Mother Night is a novel by American author Kurt Vonnegut, first published in 1961. The title of the book is taken from Goethe's Faust....
is dedicated to her. Many books have been written about Mata Hari, some of them serious historical and biographical accounts, but many of them highly speculative. Mata Hari was also the basis for a Broadway musical of the same name, which was a notorious financial flop when it was premiered in 1967.
External links